Philadelphia Eagles kicker makes GAP championship debut
| Scoring portal | History | Round One Recap
FLOURTOWN, Pa. – While Philadelphia Eagles kicker Jake Elliott's performance in the 118th Open Championship, held at Philadelphia Cricket Club (Wissahickon, par 70, 7,012 yards), landed a few yards short of the uprights, his first GAP championship experience was good for three.
"The driver was a little bit all over the place," Elliott said. "My approach game today was actually really good. I just couldn't find it off the tee, and I missed a couple putts that I could have made. Nothing was really dropping for me. That's golf."
Elliott missed the cut after carding a 9-over-par 79 Tuesday. The cut line stopped at 5-over-par 75.
Joining Elliott during Round One today were Shane Lawler of Chester Valley Golf Club and Lodie van Tonder of Sakima Country Club.
"I was texting my buddy, and he told me that I was playing with Jake Elliott. I didn't think anything of it right away. I'm a huge Eagles fan, and knew he was the kicker, but I had no idea he was a golfer. I checked out his Instagram to make sure we were talking about the same Jake Elliott, and I saw a couple of golf things on there. When I showed up to the tee, it turned out to be him," said Lawler, 19, of Malvern, Pa.
"I got a text from a friend asking if I knew who I was playing with while I was on the practice green. I didn't really think know who he was, to be honest," said van Tonder, 43, of Pennsville, N.J. "He just seemed like a pretty cool guy to me. It was very fun to play with him out there."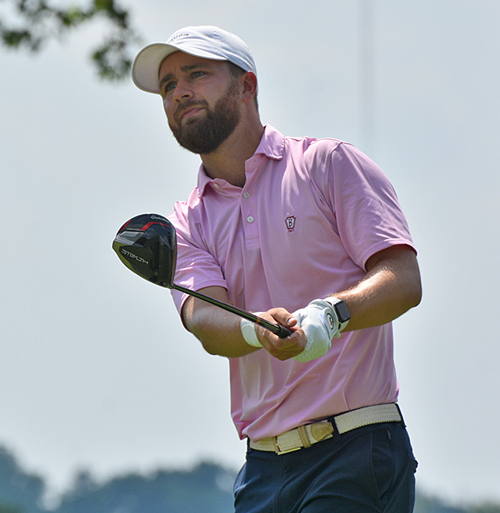 Elliott qualified for the Championship proper at Riverton Country Club last month. The smooth-kicking Super Bowl champion likens his golf swing to the fundamentals required for kicking field goals.
"There is just a lot of rotational stuff and hand-eye stuff," Elliott, 27, of Philadelphia, Pa., said. "At times I find myself talking to my coaches and talking about kicking saying things like, 'I really want to feel like I am compressing this ball like you would an iron.'"
Whether it helps him with his golf game or not, Elliott's kicking abilities allowed him to finish the 2021 season with a field goal record of 30 for 33. An accomplishment he can file alongside playing in the Open Championship.
Elliott's exposure to golf began during his childhood. Friends introduced him to the game. Rounds with University of Memphis teammates further ignited his love for the sport. The accessibility to a variety of golf courses in Philadelphia has proven fruitful for Elliott.
"I played a little bit growing up, not a ton," Elliott said. "I had some buddies that were really good players, so I went out with them a couple times a year. We had a couple guys on our college team that played so I got out with them quite a bit. The offseasons were a little bit longer in the NFL, so I had a little bit more time on my hands. Obviously being in Philadelphia, we have a million great golf courses so that was appealing. I really started getting into it once I got into the NFL."
Elliott joined Bala Golf Club earlier this year.
"It was the closest [club] to my house, also it's convenient," Elliott said. "It's 12 to 15 minutes [from my house] so I can go hit some balls. It challenges my game a lot because I hit the ball a long way, but the short game probably needs a bit more work, so that's made me a lot better."
Rounds with Eagles teammates such as Reid Sinnett, Jason Kelce and Arryn Siposs, who came out to support Elliott Tuesday, have also sharpened Elliott's skills outside of Lincoln Financial Field.
But make no mistake.
"I'll take a 40-yard field goal over a five-foot putt any day," Elliott said.
GAP
Celebrating Amateur Golf since 1897, GAP, also known as the Golf Association of Philadelphia, is the oldest regional or state golf association in the United States. It serves as the principal ruling body of amateur golf in its region. The Association's 300 Member Clubs and 80,000 individual members are spread across the Eastern half of Pennsylvania and parts of Delaware, Maryland and New Jersey. The GAP's mission is to promote, preserve and protect the game of golf.