ANTHRACITE GOLF ASSOCIATION
AGA/GAP
Stroke Play Championship
Congrats to winners: Matt Cuddy (Senior), Vince Scarpetta, Jr. (Super Senior) and Eric Williams (Amateur). Story to follow.
SCOREBOARD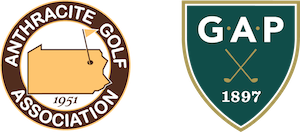 The Anthracite Golf Association (AGA) merged with GAP in 2018. Founded in 1951, the AGA promotes golf in the Northeast Pennsylvania region.
ANTHRACITE GOLF ASSOCIATION (AGA)
ABOUT
As a result of a new merger, the Anthracite Golf Association, an organization formed in 1951 to foster the game in Northeastern Pennsylvania, joined the Golf Association of Philadelphia. GAP members became eligible to compete in AGA events, and vice versa. With this merger, the Golf Association of Philadelphia extended its outreach in North and Central Pennsylvania through the Central Tournament Series.
Read more