Forrester teams up with former teammate, GAP Major Champion
LuLu Country Club's Scott Forrester teed it up in the GAP Middle-Amateur Championship at Lookaway Golf Club (par 72, 6,883 yards) alongside his caddie and former college teammate Chris Crawford. It was a round of birdies and friendship.
Forrester and Crawford's relationship goes back to their freshman year at Drexel University, and that long-time chemistry was evident out there on the course Wednesday.
"We've been tight throughout all of college," Forrester said. "We knew it was going to be a good relationship, and Chris has helped me out a lot both on and off the course."
For Forrester, his last appearance in this event was in 2019 at Rolling Green Golf Club, where he started strong with a 73 in the first round and found himself among the leaders. However, he couldn't close it out in the final round, carding a 95 to end the week.
"It was my first Mid.-Am. tournament, and I felt comfortable during the first day," Forrester said. "The next day, there were a lot of weather delays, and I checked out mentally."
Forrester took this experience as a learning opportunity, which allowed him to get in a better rhythm Wednesday. Despite three bogeys, Forrester picked up three birdies on the day to post an even-par 72 . He's just four shots back of the lead.
"This was my first time playing this course; therefore, I will have a better feel for it tomorrow," Forrester, of Cheltenham, Pa., said. "Having Chris as my caddie was a no-brainer as he helped me throughout the course today, and we were never really in any trouble."
The 27-year-old recognizes the added comfort level with Crawford, the 2015 Joseph H. Patterson Cup Champion, being by his side, as he's familiar with Forrester's game.
"I've seen Scott play a lot of golf and felt confident that he would be able to play well," Crawford, 27, of Bensalem, Pa., said. "We know each other's games well and enjoyed being on the course together."
As someone who has been with Forrester, having a consistent gameplan going into the final round is essential.
"Sticking with the same plan of just hitting greens and getting good looks is important," Forrester said. "I don't want to get ahead of myself, and having Chris again with me tomorrow will allow me to be more comfortable."
A look at Lookaway's lone #GAPMidAm solider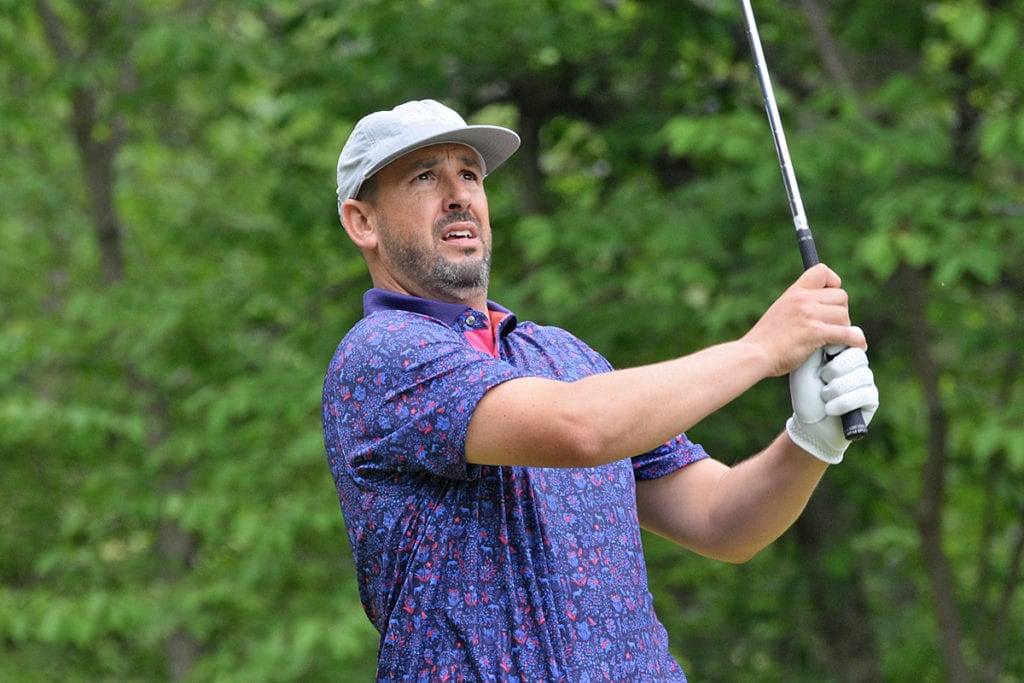 As the only Lookaway member representing the club on the tee sheet this week, Tony Peressini did it with pride.
The Doylestown, Pa. resident finished at 4-over 76 on the day with seven bogeys and five birdies.
"It's like my second home," Peressini said. "This is my eighth year as a member at Lookaway, and it's been great that this course is getting recognition as a championship golf course."
Peressini's familiarity with the course gave him a comfort level that allowed him to stay relatively focused throughout the first round.
"I hit my driver great and just hit some terrible second shots today," Peressini, 38, said. "It's fun being out here to get the juices flowing on a challenging course like Lookaway."
Peressini emphasizes that the difficulty of the course makes you hit every shot from a bunch of different clubs, especially on longer par fives. With five of Peressini's bogeys on the back nine of the course, he realizes the importance of having a consistent approach when playing.
"I think it's a well-rounded course that's firm and fast," Peressini said. "My approach is always to hit some good putts and shots along with having no excuses when I play."
Peressini is looking to make the cut (trending to 6-over-par 78) and to have a chance to compete in the final round tomorrow.
GAP
Celebrating Amateur Golf since 1897, GAP, also known as the Golf Association of Philadelphia, is the oldest regional or state golf association in the United States. It serves as the principal ruling body of amateur golf in its region. The Association's 274 Full Member Clubs and 75,000 individual members are spread across the Eastern half of Pennsylvania and parts of New Jersey and Delaware. The GAP's mission is to promote, preserve and protect the game of golf.