Nicholas sets #PattersonCup Round One scoring record
WAYNE, Pa. – Drue Nicholas, a member of Galloway National at the Jersey Shore, reigned as Poseidon in a sea of red Wednesday at St. Davids Golf Club (par 70, 6,545 yards). Nicholas, a Drexel University junior, held his trident high, carding a Joseph H. Patterson Memorial Cup, presented by Provident Bank, first-round scoring record of 7-under 63. His tally topping a historic scoring day at the Association's final Major. A total of 24 players are under par.
| Scoring portal | History | Round 1 video | Day 1 notebook |
"The last time I played a true round was at the Philadelphia Open, so I had no clue where the game was coming into this," said Nicholas, 20, of Philadelphia, Pa. "I'm super happy about it. I only have two tournaments this summer. Getting out early in my second one and playing well its great heading into the school year. With my internship [at the Haverford Trust Company working in equity research], I can only play and ask for so much. My [Drexel] coach [Ben Feld] and I came up with a compromise for the summer."
The cut line for the 120th Joseph H. Patterson Memorial Cup landed at 3 over with 66 players advancing. It equaled the lowest cut in relation to par since the event moved to its two-day format in 2009.
Round Two begins at 7:30 a.m. Nicholas, Michael R. Brown, Jr. and Andy Butler, in the final group, start at 11:20 a.m.
Brown, 49, of Maple Shade, N.J. and LuLu Country Club, and Butler, 26, of Philadelphia, Pa. and Huntingdon Valley Country Club, finished at 6 under. Brown, the 2018 Patterson Cup winner and 2022 BMW Philadelphia Amateur Champion, made seven birdies and a bogey. Butler hit 17 of 18 greens, made five birdies, an eagle and a bogey.
Nicholas' 18 holes were bogey-free, including a stretch of six-straight birdies.
He started his round on the back nine and announced his adventure intentions almost immediately.
Nicholas birdied No. 11 (par 5, 542 yards) when he ripped a 3-iron from 230 yards into the right greenside bunker. He escaped the sand by hitting his third shot to three feet for an easy birdie. Four pars followed, before the smooth-swinging Nicholas ramped up the heat index on an already sweltering day. He birdied No. 16 (par 5, 504 yards) after reaching the green with a 3-iron from 237 yards and two putted from 30 feet for a 4. On No. 17 (par 3, 154 yards), Nicholas knocked an 8-iron to eight inches for a tap-in 2. On No. 18 (par 4, 393 yards), he completed his opening nine holes by knocking a 56-degree wedge from 115 yards to two feet.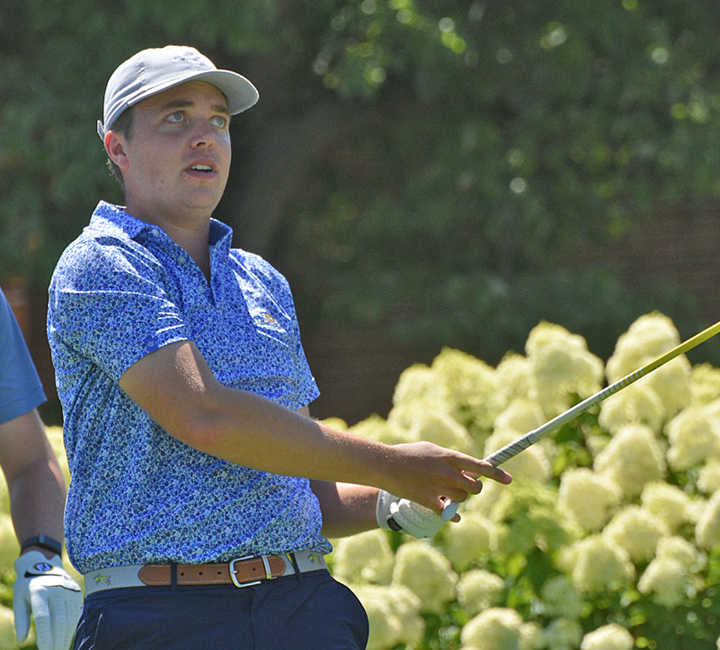 Nicholas made the turn at 4 under.
"After [No.] 17, I got it to 3 under. I birdied 18 and birdied 1. I was like, 'Wow this pretty good, let's just hang on,'" said Nicholas. "It's super common for everyone to go out hot and fizzle on the back nine. To go 3 under after going 4 under, I'm super pleased with that."
On No. 1 (par 4, 384 yards), he launched a 60-degree wedge from 93 yards to 15 feet and made the putt. He followed up on No. 2 (par 4, 445 yards) with a 20-foot downhill birdie conversion after hitting the green with a 9-iron from 155 yards. On No. 3 (par 4, 349 yards), he made it a half-dozen consecutive circles speared when he knocked down a wedge from 50 yards to six feet. In the cup went the birdie putt.
"I've never made six birdies in a row before," said Nicholas. "In school, if you make five birdies in a row they call it the Iron Lotus. Nobody's even done it."
Nicholas spoke about the prowess of his driver and his flat stick in blazing to a record. The latter saving him twice in the final three holes. On No. 7 (par 4, 465 yards), the hardest ranked hole of the day, he sank a 15-foot downhiller for par after finding trouble off the tee. On No. 9 (par 3, 220 yards), the putter life-lined his round once again. His 4-iron came up short of the green and his pitch carried long of the hole. Concerned? Not. He rolled in another 15-footer for par.
Ride over.
"Usually everything [in my game] is pretty level, pretty good," said Nicholas, whose only Patterson Cup appearance came last year at Manufacturers'. "I'm not great at one thing. I'm not necessarily bad at anything. Today, I hit the driver well and the putter was really good. I putted last night in the golf room at Drexel. It worked. I wouldn't have shot that if I didn't putt well."
The prior low opening Patterson Cup round in relation to par was 6 under. That mark was shared by Brandon Matthews (2012) and Jeff Osberg (2015).
NOTES-The Silver Cross Award is comprised of the qualifying rounds of the BMW Philadelphia Amateur Championship and the Patterson Cup. John Peters of Carlisle Country Club holds a two-stroke lead on Brown. He carded a 3-under 67 in the Patterson Cup's first round.
Provident Bank
Provident Bank, a community-oriented financial institution offering "Commitment you can count on" since 1839, is the wholly owned subsidiary of Provident Financial Services, Inc. (NYSE:PFS), which reported assets of $13.72 billion as of June 30, 2022. With $10.87 billion in deposits, Provident Bank provides a comprehensive suite of financial products and services through its network of branches throughout northern and central New Jersey, as well as Bucks, Lehigh and Northampton counties in Pennsylvania and Nassau and Queens counties in New York. The Bank also provides fiduciary and wealth management services through its wholly owned subsidiary, Beacon Trust Company and insurance services through its wholly owned subsidiary, Provident Protection Plus, Inc. For more information about Provident Bank, visit www.provident.bank or join the conversations on Facebook (ProvidentBank) and Twitter (@ProvidentBank).
GAP
Celebrating Amateur Golf since 1897, GAP, also known as the Golf Association of Philadelphia, is the oldest regional or state golf association in the United States. It serves as the principal ruling body of amateur golf in its region. The Association's 340 Member Clubs and 99,000 individual members are spread across the Eastern half of Pennsylvania and parts of Delaware, Maryland and New Jersey. The GAP's mission is to promote, preserve and protect the game of golf.
| | |
| --- | --- |
| Name, club | Score |
| Drue Nicholas, Galloway National Golf Club | 63 |
| Michael R. Brown, Jr., LuLu Country Club | 64 |
| Andy Butler, Huntingdon Valley Country Club | 64 |
| Jake Maddaloni, Aronimink Golf Club | 65 |
| Brandon Dalinka, The Ridge at Back Brook | 66 |
| Conor McGrath, Huntingdon Valley Country Club | 66 |
| Morgan Lofland, Phoenixville Country Club | 67 |
| Matthew Mattare, Saucon Valley Country Club | 67 |
| Joey Morganti, Llanerch Country Club | 67 |
| John Peters, Carlisle Country Club | 67 |
| Cole Willcox, Merion Golf Club | 67 |
| Chris Baloga, Briarwood Golf Club | 68 |
| Brock Kovach, LedgeRock Golf Club | 68 |
| Kevin Kramarski, Moorestown Field Club | 68 |
| Richard Riva, LuLu Country Club | 68 |
| Ryan Tall, LuLu Country Club | 68 |
| Stephen Barry, Running Deer Golf Club | 69 |
| Brian Isztwan, Huntingdon Valley Country Club | 69 |
| Andrew Keeling, Kennett Square Golf & Country Club | 69 |
| Dan Keenan, Little Mill Country Club | 69 |
| Jason Loehrs, McCall Golf Club | 69 |
| Kevin Scherr, Allentown Municipal | 69 |
| Matt Teesdale, The 1912 Club | 69 |
| Jack Wallace, Riverton Country Club | 69 |
| Peter Barron, III, Galloway National Golf Club | 70 |
| John Brennan, Philadelphia Cricket Club | 70 |
| Anthony Cordaro, Saucon Valley Country Club | 70 |
| Stephen Dressel, St. Davids Golf Club | 70 |
| Buddy Hansen, Blue Bell Country Club | 70 |
| Logan Hay, Burlington Country Club | 70 |
| Christian Matt, Cedarbrook Country Club | 70 |
| Marty McGuckin, Philadelphia Cricket Club | 70 |
| Gregor Orlando, Philadelphia Cricket Club | 70 |
| Logan Paczewski, Huntsville Golf Club | 70 |
| Joseph Tigani, Fieldstone Golf Club | 70 |
| R.J. Wren, Honeybrook Golf Club | 70 |
| Connor Bennink, Kennett Square Golf & Country Club | 71 |
| Luis Diaz, Wedgwood Country Club | 71 |
| Jack Irons, Little Mill Country Club | 71 |
| Scott McLaughlin, LuLu Country Club | 71 |
| Ross Pilliod, LedgeRock Golf Club | 71 |
| Jamie Slonis, Tavistock Country Club | 71 |
| J.T. Spina, Philadelphia Cricket Club | 71 |
| Jim Sullivan, LuLu Country Club | 71 |
| David Colleran, Overbrook Golf Club | 72 |
| Michael Davis, Aronimink Golf Club | 72 |
| John Dimler, Northampton Country Club | 72 |
| David Hurly, Aronimink Golf Club | 72 |
| Joshua Krumholz, Moselem Springs Golf Club | 72 |
| Thomas Larkin, Paxon Hollow Country Club | 72 |
| Colin Sanderson, Makefield Highlands Golf Club | 72 |
| Alex Seelig, Reading Country Club | 72 |
| Jarred Texter, Conestoga Country Club | 72 |
| Dawson Anders, Indian Valley Country Club | 73 |
| Roy Anderson, Kennett Square Golf & Country Club | 73 |
| Brendan Borst, Philadelphia Cricket Club | 73 |
| Alex Butler, Overbrook Golf Club | 73 |
| Zach Dilcher, Hartefeld National | 73 |
| Matt Dolinsky, Honeybrook Golf Club | 73 |
| Zak Drescher, Bent Creek Country Club | 73 |
| Scott Ehrlich, Waynesborough Country Club | 73 |
| Luke Fagley, LedgeRock Golf Club | 73 |
| Johnny Murphy, The Shore Club | 73 |
| Nikita Romanov, Philadelphia Publinks Golf Association | 73 |
| Jon Rusk, LuLu Country Club | 73 |
| Max Siegfried, Aronimink Golf Club | 73 |
| Missed cut | |
| Ryan Barnett, Union League Liberty Hill | 74 |
| Peter D'Angelo, Burlington Country Club | 74 |
| Michael Dunphy, USGA/GAP GC | 74 |
| Mike Flatley, Jeffersonville Golf Club | 74 |
| Brian Gillespie, St. Davids Golf Club | 74 |
| Gerald Haftmann, Rolling Green Golf Club | 74 |
| Liam Hart, Spring Mill Country Club | 74 |
| Patrick Isztwan, Huntingdon Valley Country Club | 74 |
| Matt Lafond, Blue Bell Country Club | 74 |
| Bo Maguire, Brookside Country Club | 74 |
| Marc Mandel, Philadelphia Cricket Club | 74 |
| Jonathan Radick, Spring Mill Country Club | 74 |
| Joe Roeder, Merion Golf Club | 74 |
| John Samaha, Old York Road Country Club | 74 |
| Sean Seese, Huntingdon Valley Country Club | 74 |
| Todd Baron, Philadelphia Publinks Golf Association | 75 |
| Adam Bracy, Tavistock Country Club | 75 |
| Geoffrey Cooper, North Hills Country Club | 75 |
| Christian Deussing, Jericho National Golf Club | 75 |
| Ryan Felpel, Foxchase Golf Club | 75 |
| Matt Graeff, Manufacturers' Golf & Country Club | 75 |
| Beau Guarino, Riverton Country Club | 75 |
| Nelson Hargrove, Merion Golf Club | 75 |
| Corey Haydu, Spring Mill Country Club | 75 |
| Bryan Keeling, Spring Mill Country Club | 75 |
| Ben Keyser, Legacy Club at Woodcrest | 75 |
| Patrick Knott, Merion Golf Club | 75 |
| Shawn Lavin, Rolling Green Golf Club | 75 |
| Scott McNeil, Philadelphia Publinks Golf Association | 75 |
| Hayden Moffat, Philadelphia Publinks Golf Association | 75 |
| Greg O'Connor, Bellewood Country Club | 75 |
| Stewart Rickenbach, Huntingdon Valley Country Club | 75 |
| Patrick Sheehan, Talamore Country Club | 75 |
| Benjamin Smith, Carlisle Country Club | 75 |
| Justin Spaeth, Cedarbrook Country Club | 75 |
| Eric Williams, Honesdale Golf Club | 75 |
| Campbell Wolf, Carlisle Country Club | 75 |
| John Barone, Glenmaura National Golf Club | 76 |
| Christopher Bell, Radnor Valley Country Club | 76 |
| Jackson Debusschere, The Springhaven Club | 76 |
| Dougie Ergood, Tavistock Country Club | 76 |
| Oscar Mestre, Overbrook Golf Club | 76 |
| Darren Nolan, Cedarbrook Country Club | 76 |
| James Ulsh, Carlisle Country Club | 76 |
| Troy Vannucci, Little Mill Country Club | 76 |
| Conrad Von Borsig, Philadelphia Cricket Club | 76 |
| Mark Walkush, Sunnybrook Golf Club | 76 |
| Brandon Wilson, Chesapeake Bay Golf Club | 76 |
| Charles Young, Briarwood Golf Club | 76 |
| Michael Carr, Philadelphia Cricket Club | 77 |
| Phil Formica, Yardley Country Club | 77 |
| Matt Grossman, Green Valley Country Club | 77 |
| Nathan Guertler, Merion Golf Club | 77 |
| Matthew Krass, Radley Run Country Club | 77 |
| Devin O'Connor, Country Club of York | 77 |
| Billy Reube, Huntingdon Valley Country Club | 77 |
| Caleb Ryan, The 1912 Club | 77 |
| Brian Walker, Burlington Country Club | 77 |
| Bank Apinyawuttikul, Five Ponds Golf Club | 78 |
| James Gradisek, Philadelphia Country Club | 78 |
| Matthew Osorio, Merchantville Country Club | 78 |
| Christopher Warner, Makefield Highlands Golf Club | 78 |
| Michael Winton, Tavistock Country Club | 78 |
| Kevin O'Brien, Cedarbrook Country Club | 79 |
| Joseph Rueter, Sandy Run Country Club | 79 |
| Mario Ventresca, Cedarbrook Country Club | 79 |
| Kyle Williams, Glen Oak Country Club | 79 |
| Brett Cybulski, USGA/GAP GC | 80 |
| Kevin Lydon, Commonwealth National Golf Club | 80 |
| Tyler McGarry, Huntsville Golf Club | 80 |
| Andrew Wallace, Green Valley Country Club | 80 |
| Brendan Mahoney, Philadelphia Cricket Club | 82 |
| Michael Boden, Aronimink Golf Club | 83 |
| Joseph Kepic, Jeffersonville Golf Club | 85 |
| Justin Schorr, Talamore Country Club | 87 |
| Christopher DeMarco, Glenmaura National Golf Club | 89 |
| Greg DeLuca, Trenton Country Club | NC |
| Jason Wilson, Olde Homestead Golf Club | DQ |
| DQ – disqualification; NC – no card | |