Kelly and Hay look to recreate last week's success
WAYNE, Pa. – Louis Kelly and Logan Hay, co-workers at Burlington Country Club, struck a deal that was mutually beneficial for the duo. If Hay caddied for Kelly in the 102nd New Jersey Open last week, Kelly would caddie for Hay in the 120th Joseph H. Patterson Cup presented by Provident Bank at St. Davids Golf Club (par 70, 6,546 yards).
| Scoring portal | History | Round 1 Recap | Round 1 Video
"I think that we were working a Member-Member or some event like that and he asked me to caddie for him up at The Ridge [at Back Brook]," Hay said. "He was joking and said 'I pay well,' and I said, 'How about you just come caddie for me in the Patterson Cup.'"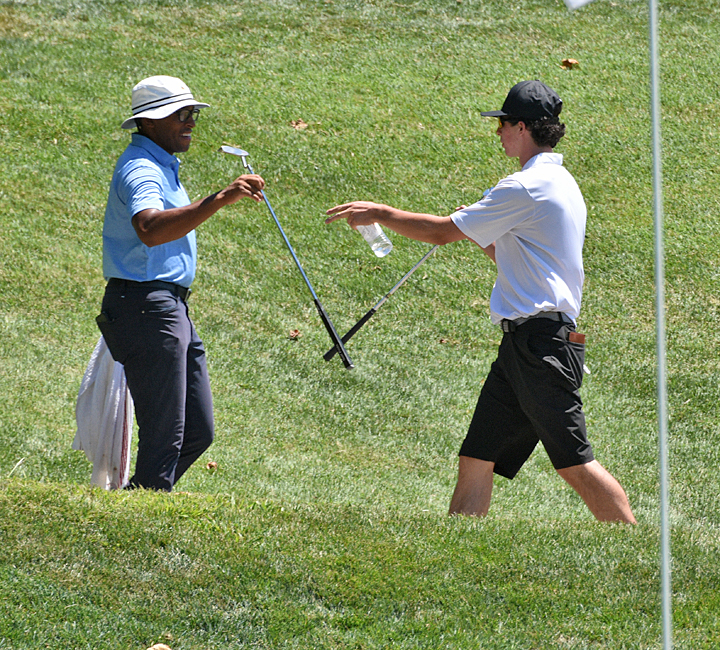 And so they did.
Hay caddied for Kelly for 36 of the 54 holes of the New Jersey State Golf Association's Open Championship to aid him in capturing his first major championship as a professional.
"I almost disappointed him on the first round shooting 1 over, and then we went 11-under on the next 36 so that was good," Kelly, 29, of Philadelphia Pa., said. "[Hay] is still in college and playing competitively, so it's good for him to see [a win] up close."
Hay is heading into his sophomore season at Sandhills Community College located in Pinehurst, N.C., where he plays on the golf team. Last fall, Hay claimed medalist honors at the Davidson-Davie Country Club held at the Colonial Country Club located in Thomasville, N.C..
Hay currently sits tied for 25th place after carding an even-par 70 during Round 1. He circled birdies on Nos. 5 (par 4, 416 yards), 8 (par 5, 490 yards) and 16 (par 5, 504 yards).
"It's a great experience," Hay, 20, of Bordentown, N.J. said. "He obviously knows what he's doing. He's been here a couple times and I haven't really been here, so it helped me a lot and helped my confidence over every shot. Him being a player himself makes it that much better because he really knows how to think on the golf course and stuff like that. I think we have great chemistry," Hay said. "Especially after winning last week, I feel like we have a lot of confidence in each other."
Maddaloni forges own path at St. Davids
Last year, Aronimink Golf Club's Jake Maddaloni caddied for 119th Paterson Cup champion Peter Bradbeer of Merion Golf Club. This year, Maddaloni is forging his own path to Paterson Cup glory. During Round 1, he fired a five-under 65 to occupy fourth place.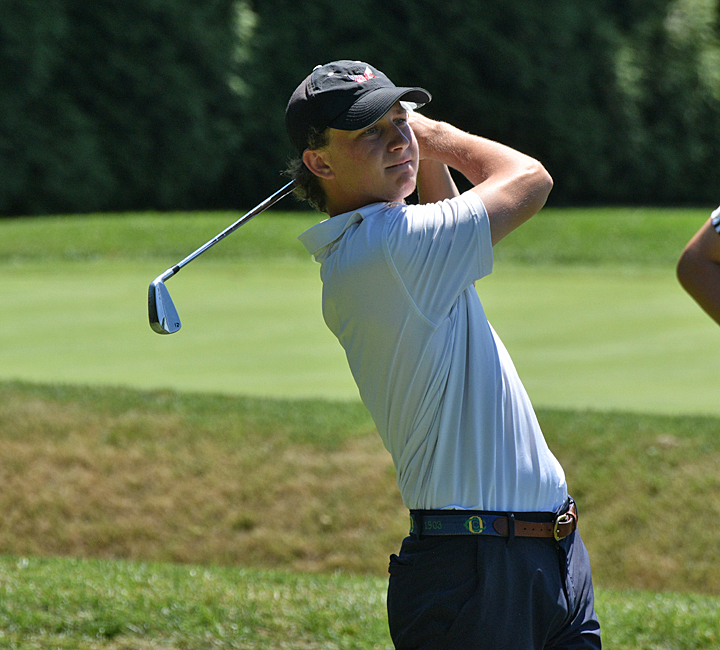 "This summer hasn't been the best summer for me golf wise," Maddaloni said. "It's nice to kind of put it together today, and I will at least have a chance tomorrow. It's just been a different summer practice wise. Growing up, summer is usually the busy season for junior golf tournaments and now that I'm in college, there's a limited selection of summer events to play in and I have a school season in the fall and spring so that's kind of the big focus. The summer is more of like a break this year so I really just haven't been playing that much golf, but it's starting to heat up a little bit. [I] definitely started to practice a little more the last week or two just because the school season is around the corner."
Maddaloni is heading into his second year at Bucknell University where he plays golf. Peter Bradbeer is a graduate of Bucknell.
"Peter took me out on my Bucknell visit when I was being recruited there my junior year of high school, and we kind of stayed in touch after that," Maddaloni said.
Maddaloni's practice isn't the only thing heating up. Birdies on holes 1 (par 4, 384 yards), 5 (par 4, 416 yards), 12 (par 4, 455 yards), 14 (par 3, 165 yards), 15 (par 4, 449 yards) and 16 (par 5, 504 yards) occupied his card.
On No. 1, Maddaloni flighted a 52-degree wedge that landed 10 feet from the hole. On No. 5, a 7-iron chip-out to 30 feet short of the green allowed a Maddaloni chip-in. On No. 12, an 8-iron from 152 yards that settled one inch from the hole marked his third birdie. On No. 14, a 6-iron followed by a 30-foot putt started a streak of red numbers during the inward nine. The 15th hole brought about another birdie via a pitching wedge from 125 yards to 12 feet. For his final red figure on No. 16, Maddaloni hit a 3-iron from 220 yards to just short of the green followed by a chip to 10 feet behind the hole. He made the putt.
Maddaloni will tee off tomorrow at 11:10 a.m. for Round 2.
The Joseph H. Patterson Cup memorializes a man who fostered the game in its infancy. Joseph Henry Patterson, a Philadelphia Cricket Club member, competed in the first out-of-town match played by a team of Philadelphians. Friends of Patterson donated the Cup, designed by J.E. Caldwell & Co., to the Association in 1900.
About Provident Bank
Provident Bank, a community-oriented financial institution offering "Commitment you can count on" since 1839, is the wholly owned subsidiary of Provident Financial Services, Inc. (NYSE:PFS), which reported assets of $13.72 billion as of June 30, 2022. With $10.87 billion in deposits, Provident Bank provides a comprehensive suite of financial products and services through its network of branches throughout northern and central New Jersey, as well as Bucks, Lehigh and Northampton counties in Pennsylvania and Nassau and Queens counties in New York. The Bank also provides fiduciary and wealth management services through its wholly owned subsidiary, Beacon Trust Company and insurance services through its wholly owned subsidiary, Provident Protection Plus, Inc. For more information about Provident Bank, visit www.provident.bank or join the conversations on Facebook (ProvidentBank) and Twitter (@ProvidentBank).
GAP
Celebrating Amateur Golf since 1897, GAP, also known as the Golf Association of Philadelphia, is the oldest regional or state golf association in the United States. It serves as the principal ruling body of amateur golf in its region. The Association's 330 Member Clubs and 90,000 individual members are spread across Pennsylvania, Delaware, New Jersey and Maryland. The GAP's mission is to promote, preserve and protect the game of golf.