Noonan emerges as unsung hero amidst pandemic
YORK, Pa.- As COVID-19 changed the entire world in March of 2020, Brian Noonan of The Links at Gettysburg was working on the frontlines of the pandemic as a nurse at Geisinger Medical Center in Danville, Pa.
"Golf did get shut down for me because I wanted to stay focused on keeping myself healthy and make sure that the patients I was taking care of didn't get sick either," Noonan, 30, of Danville, said.
After taking the year off from golf, Noonan spent his time during the pandemic working various night shifts in the intensive care unit and operating room at Geisinger.
"There were honestly a lot of shifts that I worked where I felt extremely overwhelmed trying to manage the situation at hand," Noonan, a class of 2017 graduate of the Joseph F. McCloskey School of Nursing, said. "Thankfully, we're at the point now where more people are getting vaccinated, and our hospital has been returning to full capacity."
As tough as it was for Noonan to stop playing golf amidst the pandemic, he started playing again this April. Noonan tries to play at least two times a week at either Bucknell Golf Club or Frosty Valley.
"I thought it was the right decision to take some time away from golf and focus on the task at hand," Noonan said. "Looking back at it, I don't think I would've done anything differently because I honestly could've dealt with a lot worse."
Before starting his nursing career, Noonan, in 2010, attended the Golf Academy of America in Orlando, Fla. After spending a few years in Florida with ambitions of becoming a golf teaching professional, Noonan decided to move back to Pennsylvania and give nursing a try.
"I thought it was the best thing for me to come back up here and attend nursing school," Noonan said. "In Florida, I was a little harder on myself because I didn't know any different, and over the past four years, working as a nurse has allowed me to grow more."
After a long journey, Noonan competed in the 117th Open Championship at the Country Club of York (par 70, 6,612 yards) on Tuesday, finishing the day 8-over-par 70.
While it may not have been a score that Noonan had anticipated, he knows that this experience will help him in the future.
"One of the biggest lessons I have taken from my nursing career is that you have to be level-headed throughout a lot of situations, including on the golf course," Noonan said. "That's also why today's round could've been a lot worse for me if I didn't put myself in certain positions mentally."
Finger returns to GAP action as professional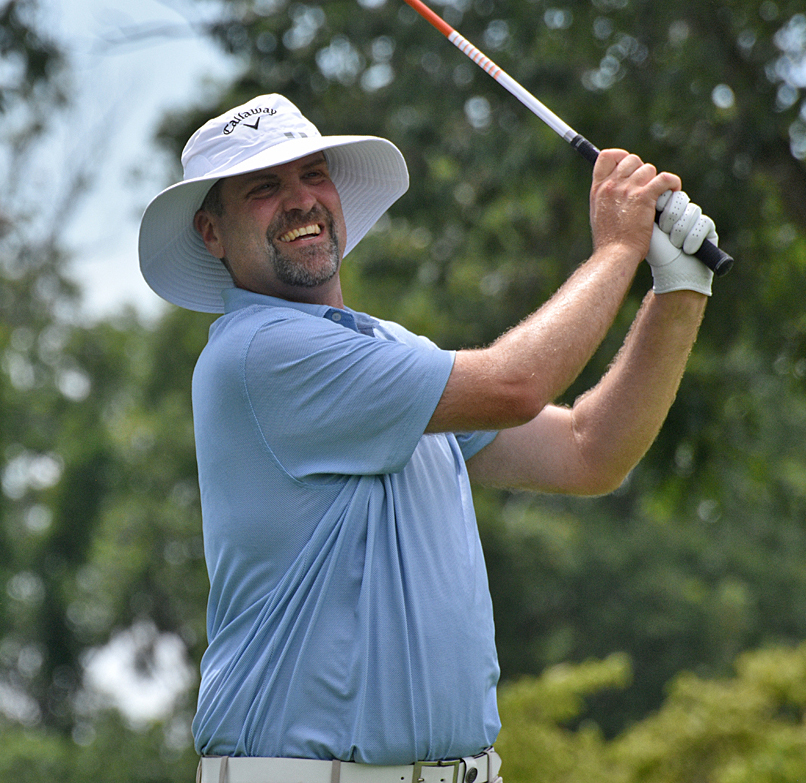 YORK, Pa. – Out with the old and in with the new.
Matthew Finger of DuPont Country Club competed in his first GAP event as a professional Tuesday in the 117th Open Championship at the Country Club of York (par 70, 6,612 yards). Finger made the cut with a score of 4-over-par 74 and will advance to the final round on Wednesday.
"A lot of people today on the course didn't even know that I turned professional and thought it was a typo on the tee sheet," Finger, 43, of Wilmington, Del., said. "Turning professional has been a great transition, but it's always an honor to be back and play in GAP events."
After spending 10 years as a sales director with the Compass Group, Finger lost his job last year during COVID-19 and knew it was the right time to pursue a different path.
"When I was a sales director, it was a job that I liked, but it wasn't something that I was deeply passionate about," Finger said. "Golf is something I truly love, and I'm extremely grateful for my family's support in my decision to switch careers."
Alongside playing, Finger serves as the assistant professional at DuPont, a role that he started six months ago.
"The opportunity at DuPont came up, and I jumped on it," said Finger, champion of last year's Marston Cup at Doylestown Country Club. "I've never been a golf professional before, and I've been learning a lot about the business of the game."
Finger has spent the past 10 years at DuPont, a club where he and his family have gotten closer and improved their game.
"I live about two minutes from the golf course, which is always a great convenience," Finger said. "My wife, son, daughter, and I all play together, so it allows us to spend more time as a family living so close to the course."
One of Finger's goals as a professional is to continue to learn from his colleagues at DuPont and find the true meaning of being a mentor in the game of golf.
"I wanted to give back to the game that has given so much to me," Finger said. "That's why I'm looking forward to continuing teaching and mentoring at DuPont, especially with the Junior golfers."
Given all the experience Finger has in golf, he believes that his determination will take him a long way.
"My mentality going into tournaments is that I'm just going to go out there and play," Finger said. "Something I've learned from turning professional is just to keep grinding and know that good things will happen."
GAP
Celebrating Amateur Golf since 1897, GAP, also known as the Golf Association of Philadelphia, is the oldest regional or state golf association in the United States. It serves as the principal ruling body of amateur golf in its region. The Association's 300 Member Clubs and 80,000 individual members are spread across the Eastern half of Pennsylvania and parts of Delaware, Maryland and New Jersey. The GAP's mission is to promote, preserve and protect the game of golf.