Bad omen leads to good result for Thompson
PHILADELPHIA, Pa.- A near wipeout on No. 1 (par 4, 336 yards) at Bala Golf Club (par 68, 5,306 yards) led to a bloody golf towel for Carson Thompson.
| Scoring portal | History | Day One Recap |
"I took a long stride and just slipped with my right foot, [and] cut my finger open," Thompson said. "It took a while to get the bleeding to stop."
Fortunately for Thompson, the bleeding never started on his scorecard. The 17-year-old carded a 3-over-par 71 in the 108th Junior Boys' Championship Qualifying Monday. As a result, Thompson earned a match play position in the event's Championship Flight. An action that could have made for a difficult day on the golf course served as a catalyst for Thompson to card birdies on his first two holes.
After getting back on his feet, the Mount Laurel, N.J. resident hit a 58-degree wedge from 45 yards to 10 feet for birdie. Thompson mirrored his first hole score on No. 2 (par 4, 303 yards) by making a 25-foot putt after hitting a 58-degree wedge from 80 yards.
"It was a nice distraction," Thompson said. "I wasn't thinking about my game, I was more thinking about my hand. I should fall more."
On the back nine, the Laurel Creek Country Club member nearly aced No. 16 (par 3, 97 yards). Thompson hit a 54-degree wedge to four inches before tapping in his putt for birdie. On No. 17 (par 4, 293 yards), he was able to use the same club, this time from 60 yards, to land his ball 10 feet from the hole. He made the birdie putt.
Thompson is a rising senior at St. Joseph's Preparatory School. He works as a caddie at Tavistock Country Club and wants to play in more tournaments this summer.
Upon holing his final putt on No. 18 (par 4, 362 yards), Thompson realized that he lost his sunglasses in the fairway. He walked back to recover his shades before making his way to the scoring area.
While some events during his round were undesirable, the end result was the opposite.
Bala steps up to host #GAPJunior
This week's competition was in danger. Bala Golf Club's (par 68, 5,306 yards) rescue is just what was needed.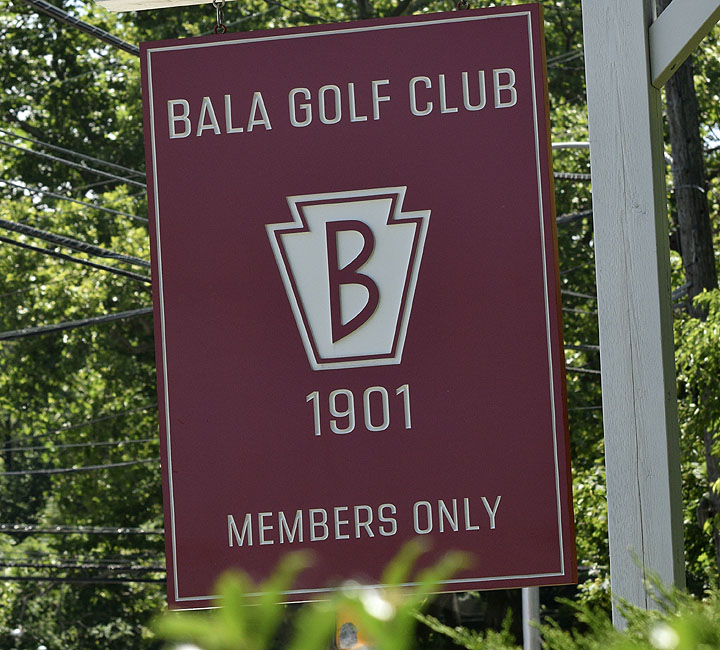 "Junior golf is incredibly important," Chris Barletta, the club's head golf professional and general manager, said. "With Bala Golf Club being a golf-only club, I think it's important to give back. Our membership, board of directors, and myself, as a professional, really respect and admire the job that the Golf Association of Philadelphia does for the surrounding area, and it was important for us to step up to make sure that this event kept going."
The 108th Junior Boy's Championship lacked a host site until late March. An email to GAP Member Clubs requesting a venue was procured. To GAP's delight, Bala graciously agreed to host the Championship, and plans for the event were finalized.
A club with a historic layout and immaculate conditions will be a strong test for the competitors this week.
"It's target golf," Barletta, 52, of Wayne, Pa., said. "I think [the competitors] will find that the golf course is in good condition. It's going to make you position your golf ball in the right spot to be successful on every hole."
Upon looking at the scorecard, players may underestimate Bala's difficulty due to its short yardage. But be warned. Small, quick greens are the course's defense.
Bala has always been a proponent for Junior golf. High school golf teams in the area including Monsignor Bonner & Archbishop Prendergast Catholic High School, The Baldwin School, and Friends' Central School all call Bala home.
GAP
Celebrating Amateur Golf since 1897, GAP, also known as the Golf Association of Philadelphia, is the oldest regional or state golf association in the United States. It serves as the principal ruling body of amateur golf in its region. The Association's 330 Member Clubs and 90,000 individual members are spread across Pennsylvania, Delaware, New Jersey and Maryland. The GAP's mission is to promote, preserve and protect the game of golf.