Ryan, Werner share Junior medal at Bala
PHILADELPHIA, Pa. — A Junior Boys' Championship sophomore and the event's two-time defending titleholder shared medalist honors in stroke-play qualifying Monday at Bala Golf Club (par 68, 5,306 yards).
| History | Junior Team History | Scoring portal | Day One Notebook | Photo gallery |
Huntsville Golf Club's Nick Werner, who missed the match-play cut a year ago, and The 1912 Club's Joshua Ryan, chasing history in his final year of Junior eligibility, carded respective even-par 68s in the event's 108th edition. Ryan, as defending champion, already assumed the No. 1 seed. Warner will be seeded No. 2.
The cut line stopped at 73 by day's end. A five-for-three playoff determined the Championship Flight's remaining entrants. Chesapeake Bay Golf Club's Evan Barbin, McCall Golf Club's Seiji Sako and Penn Oaks Golf Club's Eli Shah advanced.
The Round of 16 begins at 7:30 a.m. tomorrow.
Both Werner and Ryan did their homework en route to co-medalist honors. They placed a premium on tee positioning to tackle Bala's miniature yet muscular green complexes. Werner reviewed Google Earth images of Bala. The lessons learned?
"Small greens and don't hit driver. I only hit driver three times today. With all of my other clubs, I was lucky I was hitting them pretty straight," Werner, 15, of Wilkes-Barre, Pa., said. "Getting to know the golf course [is what I learned from last year]. I've got to study a course before I come out here. I think studying it and being prepared is the most important part."
Ryan used Monday as a study session.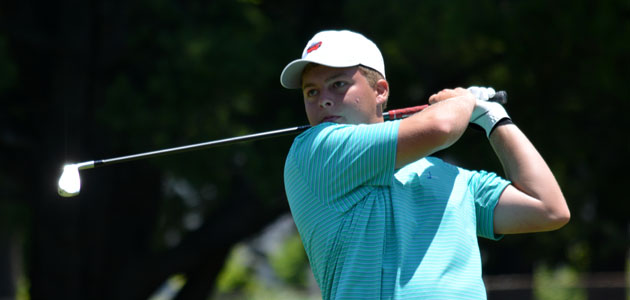 "I know Bala is a little bit of an interesting course, so I thought it would be good to see it under tournament conditions. Just to see which clubs work, so I tried some different stuff today," Ryan, 18, of Norristown, Pa., said. "I wanted to look at the greens and see everything I need for the next few days."
When the long-hitting Ryan did decide to pull driver, it paid off. He birdied No. 12 (par 4, 306 yards) after his drive grabbed the apron. Two putts from 40 feet did the trick. Ryan buried a 20-footer for eagle on the par 4, 293-yard 17th hole after splitting the green with a pinpoint drive.
"Once I saw [the clubhouse lead] was 1 over, I was like, 'I've got to try and beat that.' There was a little pressure down the stretch. I took a really aggressive line, but I hit it perfect," Ryan, who will attend Liberty University in the fall, said.
Ryan, who played in the morning, preserved co-medalist honors by executing a laudable par save on No. 18 (par 4, 362 yards). After finding the adjacent 14th fairway (par 4, 333 yards), Ryan steered a 9-iron from 135 yards around a tree. However, it flew the green and left Ryan with a tedious lie. The ball below his feet, Ryan nurtured a chip into gimme territory.
The 18th hole, coincidentally, denied Werner outright medalist honors. A wayward hybrid off the tee forced a punch-out. Werner then lifted a wedge to nine feet, but his par putt snapped left at the cup.
"Just getting off the tee and hitting it straight was key today. As soon as I was in the fairway, I was pretty confident with my wedge game," Werner, a rising sophomore at Wyoming Seminary, said. "I decided to make some putts after that."
Werner, who played in the afternoon, turned in 1 over, the lone miscue occurring on No. 7 (par 4, 380 yards). His hybrid kicked into a penalty area. His stance essentially in a ditch, only a pitchout seemed probable. Werner played onto the green and missed a 20-footer to save par. A pair of back-nine birdies allowed the lefty to match Ryan. He nearly holed a 60-degree wedge from 87 yards on No. 11 (par 4, 385 yards). Werner drained an uphill 10-footer on No. 12 (par 4, 306 yards) after hitting a 60-degree wedge from 48 yards.
A day off did wonders for Werner. He didn't pick up a golf club yesterday. Instead, Werner celebrated his 15th birthday by hanging out with family members and playing backyard games such as cornhole.
Ryan decided not to take Monday off, even though his defending champion moniker afforded such relaxation. He's conquered the Junior Boys' Championship mountain twice; Another climb is firmly on his radar. In 2021, Ryan became the ninth player in event history to successfully defend his title. Only Meredith M. Jack (1914-16) won the Junior Boys' in three consecutive years.
"I love the event. I love match play. Anytime I can play match play, I love to play it," Ryan, who reached the Round of 16 in the BMW Philadelphia Amateur Championship a week ago, said. "It's also good to not expect to win, but always trying to win is always a good thing. The more you win, the more confidence you can get. So if I can do that this week, that would be awesome. I'm going to take it the same way I always take it. One match at a time. One hole at a time. Not get ahead of myself."
NOTES
Wilmington Country Club, represented by the Homer brothers (Jack, Jeffrey and Matthew) and Kristof Kopecky, retained the Junior Team Championship. It filed an 18-over-par 222 to prevail by two strokes over Cedarbrook Country Club. The Junior Team Championship runs concurrently with Junior Boys' Championship Qualifying. Three of four scores count toward the team total … Brookside Country Club of Allentown's Matthew Zerfass aced No. 16 (par 3, 97 yards) with a lob wedge. It marked his first career hole-in-one. Zerfass, 18, of Macungie, Pa., is a recent Emmaus High School graduate. He will attend Saint Joseph's University in the fall.
Junior Boys' Championship
The Junior Boys' Championship is the premier Major in the GAP Junior Division. It is open to members of a GAP Member Club 14-18 years of age who have not started their college education and who hold a handicap index of 14.4 or lower. Sixteen players qualify for match play; an additional 16 advance into the event's First Flight.
The Junior Boys' Champion is awarded the Peg Burnett Trophy, named in honor of the Association's Executive Secretary from 1951-76. Ms. Burnett was an ardent Junior golf supporter who emphasized sportsmanship and respect for the game. "I was very strict about checking the rule book. I didn't make the rules, but since they are there, you have to abide by them."
GAP
Celebrating Amateur Golf since 1897, GAP, also known as the Golf Association of Philadelphia, is the oldest regional or state golf association in the United States. It serves as the principal ruling body of amateur golf in its region. The Association's 300 Member Clubs and 80,000 individual members are spread across the Eastern half of Pennsylvania and parts of Delaware, Maryland and New Jersey. The GAP's mission is to promote, preserve and protect the game of golf.
| | |
| --- | --- |
| Results | |
| Championship Flight | |
| Name, club | Score |
| Joshua Ryan, The 1912 Club | 68 |
| Nick Werner, Huntsville Golf Club | 68 |
| Matthew Homer, Wilmington Country Club | 69 |
| Keller Mulhern, Whitford Country Club | 69 |
| Christian Deussing, Jericho National Golf Club | 70 |
| Davis Conaway, Fieldstone Golf Club | 71 |
| Aidan Farkas, Llanerch Country Club | 71 |
| Nathan Guertler, Merion Golf Club | 71 |
| Tyler Leyden, North Hills Country Club | 71 |
| Carson Thompson, Laurel Creek Country Club | 71 |
| Matthew Zerfass, Brookside CC of Allentown | 71 |
| Anthony Ciconte, Wilmington Country Club | 72 |
| Michael Lugiano, Huntsville Golf Club | 72 |
| *Evan Barbin, Chesapeake Bay Golf Club | 73 |
| *Seiji Sako, McCall Golf Club | 73 |
| *Eli Shah, Penn Oaks Golf Club | 73 |
| First Flight | |
| *Sean Kelly, Bucknell Golf Club | 73 |
| *Christian Matt, Cedarbrook Country Club | 73 |
| Ryan D'Ariano, Penn Oaks Golf Club | 74 |
| Tyler Debusschere, The Springhaven Club | 74 |
| Kevin Lydon, Commonwealth National Golf Club | 74 |
| Matthew Normand, Laurel Creek Country Club | 74 |
| James Ulsh, Carlisle Country Club | 74 |
| Jack Homer, Wilmington Country Club | 75 |
| Scott Hughes, Cedarbrook Country Club | 75 |
| Jack Orr, Little Mill Country Club | 75 |
| Sean Curran, Merion Golf Club | 76 |
| Daniel Flaherty, Rolling Green Golf Club | 76 |
| Kevin Lafond, Blue Bell Country Club | 76 |
| Ethan Martin, GAP Youth on Course | 76 |
| Darren Nolan, Cedarbrook Country Club | 76 |
| *John Curran, Chester Valley Golf Club | 77 |
| Failed to qualify | |
| *Michael Deussing, Jericho National Golf Club | 77 |
| *Matthew Hurchalla, The Springhaven Club | 77 |
| *Kasim Narinesingh-Smith, Radley Run Country Club | 77 |
| Owen Blazick, Wyoming Valley Country Club | 78 |
| Jack Dare, Riverton Country Club | 78 |
| Jeffrey Homer, Wilmington Country Club | 78 |
| Ryan Hsieh, Penn Oaks Golf Club | 78 |
| Connor Matteo, Valley Country Club | 78 |
| Alex Nemo, Merion Golf Club | 78 |
| Rory Nesbitt, Merion Golf Club | 78 |
| Nicky Riscica, Trenton Country Club | 78 |
| Jeffrey Seiler, Indian Valley Country Club | 78 |
| Sebastian Botero, North Hills Country Club | 79 |
| Jack Crowley, Aronimink Golf Club | 79 |
| Jack Davis, Aronimink Golf Club | 79 |
| Kristof Kopecky, Wilmington Country Club | 79 |
| Benjamin Saggers, Applecross Country Club | 79 |
| Liam Shearn , McCall Golf Club | 79 |
| Matthew Caputo, The Springhaven Club | 80 |
| Steven Fryer, Commonwealth National Golf Club | 80 |
| Joe Kriz, Manufacturers' Golf & Country Club | 80 |
| Liam McFadden, Overbrook Golf Club | 80 |
| Chase Stephano, Aronimink Golf Club | 80 |
| Cade Kelleher, Country Club of Scranton | 81 |
| Nick Linkchorst, Golf Course at Glen Mills | 81 |
| Stephen Rebar, Manufacturers' Golf & Country Club | 81 |
| Reilly Shaffer, Llanerch Country Club | 81 |
| John Stevenson, North Hills Country Club | 81 |
| Harrison Brown, Philadelphia Country Club | 82 |
| Matthew Buckley, Rolling Green Golf Club | 82 |
| Matthew Dietl, GAP Youth on Course | 82 |
| Adam Fluehr, North Hills Country Club | 82 |
| Eric Fryer, Commonwealth National Golf Club | 82 |
| Tyler Smith, Laurel Creek Country Club | 82 |
| Lucas Steinmetz, Spring Ford Country Club | 82 |
| Hunter Stetson, Aronimink Golf Club | 82 |
| Chris Vahey , North Hills Country Club | 82 |
| Grant Urie, Hartefeld National | 83 |
| Will Dunsmore, Talamore Country Club | 84 |
| Luke Evans, St. Davids Golf Club | 84 |
| J.P. Hoban, McCall Golf Club | 84 |
| Marshall Kain, Overbrook Golf Club | 84 |
| Leo Knott, Rolling Green Golf Club | 84 |
| Peter Lafon, GAP Youth on Course | 84 |
| Quin Bongiovanni, Paxon Hollow Country Club | 85 |
| Paul Reilly, Galloway National Golf Club | 85 |
| Alec Thiele, GAP Youth on Course | 85 |
| Brett Keenan, Whitemarsh Valley Country Club | 86 |
| Reid Walker, Riverton Country Club | 86 |
| Joe Ciconte, Wilmington Country Club | 87 |
| Nicky Nemo, Merion Golf Club | 87 |
| Jack Chodkowski, Overbrook Golf Club | 88 |
| Julian Boyer, GAP Youth on Course | 89 |
| Davis Fairbanks, The Springhaven Club | 89 |
| Justin Forman, Scotland Run Golf Club | 89 |
| John Rouse, Aronimink Golf Club | 89 |
| Nolan Corcoran, GAP Youth on Course | 90 |
| Zach Moua, St. Davids Golf Club | 90 |
| Anthony Tedeschi, Little Mill Country Club | 91 |
| James Barton, GAP Youth on Course | 92 |
| Trevor Dendler, Yardley Country Club | 92 |
| Thomas DiGiulio, Wedgwood Country Club | 92 |
| Kyle Watson, Cedarbrook Country Club | 92 |
| Christian Dawley, Philadelphia Country Club | 94 |
| Drew Miller, Pottsville ll TG GC | 94 |
| Colin Drummond, GAP Youth on Course | 95 |
| Sam Houchen, GAP Youth on Course | 95 |
| Ian McEwen, Sandy Run Country Club | 95 |
| Will Walsh, Philadelphia Country Club | 96 |
| Devin Carpenter, Walnut Lane Golf Club | 97 |
| Anthony Carson, GAP Youth on Course | 100 |
| Jason Jones, Radley Run Country Club | 102 |
| Frankie Kolanko, Yardley Country Club | NS |
| Michael Maslanka, Country Club of Scranton | WD |
| Shane Powelson, Bidermann Golf Course | WD |
| * – determined in playoff | |
| NS – no show; WD – withdrawal | |