Peters almost holes out again, sits one back of #PattersonCup lead
| Scoring portal | History | Media guide | Course flyover |
FORT WASHINGTON, Pa. – John Peters almost did it again.
Peters, the hero at Merion Golf Club in last week's Pennsylvania Amateur Championship, stepped up to the first tee at Manufacturers' Golf & Country Club with an extra kick of confidence. After holing out for eagle on Merion's famed 18th closer to win the Amateur title, Peters flirted with a hole-out highlight Wednesday in the first round of the 119th Joseph H. Patterson Cup presented by Provident Bank — a week removed from his historic shot.
On Mannies' par-4, 374-yard opener, Carlisle Country Club's Peters lifted a 4-iron off the tee, finding the right fairway bunker. Facing a 40-yard approach, he grabbed lob wedge from the bag, clipped it clean and thoughts began to pop in his mind.
"I was thinking, 'This has a chance,'" said Peters, a Duke University commit, who was looking for his second-consecutive eagle hole out stemming back to Merion. "It was just kind of funny to me. Kind of ironic in a way."
That near eagle turned into birdie 3, propelling Peters to a mostly-red round from there on out. An actual eagle would fall before Peters made the turn, when his 6-iron approach from 175 yards landed six feet from the flagstick. Six birdies overall dropped on the day. Peters currently sits tied for third — one back of leaders Andrew Keeling of Kennett Square Golf & Country Club and Patrick Sheehan of Talamore Country Club — heading into the final round.
"There's definitely a lot of birdies out there. This was [my first time seeing the course], so I think I learned a lot about it today. I made a couple more bogeys than I would have liked on the front side. But overall, I think once I get a wedge in my hand here, I can get aggressive to some of these pins," said Peters, 18, of Carlisle, Pa.
"The eagle and the win, it gave me a lot of confidence. But at the end of the day, I'm still the same John Peters."
That type of mindset is what earned Peters his signature victory last week. Sitting down a stroke in the right-center of No. 18 fairway, Peters drilled an 8-iron from 193 yards toward the wicker basket. His approach surfaced on the front of the green before trickling toward the cup. Peters himself thought the ball went over the green, when in fact it had dropped in, as evidenced by the large gallery's reaction to the winning eagle. Roars galore.
"It still really hasn't settled in yet. I actually don't know if it ever will, to be honest," said Peters. "It was incredible. That night, I brought the trophy back to Carlisle and showed the trophy to everyone. I'll never forget it."
Peters' performance at Merion garnered plenty of headlines, and rightfully so. It's a moment he'll cherish forever, and a moment that will live in Merion lore.
It's also future fuel for his fiery game, which should be on display in tomorrow's final Patterson Cup lap.
"The eagle and the win, it gave me a lot of confidence. But at the end of the day, I'm still the same John Peters. I'm still the same golfer," said Peters. "I just need to come out tomorrow, play my own game, make some birdies, and we'll see what happens."
Besides a chance at the Patterson crown, Peters will have a shot at winning the season-long Silver Cross Award. Peters, thanks to his sizzling round of 5-under-par 66 today, sits three back of Silver Cross leader Peter Bradbeer of Merion heading into the fourth and final leg.
Caddies transition to GAP Major competitors at Mannies
Not many people can pull off a smooth transition from caddying to playing before competing in a GAP Major.
McCall Golf Club's Jason Loehrs and Sandy Run Country Club's David Malone showcased that transition Wednesday in the Patterson Cup presented by Provident Bank.
"I thought it was great to be in the same group as Jason. We talked a lot of the same dialect. I wish our scores were better, but we had a great day out there," Malone, 36, of Plymouth Meeting, Pa., said. "After being around the game for so long, you see many different shots and bounces, and it's something you can pick up on pretty quickly."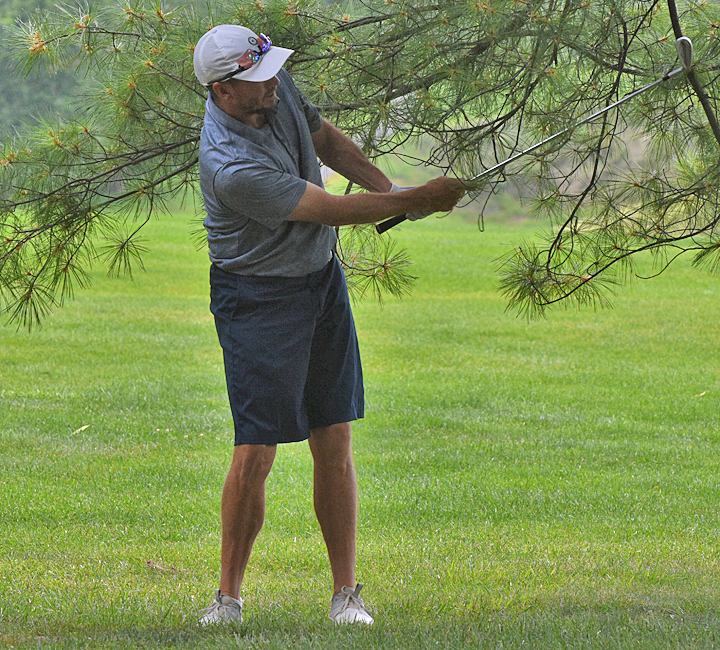 After spending 10 years at Amtrak in its engineering department, Loehrs got laid off and had the opportunity to caddie full-time at Merion Golf Club in April.
"I've been working at Merion almost every day, but since I live so close to the course, it's very convenient," Loehrs, 40, of Havertown, Pa., said. "The staff and members at Merion have been tremendous so far, and it's pretty neat being able to be on a golf course every day for work."
While Loehrs doesn't get to play as much golf since he's been a full-time caddie at Merion, being around the game for him has been a significant advantage. For example, he held the bag for Michael R. Brown, Jr. in the Pennsylvania Golf Association Amateur Championship last week at Merion.
"In my position, you get to see a lot of golf whether someone plays great or bad," Loehrs said. "Being on the bag for Michael was an amazing experience because he has an incredible work ethic, which is always inspiring to watch."
While Loehrs finished the day at 7-over-par 78 and failed to make the cut at 3 over, he has a lot to look forward to when he goes back to work at Merion.
"Obviously, I wish I had played better than I did today," Loehrs said. "I'm excited to go back to get back to work and continue to be around the game of golf."
As for Malone, he spent eight years as a caddie at Philadelphia Cricket Club while in high school and college.
Even though his days caddying at Philadelphia Cricket are behind him, Malone still loops at Green Valley Country Club when he gets the chance. Malone spends the rest of his time working as he enters his seventh year as a sales representative for Hunter Douglas in the Philadelphia, Pa. and South Jersey regions.
"I get to be around a lot of great courses around this area, and it's been amazing being around the game for that long," Malone said. "Anytime you can pick something up from somebody else, whether it be a good or bad player, is a tremendous learning experience."
While Malone also failed to make the cut by carding a score of 8-over-par 79, he embraced the opportunity of playing in the #PattersonCup and a GAP Major.
"I thought I was able to have a good temperament throughout my play today, and it's always a privilege getting the chance to compete in a GAP tournament," Malone said.
The second oldest Championship in GAP, the Joseph H. Patterson Cup memorializes a man who fostered the game in its infancy. Joseph Henry Patterson, a Philadelphia Cricket Club member, competed in the first out-of-town match played by a team of Philadelphians. Friends of Patterson donated the Cup, designed by J.E. Caldwell & Co., to the Association in 1900.
Provident Bank
Provident Bank, a community-oriented financial institution offering "Commitment you can count on" since 1839, is the wholly owned subsidiary of Provident Financial Services, Inc. (NYSE:PFS), which reported assets of $12.92 billion as of Dec. 31, 2020. With $9.84 billion in deposits, Provident Bank provides a comprehensive suite of financial products and services through its network of branches throughout northern and central New Jersey, as well as Bucks, Lehigh and Northampton counties in Pennsylvania and Queens County in New York. The Bank also provides fiduciary and wealth management services through its wholly owned subsidiary, Beacon Trust Company and insurance services through its wholly owned subsidiary, SB One Insurance Agency, Inc. For more information about Provident Bank, visit provident.bank or join the conversations on Facebook (ProvidentBank) and Twitter (@ProvidentBank).
GAP
Celebrating Amateur Golf since 1897, GAP, also known as the Golf Association of Philadelphia, is the oldest regional or state golf association in the United States. It serves as the principal ruling body of amateur golf in its region. The Association's 300 Member Clubs and 80,000 individual members are spread across the Eastern half of Pennsylvania and parts of Delaware, Maryland and New Jersey. The GAP's mission is to promote, preserve and protect the game of golf.