Three take medal honors in #GAPOpen Qual. at Trenton
TRENTON, N.J. – A sizzling-hot day didn't translate into sizzling-hot scores. Instead, Monday at Trenton Country Club (par 71, 6,269 yards), it was a battle against a gorgeous golf course — and the unforgiving sun.
A trio of talents topped a field of 72 hopefuls in the final of three GAP Open Championship Qualifying events. Finishing with a share of the medal at 1-over par 72 was Philadelphia Cricket Club's Marc Mandel, Talamore Country Club's Patrick Sheehan and LuLu Country Club's Ron Robinson.
The day's cut line stopped at 6-over 77, meaning 26 players punched tickets to the championship proper. The 117th #GAPOpen will be contested July 13-14 at Country Club of York.
Mandel, fresh off a win in Philadelphia Cricket's Stroke-Play Club Championship over the weekend, got in the house first at 1-over par. He utilized four birdies on the day to finish in the top spot.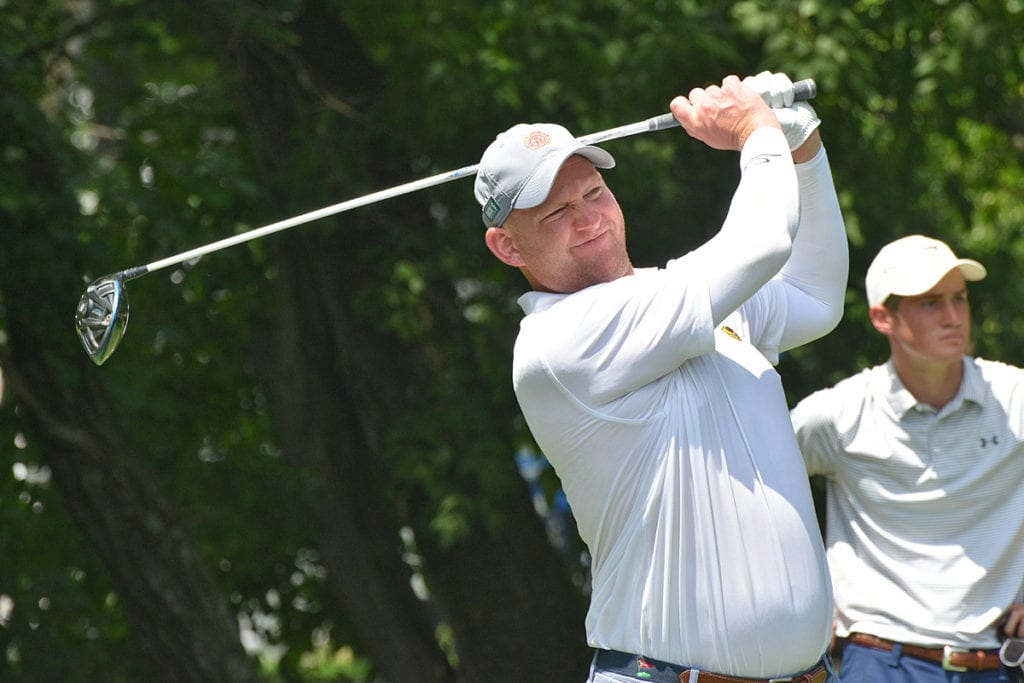 After blasting driver on No. 1 (par 4, 294 yards), Mandel chipped up to six feet to begin with a 3. A 7-iron on the par-3, 189-yard 5th landed 15 feet away, and the putt was made for his second red figure. Another fell from 20 feet on No. 12 (par 5, 564 yards), followed by a 12-foot make on No. 15, (par 3, 115 yards).
"I just wanted to come out here and kind of just play my game, kind of keep the momentum going," said Mandel, 39, of Plymouth Meeting, Pa. "It feels good to stay consistent. They key for me is to continue to putt well. Anything can happen [at York] if I do."
Mandel's club championship title — his first — has the power-hitter's game moving in a strong direction. The confidence, and the swing, are both there. If the putter follows suit, watch out.
"I'm really happy with how well I've been playing, especially to have gotten some paint at Cricket. I never thought I could compete with those young guys, so I'm proud of getting it done," said Mandel.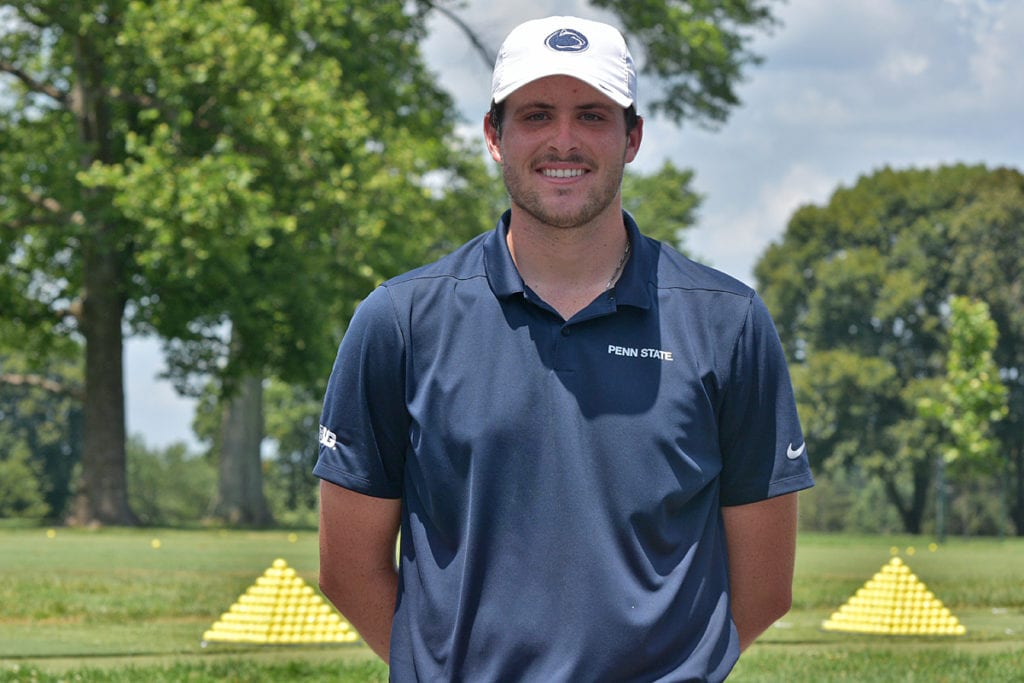 Next in was Sheehan, a rising junior at Penn State University, who jarred three birdies overall, including a 12-footer to begin his roasting round on No. 1. His "best of the day" came on No. 16 (par 4, 350 yards) after a wedge from 110 yards landed to 15 feet and Sheehan drained the testing look.
"I had a tough stretch there, bogeying three in a row on the front," said Sheehan, 20, of Doylestown, Pa. "I was sloppy today. I hit some good shots here and there, but I just wanted to get in at 1 over and qualify."
After missing out on BMW Philadelphia Amateur Championship registration, Sheehan now looks to make his first GAP splash in 2021 at the Open. His impressive finish in the Pennsylvania State Golf Association's R. Jay Sigel Amateur Match Play Championship highlights a quiet summer so far.
"I got medalist honors there [at Sewickley Heights Golf Club] and then fell in the final match, so overall that was a good week for me," said Sheehan, who has only played in two tournaments so far this summer. "Once July starts, that's when things start to get busy for me before I head back to school. Hopefully I can do some good things before then."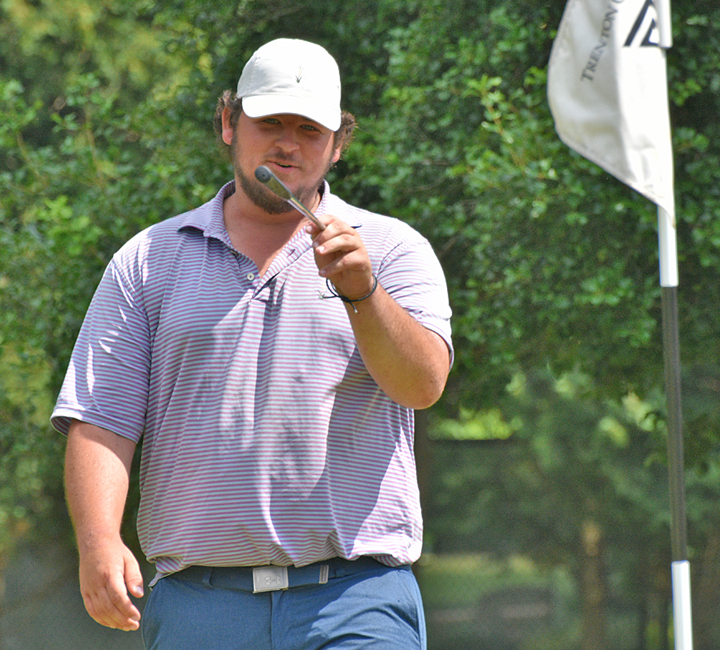 Robinson was the third 72 in the house. After a triple bogey 7 on No. 4 (par 4, 447 yards), Robinson went on to finish 2 under for the remainder of the round. A 40-foot birdie bomb, topped off with a fatigued fist pump, rounded it out.
"I kind of hacked it up there on the front, but luckily I played some really good golf coming in. [Trenton] was playing really tough today. Fast," said Robinson, who reached match play in this year's BMW Philadelphia Amateur. "And then to make that 40-foot bomb at the end… just wow."
An official Heat Warning went out in the state of New Jersey Monday morning. Water bottle consumption rate was sky high in result. Robinson said he had to take measures to manage the heatwave throughout the round, and even before teeing off.
"I must of had about 12 water bottles out there today. It was really, really hot," said Robinson, 22, of Hatfield, Pa. "I started hitting balls at 10 a.m. today, and after a few, I really had to stop because I wasn't going to have anything left."
The Open Championship is GAP's third oldest championship behind the Philadelphia Amateur and Joseph H. Patterson Cup.
GAP
Celebrating Amateur Golf since 1897, GAP, also known as the Golf Association of Philadelphia, is the oldest regional or state golf association in the United States. It serves as the principal ruling body of amateur golf in its region. The Association's 300 Member Clubs and 80,000 individual members are spread across the Eastern half of Pennsylvania and parts of Delaware, Maryland and New Jersey. The GAP's mission is to promote, preserve and protect the game of golf.
| | |
| --- | --- |
| Qualifiers | |
| Name, club | Score |
| (a)Marc Mandel, Philadelphia Cricket Club | 72 |
| (a)Ron Robinson, LuLu Country Club | 72 |
| (a)Patrick Sheehan, Talamore Country Club | 72 |
| (a)Liam Hart, Spring Mill Country Club | 73 |
| (a)Andrew Keeling, Kennett Square Golf & Country Club | 73 |
| (a)Richie Kline, Kennett Square Golf & Country Club | 73 |
| (a)Mark Miller, Philadelphia Cricket Club | 73 |
| (a)Jamie Slonis, Tavistock Country Club | 73 |
| (a)John Buliga, Yardley Country Club | 74 |
| (a)Peter D'Angelo, Burlington Country Club | 74 |
| (a)Dougie Ergood, Tavistock Country Club | 74 |
| (a)Scott Lawson, Cedarbrook Country Club | 74 |
| (a)Jack Tarzy, Medford Lakes Country Club | 74 |
| (a)Ben Keyser, Woodcrest Country Club | 75 |
| (a)Lodie van Tonder, Sakima Country Club | 75 |
| (a)Corey Betham, St. Davids Golf Club | 76 |
| (a)Brad McFadden, Overbrook Golf Club | 76 |
| (a)Hayden Moffat, Philadelphia Publinks Golf Association | 76 |
| (a)P. Chet Walsh, Philadelphia Country Club | 76 |
| (a)Christopher Warner, Makefield Highlands Golf Club | 76 |
| (a)Todd Baron, Philadelphia Publinks Golf Association | 77 |
| Blake Hinckley, Wilmington Country Club | 77 |
| (a)Blaine Lafferty, Little Mill Country Club | 77 |
| (a)Brian Lasky, Woodcrest Country Club | 77 |
| (a)Jack Wallace, Riverton Country Club | 77 |
| (a)Thomas Weir, Honeybrook Golf Club | 77 |
| Failed to qualify | |
| (a)Ryan Barnett, Union League Liberty Hill | 78 |
| (a)Timothy Chilleri, Manufacturers' Golf & Country Club | 78 |
| (a)Sal Cucinotti, Talamore Country Club | 78 |
| Barry Dear, Blue Heron Pines Golf Club | 78 |
| (a)Greg DeLuca, Trenton Country Club | 78 |
| (a)Joshua Feldschneider, Burlington Country Club | 78 |
| (a)Gerald Haftmann, Rolling Green Golf Club | 78 |
| (a)Ahren Henby, Yardley Country Club | 78 |
| Steve Kiefner, Northampton Country Club | 78 |
| (a)Austin Schreffler, Armitage Golf Club | 78 |
| (a)Jeffrey Angelucci, Union League Golf Club at Torresdale | 79 |
| Chris Dymek, Manasquan River Golf Club | 79 |
| Bob Hennefer, Laurel Creek Country Club | 79 |
| Brian Hollins, Links Golf Club | 79 |
| (a)Dan Keenan, Little Mill Country Club | 79 |
| (a)Shane Nocito, Yardley Country Club | 79 |
| Stephen Sanderson, Pine Valley Golf Club | 79 |
| Curtis Kirkpatrick, Indian Spring Country Club | 80 |
| (a)Joe Pirozzi, The Ridge at Back Brook | 80 |
| (a)Benjamin Fiske, Mercer Oaks Golf Course | 81 |
| (a)Kevin Maguire, Laurel Creek Country Club | 81 |
| (a)Tony Nocito, Bensalem Country Club | 81 |
| Kyle Early, Waynesborough Country Club | 82 |
| (a)Salvatore Galati, Woodcrest Country Club | 82 |
| (a)Jack Kearns, Trenton Country Club | 82 |
| Brendan White, Trenton Country Club | 82 |
| (a)Frank Nattle, Philadelphia Publinks Golf Association | 83 |
| (a)Michael Andreassi, Yardley Country Club | 84 |
| (a)Jefferey Cai, Mercer Oaks Golf Course | 84 |
| (a)Brian Piotrowski, Wedgwood Country Club | 85 |
| (a)Brent Schoeller, Huntingdon Valley Country Club | 85 |
| Francis Diodato, GOLFTEC-Moorestown | 86 |
| (a)Andrew Sterge, Applebrook Golf Club | 87 |
| (a)Mike Walley, Trenton Country Club | 88 |
| (a)Phil Formica, Yardley Country Club | 89 |
| (a)Jordan Rosenblatt, Woodcrest Country Club | 90 |
| Cheech Shukdinas, Dick's Sporting Goods | 90 |
| (a)Robert Grife, Little Mill Country Club | 94 |
| (a)Michael Torrissi, Trump National Golf Club – Philadelphia | 95 |
| (a)Stephenie Harris, Lookaway Golf Club | 96 |
| (a)Seth Beard, Broad Run Golfer's Club | 98 |
| (a)Fran Begley, Wedgwood Country Club | WD |
| (a)Stephen Fordyce, Lookaway Golf Club | WD |
| (a)Jack Mara, Metedeconk National Golf Club | WD |
| (a)Patrick Pasquariello, Philadelphia Country Club | WD |
| (a)Brad Sokol, Green Valley Country Club | WD |
| WD – withdrawal | |
| (a) – denotes amateur | |