Coatesville's Morgenthaler wins Chapman (Net)
EXTON, Pa. — John Morgenthaler's golf trend of late didn't suggest a trophy.
| Scoring portal | History | Photo gallery |
"I shot 88-92 [in Coatesville Country Club's Member-Member over the weekend] and couldn't find my swing," he said. "I had the fortune of playing Lancaster Country Club yesterday. Same case. I was dribbling the ball of the tee and not finding anything quite honestly. I shot 90 at a great golf course. My first 20 range balls here today, I couldn't find my swing. It was quite ugly. Then I just relaxed, shortened my backswing and didn't try as hard."
Morgenthaler made it look easy Wednesday. The Coatesville Country Club member posted 39 points to capture the 81st Frank H. Chapman Memorial Cup (Net) at Whitford Country Club (par 72, 5,867 yards).
"I said to [my playing partner] Billy (Cranney), 'I'm slapping the ball. I have no idea what I'm doing,'" Morgenthaler, 58, of Downingtown, Pa., said. "Then I hit three or four shots in a row pretty good. I relaxed my swing. I mean I hit some bad shots today, but nothing like I did the previous three rounds. Golf is a funny game."
Although he left Lancaster wounded, Morgenthaler savored the taste of fast greens. Whitford's complexes proved equally as speedy. Morgenthaler, thanks to a tune-up, never logged a three-putt Wednesday.
"It was helpful because the greens were very fast at Lancaster, and I putted OK," he said. "I've played Whitford a number of times. I've played in the Member-Guest three times. [Course experience] absolutely helps."
Two gross birdies dotted his scorecard. On No. 5 (par 3, 104 yards), Morgenthaler knocked a 54-degree wedge to six feet.
"I yelled at it to be enough. It was enough," he said.
On No. 12 (par 5, 445 yards), the wind pushed Morgenthaler's 3-wood short of the right front bunker. He then played a wedge to perfection.
"I was trying to throw it up short of the hole, and it actually released above the hole," Morgenthaler, a financial consultant, said. "I was fortunate that I saw Bill's chip come down the hill. Seeing his chip release to the right, I knew [my birdie putt] was going to go a little to the right."
Slightly right, directly into the jar for a fist-pumping 4. Morgenthaler also cited Nos. 10 (par 4, 333 yards) and 16 (par 5, 454 yards) as energizing — and reassuring — conversions. On the former, he "laid the sod" over a wedge from 74 yards. Morgenthaler then chased a wedge to eight feet and lipped the par putt. A GAP staff member located his wayward drive on the 16th hole. Morgenthaler played a pitching wedge back into the fairway, then missed the green right with a 9-iron from 154 yards. He buried a downhill seven-footer to save par there.
"What I do now is I need to relax my body," Morgenthaler said. "Sometimes I play golf like a linebacker. Full speed ahead isn't good in this game. You need to relax and have tempo."
He'll rest easy tonight.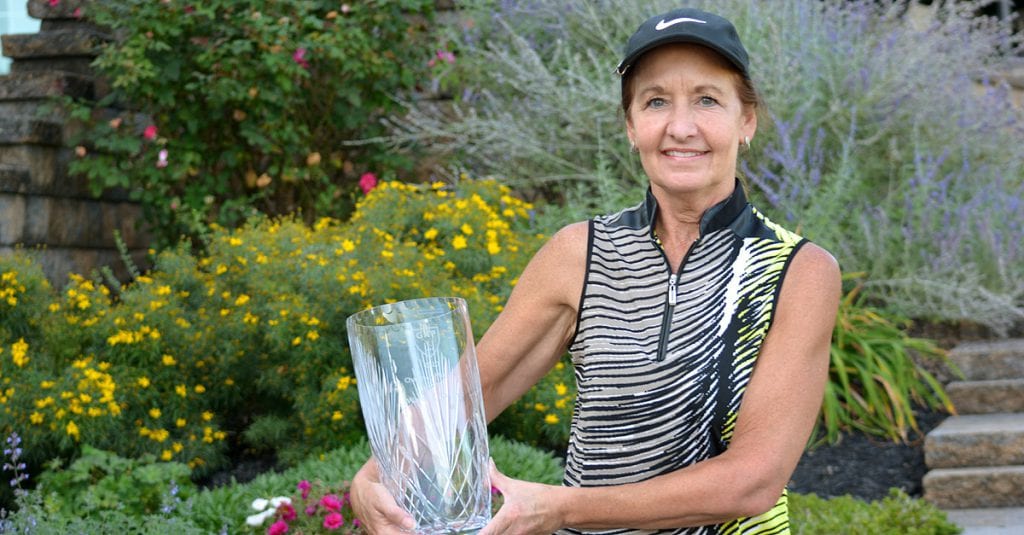 Women's Division
RiverCrest Golf Club & Preserve's Sheryl Rose doesn't typically venture outside her home course.
But a registration reminder for the Frank H. Chapman Memorial Cup (Net) at Whitford Country Club (par 72, 5,592 yards) removed her from her comfort zone.
"I got an email that sounded like me. You had to be over 50 years old and not be a scratch golfer," Rose said. "I thought, 'Wow. That sounds like this was made for me.'"
Match made. Rose posted 32 points to take the event's Women's Division.
"I loved the course. I enjoyed it a lot," Rose, 57, of Wayne, Pa., said. "I don't really play any other courses but mine, but today was enjoyable."
Rose edged playing partner Colleen Baker of Lehigh Country Club by a point thanks to her lone par of the day. On No. 17 (par 3, 158 yards), she hit a driver to 20 feet and two putted.
Rose is a RiverCrest regular. She classified her golf summer as "good" in the wake of the COVID-19 pandemic.
"Our course has been very serious about maintaining all of the COVID-19 restrictions. We don't have rakes in our bunkers. We're not allowed to touch the flagsticks," Rose, who works in accounting, said. "Luckily, no one has gotten sick at our course."
Rose will next compete in RiverCrest's Member-Member Oct. 3-4.
Frank H. Chapman, a Whitemarsh Valley Country Club member, served as the Association's secretary-treasurer for 23 years. He died on June 7, 1955 at the age of 88. The Net tournament is held in his honor.
GAP
Celebrating Amateur Golf since 1897, GAP, also known as the Golf Association of Philadelphia, is the oldest regional or state golf association in the United States. It serves as the principal ruling body of amateur golf in its region. The Association's 288 Member Clubs and 75,000 individual members are spread across the Eastern half of Pennsylvania and parts of New Jersey and Delaware. The GAP's mission is to promote, preserve and protect the game of golf.
| | |
| --- | --- |
| Results | |
| Men's Division | |
| Name, club | Points |
| John Morgenthaler, Coatesville Country Club | 39 |
| Tom Mallouk, Lookaway Golf Club | 37 |
| Evan Berson, Radnor Valley Country Club | 36 |
| Lee Oxman, Moselem Springs Golf Club | 35 |
| Rick Ames, Philadelphia Publinks Golf Association | 34 |
| Steven Alger, Lebanon Country Club | 34 |
| Mike Connell, The Springhaven Club | 34 |
| James McGuckin, Philadelphia Country Club | 34 |
| Joseph DeAngelis, Makefield Highlands Golf Club | 33 |
| Greg Smith, Radley Run Country Club | 33 |
| Michael Kyle, Talamore Country Club | 33 |
| John Lobb, Bellewood Country Club | 32 |
| William Erskine, Philadelphia Publinks Golf Association | 32 |
| Terrance Schmidt, Talamore Country Club | 31 |
| Timothy Joyce, Philadelphia Publinks Golf Association | 31 |
| Francis Tan, Medford Lakes Country Club | 31 |
| Thomas Gorman, Rolling Green Golf Club | 31 |
| Francis Carolan, Makefield Highlands Golf Club | 30 |
| John Costa, McCall Golf Club | 30 |
| Samuel Reed, Hershey Country Club | 30 |
| Michael Penso, Metedeconk National Golf Club | 30 |
| Don Neill, LuLu Country Club | 30 |
| William Choy, Flourtown Country Club | 29 |
| John O'Rourke, McCall Golf Club | 29 |
| Kenneth Wortley, Bala Golf Club | 29 |
| Bob Woods, Makefield Highlands Golf Club | 29 |
| Duke Rittersbach, Five Ponds Golf Club | 29 |
| Thomas Brennan, Moselem Springs Golf Club | 29 |
| Bill Cranney, Coatesville Country Club | 28 |
| Ed Blomstedt, Golf Course at Glen Mills | 28 |
| Jerry Maxwell, Five Ponds Golf Club | 28 |
| Palmer Hossler, Loch Nairn Golf Club | 28 |
| Gary Crompton, Five Ponds Golf Club | 27 |
| Scott Dichter, Meadia Heights Golf Club | 27 |
| James Wiley, LuLu Country Club | 27 |
| Jack Polidori, DuPont Country Club | 27 |
| Timothy Kiorpes, Lookaway Golf Club | 26 |
| George Marshalek, Philadelphia Publinks Golf Association | 26 |
| Andre Ferber, Radnor Valley Country Club | 26 |
| Tom Watterson, Loch Nairn Golf Club | 25 |
| Roland Thomas, McCall Golf Club | 25 |
| Mike Wall, Hershey Country Club | 25 |
| Pete Farina, Philadelphia Publinks Golf Association | 25 |
| Tim Stephens, Bala Golf Club | 23 |
| Gerard Schmidt, Bensalem Township Country Club | 23 |
| Steve Haley, Loch Nairn Golf Club | 23 |
| Hank Collins, Philadelphia Publinks Golf Association | 23 |
| Wayne Yetter, Lookaway Golf Club | 22 |
| James Reger, McCall Golf Club | 22 |
| David Rosenthal, Radnor Valley Country Club | 21 |
| Richard Costa, Hershey's Mill Golf Club | 21 |
| Doug Mael, Makefield Highlands Golf Club | 20 |
| Shahab Bina, Radnor Valley Country Club | 17 |
| James Brophy, Hershey's Mill Golf Club | DQ |
| Women's Division | |
| Name, club | Points |
| Sheryl Rose, RiverCrest GC & Preserve | 32 |
| Colleen Baker, Lehigh Country Club | 31 |
| Josie Anthony, White Manor Country Club | 28 |
| Patty Wright, Tanglewood Manor Golf Club | 27 |
| Karen Hilliard, Spring Ford Country Club | 26 |
| Mary Pownall, Tanglewood Manor Golf Club | 24 |
| Alison Kellock, Flourtown Country Club | 22 |
| Jackie Beck, Lehigh Country Club | 21 |
| Patty Cox, Lehigh Country Club | NS |
| DQ — disqualification; NS — no show | |