Donatoni

sets pace in Super-Senior Amateur
COATESVILLE, Pa. – Don Donatoni caught fire on the second nine at Coatesville Country Club (par 71, 5,901 yards) to take the lead after Round One in the 17th Super-Senior Amateur Championship.
| Scorecards | History | Super-Senior Silver Cross Award history |
White Manor's Donatoni, an eight-time Super-Senior Player of the Year, shot 4 under on Coatesville's closing side to set the pace at 3-under 68. He will sleep on a one-stroke lead as Sandy Run Country Club's Duke Delcher sits one back at 2 under. Wilmington Country Club's Steve Walczak lurks two-shots back at 1-under 70.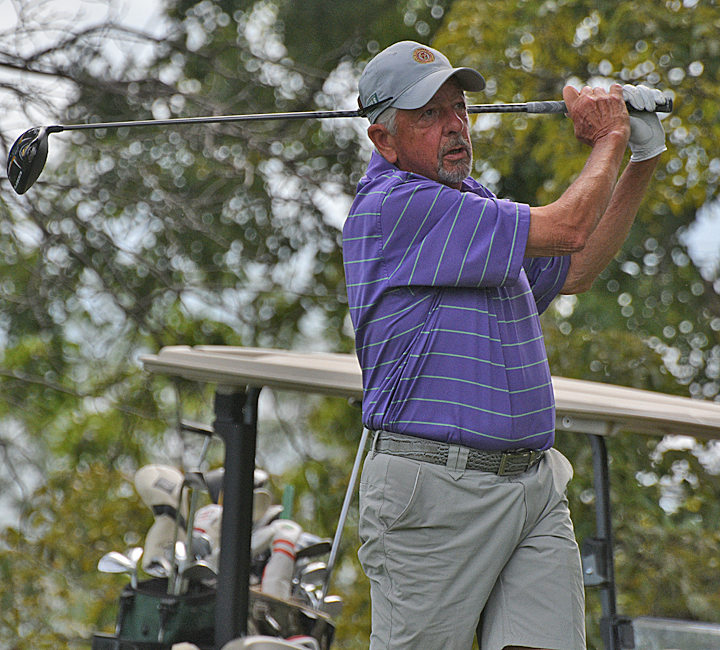 To meet the needs of its members, GAP instituted a separation of the Senior and Super-Senior Divisions in Major competitions. Today's event marks the first-ever standalone Super-Senior Championship.
The Supers legend, with four Super-Senior Amateur trophies to his name, began the day with eight-straight pars. After three-putting No. 9 (par 4, 335 yards) for bogey, it was time to make up some ground.
"I missed a three footer for par, and that one bothered me a little. I was going along at even par and then to bogey that was tough," said Donatoni, 74, of West Chester, Pa.
The disappointment quickly dissipated. On No. 10 (par 5, 514 yards), Donatoni lifted a lob wedge in on his third shot to 12 feet and walked in the birdie look. He'd grab another on the par-3, 119-yard 13th hole after a 9-iron off the tee flirted with the cup but ended up four feet short. Donatoni dropped that putt for 2. On the next, No. 14 (par 4, 391 yards), Donatoni's drive came to rest next to an immovable rock in the ground. His hybrid approach was topped, leaving him 70 yards out.
"I had about 180 yards in. I was trying to remove the rock without moving my ball, but the rock was obviously embedded. I was really concerned that I was going to break my club. I topped the shot to 60 yards out," said Donatoni. "I had a hell of a third shot to six feet and made the putt. That was my best par of the day."
That par save was followed up with a left-to-right birdie make from six feet on No. 15 (par 5, 533 yards). The Super stalwart secured his fourth red figure of the day on Coatesville's closer, the par-4, 330-yard 18th. After Donatoni's 3-wood was drilled perfectly on line, he placed wedge to eight feet from 70 yards out. Birdie putt, converted. Round One lead secured.
"My wedges were really working. I just recently switched to [Golf Pride MCC Plus4 Grips] on my short wedges, and I feel like I can get my hands through and hit them straight," said Donatoni.
Sleeping on the lead won't bother someone with legendary experience like Donatoni. Even so, he almost prefers to be "one or two shots back just so I can get aggressive."
"I might take a Tylenol PM tonight just to sleep a little easier. But I've been able to prove myself over the years. I don't have anything to lose," said Donatoni. "Tomorrow, I'll probably play a little more conservative. You know, I'll just try to hit the ball in the fairway and get it on the green. You've just got to stay away from the big numbers out there."
Round Two tee times begin Thursday at 8 a.m. In the final grouping at 9:30 a.m. will be Donatoni, Delcher and Walczak.
Silver Cross update:
To begin the day, Overlook Golf Course's Greg Osborne held a 10-stroke advantage coming into the final two legs of the Super-Senior Silver Cross race. He finished today's third round with a 7-over 78, allowing the rest of the field to make up some ground. Most notably gaining momentum was the reigning Super-Senior Player of the Year Brian Rothaus, who fired a 2-over 73 today. Rothaus sits seven back, as does LuLu Country Club's Chris Clauson, this year's Frank H. Chapman Memorial (Gross) winner.
The Super-Senior Silver Cross is awarded to the player with the lowest aggregate score in the Francis B. Warner Cup (Gross), Frank H. Chapman Cup (Gross) and both rounds of the Super-Senior Amateur Championship.
NOTE: The Springhaven Club's Rich Thon hit 3-wood on the daunting 12th hole (par 3, 199 yards) to make ace. This was his third hole-in-one in a GAP event. 
GAP
Celebrating Amateur Golf since 1897, GAP, also known as the Golf Association of Philadelphia, is the oldest regional or state golf association in the United States. It serves as the principal ruling body of amateur golf in its region. The Association's 330 Member Clubs and 90,000 individual members are spread across Pennsylvania, Delaware, New Jersey and Maryland. The GAP's mission is to promote, preserve and protect the game of golf.
| | |
| --- | --- |
| Round One | |
| Name, club | Score |
| Don Donatoni, White Manor Country Club | 68 |
| Duke Delcher, Sandy Run Country Club | 69 |
| Steve Walczak, Wilmington Country Club | 70 |
| Tom Borsello, Wyncote Golf Club | 71 |
| Mike Owsik, Hershey's Mill Golf Club | 71 |
| Chris Clauson, LuLu Country Club | 72 |
| Roc Irey, LuLu Country Club | 72 |
| Mike Moser, Kennett Square Golf & Country Club | 72 |
| Brian Rothaus, Five Ponds Golf Club | 73 |
| Jeffrey Allen, Wild Quail Golf & Country Club | 74 |
| Craig Scott, Great Bear Golf Club | 74 |
| Rich Thon, The Springhaven Club | 74 |
| Ron Vannelli, Philadelphia Publinks Golf Association | 74 |
| Scott Carney, Commonwealth National Golf Club | 75 |
| Marlin Detweiler, Lancaster Country Club | 75 |
| Robin McCool, Saucon Valley Country Club | 75 |
| Drew Panebianco, Five Ponds Golf Club | 75 |
| Raymond Pawulich, Little Mill Country Club | 75 |
| Frank Polizzi, Whitemarsh Valley Country Club | 75 |
| Vince Scarpetta, Jr., Nittany Country Club | 75 |
| Ed Short, Carlisle Country Club | 75 |
| Michael Vassil, Country Club of Scranton | 75 |
| Tom Bartolacci, LuLu Country Club | 76 |
| William Chase, Regents' Glen Country Club | 76 |
| Chuck Dowds, Applebrook Golf Club | 76 |
| Mike Farlling, Carlisle Country Club | 76 |
| Peter Mimmo, North Hills Country Club | 76 |
| Brian Sexton, Greate Bay Country Club | 76 |
| Marty Dorminy, Philadelphia Publinks Golf Association | 77 |
| Jim Prendergast, Philadelphia Publinks Golf Association | 77 |
| Michael Quinn, Philadelphia Publinks Golf Association | 77 |
| Alan Wagenschnur, Newark Country Club | 77 |
| Mark Walker, Laurel Creek Country Club | 77 |
| William Cregar, Little Mill Country Club | 78 |
| Bob Dorsey, Medford Lakes Country Club | 78 |
| Bob Majczan, Lookaway Golf Club | 78 |
| Gregory Osborne, Overlook Golf Course | 78 |
| Matthew Smith, Regents' Glen Country Club | 78 |
| Vince Yost, Cedarbrook Country Club | 78 |
| Buck Jones, Philadelphia Publinks Golf Association | 79 |
| Gary Sutton, Regents' Glen Country Club | 79 |
| David Kearney, Lehigh Country Club | 80 |
| Jim Mastromatteo, Overlook Golf Course | 80 |
| Tom White, Buck Hill Falls Golf Club | 80 |
| Gary Daniels, Applebrook Golf Club | 81 |
| Carl Everett, Sunnybrook Golf Club | 81 |
| John Gonsior, The Bucks Club | 81 |
| Jeffrey Poet, Country Club of York | 81 |
| Keith Wilson, Ed Oliver Golf Club | 81 |
| Bob Billings, Rolling Green Golf Club | 82 |
| Harold Schweitzer, Broad Run Golfer's Club | 82 |
| Bob Winter, Pilgrim's Oak Golf Course | 82 |
| Robert Dietrich, Philadelphia Publinks Golf Association | 84 |
| Jeffrey Amrhein, Briarwood Golf Club | 89 |
| Chuck Caparo, The 1912 Club | 92 |
| Joe Cordaro, Saucon Valley Country Club | WD |
| Tom DiCinti, Philadelphia Publinks Golf Association | WD |
| Robert Schubach, Wedgewood Golf Course | WD |
| Al van Horn, Commonwealth National Golf Club | WD |
| WD – withdrawal | |