Chester Valley duo captures 13th Senior 27-Hole Challenge trophy
PHILADELPHIA, Pa. – Three different laps around Bala Golf Club (par 68, 5,425 yards) resulted in a GAP trophy for a Chester Valley Golf Club duo.
Matt Hancock and Ken Silverwood battled to a 6-over 140 total and the win Wednesday, bettering a field of 20 Senior teams.
The first nine of the day featured a four-ball (better-ball of partners) format, followed by greensomes (selective drive/alternate shot) and team aggregate portions. Now in its 13th year, the Senior 27-Hole Challenge replaced the Senior Net Championship on the tournament schedule.
After a 1-under better-ball score, Hancock and Silverwood pulled away from the competitors with an eye-opening 2-under score in the greensomes format. It was their performance there — which featured one birdie by each teammate — that decided their fate.
"I figured we'd have to get a couple under par on the better ball, which we didn't, but we made up for it in the alternate shot," said Hancock, 59, of Malvern, Pa. "We played surprisingly well in that format. I think we probably gained four shots or so on the field there. I think it's safe to say that's where we won it."
It was the pivotal final nine, the team aggregate portion, that ultimately decided the championship. Although Hancock (4-over 37) and Silverwood (5-over 78) didn't keep up their stellar form in the team aggregate, it was enough to seal the deal.
"We started getting tired on the third nine and could tell we weren't playing as well as we did before. But we fought through it and both contributed what we could," said Silverwood, 61, of West Chester, Pa. "Neither one of us gave up which ultimately was important."
Playing in the first group out, both players had little idea whether or not their 6-over total would hold up. In fact, their victory came as a pleasant surprise come dinner time.
"When we handed in our scorecards, we didn't really know where we stood. [Director of Competitions Kirby Martin] reminded us that anything could happen in this format," said Silverwood.
"It was super hearing that news. I haven't been in the GAP winner's circle too much and it was a pleasure," said Hancock. "It's just fun to play with a guy you really enjoy spending time with, and we were going to have a good day whether we won or not."
A great — not good — day, plus a trophy added to the collection.
Super-Senior Division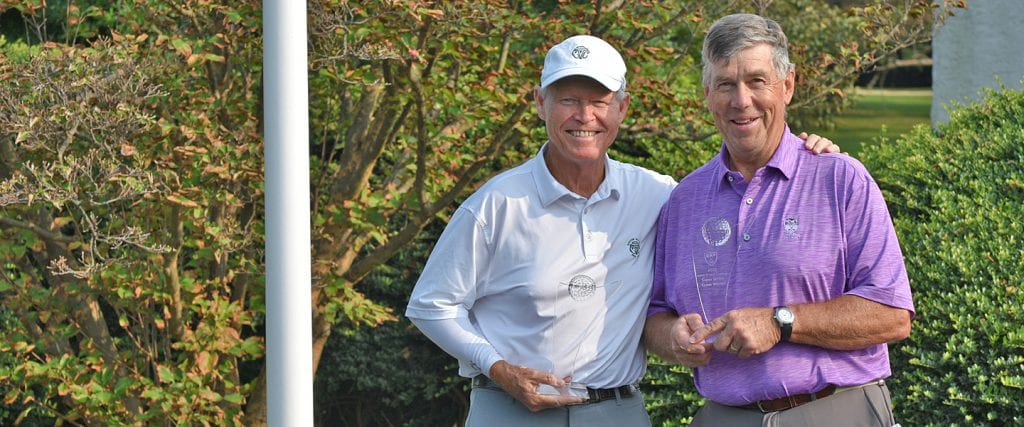 It was a spectacular follow-up performance for the Super-Senior Division's defending champions.
Robin McCool of Saucon Valley Country Club and Craig Scott of Great Bear Golf & Country Club worked their way to a second-straight title Wednesday, finishing the Senior 27-Hole Challenge at 5-over par 135. Their day at Bala (par 68, 5,082 yards) earned them a one-stroke victory over the 16-team Super-Senior field.
A sizzling 3-under 30 start in the better-ball portion got the duo in the mix early. However, a rough greensomes performance of 5-over 38 made things interesting.
"It's a Flynn design with a bunch of shot values to it. Local knowledge definitely would have helped out there," said Scott, 71, of Marshalls Creek, Pa.
"There were some tough club selections for us out there. Neither of us had ever played the course," said McCool, 69, of Center Valley, Pa. "We also had a good amount of three putts, too, which didn't help."
What did help was a clutch five-foot par putt by McCool on the 27th hole of the day, on Bala's par-3, 150 yard 9th hole. Both McCool and Scott ran their mid-range par putts past the hole. McCool stepped up confidently and got the winning putt to fall over the left lip.
"At least I was able to push that one in," said McCool.
The duo, who have been playing golf together for an estimated 35 years, finished at 5-over 71 on their final nine, resulting in the victory, following up last year's win at Wild Quail Golf & Country Club.
Maybe it's because of their back-to-back trophies. Or maybe because their dedicated golf fanhood. Either way, count McCool and Scott as diehard fans of the Senior 27-Hole Challenge's playing format.
"I said this last year, but I believe this was one of the best additions ever made to the [GAP schedule]. It's a very unique tournament and playing format," said Scott."It's an entire test of the golf game, and I think some of the guys who haven't played in it have been missing out."
GAP
Celebrating Amateur Golf since 1897, GAP, also known as the Golf Association of Philadelphia, is the oldest regional or state golf association in the United States. It serves as the principal ruling body of amateur golf in its region. The Association's 288 Member Clubs and 75,000 individual members are spread across the Eastern half of Pennsylvania and parts of New Jersey and Delaware. The GAP's mission is to promote, preserve and protect the game of golf.
| | | | | |
| --- | --- | --- | --- | --- |
| Gross results | | | | |
| Senior Division | | | | |
| Name, club, score | R1 | R2 | R3 | Total |
| Ken Silverwood/Matthew Hancock, Chester Valley | 32 | 33 | 75 | 140 |
| Carl Everett/J. Kirk Luntey, Merion | 31 | 38 | 73 | 142 |
| John Alterman/John Nottage, Commonwealth National | 35 | 37 | 74 | 146 |
| Steve Kohlbus/Jay Cambell,Tanglewood/Bon Air | 36 | 41 | 71 | 148 |
| Mark Fine/Brent Peterson, Lehigh | 32 | 39 | 78 | 149 |
| Rick Umani/Chris Terebesi, Honeybrook | 34 | 38 | 79 | 151 |
| Chuck Caparo/Matthew Mingione, 1912 Club | 36 | 41 | 74 | 151 |
| David Chenard/Jim Muehlbronner, Sandy Run | 36 | 41 | 76 | 153 |
| Chris Groves/Peter Krajsa, Brookside CC of Allentown | 35 | 41 | 79 | 155 |
| Bill Fagan/Ken Jones, St. Davids | 37 | 41 | 79 | 157 |
| William Christine/Joseph McClatchy, LuLu/Llanerch | 34 | 37 | 86 | 157 |
| Michael Schoedler/Rob Tredinnick, Five Ponds/Commonwealth National | 34 | 38 | 87 | 159 |
| Rich Kaspar/Michael Shoup, Sandy Run | 35 | 41 | 83 | 159 |
| Tom Huff/George Marshalek, Coatesville/Philadelphia Publinks | 35 | 43 | 81 | 159 |
| Terry Williams-Woodward/John Lobb, Bellewood | 36 | 40 | 84 | 160 |
| Robert Frankil/Jonathan Rinde, Bellewood/Timber Trails | 36 | 44 | 82 | 162 |
| Rodger Spear, Stanley Cuneo/Pocono Farms | 36 | 43 | 84 | 163 |
| Joe Lunardi/Michael Pierce, Llanerch/Springhaven | 41 | 43 | 87 | 171 |
| Terrance Schmidt/Gerard Schmidt, Talamore/Bensalem | 40 | 43 | 92 | 175 |
| Jeff Brodsky/Andrew Repetto, Philadelphia Publinks | 41 | 45 | 100 | 186 |
| Super-Senior Division | | | | |
| Robin McCool/Craig Scott, Saucon Valley/Great Bear | 30 | 38 | 71 | 139 |
| Rich Ton/Drew Harmer, Springhaven | 33 | 35 | 72 | 140 |
| Howard Press/Raymond Pawulich, Little Mill | 33 | 37 | 72 | 142 |
| John Young/John DiMarzio, Sandy Run | 35 | 39 | 75 | 149 |
| Tom DiCinti/Bob Majczan, French Creek | 35 | 38 | 76 | 149 |
| Bruce Berger/Arthur Frankel, Philmont | 40 | 41 | 71 | 152 |
| Andy Donaldson/George Jeitles, French Creek | 37 | 38 | 78 | 153 |
| Robert DeLong/Robert Krotee, Radnor Valley/Willow Hollow | 37 | 39 | 79 | 155 |
| Gerald Eckert/Alan Over, Bent Creek | 36 | 41 | 78 | 155 |
| Joe Viscuso/Peter Torras, Kennett Square | 33 | 40 | 83 | 156 |
| Paul Csigi/Rayman Solomon, Bala | 36 | 41 | 79 | 156 |
| Palmer Toto/Tom Mallouk, Lookaway | 35 | 43 | 88 | 166 |
| Joe DeAngelis/Michael McCorriston, Makefield/Jericho National | 34 | 46 | 89 | 169 |
| Joseph Martella/Tom Mee, Sandy Run | 38 | 44 | 87 | 169 |
| Quinn Spitzer/Washburn Oberwager, Makefield Highlands/Merion | 38 | 46 | 88 | 172 |
| Thomas Butler/Charles Gallagher, III, Flourtown | 38 | 50 | 96 | 184 |
| Net results | | | | |
| Senior Division | | | | |
| Name, club, score | | | | |
| Carl Everett/J. Kirk Luntey, Merion | 31 | 33 | 33 | 97 |
| Ken Silverwood/Matthew Hancock, Chester Valley | 31 | 33 | 33 | 97 |
| Steve Kohlbus/Jay Cambell,Tanglewood/Bon Air | 32 | 38 | 28 | 98 |
| Rodger Spear, Stanley Cuneo/Pocono Farms | 31 | 39 | 28 | 98 |
| Chris Groves/Peter Krajsa, Brookside CC of Allentown | 30 | 38 | 31 | 99 |
| Bill Fagan/Ken Jones, St. Davids | 33 | 38 | 29 | 100 |
| William Christine/Joseph McClatchy, LuLu/Llanerch | 31 | 35 | 35 | 101 |
| Joe Lunardi/Michael Pierce, Llanerch/Springhaven | 34 | 37 | 31 | 102 |
| Tom Huff/George Marshalek, Coatesville/Philadelphia Publinks | 31 | 40 | 31 | 102 |
| John Alterman/John Nottage, Commonwealth National | 35 | 37 | 31 | 103 |
| David Chenard/Jim Muehlbronner, Sandy Run | 34 | 40 | 29 | 103 |
| Rich Kaspar/Michael Shoup, Sandy Run | 32 | 39 | 32 | 103 |
| Terry Williams-Woodward/John Lobb, Bellewood | 33 | 37 | 34 | 104 |
| Mark Fine/Brent Peterson, Lehigh | 31 | 39 | 34 | 104 |
| Rick Umani/Chris Terebesi, Honeybrook | 34 | 38 | 33 | 105 |
| Chuck Caparo/Matthew Mingione, 1912 Club | 35 | 40 | 30 | 105 |
| Terrance Schmidt/Gerard Schmidt, Talamore/Bensalem | 35 | 39 | 31 | 105 |
| Robert Frankil/Jonathan Rinde, Bellewood/Timber Trails | 34 | 41 | 32 | 107 |
| Jeff Brodsky/Andrew Repetto, Philadelphia Publinks | 35 | 39 | 36 | 110 |
| Michael Schoedler/Rob Tredinnick, Five Ponds/Commonwealth National | 33 | 37 | 41 | 111 |
| Super-Senior Division | | | | |
| Robert DeLong/Robert Krotee, Radnor Valley/Willow Hollow | 31 | 34 | 66 | 131 |
| Rich Ton/Drew Harmer, Springhaven | 30 | 34 | 68 | 132 |
| John Young/John DiMarzio, Sandy Run | 31 | 36 | 66 | 133 |
| Andy Donaldson/George Jeitles, French Creek | 33 | 34 | 67 | 134 |
| Paul Csigi/Rayman Solomon, Bala | 32 | 38 | 69 | 139 |
| Howard Press/Raymond Pawulich, Little Mill | 33 | 37 | 71 | 141 |
| Robin McCool/Craig Scott, Saucon Valley/Great Bear | 31 | 39 | 73 | 143 |
| Joe DeAngelis/Michael McCorriston, Makefield/Jericho National | 28 | 41 | 76 | 145 |
| Bruce Berger/Arthur Frankel, Philmont | 38 | 40 | 67 | 145 |
| Joe Viscuso/Peter Torras, Kennett Square | 31 | 38 | 77 | 146 |
| Gerald Eckert/Alan Over, Bent Creek | 34 | 40 | 75 | 149 |
| Palmer Toto/Tom Mallouk, Lookaway | 32 | 40 | 78 | 150 |
| Quinn Spitzer/Washburn Oberwager, Makefield Highlands/Merion | 33 | 42 | 76 | 151 |
| Tom DiCinti/Bob Majczan, French Creek | 36 | 39 | 77 | 152 |
| Thomas Butler/Charles Gallagher, III, Flourtown | 31 | 44 | 80 | 155 |
| Joseph Martella/Tom Mee, Sandy Run | 35 | 41 | 79 | 155 |