Adversity strikes Loch Nairn's Barbin
DOYLESTOWN, Pa. — With two GAP Major titles in tow, Zach Barbin unquestionably made the 116th Open Championship at Doylestown Country Club (par 72, 6,572 yards) a priority.
| Scoring portal | History | Day One recap | Day Two recap |
"I had a chance to play well in this event and potentially win [William Hyndman, III Player of the Year. It was definitely a goal of mine, to at least be in contention," Barbin, the reigning BMW Philadelphia Amateur and Joseph H. Patterson Cup champion, said. "It was kind of a shame yesterday that I shot myself out of contention."
To the surprise of Philadelphia golf followers, Barbin's name occupied the last spot on the Round One leaderboard. He opened with a 10-over-par 82.
"I never played here before. I think I was too aggressive," Barbin, 21, of Elkton, Md., said. "On No. 10 (par 4, 364 yards), I went from bunker to bunker to bunker and made double bogey. On No. 11 (par 4, 445 yards), I blocked my tee shot and had nothing. I probably should have punched out, but I tried to play down the right side and hit it into the creek. On No. 14 (par 5, 501 yards), I hit it out of bounds. It's golf. It happens to the best of us. I'm sure not one person out here hasn't shot 80 in a golf tournament."
Barbin closed with a 6-over-par 78 Tuesday. His leaderboard status, though personally disappointing, isn't all that jolting when you consider Barbin's September.
"Once I basically got out of quarantine, this was the tournament I was looking forward to."

Zach Barbin
The Liberty University senior returned to school for in-person instruction Aug. 17 — two days after falling to Pine Valley Golf Club's Jeff Osberg in an 18-hole playoff for the Silver Cross Award. Per university policy, he and his Liberty golf teammates couldn't practice until Sept. 7.
Then the plug pulled entirely. Barbin needed to self-quarantine after coming into contact with an individual who tested positive for COVID-19.
Zero golf, plenty of Peaky Blinders and Fortnite.
"Mentally, it was a decent break because I went pretty hard at golf over the summer. At the same point, it's a tough stretch when you're not playing at all," Barbin, a marketing major at Liberty, said. "It's not the best way to prepare, but that's not really an excuse [for how I played this week]."
Barbin spent 17 days in his townhouse. The chains unshackled Sept. 24.
"Once I basically got out of quarantine, this was the tournament I was looking forward to. I really tried the last two weeks to accelerate my practice and playing time. I was playing catchup," Barbin said. "I spent so much time on the range and on the course, but something wasn't clicking. It didn't feel the same.
"I'm going to take all of the positives from the summer. It's just a shame I wasn't in contention this week."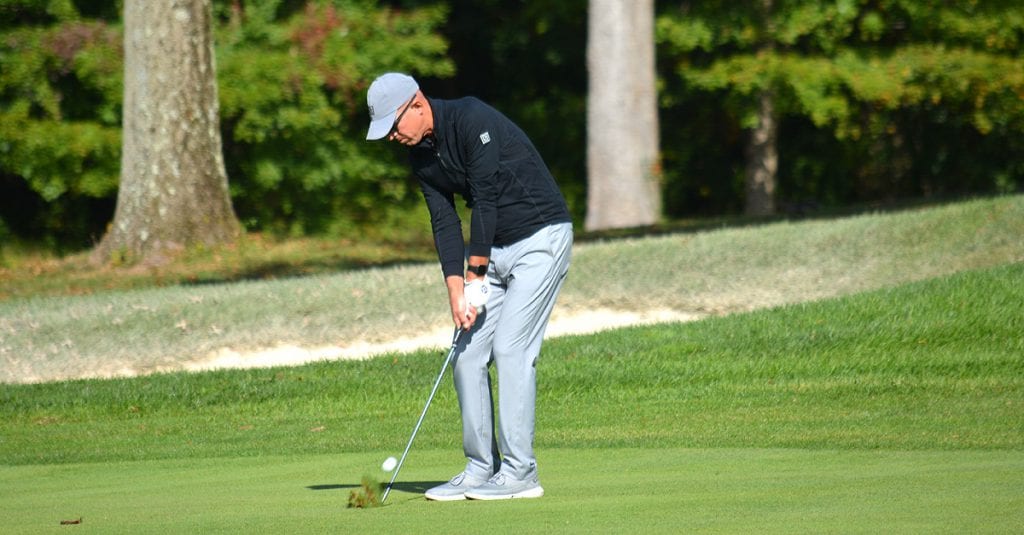 Day Two's best belongs to Doylestown's Deibert
The start wasn't what Travis Deibert had in mind.
The end is what he'll smile about for a long time.
Deibert, Doylestown's professional since 2018, carded Tuesday's best score, a 5-under-par 67, to crack the Top 10. He opened with a 4-over-par 76 — a disappointment considering his inane knowledge of the property.
"I was 5 over through six and finished the event at 1 under," Deibert, who grew up as a Junior member at Doylestown, said. "I had a very sloppy start. For some reason, I never got comfortable. Today was about going out, having fun, letting go, not thinking about shots. I know I can compete with these guys. It was great to finish strong and try to represent the club a little bit."
Represent it admirably at that. Deibert, low professional in the 2012 Open Championship, inked a flawless 31 on the back nine. Back-to-back birdies on Nos. 9 (par 5, 526 yards) and 10 (par 4, 365 yards) started the leaderboard reversal. On the former, he hit a wedge 78 yards to a foot, a gap wedge 118 yards to three feet on the latter. After reaching the right fringe on No. 14 (par 5, 499 yards) in two strokes, Deibert nudged a wedge to a foot. His 7-iron from 160 yards — a "chip-and-run out of the rough" — stopped five feet below the No. 15 (par 4, 432 yards) flagstick. He cleaned up the birdie putt.
The par 5, 517-yard 18th hole presented the perfect curtain call. After massacring a drive into the fairway, Deibert saw his cleanly-struck 21-hybrid sail 210 yards and stop three feet above the flagstick. Applause from the overlooking terrace ensued.
"It was nice to end with an eagle," Deibert, 46, of Doylestown, Pa., said. "It's kind of bittersweet. I was disappointed with my play yesterday. But overall, it's nice to be competitive, and it's an honor for us to host this event. It was short notice, and our members really accepted the fact that we wanted to host such a prestigious event. The feedback was great."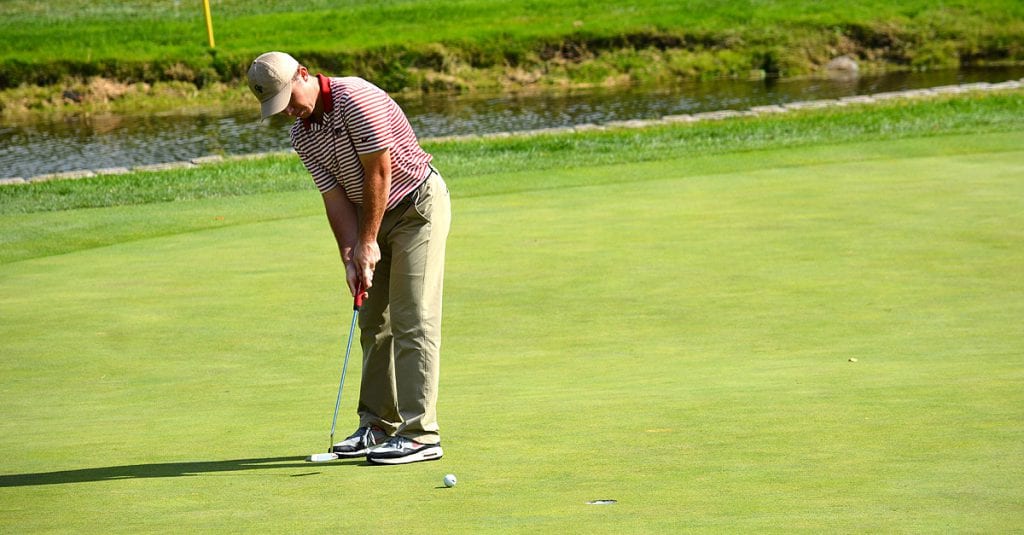 Collegians enjoy rare GAP experience
A GAP event in October is typically a no-fly zone for collegians.
But 2020 isn't a typical year. With fall seasons canceled, college golfers turned their attention elsewhere.
Five of those golfers — Barbin, Galloway National Golf Club's Lukas Clark, Spring Ford Country Club's J.T. Spina and Huntingdon Valley Country Club's Brian Isztwan and Conor McGrath — took advantage of an unprecedented Open Championship.
"It was great. I had something to practice for the last couple of months," Spina, a junior at Saint Joseph's University, said. "Doylestown is a great spot. The greens are unbelievable. I've probably played here five times before this, and it was easily the best shape I've seen it in."
"It was a little disappointing to have the fall season canceled. It was nice to be able to come back for the Open," Clark, a senior at Penn State University, added. "This was a tournament I definitely wanted to come home for."
The college landscape — like the world in general, for that matter — is different due to the COVID-19 pandemic. Clark, a recreation, park tourism and management major at Penn State, is on campus for instruction with limited classroom capacity. Golf, sans tournament travel, is still a part of the routine.
"We're still doing team practice, playing with the team on the weekends to stay competitive," Clark, 21, of Holland, Pa., said. "It was good to back to school, play against those guys and see how they're standing. We're trying to make the most of it and stay competitive."
Like Clark, Spina, a finance major at Saint Joseph's University, practices and plays alongside his Hawk teammates. Make the most of a lost season. A common mantra.
"We try to get out to the course whenever we can. Bala (Golf Club), Llanerch (Country Club) and The 1912 Club have been great to us," Spina, 20, of Schwenksville, Pa., said. "We're trying to stay competitive, to have some pressure putts."
The Open Championship certainly offered plenty of pressure putts. It allowed collegians to keep their tournament tools sharp.
And to represent their school. Clark donned a Nittany Lions polo, Spina a Hawks.
"Oh yeah. A no-brainer," Spina said.
The Open Championship is GAP's third oldest championship. The Amateur is 119 years old, the Joseph H. Patterson Cup 117.
GAP
Celebrating Amateur Golf since 1897, GAP, also known as the Golf Association of Philadelphia, is the oldest regional or state golf association in the United States. It serves as the principal ruling body of amateur golf in its region. The Association's 288 Member Clubs and 75,000 individual members are spread across the Eastern half of Pennsylvania and parts of New Jersey and Delaware. The GAP's mission is to promote, preserve and protect the game of golf.