Howe heads U.S. Open Local Qualifying
DALLAS, Pa. — T.J. Howe's lone U.S. Open appearance occurred in 2016. His path to a national championship that year began at Huntsville Golf Club.
| Scoring portal | Photo Gallery |
The course remains stitched in Howe's golf heart. Maybe a tattoo is in order after Monday. Howe carded a 5-under-par 67 to earn medalist honors during U.S. Open Local Qualifying administered by GAP at Huntsville (par 72, 7,178 yards).
As a result, he earned one of four available qualifying positions. Amateurs Nikita Romanov and Cael Ropietski, as well as professional Mariano Medico, also advanced.
The 123rd U.S. Open will take place June 15-18 at The Los Angeles Country Club in Los Angeles, Calif.
"If [U.S. Open Local Qualifying] wasn't here, then I wasn't going to play. This course will get me out of retirement, so to speak," Howe, 35, of Wellsboro, Pa., said. "I just love the golf course. Nothing more than that. There aren't many tracks in North Central Pennsylvania of this caliber."
Affection and arsenal worked hand-in-hand Monday.
Starting on the back nine, he opened with a birdie on No. 10 (par 4, 418 yards). Howe hit a three-quarter wedge 110 yards to six feet below the hole. The par 5, 532-yard 12th hole underwent a strategical about-face. During Friday's practice round, he splashed three balls into the water hazard. Howe laid up Monday to "a good number" — 95 yards — and peeled a sand wedge down the slope. He made a five-footer for birdie. Howe's 4-iron on No. 15 (par 3, 212 yards), although lower than expected in flight, chased to 12 feet below the hole. Another birdie.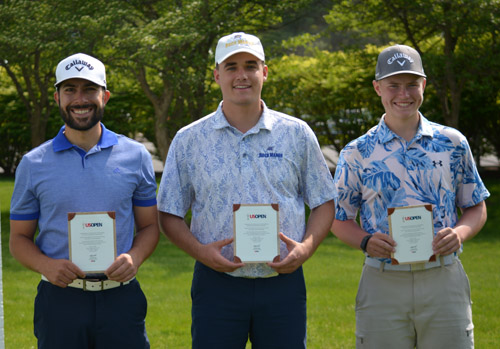 Howe moved to 5 under following an eagle on No. 1 (par 5, 518 yards), where his drive bounded down the gulley. "A good move" on a 6-iron from 189 yards resulted in a five-footer. Howe made an eight-footer for birdie on No. 2 (par 4, 391 yards) thanks to a one-hop-and-stop wedge from 83 yards. His lone bogey of the day occurred on No. 4 (par 4, 368 yards). Thinking flyer lie, his gap wedge appeared lifeless as it left Howe in the right bunker. He failed to get up-and-down for par. He will get down to Woodmont Country Club in Rockville, Md. for U.S. Open Final Qualifying on June 5.
Howe is accustomed to the bright lights of championship golf. Apart from the 2016 U.S. Open, in which he missed the cut at Oakmont Country Club, Howe competed in the 2015 Wells Fargo Championship. After graduating from Penn State University in 2011, he turned professional and competed on the Web.com Tour (now Korn Ferry Tour) and PGA TOUR Canada. Tour blazing took a backseat in 2017, when Howe became assistant men's golf coach at Penn State. He served in that position until 2020.
"I was on the fence on whether to keep playing or settle down if you will," he said. "After three or four weeks of debating, I ended up taking that job. The travel with the lack of playing started to get to me. You play minitours for six years it starts to get to you."
College travel, too, caught up with Howe. With a young family in tow (Brynlie, 6, and Colson, 2), he altered golf's role in his life. Howe is a commercial lender for First Citizens Community Bank in Mansfield, Pa. He retains professional status to compete in the Frank H. Fuhrer Invitational at Pittsburgh Field Club annually.
"Two kids and a full-time job keeps me pretty busy. I mow my lawn and do all of the stuff other parents do," he said.
When Howe pulled into the Huntsville entrance for Friday's practice round, the hair on his arms raised. Good vibes. When he exited the property, U.S. Open invitation as cargo, the same feeling.
"We come across Route 118. It's about 50 miles of nothing until you get here. That whole road starts to bring back good memories," Howe said.
Playing in the day's last group, Romanov (68) and Medico (69) fed off fiery play.
"We had good conversation. It was flowing. That was my word for the day," Medico, 27, of Palm Beach Gardens, Fla., said.
Monday marked a homecoming for Medico. The two-time GAP Junior Boys' Champion (2012, 2014) grew up at nearby Fox Hill Country Club and later hung his hat at Huntsville. Medico turned professional in 2020, but shoulder and hip injuries derailed Korn Ferry Tour intentions. Now healthy, Medico eyes a summer full of minitour events and state opens.
"It's good to see the hard work I've been putting in on my body pay off," he said. "It's a lot of perspective when you're hurt. You just get an appreciation of life in general, besides golf. It helps your golf game in the long run."
Romanov is at a perspective crossroads. Sort of. He graduated from La Salle University two days ago with a bachelor's degree in marketing. He will return in the fall to pursue a master's degree in business management.
In the interim, competitive golf will mix with summer classes. Monday started Romanov on the right foot.
"My goal was just to play it safe out there today, to keep the ball in play. I did just that besides one hole," Romanov, 21, of Wilmington, Del., said. "I was just keeping a cool head. No reason to get mad over a missed shot. I want to say I matured this year."
The aforementioned hole — No. 18 (par 4, 456 yards) — nearly unraveled Romanov, who started on the back nine. His drive drifted into an abyss right. Two provisionals preceded a search party.
"I managed to find the first one with 15 seconds. I got lucky there," Romanov said. "I was able to get a club on it. I was getting poked in the butt by those thorns. I chipped out, had a 9-iron in and stuck it to seven feet." He two putted for a 5.
Both Romanov and Medico head to U.S. Open Final Qualifying for the first time. So does Ropietski, who signed up solely because of Huntsville. He is a member. A talented one at that. Ropietski qualified for the U.S. Junior Amateur at Huntsville a year ago.
"You can have some course knowledge here. If you hit it well tee-to-green, then you can go so low," Ropietski, 17, of Harveys Lake, Pa., said. "Today the course was so much firmer compared to last year."
Ropietski is a junior academically at PA Cyber Charter School.
GAP
Celebrating Amateur Golf since 1897, GAP, also known as the Golf Association of Philadelphia, is the oldest regional or state golf association in the United States. It serves as the principal ruling body of amateur golf in its region. The organization's 340 Member Clubs and 100,000 individual members are spread across Pennsylvania, Delaware, New Jersey and Maryland. The GAP's mission is to promote, preserve and protect the game of golf.
| | |
| --- | --- |
| Qualifiers | |
| Name, city, state | Score |
| T.J. Howe, Wellsboro, Pa. | 67 |
| (a) Nikita Romanov, Wilmington, Del. | 68 |
| Mariano Medico, Palm Beach Gardens, Fla. | 69 |
| (a) Cael Ropietski, Harveys Lake, Pa. | 70 |
| Alternates (in order), | |
| *Brett Wagner, Reston, Va. | 71 |
| *Aron Price, Australia | 71 |
| Failed to qualify | |
| *Kyle Reifers, Mooresville, N.C. | 71 |
| *(a) Nathan Sutherland, Wyomissing, Pa. | 71 |
| *Mookie Demoss, St. Simons Island, Ga. | 71 |
| Caleb Wittig, Moscow, Pa. | 72 |
| Daniel O'Rourke, Milford, N.J. | 72 |
| Kevin Benstead, Tampa, Fla. | 73 |
| (a) John Keba, Emmaus, Pa. | 73 |
| (a) Matthew Monastero, Leesburg, Va. | 73 |
| Jordan Eck, Williamsport, Pa. | 74 |
| (a) David Tweddell, Canada | 74 |
| (a) David Mecca, Clarks Summit, Pa. | 74 |
| Sudarshan Yellamaraju, Canada | 74 |
| Michael Young, Jr., Erie, Pa. | 74 |
| (a) Tyler McGarry, Pittston, Pa. | 74 |
| Zach Juhasz, Bethlehem, Pa. | 74 |
| Austin Smith, Dallas, Pa. | 75 |
| J.T. Barker, Bethlehem, Pa. | 75 |
| Bryan Morris, Beltsville, Md. | 75 |
| (a) Logan Paczewski, Dallas, Pa. | 76 |
| Casey O'Reilly, High Bridge, N.J. | 76 |
| Daniel Griffiths, Binghamton, N.Y. | 76 |
| (a) Jake Haberstumpf, Bethlehem, Pa. | 76 |
| (a) Trevor Grimm, Schnecksville, Pa. | 76 |
| Ryan Kline, Kutztown, Pa. | 76 |
| (a) Ryan Stankewicz, Mount Airy, Md. | 76 |
| Chris Colman, Wenonah, N.J. | 76 |
| (a) Vance Welch, Columbia, Md. | 77 |
| (a) Alex Anderson, Bear Creek Twp, Pa. | 77 |
| (a) Ty Morral, Wellsboro, Pa. | 77 |
| (a) Michael Lugiano, Jackson Township, Pa. | 77 |
| Johnlen Trianna, Herndon, Va. | 77 |
| (a) Eli Ropietski, Harveys Lake, Pa. | 77 |
| (a) James Oh, Glen Allen, Va. | 77 |
| (a) Timothy Cooper, Harrisburg, Pa. | 77 |
| Benjamin Perron, Canada | 77 |
| (a) Joshua Wiegandt, Sacramento, Calif. | 78 |
| Brandon Kearney, Archbald, Pa. | 78 |
| (a) Vinay Ramesh, Menlo Park, Calif. | 79 |
| (a) William Smith, Newville, Pa. | 79 |
| (a) Robert Lugiano, III, Jackson Township, Pa. | 79 |
| Greg Pieczynski, Kingston, Pa. | 79 |
| (a) Jeremy Harper, Mountain Top, Pa. | 80 |
| Chris Miller, South Abington Township, Pa. | 80 |
| (a) Joshua Krumholz, Reading, Pa. | 80 |
| Craig Maurer, Reading, Pa. | 80 |
| Patrick Ross, Dunmore, Pa. | 81 |
| Chris Clark, Manhattan Beach, Calif. | 81 |
| (a) Joshua Majzlik, Carlisle, Pa. | 82 |
| (a) Matthew Vital, Bethlehem, Pa. | 82 |
| David Horn, Coudersport, Pa. | 82 |
| Michael Molino, Dallas, Pa. | 82 |
| (a) Blake Wisdom, Lake Geneva, Wisc. | 82 |
| (a) Stephon Draper, Scranton, Pa. | 83 |
| John Roche, Moosic, Pa. | 83 |
| (a) Mark Miller, Philadelphia, Pa. | 83 |
| (a) Nick Marzo, Coudersport, Pa. | 84 |
| (a)Michael Vital, Bethlehem, Pa. | 84 |
| Matthew Hardy, Roxbury, N.J. | 84 |
| (a) Zachary Mulhern, Exeter, Pa. | 84 |
| (a)Kal Logue, Austin, Pa. | 85 |
| (a) James Gradisek, Wayne, Pa. | 85 |
| (a) Michael Maslanka, Taylor, Pa. | 85 |
| (a) Thomas Dzwonczyk, North Abington Township, Pa. | 85 |
| Chase Webb, Houston, Texas | 88 |
| Louis Stefanik, Apollo, Pa. | 88 |
| Jason Mowry, Scranton, Pa. | 92 |
| Bill Pigott, Palisades Park, N.J. | WD |
| John Pillar, Hawley, Pa. | WD |
| * – determined in playoff | |
| (a) – denotes amateur | |
| WD – withdrawal | |