Virginia's Lee, Argentina's Pinto secure tickets to #USJunior
CARLISLE, Pa. – Two U.S. Junior Amateur Championship spots, two lone players under par, two national championship invitations earned.
Virginia's Bryan Lee fired a 3-under 68 to earn medalist honors in a #USJunior Qualifying event Monday at Carlisle Country Club (par 71, 6,400 yards). Securing the second invitation was Argentina's Gonzalo Oliva Pinto, who carded a 1-under 70 on the day.
The day's two alternate positions went to Matthew Vital (Bethlehem, Pa.) at even-par 71, and the second went to Mehrbaan Singh (Ashburn, Va.) at 1-over 72.
Now in its 73rd year, the championship proper will be played July 19-24 at The Country Club of North Carolina in Village of Pinehurst, N.C.
Despite having never seen Carlisle's track before, the medalist's round featured a sparkling 4-under 31 on the front. The first birdie fell on No. 2 (par 4, 251 yards) after a wedge was placed to three feet and the putt was jarred. Back-to-back birdies fell on Nos. 5 (par 4, 340 yards) and 6 (par 3, 140 yards), both derived from shots that nestled within five feet. On the par-3, 214-yard 8th, Lee thought a par would be enough. Instead, he lifted a 5-iron to 15 feet and made it. The fifth red number on Lee's front side came on the par-5, 501-yard 9th hole, where he found the greenside rough on his second shot, but chipped up to three feet on the third and tapped in.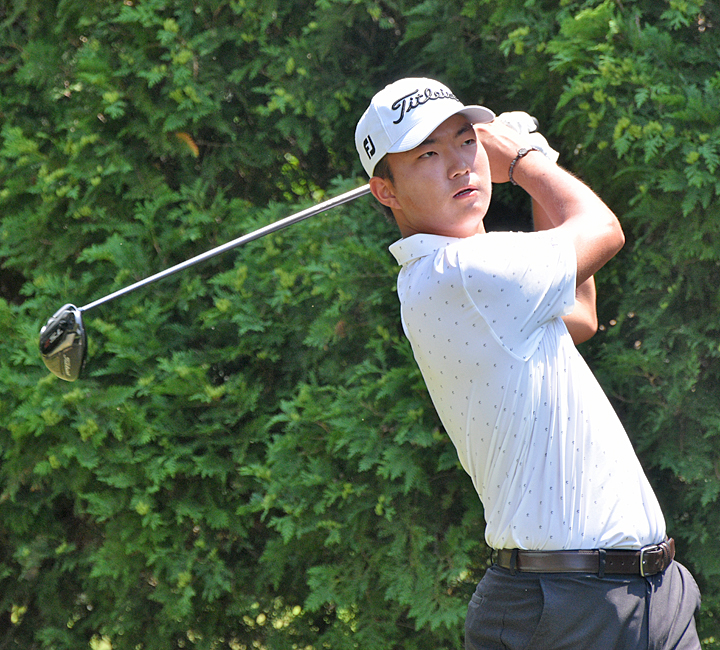 On Carlisle's second side, Lee's birdie barrage came to a mild halt, somewhat on purpose. Sitting at 4-under at the turn, he knew he could play less aggressive coming in. That's exactly what he did, as seven pars paired with a three-putt bogey on No. 13 (par 3, 220 yards) and an up-and-down birdie on No. 15 (par 5, 489 yards).
"I know all the guys out here are really good players. This was a tough course," said Lee. "It really comes down to who gets the lucky breaks and who makes the putt. Today I was lucky enough."
Lee, who is verbally committed to the University of Virginia, took home the 2020 AJGA Justin Thomas Junior Championship at Harmony Landing Country Club (Goshen, Ky.). He also has the 2019 Virginia State Golf Association Junior Match Play Championship crown to his name.
"After winning [the Justin Thomas Junior], that really gave me a lot of confidence. It allowed me to meet a lot of other great players, and really helped my game," said Lee, 16, of Fairfax, Va. "I'm feeling pretty good about how I've been playing after today."
Now headed to Pinehurst for the championship proper, Lee has his sights set on making a run at another trophy. Although he's had other Junior golf success, he'll now compete in his first USGA national championship.
"This is my first time trying for the U.S. Junior," said Lee. "It's pretty cool that I was able to do it in my first try. I'm excited."
Pinto rode three birdies on the day en route to his first USGA invitation. A University of Arkansas commit, Pinto's main reason for traveling to the United States was for today's Qualifying opportunity.
"My brother [Segundo] was playing in the Sunnehanna Amateur last week, so we figured that this was the closest qualifier from there," said Pinto, 17. "I played here two years ago in a U.S. Junior event when I was just 15, so I knew the course. I just improved my score by a lot today."
Pinto's brother Segundo came out to caddie for his younger brother today. Pinto says having someone as experienced as the 2021 SEC Champion on the bag propelled him — and motivated him — to finish with an invitation in hand.
"My brother, he is an amazing player. He won the SEC Championship and has a lot of experience. When he told me that he wanted to come out and caddie for me today, I was so happy," said Pinto, who is headed to Arkansas to join his brother next fall. "I was really hoping to do well today and I did."
GAP
Celebrating Amateur Golf since 1897, GAP, also known as the Golf Association of Philadelphia, is the oldest regional or state golf association in the United States. It serves as the principal ruling body of amateur golf in its region. The Association's 300 Member Clubs and 80,000 individual members are spread across the Eastern half of Pennsylvania and parts of Delaware, Maryland and New Jersey. The GAP's mission is to promote, preserve and protect the game of golf.
| | |
| --- | --- |
| Qualifiers | |
| Name, city, state | Score |
| Bryan Lee, Fairfax, Va. | 68 |
| Gonzalo Oliva Pinto, Argentina | 70 |
| Alternates (in order) | |
| Matthew Vital, Bethlehem, Pa. | 71 |
| *Mehrbaan Singh, Ashburn, Va. | 72 |
| Failed to qualify | |
| *Joshua Ryan, Norristown, Pa. | 72 |
| Brady Davidson, Mechanicsburg, Pa. | 73 |
| Beni Long, United States | 73 |
| John Crombie, Crozet, Va. | 74 |
| Matthew Monastero, Leesburg, Va. | 74 |
| David Zhang, Blacksburg, Va. | 77 |
| Derek McGlaughlin, Elizabethtown, Pa. | 78 |
| Luke Thompson, Huntingdon, Pa. | 78 |
| James Ulsh, Carlisle, Pa. | 78 |
| Owen Cook, Purcellville, Va. | 79 |
| Daniel Holden, Alexandria, Va. | 79 |
| Alistair Demko, Hershey, Pa. | 80 |
| Jack Stracuzzi, Stuart, Fla. | 80 |
| Cullen Campbell, Va. Beach, Va. | 81 |
| Reed Krosse, York, Pa. | 82 |
| Owen Rooney, Buffalo, N.Y. | 82 |
| Ben Feeman, Lebanon, Pa. | 83 |
| Jake Shmonov, Harrisburg, Pa. | 83 |
| Sean Brennan, Leesburg, Va. | 84 |
| Mason Tucker, Carlsile, Pa. | 84 |
| Jonathan Glick, Lancaster, Pa. | 86 |
| Lane Krosse, York, Pa. | 90 |
| Nicholas Mahoney, Lewisburg, Pa. | WD |
| Paul Ulanich, Freehold, N.J. | WD |
| * – decided in playoff | |