February 2016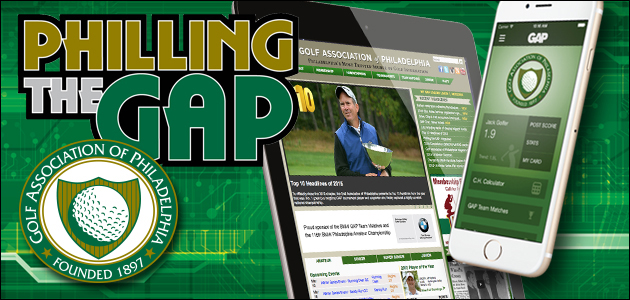 Staying ahead of the technological curve is always a Golf Association of Philadelphia priority, especially when it comes to the organization's Web site and mobile app. The Association's Web site, www.gapgolf.org, offers a one-stop portal for organizational news, Member Club information, tournament registrations, J. Wood Platt Caddie-Scholarship donations and much more. A main function of the Web site is the My GAP Locker portal, located in the top right of the home screen. My GAP Locker offers all registered users a snapshot of their respective interactions with the organization, from the most current handicap eRevision to the status of their complimentary magazine subscriptions to recent tournament registrations and even a contributions record of donations to the J. Wood Platt Caddie Scholarship Trust. Both the Web site and GAP App offer users the most popular features: live scoring from ALL Golf Association of Philadelphia tournaments; instant tracking of the BMW GAP Team Matches results and the ability to post a score in a few clicks to one's handicap record. The GAP App can be downloaded for free on any iPhone or Android device. Other GAP App features include the ability to view one's handicap score history; to calculate the course handicap for any set of tees and to find contact information and directions to all Member Clubs. Download the GAP App by searching for "gapgolf" in Google Play or the App Store.
GAP members posted a total of 1,224,323 scores to the GHIN system in 2015.
The Association's Web site, www.gapgolf.org, was viewed more than 4.9 million times in 2015.
There are three convenient and easy ways to post a score for handicap purposes through the Golf Association of Philadelphia. (1) At your club's posting computer; (2) at www.gapgolf.org; and, perhaps the easiest way, (3) on the GAP App. under Post Score. All take less than 20 seconds.
Tracking a friend or family member in a Golf Association of Philadelphia tournament? It's easy to do so. Live scoring is available both online and on the GAP App for all competitions.
Entering its fifth season, the GAP App has been downloaded 10K times: 80-percent by Apple users; 20-percent by Android users. Last season, 330,000 scores for handicap purposes were posted on the GAP App.