Williamsport's Mussina tops #PattersonCup Qualifying
Williamsport Country Club's Peyton Mussina carded a 1-over-par 73 to earn medalist honors in Joseph H. Patterson Cup Qualifying presented by Provident Bank at Pocono Farms Country Club (par 72, 6,708 yards).
| Scoring portal |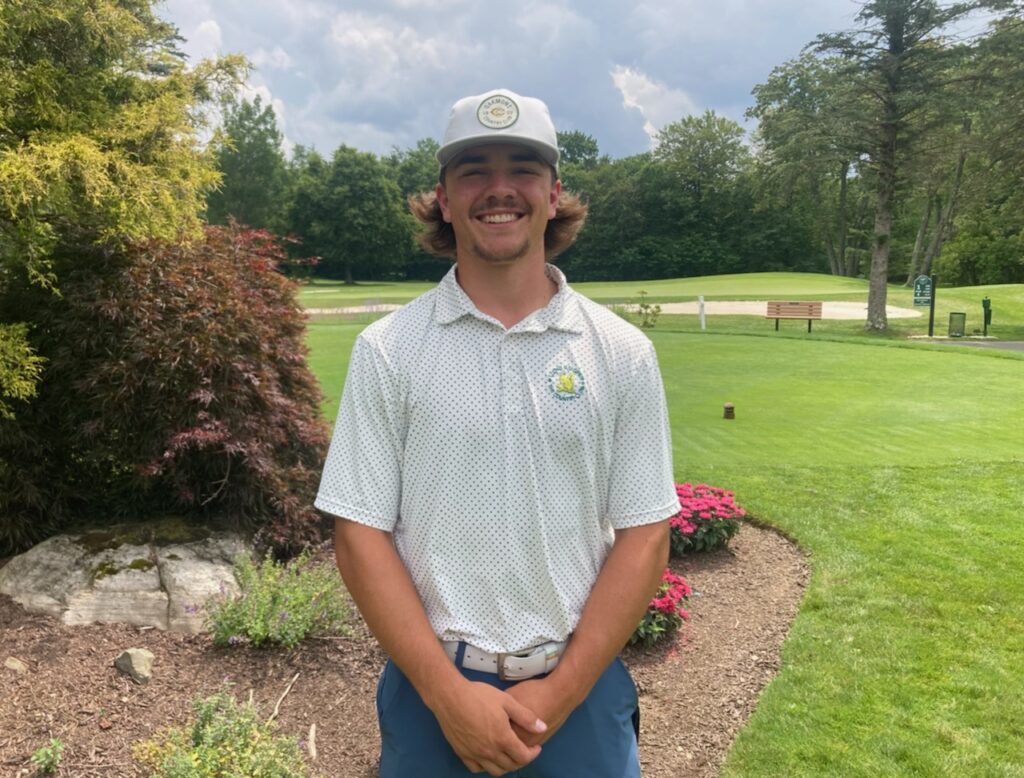 Mussina earned one of three qualifying positions available for the Championship proper. Merion Golf Club's Peter Garno and Elmhurst Country Club's Billy Pabst also advanced.
The 121st Joseph H. Patterson Cup presented by Provident Bank will take place Aug. 9-10 at Llanerch Country Club.
GAP Magazine highlighted the history of the Joseph H. Patterson Cup in its Summer 2022 edition. The tournament honors a man who championed golf in its infancy at Philadelphia Cricket Club. Friends of Patterson donated the Cup, designed by the esteemed J.E. Caldwell & Co., to the Association in 1900.
About Provident Bank
Provident Bank, a community-oriented financial institution offering "Commitment you can count on" since 1839, is the wholly owned subsidiary of Provident Financial Services, Inc. (NYSE:PFS), which reported assets of $13.78 billion as of March 31, 2023. With $10.30 billion in deposits, Provident Bank provides a comprehensive suite of financial products and services through its network of branches throughout northern and central New Jersey, as well as Bucks, Lehigh and Northampton counties in Pennsylvania and Nassau and Queens Counties in New York. The Bank also provides fiduciary and wealth management services through its wholly owned subsidiary, Beacon Trust Company and insurance services through its wholly owned subsidiary, Provident Protection Plus, Inc. For more information about Provident Bank, visit www.provident.bank or join the conversations on Facebook (ProvidentBank) and Twitter (@ProvidentBank).
GAP
Celebrating Amateur Golf since 1897, GAP, also known as the Golf Association of Philadelphia, is the oldest regional or state golf association in the United States. It serves as the principal ruling body of amateur golf in its region. The organization's 340 Member Clubs and 100,000 individual members are spread across Pennsylvania, Delaware, New Jersey and Maryland. The GAP's mission is to promote, preserve and protect the game of golf.
| | |
| --- | --- |
| Qualifiers | |
| Name, club | Score |
| Peyton Mussina, Williamsport Country Club | 73 |
| Peter Garno, Merion Golf Club | 74 |
| William Pabst, Elmhurst Country Club | 77 |
| Altenates (in order) | |
| Quinn Hamilton, Country Club of Scranton | 79 |
| Corey Teeple, Elmhurst Country Club | 79 |
| Michael Thomas, Country Club of Scranton | 80 |
| Failed to qualify | |
| Peter Reilly, Eagle Rock Resort | 82 |
| Blaine Lafferty, Little Mill Country Club | 82 |
| Christopher DeMarco, Glenmaura National Golf Club | 82 |
| Dave Landau, Berkshire Country Club | 84 |
| Benjamin Galko, Country Club of Scranton | 87 |
| Michael Rosci, The Springhaven Club | NC |
| Tyler McGarry, Huntsville Golf Club | WD |
| NC – no card; WD – withdrawal | |