Berkshire's Whitman poetic in Senior Division win
| Scoring portal | History | Photo gallery |
FLEETWOOD, Pa. — Like a golf soldier stationed overseas, Byron Whitman needed a homecoming to clear his war-torn mind.
It happened Wednesday when he returned to Moselem Springs Golf Club (par 70, 6,483 yards) for the Frank H. Chapman Memorial (Gross). Whitman, a Moselem Springs member of 10 years (1992-2002), settled into friendly surroundings, stamped a 1-under-par 69 and snagged the Senior Division title.
Overbrook Golf Club's Oscar Mestre, the tournament's defending champion, placed second at 1-over-par 71.
"Sometimes when you're struggling with your game, it's good to get to a place that you're familiar with, a place you've had some success," Whitman, a six-time men's club champion at Moselem Springs, said. "I felt like I was fighting it, trying to make some swing changes. Being here seemed to bring back some good memories. I started out half-decent, and it just went smoothly from there on."
Smoothly and successfully.
Whitman, who started on No. 10, emerged from a notoriously difficult stretch (Nos. 12-14), "Moselem's version of Amen Corner," at 1 under. He executed a preconceived plan to perfection on No. 12 (par 5, 490 yards): manage shot selection and enter the 100-yard range for your approach. Whitman lifted a gap wedge 100 yards to three feet for birdie.
"I played it conservatively knowing I had an advantage here," Whitman, now a Berkshire Country Club member, said. "I didn't want to give it away by doing anything stupid. I have the tendency to do that."
Old habits died hard Wednesday. Whitman reached the trying No. 13 (par 3, 199 yards) green with a 4-hybrid and walked away with a par. Two putts from 50 feet on the next hole (par 4, 377 yards) kept his scorecard — and unabashed smile — smooth. After all, Moselem's 14th hole played a full stroke over par Wednesday.
"I got around the course today without a three-putt, which is what you have to do if you're going to score here," Whitman, 60, of Reading, Pa., said. "I happened to get on the right side of the pin most of the time. Knowledge really worked on at least a couple of shots today."
It certainly worked on No. 2 (par 4, 395 yards). Knowing the green's contour favors front landings, Whitman knocked an 8-iron 148 yards to 12 feet for birdie.
"I got a good look from my playing partner (Ron Weaver)," Whitman, who registered 11 of 14 available fairways on the day, said. "He had a 30-footer on that same line. It didn't break as much as we thought."
Of course, Whitman's "worst swing of the day" resulted in his lone bogey. On the bunker-laden No. 3 (par 3, 172 yards), he attempted to play a 6-iron onto the green's ridge, which naturally delivers any visitors to a front left doorstep. Whitman instead hung onto it and missed greenside right. Such a position disallows the holding of mortal chips. Whitman left an ensuing 10-footer short in the heart. A handful of birdie opportunities surfaced coming in. None sank; Whitman relied on course knowledge for safe harbor instead.
"It's amplified here because this is one of George Fazio's first designs. He really put a lot of work into the putting surfaces," Whitman, who works in sales and marketing in the wellness industry, said. "They're some of the most unique and challenging greens you'll ever face. Everyone always remarks about how phenomenal these greens are. Today was no exception."
Whitman captured the Senior 27-Hole Challenge a year ago alongside clubmate Joe Butto. He played in the first group Wednesday, waiting seven hours for his first GAP individual win to become official.
"It's a tough field of a lot of good players. You need to be on top of your game, and you have to have a few things go right," Whitman, who lost in a playoff for the 2010 Marston Cup, said. "It was a big surprise to me today."
Frank H. Chapman, a Whitemarsh Valley Country Club member, served as the Association's secretary-treasurer for 23 years. He died on June 7, 1955 at the age of 88. The Gross tournament, now in its 13th year, is held in his honor.
Super-Senior Division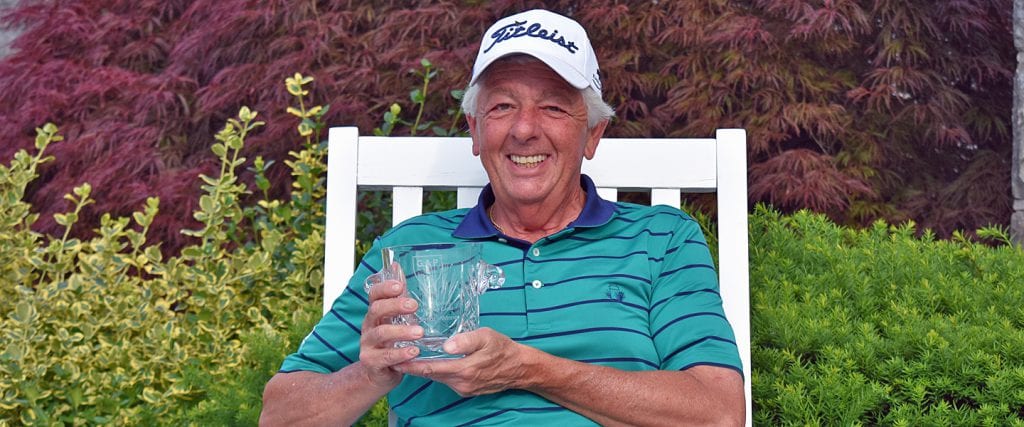 It wasn't the usual Don-anation the Super-Senior field has grown accustomed to. Nonetheless, the six-straight Super-Senior Player of the Year claimed the leaderboard's top spot once again.
White Manor Country Club's Don Donatoni outlasted the 44-player field – including three matching his low mark – to win a fourth career Chapman (Gross) title at Moselem Springs Golf Club (par 70, 5,824 yards). It was the powerhouse's first Chapman victory since 2016.
"Anytime you can win the Chapman, it's a tremendous honor," said Donatoni, 71, of Malvern, Pa. "No matter how the tournament may have ended, I'm thrilled to bring home another one. It means a lot to me, especially among such a talented group of GAP players."
In the morning wave, three players set the clubhouse mark. The home club's Rich Colaguori, in addition to Country Club of York's Dennis Lankford and Lu Lu Country Club's Wayne Bartolacci, filed 2-under par 72s for that early lead. Donatoni joined that party in the afternoon, teeing off at 12:50 p.m., with a matching 72 of his own.
The eventual champ's day began with a bogey blemish, which surfaced on Moselem's first, a 324-yard, par-4. It was immediately cancelled out. On No. 2 (par 4, 355 yards), Donatoni flushed an 8-iron approach, tossing it to 15 feet. The birdie attempt was made. The bogey blemish was erased.
Donatoni's "steady" game meant seven straight pars to follow, resulting in an even-par mark at the turn. Although a few short birdie misses appeared, the champion would cross into the red with a jarred 3 on No. 11 (par 4, 403 yards). It was there where Donatoni darted a 6-iron from 165 yards out that "never left the flag", landing within six feet, leading to the make.
Three "really dissapointing bogeys" in Donatoni's final five holes meant the long, fateful wait began. When it was declared Colaguori, Lankford and Bartolacci were not present at the time of the playoff, Donatoni gained his second GAP Major of the season.
"It's a different way to win," said Donatoni. "I do love playoffs, but a win is a win."
In early May, Donatoni took home his third career Warner Cup (Gross) crown. It was a blistering 3-under 67 at Burlington Country Club that got the job done there. His two early-season victories have propelled him into position-A for the season-long Super-Senior Silver Cross Award. Donatoni holds an eight-stroke lead over the field heading into the final leg.
The ultimate test arrives when the GAP Senior Amateur Championship tees off at Little Mill Country Club, Sept. 3-4.
"I've been lucky enough to bring home a few Silver Cross wins in my day," said Donatoni, a four-time Silver Cross winner. "Anything can happen when you're halfway through the competition, so I won't think about it too much. But the strong performances at the beginning of the year have put me in good position."
Silver Cross aside, Donatoni is already batting 1.000 (2-for-2) to begin his 2019 campaign. And so, the Don-anation continues.
GAP
Celebrating Amateur Golf since 1897, GAP, also known as the Golf Association of Philadelphia, is the oldest regional or state golf association in the United States. It serves as the principal ruling body of amateur golf in its region. The Association's 274 Full Member Clubs and 75,000 individual members are spread across the Eastern half of Pennsylvania and parts of New Jersey and Delaware. The GAP's mission is to promote, preserve and protect the game of golf.
Senior Division results
Name, club score
Byron Whitman, Berkshire Country Club
69
Oscar Mestre, Overbrook Golf Club
71
Chip Lutz, LedgeRock Golf Club
72
Rand Mendez, Fieldstone Golf Club
72
Jim Yenser, Raven's Claw Golf Club
72
Jeffrey Allen, Wild Quail Golf & Country Club
73
David Blichar, Olde Homestead Golf Club
73
Scott Mayne, LedgeRock Golf Club
73
Thomas Soares, Lehigh Country Club
73
Barry Cahill, Radley Run Country Club
74
Greg Guyer, Philadelphia Cricket Club
74
Jim Lowthert, French Creek Golf Club
74
John Psillas, Moselem Springs Golf Club
74
Michael Quinn, Philadelphia Publinks GA
74
Glenn Smeraglio, Lu Lu Country Club
74
Brian Rothaus, Philmont Country Club
75
John Conway, Little Mill Country Club
76
Brian Corbett, Country Club of Scranton
76
Doug Fedoryshyn, Concord Country Club
76
Eric Meyer, Whitford Country Club
76
Michael Tash, The Springhaven Club
76
Michael Vassil, Country Club of Scranton
76
Marlin Detweiler, Lancaster Country Club
77
Edward Erickson, Makefield Highlands Golf Club
77
Robert Harrington, Merion Golf Club
77
William McGuinness, Tavistock Country Club
77
John Nottage, Commonwealth National Golf Club
77
Kenneth Phillips, Lancaster Country Club
77
Ray Pyontek, Mercer Oaks Golf Course
77
John Robinson, Lu Lu Country Club
77
Joseph Roeder, Little Mill Country Club
77
David West, Wyncote Golf Club
77
Joe Campisano, Five Ponds Golf Club
78
Scott Carney, Commonwealth National Golf Club
78
Gregory Day, Old York Road Country Club
78
Michael Fagan, DuPont Country Club
78
Thomas Hyland, Little Mill Country Club
78
Jim Gavaghan, Commonwealth National Golf Club
78
Thomas Krug, Commonwealth National Golf Club
78
Bryan McClaskey, Merchantville Country Club
78
Randy Mitchell, Wilmington Country Club
78
Carlos Ochoa, Little Mill Country Club
78
Paul Rogowicz, Yardley Country Club
78
Elliot Sheftel, Lehigh Country Club
78
Steve Walczak, Wilmington Country Club
78
John Alterman, Commonwealth National Golf Club
79
Richard Atcavage, Whitemarsh Valley Country Club
79
Christopher Clauson, Lu Lu Country Club
79
Andy Lykon, Makefield Highlands Golf Club
79
Scott McIntosh, Makefield Highlands Golf Club
79
David Richards, Bent Creek Country Club
79
Gary Smith, Pine Valley Golf Club
79
Matthew Smith, Regents' Glen Country Club
79
Gregory Buliga, Yardley Country Club
80
John Donnelly, Concord Country Club
80
Thomas Finn, Loch Nairn Golf Club
80
Paul Hess, Hartefeld National
80
Steve Hill, Hershey Country Club
80
Drew Panebianco, Five Ponds Golf Club
80
Rich Thon, The Springhaven Club
80
Paul Berg, The Springhaven Club
81
Mark Cubberley, Mercer Oaks Golf Course
81
Jay Desjardins, Waynesborough Country Club
81
Robert Gill, Fox Hill Country Club
81
Patrick O'Brien, North Hills Country Club
81
Chris Smedley, Hartefeld National
81
Andrew Sterge, Applebrook Golf Club
81
Ron Weaver, Bent Creek Country Club
81
John Gosselin, Kennett Square Golf & Country Club
82
Andrew Dietz, Laurel Creek Country Club
83
Eric Lamm, Schuylkill Country Club
83
Jim Simmons, Stonewall
83
Kevin Sartell, Wild Quail Golf & Country Club
84
Jon Stein, McCall Golf Club
84
David Strohl, Olde Homestead Golf Club
84
J.R. Cattoni, Williamsport Country Club
85
Andy McCormick, Lancaster Country Club
85
John Vergari, Tavistock Country Club
86
Trey Watts, Jericho National Golf Club
87
Jim Witt, Commonwealth National Golf Club
87
Jim Dalzell, Linwood Country Club
88
Michael Lewers, Aronimink Golf Club
89
Brian Trymbiski, Doylestown Country Club
91
Jeff Fialko, Aronimink Golf Club
94
Bill Boyle, Metedeconk National Golf Club
NS
Bob Beck, Lehigh Country Club
WD
Dave Caldwell, Philadelphia Publinks GA
WD
Ed Kahn, Little Mill Country Club
WD
J. Kirk Luntey, Merion Golf Club
WD
Robert Wagner, Merion Golf Club
WD
Super-Senior results
Name, club, score
*Don Donatoni, White Manor Country Club
72
Wayne Bartolacci, Lu Lu Country Club
72
Rich Colaguori, Moselem Springs Golf Club
72
Dennis Lankford, Country Club of York
72
Daniel Burton, Lancaster Country Club
74
Thomas Bartolacci, Jr., Lu Lu Country Club
74
Tom Borsello, Hartefeld National
74
Robin McCool, Saucon Valley Country Club
74
Richard Custer, Bellewood Country Club
75
Michael Moser, Kennett Square Golf & Country Club
75
James Muller, Manufacturers' Golf & Country Club
75
Frank Polizzi, Aronimink Golf Club
75
Alan Van Horn, Commonwealth National Golf Club
75
Larry Borowsky, White Manor Country Club
76
Bennett Meyer, Rolling Green Golf Club
76
Terrence Sawyer, Lu Lu Country Club
76
Steve Tagert, Spring Ford Country Club
76
Bernie Zbrzeznj, Whitemarsh Valley Country Club
76
Tom DiCinti, Mercer Oaks Golf Course
76
Robert Dietrich, Loch Nairn Golf Club
76
Roc Irey, Lookaway Golf Club
76
Gene Maginnis, Whitemarsh Valley Country Club
76
Carl Everett, Merion Golf Club
77
Robert Billings, Rolling Green Golf Club
78
Joe Cordaro, Saucon Valley Country Club
78
Gary Daniels, Applebrook Golf Club
78
Bob Majczan, Lookaway Golf Club
78
David Taylor, White Manor Country Club
79
Jeffrey True, Lebanon Country Club
79
Matthew Bellis, Commonwealth National Golf Club
79
Charles Dowds, III, Applebrook Golf Club
79
Buck Jones, Philadelphia Publinks GA
79
Charles McClaskey, Philadelphia Publinks GA
80
James Prendergast, Bellewood Country Club
80
Craig Aronchick, Rolling Green Golf Club
81
Thomas Mallouk, Lookaway Golf Club
82
Mark Monkhouse, Makefield Highlands Golf Club
82
John Palumbo, White Manor Country Club
82
Howard Press, Little Mill Country Club
82
O. Gordon Brewer, Jr., Pine Valley Golf Club
83
Dave Jacobson, Medford Village Country Club
83
John Gonsior, Limekiln Golf Club
86
Gil Golding, Commonwealth National Golf Club
89
George Henninger, Huntingdon Valley Country Club
WD
* — won in playoff
NS — no show; WD — withdrawal