Olde Homestead's Hudson shoots 64, sets record
ALLENTOWN, Pa. — There's Historic Hudson Valley. Then there's historic Jeff Hudson in Lehigh Valley.
| Scorecards | History | Photo gallery |
The Olde Homestead Golf Club member became the first player to repeat as Senior Division champion in the Frank H. Chapman Memorial Cup (Gross). He did so by carding a 6-under-par 64, an event scoring record, Wednesday at Lehigh Country Club (par 70, 6,474 yards).
Hudson, playing in the day's first group, made his mark before Mother Nature intervened. GAP officials suspended play Wednesday at 3:06 p.m. due to lightning in the area. It resumed at 3:58 p.m. However, the horn sounded — this time for good — at 5:12 p.m.
Play resumed at 8:30 a.m. Thursday. Carlisle Country Club's Jeff Frazier, the reigning Brewer Cup champion, returned to seize runner-up honors at 2-under-par 68.
"No way," a humble Hudson uttered once he learned of his historic achievement. A brief pause before gravity sets in.
"Making eight birdies … it certainly doesn't happen every day."

Jeff Hudson
"Winning any GAP event is huge. You're playing against the best golfers in the region. So, when I won [the Chapman] last year, it was a huge accomplishment," Hudson, 56, of Center Valley, Pa., said. "I never thought about repeating. But Scott McNeil, who just won the GAP Middle-Amateur, talked about how winning a second [Middle-Amateur] gives you validation that you belong. It's not a flash in the pan or a one-hit wonder."
Eight hits as in birdies at Lehigh. Hudson registered 17 greens in regulation, mastering its topography like a singer hitting every note in the recording studio.
"I'm very comfortable at Lehigh. The course is only 10 miles from my house, so I've been able to play in several Member-Guest events here," Hudson, who captured last year's Chapman (Gross) at Yardley Country Club, said. "I know all of the lines off the tee. The course was gettable. Soft greens, soft conditions, no wind. The greens were just absolutely perfect. It took a little while to get used to the speed early on. But obviously, I found it."
Ya think?
Starting on the back nine, Hudson grabbed his first birdie on No. 15 (par 4, 392 yards) by hitting a 6-iron 158 yards to six inches. Despite a three-putt bogey on No. 12 (par 4, 370 yards), Hudson managed to close his outward nine in red. That's because he drilled a 6-iron to five feet on No. 18 (par 4, 413 yards) for birdie.
Then came Hudson's historic march.
"The front nine was good," Hudson, a Lehigh Valley Golf Hall of Fame inductee, said.
Let's discard a three-putt from 15 feet for bogey on No. 6 (par 5, 540 yards). Let's instead get to the birdie barrage. Two barrages, to be exact.
On No. 2 (par 4, 357 yards), Hudson knocked a wedge 120 yards to 12 feet below the hole location. He canned an unthinkable uphill 35-footer on No. 3 (par 3, 209 yards) following a pinpoint hybrid. After a textbook drive on No. 4 (par 4, 343 yards), Hudson's sand wedge from 65 yards settled above the flagstick. His birdie attempt from 15 feet caught the hole.
On the downhill par 3, 208-yard No. 7, Hudson's 5-hybrid stopped 15 feet below a middle-right hole location. Birdie. A 7-iron from 148 yards to six inches on No. 8 (par 4, 383 yards). Birdie. A 7-iron from 155 yards to 20 feet on No. 9 (par 4, 420 yards). Birdie.
"Making eight birdies … it definitely doesn't happen every day," Hudson said. "Lehigh is such a great track. It didn't have its normal teeth today. The greens were absolutely perfect, but they were slower than normal. You could get above the hole. It was throwing darts. The ball stopped where you aimed. I'm happy with the way I played, but the course didn't show its true teeth. This course is not eight birdies easy, without a doubt."
For context, Lehigh absorbed less than half an inch of rain the day prior. The field scoring average was 76.8.
In relation to par, Hudson posted a personal best 7-under-par 65 en route to victory in the 2014 Lehigh Valley Mid-Amateur Championship at Wedgewood Golf Course. His 64 at Lehigh is a competitive low, in terms of number.
Hudson, a Houston, Texas native, feels a nice balance in life right now. His professional career "came full circle" in September 2020. After working 30-plus years for Skee-ball, Hudson became a casualty of the COVID-19 pandemic. He then entered the golf industry as general manager of Wedgwood. Hudson returned to the amusement park realm as CEO of North American Operations for HB Leisure, a company that operates skills games in more than 90 major theme parks and entertainment attractions worldwide.
Hudson's phone kept buzzing once his performance at Lehigh went official. But it wasn't congratulatory texts from family and friends.
"Somebody dropped a bombshell on me last night. I'm setting up the installation of an arcade [at LEGOLAND New York Theme Park & Resort in Goshen, N.Y.] with a lot of outside vendors. It was supposed to happen this coming Monday," Hudson said. "I get an email at 8:30 last night that says, 'We just blew up the parking lot, so you need to delay two weeks.' So that's what I'm going to work on this afternoon."
After dropping a bombshell at Lehigh, no less.
Commonwealth's Carney takes home Super-Senior trophy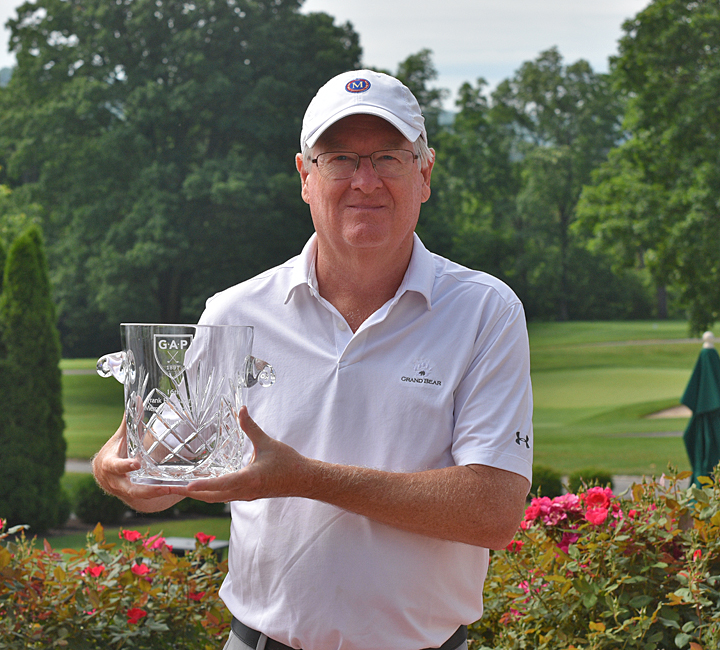 Lightning lived above Lehigh Country Club's skies (par 70, 5,828 yards) on Wednesday. Scott Carney captured some of it in a bottle with his golf game, carding an even-par 70 to take the Super-Senior title in the Frank H. Chapman Memorial Cup (Gross).
The Commonwealth National Golf Club member endured two dangerous-weather delays yesterday, returning to Lehigh on Thursday in order to eventually be deemed champion.
Three birdies in the first six holes to begin his round Wednesday was the electric start Carney needed. However, a triple bogey on No. 8 (par 4, 368 yards) washed all that good away. It was there where his pulled drive nestled under a fairway bunker's lip and forced him to take three shots just to escape the sand. He'd go on to make the turn at 2-over par while slipping down the crowded Super-Senior leaderboard.
"When we were playing No. 9, it was torrential downpouring, so I just wanted to [make the turn] with a par. After that, we had the first delay, so I just started thinking about what I was going to do on the back nine and where I stood," said Carney, 65, of Hatboro, Pa.
After switching sides, Carney turned into winning player he proved to be this week. A pair of birdies arrived on Nos. 11 (par 5, 482 yards) and 12 (par 4, 344 yards). On the 11th, a lob wedge approach from 60 yards left Carney in his comfort zone of 15 feet, which he jarred. Another 15 footer fell on the 12th for birdie. After a bogey blemish on the par-3, 148-yard 13th hole, Carney knew he needed one more to get back to level par. That didn't take long, as his birdie on No. 14 (par 4, 332 yards) from — you guessed it — 15 feet would do just that.
And then came the second delay.
"I had hit my tee shot on [No. 16] and then we got called off [for the day]," said Carney, a member of Commonwealth's winning 2007 BMW GAP Team Matches team. "Overnight, I was definitely thinking about the trophy and all of that. And then I had to tell myself to stop thinking about it."
Apparently that self-constraint method worked, as Carney wasn't fazed much by the overnight delay. Instead, the champion came back and carded three easy pars on Thursday, finishing at the coveted even-par number. Carney, crowned.
This season marks Carney's Super-Senior debut as he just celebrated his 65th birthday in March. He says he's been looking forward to competing in this Division, as the competition is fierce yet fair. Now, he's put that same Super-Senior field on watch.
"Some of the Seniors nowadays, they really hit the ball far. So to play in the Super-Senior [Division], it helps my game," said Carney. "It also helps that the Supers field is going better and better each year. It's just really good competition. So for me, it feels great to take home my first [individual] GAP trophy this week."
GAP
Celebrating Amateur Golf since 1897, GAP, also known as the Golf Association of Philadelphia, is the oldest regional or state golf association in the United States. It serves as the principal ruling body of amateur golf in its region. The Association's 300 Member Clubs and 80,000 individual members are spread across the Eastern half of Pennsylvania and parts of Delaware, Maryland and New Jersey. The GAP's mission is to promote, preserve and protect the game of golf.
| | |
| --- | --- |
| Results | |
| Senior Division | |
| Name, club | Score |
| Jeff Hudson, Olde Homestead Golf Club | 64 |
| Jeff Frazier, Carlisle Country Club | 68 |
| Gregory Buliga, Yardley Country Club | 70 |
| Oscar Mestre, Overbrook Golf Club | 70 |
| George Steinmetz, Spring Ford Country Club | 70 |
| David Richards, Bent Creek Country Club | 71 |
| Michael Tash, Stone Harbor Golf Club | 71 |
| P. Chet Walsh, Philadelphia Country Club | 71 |
| John Gosselin, Aronimink Golf Club | 72 |
| Christopher Lange, Overbrook Golf Club | 72 |
| Joe Roeder, Merion Golf Club | 72 |
| Glenn Smeraglio, LuLu Country Club | 72 |
| Adam Armagost, Little Mill Country Club | 73 |
| Christopher Clauson, LuLu Country Club | 73 |
| Tim Golder, Hartefeld National | 74 |
| Joe Jasinski, Steel Club | 74 |
| Craig Kliewer, Lebanon Country Club | 74 |
| John Quirk, The 1912 Club | 74 |
| Paul Rogowicz, Yardley Country Club | 74 |
| Joseph Russo, Running Deer Golf Club | 74 |
| Brian Trymbiski, Doylestown Country Club | 74 |
| Robert Harrington, Merion Golf Club | 75 |
| Stephen Hill, Hershey Country Club | 75 |
| Alan Kline, Bucknell Golf Club | 75 |
| Patrick O'Brien, North Hills Country Club | 75 |
| John Alterman, Commonwealth National Golf Club | 76 |
| David Blichar, Olde Homestead Golf Club | 76 |
| Doug Fedoryshyn, Concord Country Club | 76 |
| Paul Hess, Hartefeld National | 76 |
| Tom Hyland, Little Mill Country Club | 76 |
| Stephen McIntyre, Philadelphia Publinks Golf Association | 76 |
| Jack Helms, Rolling Green Golf Club | 77 |
| Bill McGuinness, Tavistock Country Club | 77 |
| Michael Reese, Eagle Rock | 77 |
| Mike Shevlin, LuLu Country Club | 77 |
| Tom Soares, Lehigh Country Club | 77 |
| Bob Beck, Lehigh Country Club | 78 |
| Christopher Desana, Little Mill Country Club | 78 |
| Rick James, Doylestown Country Club | 78 |
| Kenneth Nestor, Sr., Country Club of Scranton | 78 |
| Denis Darragh, Olde Homestead Golf Club | 79 |
| Mark Hutchinson, Lookaway Golf Club | 79 |
| Robert Schubach, Wedgewood Golf Club | 79 |
| Michael Vassil, Country Club of Scranton | 79 |
| Mike Gregor, Huntingdon Valley Country Club | 80 |
| Thomas Krug, Commonwealth National Golf Club | 80 |
| Carlos Ochoa, Little Mill Country Club | 80 |
| Andy Lykon, Wedgewood Golf Club | 81 |
| John Nottage, Commonwealth National Golf Club | 81 |
| Stephen O'Sullivan, Philadelphia Cricket Club | 82 |
| Paul Berg, The Springhaven Club | 83 |
| Bill Boyle, Metedeconk National Golf Club | 83 |
| David Strohl, Olde Homestead Golf Club | 83 |
| Mark Walkush, Sunnybrook Golf Club | 83 |
| Tom Prestia, Steel Club | 84 |
| Rob Tredinnick, Five Ponds Golf Club | 87 |
| Glenn Prokopik, LedgeRock Golf Club | 88 |
| Johan Scholdstrom, RiverCrest GC & Preserve | 89 |
| Don Uhrig, LedgeRock Golf Club | 93 |
| Jeffrey Allen, Loch Nairn Golf Club | WD |
| Michael Anderson, Philadelphia Cricket Club | WD |
| Jim Arsenault, Medford Lakes Country Club | WD |
| Robert Arthur, Tavistock Country Club | WD |
| John Barry, Lancaster Country Club | WD |
| J.R. Cattoni, Huntsville Golf Club | WD |
| Mike Cavanaugh, Jericho National Golf Club | WD |
| Mark Choi, Saucon Valley Country Club | WD |
| John Conway, Little Mill Country Club | WD |
| Frank Corrado, LuLu Country Club | WD |
| Mark Cubberley, Mercer Oaks Golf Course | WD |
| Ronan Culligan, Saucon Valley Country Club | WD |
| Gregory Day, Old York Road Country Club | WD |
| Marlin Detweiler, Lancaster Country Club | WD |
| Andy Dietz, Laurel Creek Country Club | WD |
| Robert Dorsey, Medford Lakes Country Club | WD |
| Nick Dunphy, West Shore Country Club | WD |
| Jim Gavaghan, Commonwealth National Golf Club | WD |
| Bob Gill, Fox Hill Country Club | WD |
| Ron Jamarowicz, DuPont Country Club | WD |
| Brad Jankowski, Little Mill Country Club | WD |
| Ed Kahn, Little Mill Country Club | WD |
| Edward Kelly, Old York Road Country Club | WD |
| Matthew Kohn, White Clay Creek Country Club | WD |
| Dennis Konczyk, Union League Golf Club at Torresdale | WD |
| Mark Kosko, Greate Bay Country Club | WD |
| Michael Lewers, Aronimink Golf Club | WD |
| Matthew Mingione, The 1912 Club | WD |
| John Puskar, Kennett Square Golf & Country Club | WD |
| Michael Quinn, Philadelphia Publinks Golf Association | WD |
| Jules Quinones, Blue Bell Country Club | WD |
| Michael Schoedler, Five Ponds Golf Club | WD |
| Harold Schweitzer, Broad Run Golfer's Club | WD |
| Chris Smedley, Hartefeld National | WD |
| Andrew Sterge, Applebrook Golf Club | WD |
| Alan Wagenschnur, Philadelphia Publinks Golf Association | WD |
| Kevin Wall, Old York Road Country Club | WD |
| Ron Weaver, Bent Creek Country Club | WD |
| David West, Wyncote Golf Club | WD |
| Byron Whitman, Berkshire Country Club | WD |
| Super-Senior Division | |
| Name, club | Score |
| Scott Carney, Commonwealth National Golf Club | 70 |
| Tom DiCinti, Philadelphia Publinks Golf Association | 71 |
| John Gonsior, The Bucks Club | 71 |
| Craig Scott, Great Bear Golf Club | 71 |
| Don Donatoni, White Manor Country Club | 72 |
| Mike Farlling, Carlisle Country Club | 72 |
| Mike Owsik, Hershey's Mill Golf Club | 72 |
| Brian Rothaus, Philmont Country Club | 72 |
| Rick Umani, Honeybrook Golf Club | 72 |
| Tom Borsello, Wyncote Golf Club | 73 |
| Chuck Dowds, Applebrook Golf Club | 73 |
| Howard Press, Little Mill Country Club | 73 |
| Vince Scarpetta, Jr., Nittany Country Club | 73 |
| Steve Tagert, Spring Ford Country Club | 73 |
| Mike Moser, Kennett Square Golf & Country Club | 74 |
| Drew Panebianco, Five Ponds Golf Club | 74 |
| Tom Bartolacci, LuLu Country Club | 75 |
| Wayne Bartolacci, LuLu Country Club | 75 |
| Rich Colaguori, Moselem Springs Golf Club | 75 |
| Gary Daniels, Applebrook Golf Club | 75 |
| Jimmy Muller, Manufacturers' Golf & Country Club | 75 |
| Rich Thon, The Springhaven Club | 75 |
| John Vergari, Tavistock Country Club | 75 |
| Robert Wagner, Merion Golf Club | 75 |
| Bob Billings, Rolling Green Golf Club | 76 |
| Robin McCool, Saucon Valley Country Club | 76 |
| Steve Meyer, Rolling Green Golf Club | 76 |
| Mark Monkhouse, Makefield Highlands Golf Club | 76 |
| Elliot Sheftel, Lehigh Country Club | 76 |
| Buck Jones, Philadelphia Publinks Golf Association | 77 |
| Matthew Smith, Regents' Glen Country Club | 77 |
| Thomas Lusto, Green Pond Country Club | 78 |
| Chuck Tait, LedgeRock Golf Club | 78 |
| Thomas White, Buck Hill Falls Golf Club | 78 |
| Robert Ockenfuss, Makefield Highlands Golf Club | 79 |
| Peter Mimmo, North Hills Country Club | 83 |
| Greg Johans, West Shore Country Club | 86 |
| Gary Yeager, Five Ponds Golf Club | 88 |
| Matthew Bellis, Commonwealth National Golf Club | WD |
| Robert Dietrich, Loch Nairn Golf Club | WD |
| Art Kania, Merion Golf Club | WD |
| Jon Mabry, Moorestown Field Club | WD |
| Raymond Pawulich, Little Mill Country Club | WD |
| Jim Prendergast, Philadelphia Publinks Golf Association | WD |
| Terry Sawyer, LuLu Country Club | WD |
| WD — withdrawal | |