LuLu's Clauson claims Chapman Super-Senior
ARDMORE, Pa. — Chris Clauson's golf game has been "like a little box of chocolates" to begin the 2022 season. A true mixed bag featuring both the very good and very bad.
On Thursday at Merion Golf Club (West), Clauson's chocolate contained a golden ticket. His 1-under 69 on the West Course (par 70, 5,897 yards) earned the LuLu Country Clubber the Frank H. Chapman Memorial Super-Senior trophy.
| Scoring portal | History |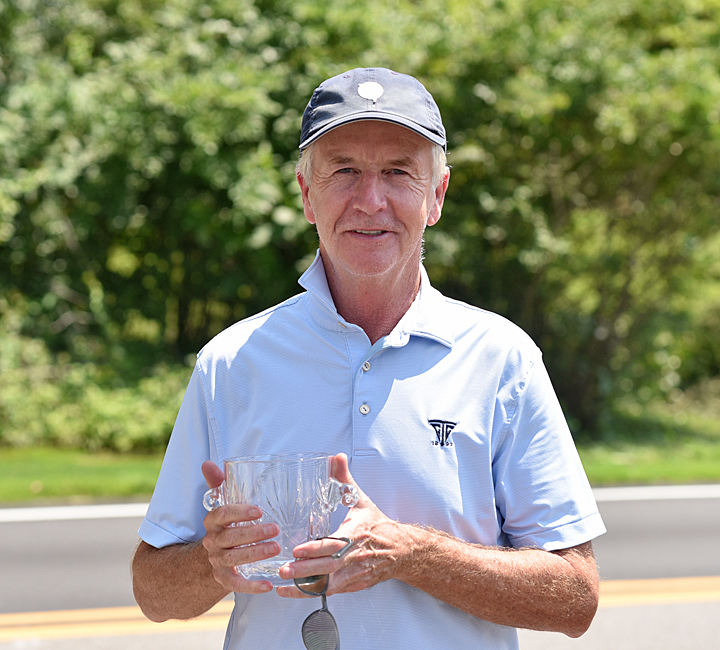 Clauson, a regular GAP Senior stalwart, made his presence known among the Supers with the victory. He bettered a field of 76 Chapman title hopefuls.
To meet the needs of its members, GAP separated a Super-Senior Division from its traditional Chapman Cup counterpart. The Chapman Cup – Senior was played June 6 at Indian Valley Country Club, where Carlisle Country Club's Jeff Frazier prevailed in a sudden-death playoff.
In addition to the overall title, today's competition was split into Divisions: 65 years of age or older (Super-Senior) and 70 years of age or older (Legends). Buck Hill Falls Golf Club's Tom White claimed the Legends crown in a match of scorecards versus Whitemarsh Valley Country Club's Frank Polizzi at 3-over 73.
Clauson's round began with a driver blast, followed by a softened wedge to 10 feet that he'd roll in for birdie on Merion's opener (par 4, 319 yards). Another on No. 3 (par 5, 526 yards) would fall after his 3-wood approach from 238 yards out rolled over the green, but the putt fell after a classy chip to 10 feet. Three-straight bogeys then erased the hot start.
"I was in good positions there with wedges in my hand, but I just left [the approach shots] short, and couldn't get up-and-down to save par. I was trying to just leave those shots two or three yards short so they'd run up out of the rough, and the didn't," said Clauson, of Philadelphia, Pa.
In true champion fashion, Clauson clawed back with two birdies on Nos. 7 (par 4, 285 yards) and 8 (par 4, 243 yards). A 6-iron off the tee on the 7th left him with a 50-degree wedge in, which he placed to five feet and the birdie make. A 12-foot eagle attempt on the 8th just missed the bottom of the cup.
A 1-under score at the turn was put Clauson in the pole position coming in. His even second side was led by seven pars, an eight-food birdie make on No. 16 (par 5, 455 yards) and just one bogey blemish.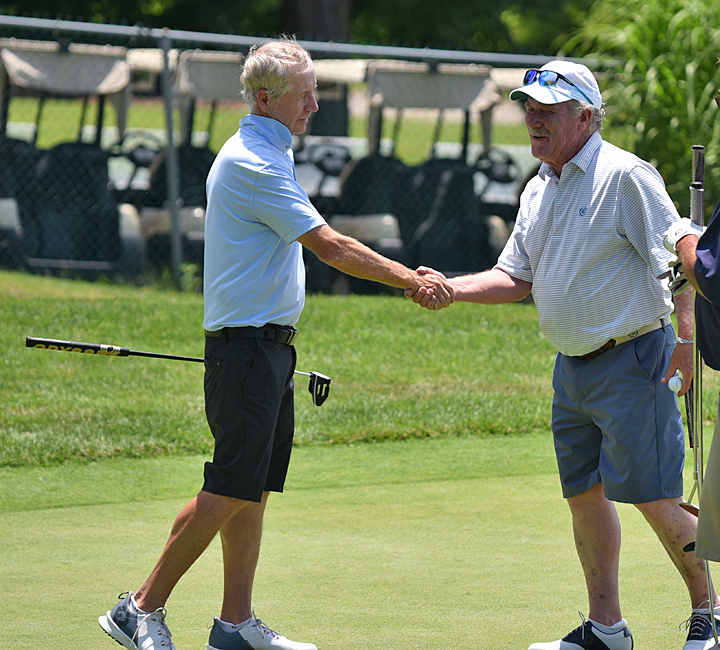 "The last time I played here was in the [2019 BMW GAP Team Matches]. It was 42 degrees and raining. We had to carry — no carts, and it was completely different out there. I didn't remember a thing out there while playing today," said Clauson. "I just took a lesson with [Overbrook Golf Club's] Eric Kennedy. We were working on bringing the club back faster, and that was my only thought today. I hit the ball great, that's probably the highest I could have shot."
After missing out on the U.S. Senior Open by one shot in Qualifying at Doylestown Country Club, Clauson was destined for some success soon. His game has been "totally inconsistent", but today, he took advantage of those true gems he's capable of carding. As a newly-minted Super Senior, this marks his first win in the Division. In the Senior Division, his claim to GAP fame is winning the 2018 Senior Amateur Championship at Riverton Country Club.
"I just missed out on the U.S. Senior Open, and it's been a really up-and-down year for me. I've have one really great round, and five bad ones," said Clauson. "So this one, it feels good to get this one in."
Frank H. Chapman, a Whitemarsh Valley Country Club member, served as the Association's secretary-treasurer for 23 years. He died on June 7, 1955 at the age of 88. The Chapman Cup events held in his honor.
GAP
Celebrating Amateur Golf since 1897, GAP, also known as the Golf Association of Philadelphia, is the oldest regional or state golf association in the United States. It serves as the principal ruling body of amateur golf in its region. The Association's 330 Member Clubs and 90,000 individual members are spread across Pennsylvania, Delaware, New Jersey and Maryland. The GAP's mission is to promote, preserve and protect the game of golf.
| | |
| --- | --- |
| Overall | |
| Name, club | Score |
| Christopher Clauson, LuLu Country Club | 69 |
| Jimmy Muller, Manufacturers' Golf & Country Club | 71 |
| Gregory Osborne, Overlook Golf Course | 71 |
| Duke Delcher, Sandy Run Country Club | 72 |
| Tom Hyland, Little Mill Country Club | 72 |
| Jeffrey Allen, Wild Quail Golf & Country Club | 73 |
| Tom White, Buck Hill Falls Golf Club | 73 |
| Frank Polizzi, Whitemarsh Valley Country Club | 73 |
| J. Kirk Luntey, Merion Golf Club | 74 |
| Brian Rothaus, Five Ponds Golf Club | 74 |
| Craig Scott, Great Bear Golf Club | 74 |
| Marlin Detweiler, Lancaster Country Club | 75 |
| Michael Vassil, Country Club of Scranton | 75 |
| Mark Walker, Laurel Creek Country Club | 75 |
| Jon Stein, McCall Golf Club | 76 |
| Steve Walczak, Wilmington Country Club | 76 |
| Don Donatoni, White Manor Country Club | 76 |
| Scott Carney, Commonwealth National Golf Club | 77 |
| William Chase, Regents' Glen Country Club | 77 |
| Drew Harmer, The Springhaven Club | 77 |
| John Gonsior, The Bucks Club | 77 |
| Roc Irey, LuLu Country Club | 77 |
| Steve Tagert, Spring Ford Country Club | 77 |
| Jeffrey Amrhein, Briarwood Golf Club | 78 |
| Art Brosius, DuPont Country Club | 78 |
| Vince Scarpetta, Jr., Nittany Country Club | 78 |
| Bob Dorsey, Medford Lakes Country Club | 79 |
| Mike Moser, Kennett Square Golf & Country Club | 79 |
| John Vergari, Tavistock Country Club | 79 |
| Tom Bartolacci, LuLu Country Club | 79 |
| Bob Billings, Rolling Green Golf Club | 79 |
| Dan Burton, Lancaster Country Club | 79 |
| Joe Cordaro, Saucon Valley Country Club | 79 |
| Buck Jones, Philadelphia Publinks Golf Association | 79 |
| Bob Majczan, Lookaway Golf Club | 79 |
| Mark Cubberley, Mercer Oaks Golf Course | 80 |
| Mike Farlling, Carlisle Country Club | 80 |
| Mike Owsik, Hershey's Mill Golf Club | 80 |
| Elliot Sheftel, Lehigh Country Club | 80 |
| David Suitch, Valley Country Club | 80 |
| John Ward, Atlantic City Country Club | 80 |
| Raymond Pawulich, Little Mill Country Club | 80 |
| Michael Quinn, Philadelphia Publinks Golf Association | 80 |
| Tom Borsello, Wyncote Golf Club | 81 |
| Chuck Dowds, Applebrook Golf Club | 81 |
| Drew Panebianco, Five Ponds Golf Club | 81 |
| Matthew Smith, Regents' Glen Country Club | 81 |
| Archie Struthers, The Shore Club | 81 |
| Sheldon Pollack, Bala Golf Club | 81 |
| Terry Sawyer, LuLu Country Club | 81 |
| Joe Duhack, LuLu Country Club | 82 |
| Alan Wagenschnur, Newark Country Club | 82 |
| Vince Yost, Cedarbrook Country Club | 82 |
| Gary Daniels, Applebrook Golf Club | 83 |
| Scott Kimmel, Play Golf Delaware | 83 |
| Rich Thon, The Springhaven Club | 83 |
| Rich Colaguori, Spring Ford Country Club | 83 |
| Robert Dietrich, Philadelphia Publinks Golf Association | 84 |
| Jim Mastromatteo, Overlook Golf Course | 84 |
| Peter Mimmo, North Hills Country Club | 84 |
| Jon Mabry, Moorestown Field Club | 84 |
| Jim Finlan, Penn Oaks Golf Club | 85 |
| Gary Sutton, Regents' Glen Country Club | 85 |
| Al van Horn, Commonwealth National Golf Club | 85 |
| Paul Cornely, McCall Golf Club | 86 |
| George Henninger, Huntingdon Valley Country Club | 87 |
| Kerry Maloney, Country Club of Scranton | 87 |
| Brian Sexton, Greate Bay Country Club | 87 |
| Gene Maginnis, Whitemarsh Valley Country Club | 87 |
| Tom Mallouk, Lookaway Golf Club | 87 |
| Howard Press, Little Mill Country Club | 87 |
| Chuck Caparo, The 1912 Club | 88 |
| Carl Kruse, Sandy Run Country Club | 90 |
| Robert Schubach, Wedgewood Golf Course | 91 |
| Tom DiCinti, Philadelphia Publinks Golf Association | WD |
| Robin McCool, Saucon Valley Country Club | WD |
| Super-Senior Division | |
| Christopher Clauson, LuLu Country Club | 69 |
| Jimmy Muller, Manufacturers' Golf & Country Club | 71 |
| Gregory Osborne, Overlook Golf Course | 71 |
| Duke Delcher, Sandy Run Country Club | 72 |
| Tom Hyland, Little Mill Country Club | 72 |
| Jeffrey Allen, Wild Quail Golf & Country Club | 73 |
| J. Kirk Luntey, Merion Golf Club | 74 |
| Brian Rothaus, Five Ponds Golf Club | 74 |
| Marlin Detweiler, Lancaster Country Club | 75 |
| Michael Vassil, Country Club of Scranton | 75 |
| Mark Walker, Laurel Creek Country Club | 75 |
| Jon Stein, McCall Golf Club | 76 |
| Steve Walczak, Wilmington Country Club | 76 |
| Scott Carney, Commonwealth National Golf Club | 77 |
| William Chase, Regents' Glen Country Club | 77 |
| Drew Harmer, The Springhaven Club | 77 |
| Jeffrey Amrhein, Briarwood Golf Club | 78 |
| Bob Dorsey, Medford Lakes Country Club | 79 |
| Mike Moser, Kennett Square Golf & Country Club | 79 |
| John Vergari, Tavistock Country Club | 79 |
| Mark Cubberley, Mercer Oaks Golf Course | 80 |
| Mike Farlling, Carlisle Country Club | 80 |
| Mike Owsik, Hershey's Mill Golf Club | 80 |
| Elliot Sheftel, Lehigh Country Club | 80 |
| David Suitch, Valley Country Club | 80 |
| John Ward, Atlantic City Country Club | 80 |
| Tom Borsello, Wyncote Golf Club | 81 |
| Chuck Dowds, Applebrook Golf Club | 81 |
| Drew Panebianco, Five Ponds Golf Club | 81 |
| Matthew Smith, Regents' Glen Country Club | 81 |
| Archie Struthers, The Shore Club | 81 |
| Joe Duhack, LuLu Country Club | 82 |
| Alan Wagenschnur, Newark Country Club | 82 |
| Vince Yost, Cedarbrook Country Club | 82 |
| Gary Daniels, Applebrook Golf Club | 83 |
| Scott Kimmel, Play Golf Delaware | 83 |
| Rich Thon, The Springhaven Club | 83 |
| Robert Dietrich, Philadelphia Publinks Golf Association | 84 |
| Jim Mastromatteo, Overlook Golf Course | 84 |
| Peter Mimmo, North Hills Country Club | 84 |
| Jim Finlan, Penn Oaks Golf Club | 85 |
| Paul Cornely, McCall Golf Club | 86 |
| George Henninger, Huntingdon Valley Country Club | 87 |
| Kerry Maloney, Country Club of Scranton | 87 |
| Brian Sexton, Greate Bay Country Club | 87 |
| Carl Kruse, Sandy Run Country Club | 90 |
| Robert Schubach, Wedgewood Golf Course | 91 |
| Legends Division | |
| Tom White, Buck Hill Falls Golf Club | 73 |
| Frank Polizzi, Whitemarsh Valley Country Club | 73 |
| Craig Scott, Great Bear Golf Club | 74 |
| Don Donatoni, White Manor Country Club | 76 |
| John Gonsior, The Bucks Club | 77 |
| Roc Irey, LuLu Country Club | 77 |
| Steve Tagert, Spring Ford Country Club | 77 |
| Art Brosius, DuPont Country Club | 78 |
| Vince Scarpetta, Jr., Nittany Country Club | 78 |
| Tom Bartolacci, LuLu Country Club | 79 |
| Bob Billings, Rolling Green Golf Club | 79 |
| Dan Burton, Lancaster Country Club | 79 |
| Joe Cordaro, Saucon Valley Country Club | 79 |
| Buck Jones, Philadelphia Publinks Golf Association | 79 |
| Bob Majczan, Lookaway Golf Club | 79 |
| Raymond Pawulich, Little Mill Country Club | 80 |
| Michael Quinn, Philadelphia Publinks Golf Association | 80 |
| Sheldon Pollack, Bala Golf Club | 81 |
| Terry Sawyer, LuLu Country Club | 81 |
| Rich Colaguori, Spring Ford Country Club | 83 |
| Jon Mabry, Moorestown Field Club | 84 |
| Gary Sutton, Regents' Glen Country Club | 85 |
| Al van Horn, Commonwealth National Golf Club | 85 |
| Gene Maginnis, Whitemarsh Valley Country Club | 87 |
| Tom Mallouk, Lookaway Golf Club | 87 |
| Howard Press, Little Mill Country Club | 87 |
| Chuck Caparo, The 1912 Club | 88 |
| Tom DiCinti, Philadelphia Publinks Golf Association | WD |
| Robin McCool, Saucon Valley Country Club | WD |
| WD – withdrawal | |