Past #BMWPhillyAm champ Ehrlich medals at Scotland Run
WILLIAMSTOWN, N.J. – It's been 19 years since Scott Ehrlich claimed his lone GAP Major. He's eager to get another under his belt.
| Scorecards |
In 2004, he defeated Michael Tash of Tavistock Country Club, 5&4, to win the 104th BMW Philadelphia Amateur at Philadelphia Cricket Club's Militia Hill layout.
Ehrlich, 43, of Berwyn, Pa. found some of that sharp form to secure medalist honors in 40th Middle-Amateur Championship Qualifying at Scotland Run Golf Club (par 71, 6,581 yards).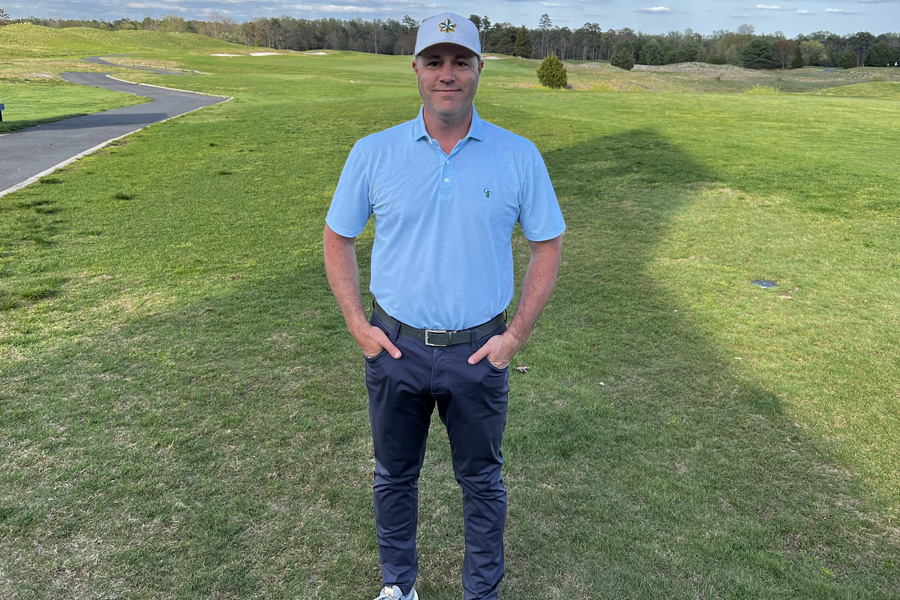 The 40th Middle-Amateur Presented by NJM Insurance Group takes place at Old York Road Country Club in Ambler, Pa. May 22-23.
The Waynesborough Country Club member's round of 4-under-par 67 was the lone round under par. He started red-hot with birdies on five of his first 12 holes.
Ehrlich finished T19 in his last appearance in the #GAPMidAm at Lookaway Golf Club in 2021.
A total of 38 players made the Championship Proper with the cut falling at 76. The Top 30 qualifying spots plus ties advanced to the Championship Proper.
The Middle-Amateur is open to males of GAP Member Clubs 25 years of age or older with a Handicap Index of 5.0 or less.
A William Hyndman, III Player of the Year points event, the Middle-Amateur started in 1984, three years after the USGA created the U.S. Mid-Amateur as a formal championship for post-college amateurs. GAP followed suit with the USGA in creating a Middle-Amateur, but initially differed in its administration of the tournament in a couple of respects.
The most obvious difference was the age requirement. Prior to 2001, the GAP Middle-Amateur was only available to players 30 years of age or older.
The GAP Executive Committee reviewed and revised that age requirement in 2001 to match the USGA's guidelines of 25 years of age or older for eligible players. It also, as previously mentioned, changed the format of the event to a two-day stroke play tournament with a cut to the low 70 players and ties after the first round.
GAP
Celebrating Amateur Golf since 1897, GAP, also known as the Golf Association of Philadelphia, is the oldest regional or state golf association in the United States. It serves as the principal ruling body of amateur golf in its region. The organization's 340 Member Clubs and 100,000 individual members are spread across Pennsylvania, Delaware, New Jersey and Maryland. The GAP's mission is to promote, preserve and protect the game of golf.
NJM Insurance Group
Founded in 1913, NJM is among the Mid-Atlantic region's leading property and casualty insurers. One of the Company's core values is to support the communities it's privileged to serve, a value exercised through year-round employee volunteer efforts at local nonprofits and a formal corporate giving program. NJM operates in a mutual fashion for the exclusive benefit of its policyholders and is consistently recognized for its award-winning customer service, superior claims handling, and overall customer satisfaction. NJM's personal insurance products are available direct to consumers in Connecticut, Maryland, New Jersey, Ohio, and Pennsylvania. The Company also works with a preferred network of independent agents to deliver business insurance in Connecticut, Delaware, Maryland, New Jersey, New York, and Pennsylvania. Visit njm.com to learn more.
| | |
| --- | --- |
| Qualifiers | |
| Name, Club | Score |
| Scott Ehrlich, Waynesborough Country Club | 67 |
| Chris Meares, Pitman Golf Course | 71 |
| Steve Skurla, White Manor Country Club | 71 |
| Ryan Winton, Merchantville Country Club | 71 |
| Taylor Kellogg, Philadelphia Cricket Club | 72 |
| Ben Keyser, Legacy Club at Woodcrest | 72 |
| Dan Ayars, Sakima Country Club | 72 |
| Lodie van Tonder, Sakima Country Club | 73 |
| Jon Rudisill, Little Mill Country Club | 73 |
| Brett Brenner, Ramblewood Country Club | 73 |
| Lance Oberparleiter, Trump National Golf Club – Philadelphia | 73 |
| Dan Keenan, Little Mill Country Club | 73 |
| Adam Bracy, Tavistock Country Club | 73 |
| Alex Hosier, French Creek Golf Club | 73 |
| Sean McMonagle, Tavistock Country Club | 74 |
| James Greenhalgh, Saucon Valley Country Club | 74 |
| Eddie Johnson, Llanerch Country Club | 74 |
| Conrad Von Borsig, Philadelphia Cricket Club | 74 |
| Tom DiCinti, Philadelphia Publinks Golf Association | 74 |
| Coleman Meitner, USGA/GAP GC | 74 |
| Zachary Falone, Makefield Highlands Golf Club | 75 |
| Sal Cucinotti, Talamore Country Club | 75 |
| Christopher Pitts, Tavistock Country Club | 75 |
| David Ripa, Running Deer Golf Club | 75 |
| Ryan Cass, Hidden Creek Golf Club | 75 |
| Daniel Dillon, Medford Village Country Club | 75 |
| Joseph Fabrizio, Aronimink Golf Club | 75 |
| Brian Fisher, Spring Ford Country Club | 75 |
| Dan Feeney, Philadelphia Cricket Club | 76 |
| Bryan Keeling, Spring Mill Country Club | 76 |
| Andrew Carnevale, North Hills Country Club | 76 |
| Todd Baron, Philadelphia Publinks Golf Association | 76 |
| Travis Falkner, USGA/GAP GC | 76 |
| Ryan Richardson, Philadelphia Publinks Golf Association | 76 |
| Matthew Marcelli, Applebrook Golf Club | 76 |
| Brandon Beatty, The Springhaven Club | 76 |
| Gregory Markus, Laurel Creek Country Club | 76 |
| Kevin Maguire, Laurel Creek Country Club | 76 |
| Alternates (in order) | |
| Ben Cutler, Philadelphia Cricket Club | 77 |
| S. Noah Freda, Greate Bay Country Club | 77 |
| Marc Fillari, Pennsauken Country Club | 77 |
| Matthew Toto, Laurel Creek Country Club | 77 |
| Christopher Marky, Fieldstone Golf Club | 77 |
| Scott Lawson, Cedarbrook Country Club | 77 |
| Victor Zarrilli, Medford Village Country Club | 77 |
| Sean Seese, Huntingdon Valley Country Club | 77 |
| Failed to qualify | |
| Erik Ragusa, Raven's Claw Golf Club | 77 |
| Matthew Osorio, Merchantville Country Club | 77 |
| Christian Stiles, DuPont Country Club | 77 |
| Pat Curiale, Medford Village Country Club | 77 |
| Joseph Kim, USGA/GAP GC | 77 |
| Tylor Love, Legacy Club at Woodcrest | 78 |
| Bradley Roberts, Little Mill Country Club | 78 |
| Conner Charlebois, Bala Golf Club | 78 |
| Michael Dunphy, USGA/GAP GC | 78 |
| Daniel Buzgon, Little Mill Country Club | 78 |
| Patrick Hennigan, Tavistock Country Club | 78 |
| Nicholas Imperiale, Legacy Club at Woodcrest | 78 |
| David Guertler, Merion Golf Club | 78 |
| Jeffrey Miller, Kennett Square Golf & Country Club | 78 |
| Matt Gaffney, Medford Village Country Club | 79 |
| Michael Hall, Moorestown Field Club | 79 |
| Andy Kerestesy, Running Deer Golf Club | 79 |
| Dan Close, Hidden Creek Golf Club | 79 |
| Michael Fusarelli, Blue Bell Country Club | 79 |
| Matthew Massott, Legacy Club at Woodcrest | 79 |
| Peter D Angelo, Burlington Country Club | 79 |
| Matthew Troost, Medford Village Country Club | 79 |
| Matt Grossman, Green Valley Country Club | 79 |
| Zachary Smith, Jeffersonville Golf Club | 79 |
| Benjamin Foster, Scotland Run Golf Club | 80 |
| Blaine Lafferty, Little Mill Country Club | 80 |
| Brandon Christopher, DuPont Country Club | 80 |
| Dan Fish, Golden Pheasant Golf Course | 80 |
| Greg Wasserson, Green Valley Country Club | 80 |
| Jeffrey Angelucci, Union League Golf Club at Torresdale | 80 |
| Daniel Gentilucci, USGA/GAP GC | 80 |
| Matthew Romond, Rancocas Golf Club | 80 |
| Ryan Meisenzahl, Little Mill Country Club | 80 |
| Scott Bergson, Little Mill Country Club | 80 |
| Kevin Merlini, North Hills Country Club | 81 |
| Damon Barbacci, Coatesville Country Club | 81 |
| Paul Bickford, Wedgwood Country Club | 81 |
| Christopher Detoro, Rolling Green Golf Club | 82 |
| Wesley Kerr, The Shore Club | 82 |
| Jeremy Arner, Blue Bell Country Club | 82 |
| Salvatore Galati, Legacy Club at Woodcrest | 82 |
| Gregory Scott, Legacy Club at Woodcrest | 82 |
| Jeff Huntzinger, USGA/GAP GC | 82 |
| Sean Leonard, Tavistock Country Club | 82 |
| Brett Cybulski, USGA/GAP GC | 83 |
| Michael Rosci, The Springhaven Club | 83 |
| Mike Basileo, USGA/GAP GC | 83 |
| Bryce Bundy, Spring Mill Country Club | 83 |
| Patrick Pasquariello, Philadelphia Country Club | 83 |
| Brendan McNamara, Sandy Run Country Club | 83 |
| Kyle Smith, White Manor Country Club | 83 |
| Eric Pinchak, Makefield Highlands Golf Club | 83 |
| Michael Boden, Aronimink Golf Club | 83 |
| Andrew Blundin, Fieldstone Golf Club | 84 |
| Bart Tizio, Olde Homestead Golf Club | 84 |
| Jay McGill, Little Mill Country Club | 84 |
| Josh Evans, Blue Bell Country Club | 84 |
| Brian Degnan, Rolling Green Golf Club | 85 |
| James Nasto, Legacy Club at Woodcrest | 85 |
| Mike Biazzo, Merchantville Country Club | 85 |
| John Mullins, Bellewood Country Club | 85 |
| Rich Solano, Scotland Run Golf Club | 85 |
| Greg Warren, Philadelphia Cricket Club | 86 |
| Joseph Noyes, Little Mill Country Club | 86 |
| Stuart Balcombe, USGA/GAP GC | 88 |
| Cace Strother, AGSA | 88 |
| Robert Dziak, Bellewood Country Club | 88 |
| Shawn Gallagher, Commonwealth National Golf Club | 88 |
| Sam Musselman, Jeffersonville Golf Club | 91 |
| Patrick Doyle, LuLu Country Club | 92 |
| Daeshon Underwood, USGA/GAP GC | 95 |
| Jason Loehrs, Philadelphia Publinks Golf Association | NC |
| Matthew Shevlin, Philadelphia Publinks Golf Association | NS |
| Kyle Ginty, Manufacturers' Golf & Country Club | WD |
| Scott Young, Overbrook Golf Club | WD |
| NC – no card; NS – no show; WD – withdrawal | |