Warner (Net) goes to former PGA TOUR caddie Oxman
AMBLER, Pa. – As a former PGA TOUR caddie of three years, Lee Oxman knows how to maneuver his way around golf courses. On Tuesday at Talamore Country Club (par 71, 5,528 yards), Oxman proved he knows how to play them, too.
Oxman, a Moselem Springs Golf Club member of 27 years, carded a 4-under net round of 67 to secure the low overall prize in the Francis B. Warner Cup (Net).
His day began "with a shaky driver to start", but that would soon be corrected. Oxman found his footing at Talamore — a course he hasn't been to "in forever" — and managed to consistently find greens in regulation, followed by steady putting. The standout shot of the day arrived on the par-5, 496-yard 13th. Oxman drilled his drive, laid up in front of the crossing creek and spun a wedge to 12 feet. He'd go on to drain the net-eagle putt. Net birdies on Nos. 16 (par 4, 251 yards) and 17 (par 4, 266 yards) sealed the deal for Oxman, earning him his first GAP trophy.
"Today was my best round (10-over 81) in awhile. I hit a ton of greens in regulation," said Oxman, 67, of Bryn Mawr, Pa. "I had a couple of birdie putts on the back nine that I missed. Real short ones that were right in the jar. But overall, I played really solid today."
Golf runs in Oxman's bloodlines. His brother, Neil, caddied for eight-time PGA Major winner Tom Watson in over 150 events dating back to 1999. Nate, his son, is the current assistant caddiemaster at Merion Golf Club.
"It's something I love. I caddied for three years [from 1975-1977] on the TOUR for Jim Simons and Tom Purtzer. It's something I never should have given up," said Oxman. "My son and I also coached Haverford High School's golf team for six seasons before we gave it up this season due to other commitments."
As you can see, the Oxmans love them some golf. GAP Net events are a big part of Oxman's playing schedule these days. In fact, he's set to tee it up in a week — alongside his son Nate — in the Tee it Forward – Spring Net Championship at Philmont Country Club. Oxman says he's a fan of the set ups, the competition, and most of all, the yardage breaks.
"At this yardage, for a player like me, it's perfect," said Oxman. "It makes it fun because you can hit greens and score well. Plus, the events are really well organized and you get to meet a bunch of great guys along the way. It's a cool thing to have the chance to win something like this."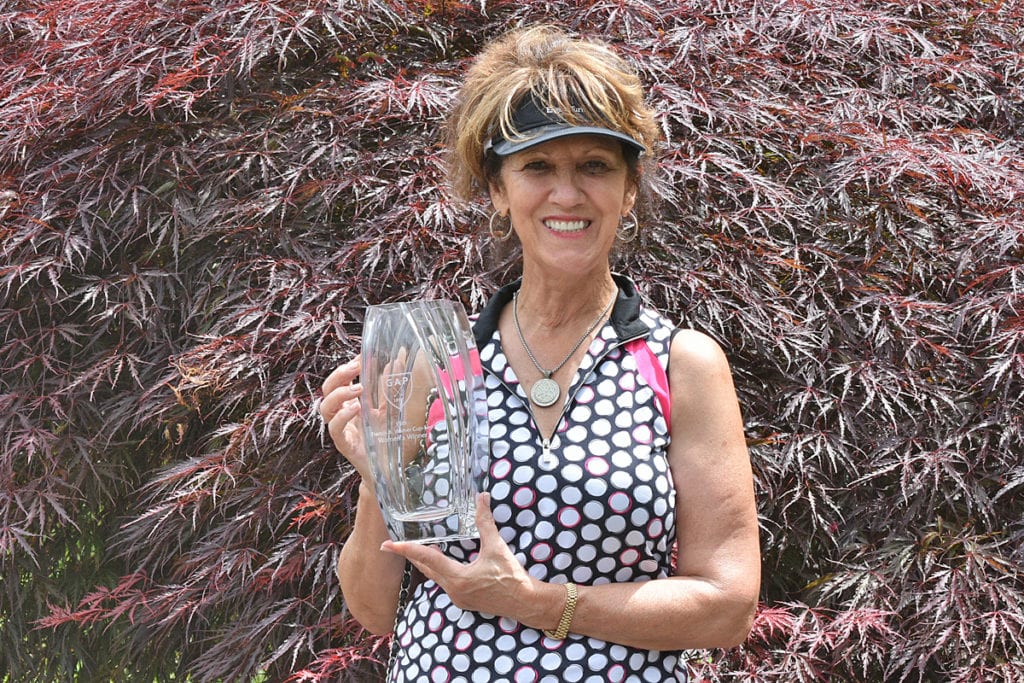 Taking the Women's Flight crown was Conestoga Country Club's Charlotte Kocher, who finished at 1-over 72. Kocher, playing alongside husband Ed, utilized four net birdies and an eagle to finish three strokes better than Penn National Golf Club's Kathleen Gallagher.
"I played really, really well. I kept the ball straight and that's what you had to do here," said Kocher, 64, of Lititz, Pa. "It feels amazing to bring home a trophy like this. I'm going to bring it home, move over all of [Ed's] trophies and put it front and center."
Francis B. Warner of Philadelphia Cricket Club served as the Golf Association of Philadelphia's secretary-treasurer for 18 years. After his death in 1933, the Association started the Francis B. Warner Cup as an ongoing tribute in his memory. Last year's edition was cancelled due to the COVID-19 pandemic.
GAP
Celebrating Amateur Golf since 1897, GAP, also known as the Golf Association of Philadelphia, is the oldest regional or state golf association in the United States. It serves as the principal ruling body of amateur golf in its region. The Association's 300 Member Clubs and 80,000 individual members are spread across the Eastern half of Pennsylvania and parts of Delaware, Maryland and New Jersey. The GAP's mission is to promote, preserve and protect the game of golf.
| | |
| --- | --- |
| Men's overall | |
| Name, club | Net |
| Lee Oxman, Moselem Springs Golf Club | 67 |
| Stan Jakubowski, Talamore Country Club | 68 |
| Greg Smith, Radley Run Country Club | 68 |
| David Bennett, Raven's Claw Golf Club | 69 |
| Julian Sur, Waynesborough Country Club | 69 |
| Joe Puchalski, Talamore Country Club | 70 |
| William McCabe, McCall Golf Club | 71 |
| Hal Morris, Talamore Country Club | 72 |
| Rick Ames, Philadelphia Publinks Golf Association | 72 |
| Dennis O'Donnell, Old York Road Country Club | 72 |
| Terrance Schmidt, Talamore Country Club | 73 |
| Shuguang Wu, Blue Bell Country Club | 73 |
| Ed Kocher, LedgeRock Golf Club | 73 |
| James McFadden, Talamore Country Club | 73 |
| Victor Donnay, McCall Golf Club | 73 |
| Frank Skilton, Manufacturers' Golf & Country Club | 73 |
| Douglas Putnam, Talamore Country Club | 74 |
| Mark Petty, Lookaway Golf Club | 74 |
| Tom Watterson, Loch Nairn Golf Club | 74 |
| David Kearney, Lehigh Country Club | 75 |
| Terry Williams-Woodward, Bellewood Country Club | 75 |
| Martin DeLuca, Penn Oaks Golf Club | 75 |
| James Kellett, Mercer Oaks Golf Course | 75 |
| Francis Tan, Medford Lakes Country Club | 75 |
| James Conway, Tavistock Country Club | 76 |
| John Martines, Pennsauken Country Club | 76 |
| Joseph DeAngelis, Makefield Highlands Golf Club | 76 |
| James Buttaro, Moselem Springs Golf Club | 76 |
| Tom Bernetich, Laurel Creek Country Club | 77 |
| Jay Campbell , Bon Air Country Club | 77 |
| Tom Mallouk, Lookaway Golf Club | 77 |
| Nick Sciurba, Talamore Country Club | 77 |
| Phillip Yang, Five Ponds Golf Club | 77 |
| R.B. D'iorio, The Springhaven Club | 77 |
| Patrick Foley, Moselem Springs Golf Club | 77 |
| Robert Hsu, Lookaway Golf Club | 77 |
| Andrew McCarthy, LuLu Country Club | 77 |
| Gene Toczylowski, The 1912 Club | 77 |
| Pete Farina, Philadelphia Publinks Golf Association | 78 |
| Robert Voelzke, Makefield Highlands Golf Club | 78 |
| Don Neill, LuLu Country Club | 78 |
| Steven Cucinotti, Talamore Country Club | 79 |
| Brian Whilldin, Woodcrest Country Club | 79 |
| John O'Rourke, McCall Golf Club | 79 |
| Wayne Yetter, Lookaway Golf Club | 79 |
| Timothy Kiorpes, Lookaway Golf Club | 79 |
| Jerry Maxwell, Five Ponds Golf Club | 79 |
| Peter Brodfuehrer, McCall Golf Club | 80 |
| Tuong Huynh, Riverwinds Golf Club | 80 |
| Gerald Barr, Lehigh Country Club | 80 |
| Werner Cziriak, Talamore Country Club | 80 |
| Thomas Dobbins, Bluestone Country Club | 80 |
| Chuck Caparo, The 1912 Club | 81 |
| Michael Maro, Laurel Creek Country Club | 81 |
| Joe Viscuso, Kennett Square Golf & Country Club | 81 |
| Gary Crompton, Five Ponds Golf Club | 81 |
| Brian Chidester, Chester Valley Golf Club | 81 |
| Lee Cox, St. Davids Golf Club | 81 |
| John Sly, Moselem Springs Golf Club | 82 |
| John Marshalek, Philadelphia Publinks Golf Association | 83 |
| Richard Turner, Llanerch Country Club | 83 |
| George Marshalek, Philadelphia Publinks Golf Association | 83 |
| Michael Penso, Metedeconk National Golf Club | 83 |
| John Siegrist, Philadelphia Publinks Golf Association | 83 |
| Mike Connell, The Springhaven Club | 83 |
| Joseph Eble, North Hills Country Club | 83 |
| Ed Osciak, Loch Nairn Golf Club | 83 |
| Thoman Weinman, Mercer Oaks Golf Course | 84 |
| Joe Gallagher, Five Ponds Golf Club | 85 |
| Joseph Cassidy, McCall Golf Club | 85 |
| Tom Rajtik, Stone Harbor Golf Club | 88 |
| Fran Robinson, Hershey's Mill Golf Club | 88 |
| Ralph Scott, Riverton Country Club | DQ |
| Frank Lattal, Lookaway Golf Club | NS |
| Charlie Dielmann, Lebanon Country Club | NS |
| David Fiore, Mercer Oaks Golf Course | NS |
| Ray Parisi, Kennett Square Golf & Country Club | WD |
| Scott Case, Philadelphia Publinks Golf Association | WD |
| William Crawford, McCall Golf Club | WD |
| Kevin Mulligan, The Springhaven Club | WD |
| James Yeager, Five Ponds Golf Club | WD |
| First Flight (9 Handicap and below) | |
| Name, club | Net |
| Stan Jakubowski, Talamore Country Club | 68 |
| Joe Puchalski, Talamore Country Club | 70 |
| Hal Morris, Talamore Country Club | 72 |
| Terrance Schmidt, Talamore Country Club | 73 |
| Shuguang Wu, Blue Bell Country Club | 73 |
| David Kearney, Lehigh Country Club | 75 |
| Terry Williams-Woodward, Bellewood Country Club | 75 |
| James Conway, Tavistock Country Club | 76 |
| John Martines, Pennsauken Country Club | 76 |
| Tom Bernetich, Laurel Creek Country Club | 77 |
| Jay Campbell , Bon Air Country Club | 77 |
| Tom Mallouk, Lookaway Golf Club | 77 |
| Nick Sciurba, Talamore Country Club | 77 |
| Phillip Yang, Five Ponds Golf Club | 77 |
| Pete Farina, Philadelphia Publinks Golf Association | 78 |
| Steven Cucinotti, Talamore Country Club | 79 |
| Brian Whilldin, Woodcrest Country Club | 79 |
| Peter Brodfuehrer, McCall Golf Club | 80 |
| Tuong Huynh, Riverwinds Golf Club | 80 |
| Chuck Caparo, The 1912 Club | 81 |
| Michael Maro, Laurel Creek Country Club | 81 |
| Joe Viscuso, Kennett Square Golf & Country Club | 81 |
| John Marshalek, Philadelphia Publinks Golf Association | 83 |
| Richard Turner, Llanerch Country Club | 83 |
| Joe Gallagher, Five Ponds Golf Club | 85 |
| Tom Rajtik, Stone Harbor Golf Club | 88 |
| Frank Lattal, Lookaway Golf Club | NS |
| Ray Parisi, Kennett Square Golf & Country Club | WD |
| Second Flight (10-14 Handicap) | |
| Lee Oxman, Moselem Springs Golf Club | 67 |
| William McCabe, McCall Golf Club | 71 |
| Rick Ames, Philadelphia Publinks Golf Association | 72 |
| Ed Kocher, LedgeRock Golf Club | 73 |
| James McFadden, Talamore Country Club | 73 |
| Douglas Putnam, Talamore Country Club | 74 |
| Martin DeLuca, Penn Oaks Golf Club | 75 |
| James Kellett, Mercer Oaks Golf Course | 75 |
| Francis Tan, Medford Lakes Country Club | 75 |
| Joseph DeAngelis, Makefield Highlands Golf Club | 76 |
| R.B. D'iorio, The Springhaven Club | 77 |
| Patrick Foley, Moselem Springs Golf Club | 77 |
| Robert Voelzke, Makefield Highlands Golf Club | 78 |
| John O'Rourke, McCall Golf Club | 79 |
| Wayne Yetter, Lookaway Golf Club | 79 |
| Gerald Barr, Lehigh Country Club | 80 |
| Werner Cziriak, Talamore Country Club | 80 |
| Gary Crompton, Five Ponds Golf Club | 81 |
| John Sly, Moselem Springs Golf Club | 82 |
| George Marshalek, Philadelphia Publinks Golf Association | 83 |
| Michael Penso, Metedeconk National Golf Club | 83 |
| John Siegrist, Philadelphia Publinks Golf Association | 83 |
| Thoman Weinman, Mercer Oaks Golf Course | 84 |
| Scott Case, Philadelphia Publinks Golf Association | WD |
| William Crawford, McCall Golf Club | WD |
| Kevin Mulligan, The Springhaven Club | WD |
| James Yeager, Five Ponds Golf Club | WD |
| Third Flight (15+ Handicap) | |
| Greg Smith, Radley Run Country Club | 68 |
| David Bennett, Raven's Claw Golf Club | 69 |
| Julian Sur, Waynesborough Country Club | 69 |
| Dennis O'Donnell, Old York Road Country Club | 72 |
| Victor Donnay, McCall Golf Club | 73 |
| Frank Skilton, Manufacturers' Golf & Country Club | 73 |
| Mark Petty, Lookaway Golf Club | 74 |
| Tom Watterson, Loch Nairn Golf Club | 74 |
| James Buttaro, Moselem Springs Golf Club | 76 |
| Robert Hsu, Lookaway Golf Club | 77 |
| Andrew McCarthy, LuLu Country Club | 77 |
| Gene Toczylowski, The 1912 Club | 77 |
| Don Neill, LuLu Country Club | 78 |
| Timothy Kiorpes, Lookaway Golf Club | 79 |
| Jerry Maxwell, Five Ponds Golf Club | 79 |
| Thomas Dobbins, Bluestone Country Club | 80 |
| Brian Chidester, Chester Valley Golf Club | 81 |
| Lee Cox, St. Davids Golf Club | 81 |
| Mike Connell, The Springhaven Club | 83 |
| Joseph Eble, North Hills Country Club | 83 |
| Ed Osciak, Loch Nairn Golf Club | 83 |
| Joseph Cassidy, McCall Golf Club | 85 |
| Fran Robinson, Hershey's Mill Golf Club | 88 |
| Charlie Dielmann, Lebanon Country Club | NS |
| David Fiore, Mercer Oaks Golf Course | NS |
| Ralph Scott, Riverton Country Club | DQ |
| Women's Flight | |
| Charlotte Kocher, Conestoga Country Club | 72 |
| Kathleen Gallagher, Penn National Golf Club | 75 |
| | |
| DQ – disqualification; NS – no show; WD – withdrawal | |