Team Concord takes 26th Four-Player Team at Moselem
FLEETWOOD, Pa. – Three-over par through two. That's not how you draw it up when dreaming about a title-winning scorecard.
But today, that was the championship blueprint, thanks to a birdie party on the remaining 16.
Concord Country Club's formidable foursome of Larry Benedetto, Doug Fedoryshyn, Matthew Vandevere and T.R. Gatti filed a 6-under 134 to earn the overall title in Wednesday's Four-Player Team at Moselem Springs Golf Club (par 70, 6,322 yards).
The Four-Man Team scoring format is two best balls of four.
As mentioned, three bogeys to begin the round on Nos. 10 (par 4, 383 yards) and 11 (par 4, 416 yards) didn't inspire much confidence for the champs. And then a change of "batting order" occurred. The coaching change was crucial.
On the par-5, 490-yard 12th, Fedoryshyn gave the group its first birdie of their round. Vandevere followed that up with a chip in on No. 13 (par 3, 189 yards) to get the team back to even par. And then things got good. The Concordians would go on to make the turn at 2 under, feeling like they had a chance.
Eleven birdies would drop over the next 16 holes. The most impactful, however, would arrive late. After a bit of scoreboard watching thanks to Golf Genius hole-by-hole entries, they knew it was time to make a move with just a few holes to play. That's when Gatti blasted Driver, followed by a wood approach, to reach the par-5, 521-yard 7th in two — a feat not accomplished frequently on the blistering-hot Wednesday. He two putted there to get the team to 5 under and tied for the clubhouse lead. They'd need one more.
"Yeah, we were watching it. We knew we had to make that last one," said Benedetto, 51, of West Chester, Pa.
Benedetto, on the 330-yard 9th, would place his driver in the right rough near a fence. However, with a welcoming angle to the flag, he tossed his wedge shot 20 feet past the hole. Once again, knowing he needed to make it, Benedetto did just that. Six under.
"We needed that one," said Fedoryshyn, 62, of Downingtown, Pa. "Everyone made some birdies today. Everyone contributed at some point."
"It's good to come out and have a good showing. I think it's great for the club," said Vandevere, 51, of Havertown, Pa. "I haven't been able to play in one of these things in a long time due to traveling, so it meant a lot to do that, and to play well on a nice golf course."

Benedetto is the common factor on Concord's Four-Player team, year in and year out. He was a part of the club's last Team title in 2009, joining that year with Jeff DellaFranco, Conrad Von Borsig & David Woods for the win at Whitford Country Club. He takes it upon himself to recruit top talent from the club each year to make a run at the trophy. This year, his selections seemed to be spot on. Evidence? The trophy.
"You know, Concord has some really good players. We like to pick a few guys and bring them out each year and see what we can do," said Benedetto. the 2017 Marston Cup Champion. "I think it's cool that we're all over 50 [years old], too. We played awesome."
"I just joined Concord after moving from Western Pennsylvania. I was told this is the place I needed to be," said Gatti, 56, of West Chester, Pa.
If you're a talented golfer looking for a home, maybe Concord is in fact the place to be.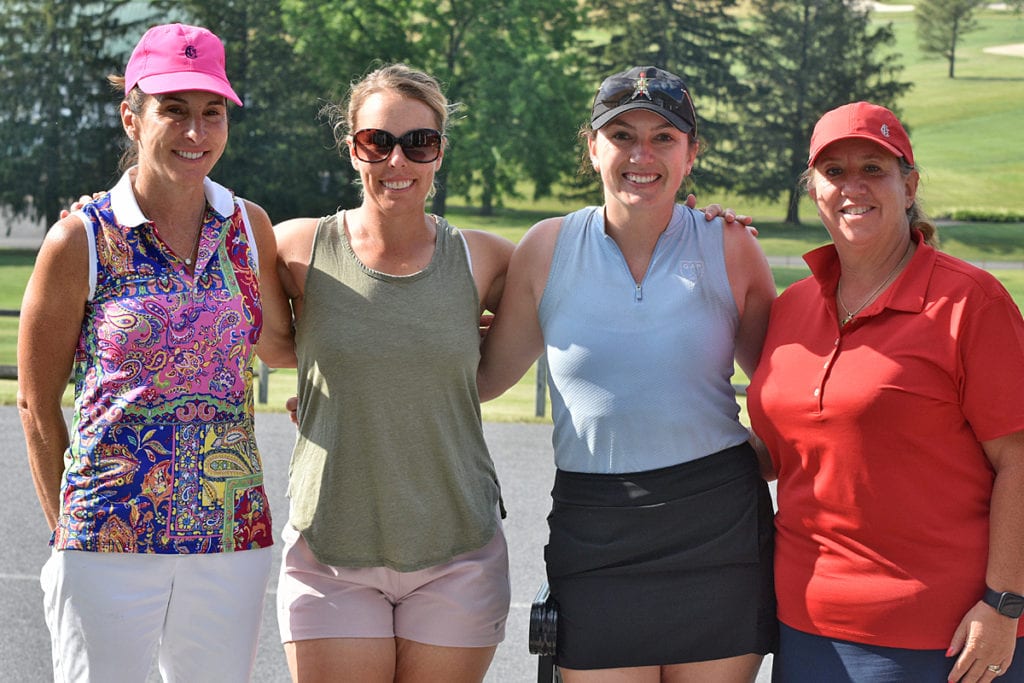 At 4-over 150, taking the day's Women's overall prize was the squad of Jackie Beck of Lehigh Country Club, Taylor Hollander of Kennett Square Golf & Country Club, Nicolina Kulhamer of Green Pond Country Club and Katrin Wolfe of Northampton Country Club. The foursome garnered five birdies on the day, earning them the top spot over a field of four other teams.
"The whole day was great — a little hot, but it was a beautiful day on the golf course, which was in fantastic shape. That definitely helped us with scoring," said Wolfe, 37, of East Stroudsburg, Pa. "It was also so much fun to play alongside these ladies."
"It's always wonderful to win a trophy," said Beck, 57, of Allentown, Pa. "It was even more fun that I could have imagined."
GAP
Celebrating Amateur Golf since 1897, GAP, also known as the Golf Association of Philadelphia, is the oldest regional or state golf association in the United States. It serves as the principal ruling body of amateur golf in its region. The Association's 274 Full Member Clubs and 75,000 individual members are spread across the Eastern half of Pennsylvania and parts of New Jersey and Delaware. The GAP's mission is to promote, preserve and protect the game of golf.
| | |
| --- | --- |
| Gross | |
| Men's | |
| Name, club | Score |
| Larry Benedetto, Doug Fedoryshyn, T.R. Gatti & Matthew Vandevere, Concord | 134 |
| Steve Oh, DuPont; Scott Storck, Philadelphia Cricket; Jay Vasil, Eligo & Jason Wilson, Olde Homestead | 135 |
| Jason Barkley, Moselem Springs; Mark Coassolo, Brookside Allentown, Shawn Lavin, Rolling Green & Pete Moran, French Creek | 135 |
| Bob Buckley, Mark Fine, Fred Greene & Brent Peterson, Lehigh | 136 |
| Matt Ade, David Gall, Kevin Kramarski & Ben Litt, Riverton | 136 |
| Nick Hand, Luke Morgan, Stephen Rice & Ian Shollenberger, Schuylkill | 136 |
| Greg Buliga & Paul Rogowicz, Yardley; Chris Clauson & Jason Cohen, LuLu | 137 |
| Mitch Burns, Reading; Reed Huntzinger, Bon Air; Jared Brown & Kyle Fiorelli, Springhaven | 139 |
| Joe Corcoran, Spring Ford; Rob Johnson, Tucker Sandercock & Matthew Scriff, Steel Club | 140 |
| Keith Falconer, Paul Matisse, Ted Mowery & Harry Warren, West Shore | 141 |
| Douglas Erney, Matt Gilbert, Barry Krisko & Craig Morrison, Hershey | 141 |
| Rob Tredinnick, Five Ponds; Marc Grabuski, Josh Lewis & Pat Sullivan, Philadelphia Publinks | 141 |
| Matt Hilbush, Commonwealth National; Jim Lelii, Moselem Springs; Ryan Rigby & Sean Torpey, Doylestown | 142 |
| Dave Maddock, Brian Mahlstedt, Sr., Jody McGrail & Frank Petrillo, Glen Oak | 143 |
| Bob Arthur, Tavistock; Thomas Hyland, Little Mill; Bryan Marvin, Old York Road & James Muller, Manufacturers' | 143 |
| Jason Castaldi, Dan Perry, Scott Polk & Matt Seuffert, Honeybrook | 143 |
| Bob Bechtold, Fieldstone; William Looney, Hartefeld National; Tom Finn & Rob Volko, DuPont | 143 |
| Steve McDonald, Stonewall; Tim Wetzel, RiverCrest; Thomas Flatley & Brian Gardner, Bellewood | 144 |
| Michael Berish, Ryan Burnley, Drew Leck & Stanley Weglarz, Bellewood | 147 |
| Dan Raineri, RiverCrest; Damon Rossi, Bellewood; Patrick Smith, Sandy Run & Greg Wedemeyer, Spring Ford | 148 |
| Patrick Buckley, Rolling Green; John Volpe, Broad Run; James Denon & Chris Rumsey, Springhaven | 149 |
| Brian Degnan, Cobbs Creek; Chuck Kuntz, Overbrook, Joe Morganti, Llanerch & Steven Stinson, Rolling Green | 150 |
| Jeff Antolic, Rob Galtere, Todd Haines & Ted Snyder, Reading | 151 |
| Tom Gramlich, Gregg Shivers, Eric Voss & Clarence Watts, Medford Lakes | 151 |
| Joseph Boyle, Tom Covello, John Flanagan & Brian Murphy, Sandy Run | 151 |
| Tom Prestia, Steel Club; David O'Donnell, Darren Riddle & Jim Sherma, Hershey | 153 |
| Bill Hilburt, Heidelberg; Jakob Templin, Joseph Templin & Don Uhrig, LedgeRock | 153 |
| Scott Gaul, Raven's Claw; Craig Gingrich, Conestoga; Chris Hey, Brookside & Mike MacSisak, Reading | 155 |
| Ted Hospodar, Philip Kerschner; Teddy Kerschner & Matt Walsh, Overbrook | 155 |
| Jay Halferty, Raymond King, John Mitchell & Gihon Reape, Cedarbrook | 156 |
| Russ Baribault, Penn Oaks; Mike Connell, Springhaven; Jeff Brodsky & Andrew Repetto, Philadelphia Publinks | 160 |
| Scott Case, Phiadelphia Publinks; James Decker, Gulph Mills; Matt Funchion, Aronimink & Quentin Sturm, Whitemarsh Valley | 163 |
| James Conway, Gene Haag, Domenick Pendino & Robert Pendino, Tavistock | 165 |
| Bob Brooker, John Greenebaum, Mohamed Latib & Tom Lombardo, LuLu | 165 |
| Mike Lam, Yardley; Dan White, Bellewood; Dan Fisher & Cory McGrath, Chester Valley | 166 |
| | |
| Women's | |
| Name, club | Score |
| Jackie Beck, Lehigh; Taylor Hollander, Kennett Square; Nicolina Kulhamer, Green Pond & Katrin Wolfe, Northampton | 150 |
| Sharon Hudacek, Glenmaura National; Deb Mileski, Wyoming Valley; Jacqueline Brozena & Barb Maier, Fox Hill | 161 |
| Laurie Hissey, Radley Run; Val Jester, West Chester; Lisa Gosselin & Eleanor Schwandt, Kennett Square | 176 |
| Patricia Duffy & Muffy McCabe, French Creek; Patty Levering & Helen Moyer, RiverCrest | 178 |
| Michele Campbell, Marybeth Matecki, Susan Tunno & Pam Wight, Whitford | 182 |
| | |
| Net | |
| Men's  | |
| Name, club | Score |
| Keith Falconer, Paul Matisse, Ted Mowery & Harry Warren, West Shore | 125 |
| Dave Maddock, Brian Mahlstedt, Sr., Jody McGrail & Frank Petrillo, Glen Oak | 128 |
| Jay Halferty, Raymond King, John Mitchell & Gihon Reape, Cedarbrook | 128 |
| Jason Castaldi, Dan Perry, Scott Polk & Matt Seuffert, Honeybrook | 128 |
| Greg Buliga & Paul Rogowicz, Yardley; Chris Clauson & Jason Cohen, LuLu | 129 |
| Douglas Erney, Matt Gilbert, Barry Krisko & Craig Morrison, Hershey | 129 |
| Dan Raineri, RiverCrest; Damon Rossi, Bellewood; Patrick Smith, Sandy Run & Greg Wedemeyer, Spring Ford | 129 |
| Tom Gramlich, Gregg Shivers, Eric Voss & Clarence Watts, Medford Lakes | 129 |
| Bob Buckley, Mark Fine, Fred Greene & Brent Peterson, Lehigh | 130 |
| Matt Ade, David Gall, Kevin Kramarski & Ben Litt, Riverton | 130 |
| Larry Benedetto, Doug Fedoryshyn, T.R. Gatti & Matthew Vandevere, Concord | 130 |
| Jason Barkley, Moselem Springs; Mark Coassolo, Brookside Allentown, Shawn Lavin, Rolling Green & Pete Moran, French Creek | 131 |
| Russ Baribault, Penn Oaks; Mike Connell, Springhaven; Jeff Brodsky & Andrew Repetto, Philadelphia Publinks | 131 |
| Joseph Boyle, Tom Covello, John Flanagan & Brian Murphy, Sandy Run | 131 |
| Scott Case, Phiadelphia Publinks; James Decker, Gulph Mills; Matt Funchion, Aronimink & Quentin Sturm, Whitemarsh Valley | 132 |
| Scott Gaul, Raven's Claw; Craig Gingrich, Conestoga; Chris Hey, Brookside & Mike MacSisak, Reading | 132 |
| Mitch Burns, Reading; Reed Huntzinger, Bon Air; Jared Brown & Kyle Fiorelli, Springhaven | 132 |
| Steve Oh, DuPont; Scott Storck, Philadelphia Cricket; Jay Vasil, Eligo & Jason Wilson, Olde Homestead | 133 |
| Michael Berish, Ryan Burnley, Drew Leck & Stanley Weglarz, Bellewood | 133 |
| Ted Hospodar, Philip Kerschner; Teddy Kerschner & Matt Walsh, Overbrook | 133 |
| Nick Hand, Luke Morgan, Stephen Rice & Ian Shollenberger, Schuylkill | 133 |
| Matt Hilbush, Commonwealth National; Jim Lelii, Moselem Springs; Ryan Rigby & Sean Torpey, Doylestown | 133 |
| Rob Tredinnick, Five Ponds; Marc Grabuski, Josh Lewis & Pat Sullivan, Philadelphia Publinks | 133 |
| Steve McDonald, Stonewall; Tim Wetzel, RiverCrest; Thomas Flatley & Brian Gardner, Bellewood | 134 |
| Bob Arthur, Tavistock; Thomas Hyland, Little Mill; Bryan Marvin, Old York Road & James Muller, Manufacturers' | 134 |
| Patrick Buckley, Rolling Green; John Volpe, Broad Run; James Denon & Chris Rumsey, Springhaven | 134 |
| Jeff Antolic, Rob Galtere, Todd Haines & Ted Snyder, Reading | 134 |
| Joe Corcoran, Spring Ford; Rob Johnson, Tucker Sandercock & Matthew Scriff, Steel Club | 134 |
| Bob Bechtold, Fieldstone; William Looney, Hartefeld National; Tom Finn & Rob Volko, DuPont | 135 |
| Bill Hilburt, Heidelberg; Jakob Templin, Joseph Templin & Don Uhrig, LedgeRock | 136 |
| Bob Brooker, John Greenebaum, Mohamed Latib & Tom Lombardo, LuLu | 137 |
| Brian Degnan, Cobbs Creek; Chuck Kuntz, Overbrook, Joe Morganti, Llanerch & Steven Stinson, Rolling Green | 139 |
| Tom Prestia, Steel Club; David O'Donnell, Darren Riddle & Jim Sherma, Hershey | 140 |
| James Conway, Gene Haag, Domenick Pendino & Robert Pendino, Tavistock | 141 |
| Mike Lam, Yardley; Dan White, Bellewood; Dan Fisher & Cory McGrath, Chester Valley | 142 |
| | |
| Women's | |
| Name, club | Score |
| Sharon Hudacek, Glenmaura National; Deb Mileski, Wyoming Valley; Jacqueline Brozena & Barb Maier, Fox Hill | 141 |
| Jackie Beck, Lehigh; Taylor Hollander, Kennett Square; Nicolina Kulhamer, Green Pond & Katrin Wolfe, Northampton | 143 |
| Michele Campbell, Marybeth Matecki, Susan Tunno & Pam Wight, Whitford | 146 |
| Laurie Hissey, Radley Run; Val Jester, West Chester; Lisa Gosselin & Eleanor Schwandt, Kennett Square | 147 |
| Patricia Duffy & Muffy McCabe, French Creek; Patty Levering & Helen Moyer, RiverCrest | 151 |