LuLu's Rusk grinds out extra-holes victory to advance
Day Two recap| Scoring portal | History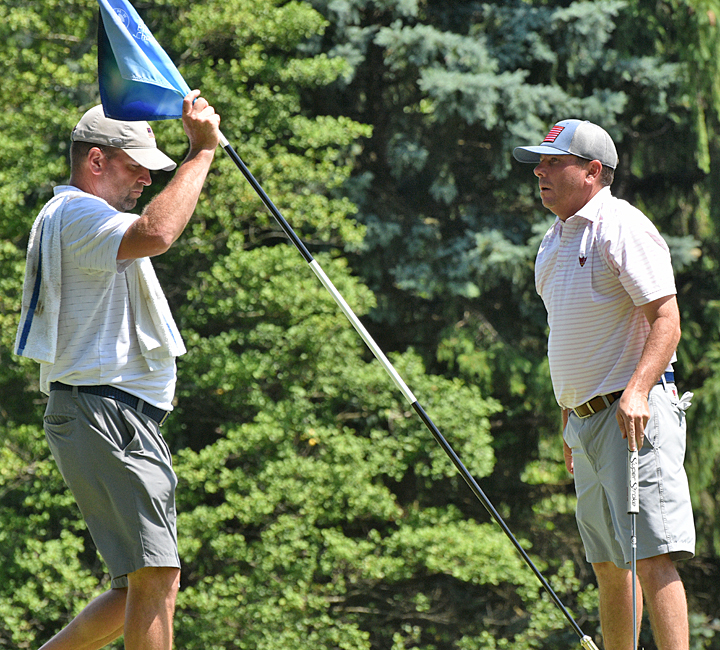 GLADWYNE, Pa. – Jon Rusk of LuLu Country Club locked in to defeat competitor Joshua Ryan of The 1912 Club in a sudden death playoff that lasted one extra hole at Philadelphia Country Club (par 71, 6,879 yards).
The 43-year-old admits to playing "awful" during the day's final round and compliments the abilities of his competitor. As it turns out, Rusk did not play as awful as he believes and advanced to the quarterfinals.
"He let me hang around. He's a much better player than I am," said the Yardley, Pa. resident. "I got up-and-down the last three holes from nowhere."
After No. 16 (par 4, 412 yards), Rusk was 1-down against Ryan. On No. 17 (par 4, 442 yards), his approach shot with an 8-iron from the fairway landed 40 yards left of the green in the bunker. From there, he blasted out of the sand to six feet and saved par. Ryan missed his par putt which squared the match.
On No. 18 (par 4, 386 yards), Rusk's approach shot missed left of the green to which he grinded for an up-and-down to match Ryan's two-putt par. The two then headed to extra holes.
"I wished it in there," Rusk said jokingly. "I wished the putt in there nicely."
Rusk believes that without pulling off a few miraculous pars during the later holes of the match, Ryan would have closed him out on No. 17 (par 4, 442 yards).
Carrying Rusk's bag was 1999 BMW Amateur champion and longtime friend, Jim Sullivan Jr. (Sully), who did not make yesterday's cut. Sully's words of encouragement and calming presence helped Rusk to stay in contention during tough stretches during the Round of 16.
"He's a close friend of mine, my buddy," Rusk said. "He's a calming influence on me, I sometimes get wound up out there."
Both contenders hit drives left on the 19th hole of the match (No. 1, par 4, 320 yards). Ryan hit his approach shot out of the rough to 10 feet while Rusk bested him by a foot from the sand. Ryan's birdie attempt skidded by the right edge, while Rusk's putt fell over the front lip for the win.
Rusk has not played much competitive golf in recent years due to family and a lack of motivation to compete. It was friends Michael Brown Jr. and his caddie, Jim Sullivan Jr. who encouraged him to begin playing competitively again.
"I called Chris Roselle (Tournament Director at GAP) to withdraw two days after I signed up," Rusk said. "Chris was like 'Well, why don't you think about it for a little bit?,'. I said, 'I don't want to walk, I'm out of shape,', so I told Chris when I win we'll take a picture together with the trophy," Rusk said with a smile.
Previously, Rusk's furthest finish in the #BMWPhillyAM was the Round of 16, where he fell in 1998 to current GAP President Oscar Mestre. Rusk also earned stroke-play qualifying medal honors in 1999.
Meyers introduces himself to the GAP Major circuit
Making the trip from Basking Ridge N.J. was worth the spike in gas prices for new GAP player John Meyers of Golden Pheasant Golf Course.
The 31-year-old grew up in Basking Ridge N.J, where he currently resides, and attended Ridge High School where he played on the golf team. He began playing just before high school when he was 14-years-old at Basking Ridge Country Club where his family held membership. Upon graduating, he enrolled at James Madison University where he was unable to continue playing competitively. Instead, he used that time to work developing his game into what it is today.
"It seems to me that a couple of the qualifying events that I have played in for [GAP tournaments] have fields that are a little bit deeper than [NJSGA]," Meyers said. "More players and a little bit more depth and strength is seems like to me.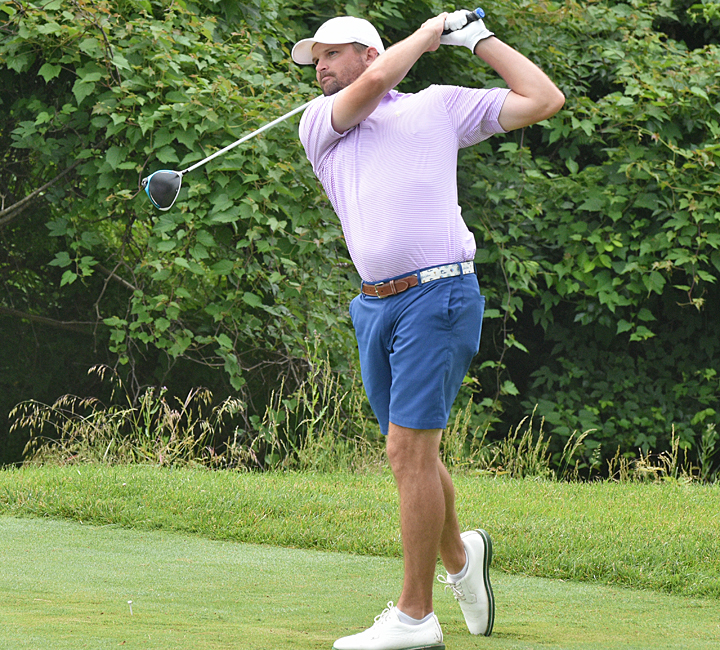 Shortly after college, Meyers accepted an entry-level position with the USGA, whose headquarters is minutes from where he grew up. He kept that position for nine years. In 2016, Meyers worked as the Championship Manager for the U.S. Girls Junior and the U.S. Senior Women's Amateur. He held his position as championship manager until 2021 until a change of careers. Meyers has recently changed jobs to work alongside his good friend, Steve Buzby, as a Sports Marketer for Hive Gaming, a company that works in the esports space. The new position has allowed him to play more golf.
Meyers is no stranger to the New Jersey State Golf Association (NJSGA) circuit. Events where he displayed strong performances include the New Jersey Open, the New Jersey Amateur, and the New Jersey Middle Amateur. He has played in Metropolitan Golf Association (MGA) events including qualifying for the IKE Stroke Play Championship and the Met Amateur Championship.
Working from home has allowed the northern New Jersey resident more time to sharpen his game and prepare to contend with the ever growing class of GAP players who enjoy strong competition.
"I work from home and I have a lot of flexibility with the new job," Meyers said. "I was gone for the whole summer when I was working with the USGA, so now I'm just trying to play in whatever I can."
Despite falling to Campbell Wolf in the Round of 32 Tuesday morning, 4&3, you'll see Meyers' name on a GAP Major tee sheet soon enough. His performance this week granted him exemptions into next years BMW Amateur Championship, Middle Amateur Championship, and this year's Patterson Cup.
GAP
Celebrating Amateur Golf since 1897, GAP, also known as the Golf Association of Philadelphia, is the oldest regional or state golf association in the United States. It serves as the principal ruling body of amateur golf in its region. The Association's 330 Member Clubs and 90,000 individual members are spread across Pennsylvania, Delaware, New Jersey and Maryland. The GAP's mission is to promote, preserve and protect the game of golf.