Ross, Singh share medal in #USJuniorAm Qualifying
Two co-medalists earned their way to the U.S. Junior Amateur Monday at Carlisle Country Club (par 70, 6,400 yards).
The dual invitations available were seized by Medford Lakes Country Club's Jack Ross and Virginia's Mehrbaan Singh, who both finished with day-low rounds of 2-over 74. In all, 44 players took to Carlisle's championship-conditioned course on Monday.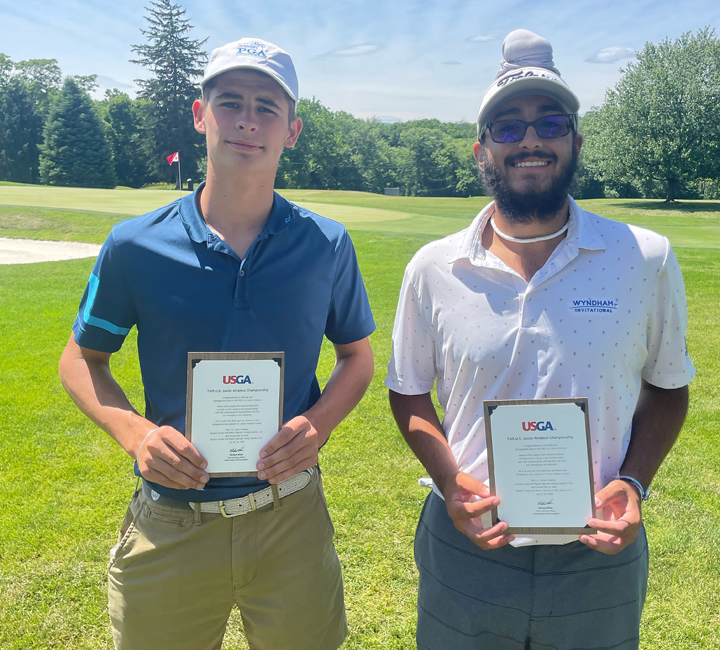 The Qualifying event's alternate positions went to Manor Golf Club's Evan Jozwiak followed by Bidermann Golf Course's Drew Clark, thanks to their 4-over rounds of 76.
The U.S. Junior Amateur will be played at Bandon Dunes Golf Resort (Bandon Dunes), Bandon, Ore. on July 25-30.
For Ross, three birdies dropped overall. The 18-year-old's birdie on the par-5, 541-yard 18th was the ending he needed for a national championship ticket. Four birdies appeared on Singh's card overall, which also included a clutch closing birdie.
GAP
Celebrating Amateur Golf since 1897, GAP, also known as the Golf Association of Philadelphia, is the oldest regional or state golf association in the United States. It serves as the principal ruling body of amateur golf in its region. The Association's 330 Member Clubs and 90,000 individual members are spread across Pennsylvania, Delaware, New Jersey and Maryland. The GAP's mission is to promote, preserve and protect the game of golf.
| | |
| --- | --- |
| Qualifiers | |
| Name, city, state | Score |
| Jack Ross, Medford Lakes, N.J. | 72 |
| Mehrbaan Singh, Ashburn, Va. | 72 |
| Alternates (in order) | |
| Evan Jozwiak, Sinking Spring, Pa. | 74 |
| Drew Clark, Kennett Square, Pa. | 74 |
| Failed to qualify | |
| Brady Davidson, Mechanicsburg, Pa. | 75 |
| Bennett Espenshade, Baltimore, Md. | 75 |
| Will Hartman, Marvin, N.C. | 75 |
| Teddy Ross, Alexandria, Va. | 75 |
| Aryan Vuradi, Brambleton, Va. | 75 |
| Logan Wagner, Quarryville, Pa. | 75 |
| Nathan Drogin, Essex Fells, N.J. | 76 |
| Thanakrit Keeradit, Thailand | 76 |
| Pornphat Luchutaskul, Thailand | 76 |
| Niko Salmi, Finland | 76 |
| Michael Vital, Bethlehem, Pa. | 76 |
| Bryson Hughes, St. Johns, Fla. | 77 |
| Will Huntley, Lansdale, Pa. | 77 |
| Timothy Peters, Afghanistan | 77 |
| Jarred Berish, Pottstown, Pa. | 78 |
| Anantuch Chonruedeepaisan, Thailand | 78 |
| John Jack Crombie, Crozet, Va. | 78 |
| Argyle Downes, Charles Town, W.V. | 78 |
| Owen Rooney, Buffalo, N.Y. | 78 |
| Pattrasuth Boonthumrongkit, Thailand | 79 |
| Hayden Quinn, Leesburg, Va. | 79 |
| Matthew Vital, Bethlehem, Pa. | 79 |
| Alistair Demko, Hershey, Pa. | 80 |
| Benjamin Wilson, Lancaster, Pa. | 80 |
| Ross Wright, Thailand | 80 |
| Kellen Adickes, Bristol, Maine | 81 |
| Jack Rosen, Boca Raton, Fla. | 81 |
| Anthony DePietress, Enola, Pa. | 82 |
| Caden Blanchette, Manchester, Pa. | 83 |
| Samuel Feeney, West Chester, Pa. | 84 |
| Brady Manning, Downingtown, Pa. | 84 |
| John Olsen, Boalsburg, Pa. | 84 |
| Arth Sinha, Princeton Junction, N.J. | 85 |
| Ian Larsen, Glenmoore, Pa. | 86 |
| Piyachote Naphapayarksiri, Thailand | 86 |
| Phattaraphan Tiratrakulseree, Thailand | 86 |
| Callan Wilcox, Pittsburgh, Pa. | 87 |
| Nixen Erdely, Fayette City, Pa. | 89 |
| John Curran, Malvern, Pa. | WD |
| Jack Shearer, Latrobe, Pa. | WD |
| WD – withdrawal | |