Landis, Storck snag Senior Four-Ball Stroke Play
| Scoring portal | History | Photo gallery |
FLEETWOOD, Pa. – As the first group out Wednesday at Moselem Springs Golf Club (par 70, 6,305 yards), the the course was welcomingly wide open for the home club's Perry Landis and LedgeRock Golf Club's Chris Storck. It was nice and cozy on familiar grounds. After all, Moselem has been a staple in each of their golf games dating back to 2007.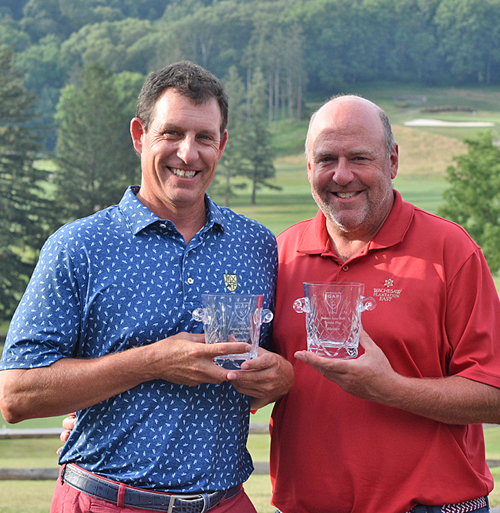 The dynamic Berks County duo went on to file a 6-under 64 and won the 63rd Senior Four-Ball Stroke Play's Senior Division in result. They bested 51 other Senior twosomes for the victory.
The Senior Four-Ball Stroke Play is a better-ball-of-partners event.
After a respectable front side of 2-under 33, it was time for the partners to pounce.
Interestingly enough, it was Moselem's first nine that was playing easier (38.6 average). Its second nine played two strokes more difficult (40.7), but that didn't phase Landis or Storck. They welcomed the challenge.
Back-to-back birdies by Landis got things headed deep into the red after the turn. On No. 10 (par 4, 386 yards), Landis dropped in a 20 foot trickler in for birdie, followed by a 15 footer on No. 11 (par 4, 427 yards). Storck stepped up next on No. 12 (par 5, 491 yards) after barely missing on an eight-foot eagle look, but tapped in for birdie 4. He'd jar another on the par-4, 345-yard 16th after watching playing partner Pat Dougherty's holed putt from 10 feet, taking a similar successful line. They'd go on to par Moselem's finishing two holes for the 6-under card.
"We played well out there today and it honestly could have been better. We were getting good looks most of the day," said Storck, 55, of Sinking Spring, Pa. "
"Chris and I, we know the golf course pretty well I'd say. We know the way these greens grow [during the summer heat], so we were talking about the grain of the greens all day. They are a combination of poa and bentgrass, so the greens grow in really strong and hold uphill putts really well," said Landis, 57, of Kutztown, Pa. "We were able to take advantage [of that local knowledge] today."
The champions' relationship goes back to the year 2007, when both players became members at Moselem. They began playing in Berks County partner events together, and the rest was history. Trophies and friendship followed suit.
"Chris and I, we've kind of split up a little bit over the years, but then sometimes we get back together in events like this," said Landis. "But this year, I called Chris about [today's event], and he was like, 'Yep. This is it.'"
"We've always kept in touch. We've always battled against each other. So to partner up again, it was nice to be on each other's side," said Storck, who won the 2021 Berks Country Amateur Championship — his third overall.
Expect more phone calls between the two in the near future — especially when a better-ball event comes calling.
McCool, Scott repeat for Super-Senior crown
Repeat time in remarkable fashion.
Robin McCool of Saucon Valley Country Club and Craig Scott of Great Bear Golf Club combined to fire a 3-under 67 to win the Super-Senior title. They bettered a field of 29 teams for the trophy by a stroke.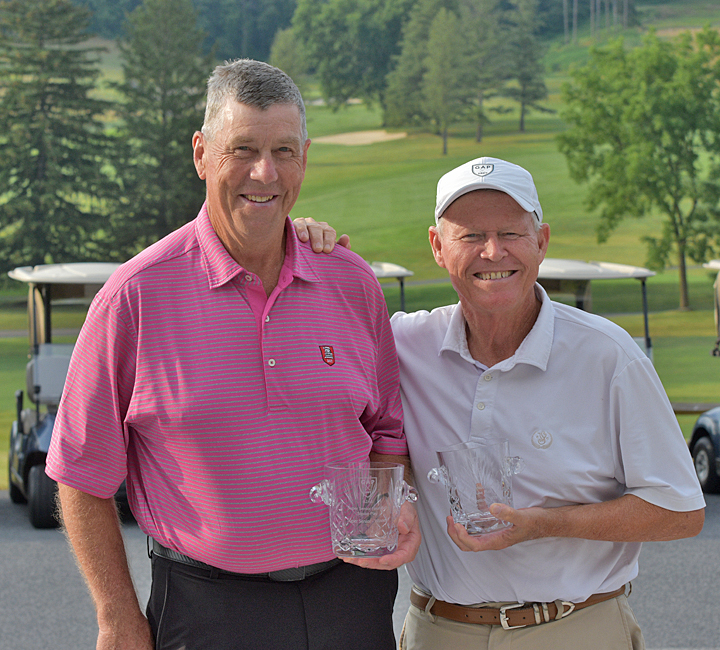 The good friends and two-time champions won today's trophy in dramatic fashion, making birdie on Moselem's hardest two holes to finish. On No. 17 (par 4, 343 yards), McCool placed his approach to two feet and tapped in for the birdie, followed by a 20-foot exclamation-point birdie by Scott on Moselem's 18th. All in all, it equaled a one-shot victory.
"The pins were in tricky spots, which was fine for us, but you really had to have some local knowledge out there. We were hitting greens in regulation all day and giving ourselves looks," said Scott, 73, of Marshalls Creek, Pa.
"We hadn't looked at the scoreboard much at all until we got to the 17th tee. We knew what we had to do and make some birdies with two to play," said McCool, 71, of Center Valley, Pa. "Craig and I are really good friends. We love each other, and love playing together because our games are so similar. It really works well for this format."
The duos record speaks for itself. McCool and Scott also paired up to win last year's Senior 27-Hole Challenge at Bellewood Country Club. Today's title defense just strengthens the argument that McCool and Scott team up to be one of the finest partners in the GAP region.
GAP
Celebrating Amateur Golf since 1897, GAP, also known as the Golf Association of Philadelphia, is the oldest regional or state golf association in the United States. It serves as the principal ruling body of amateur golf in its region. The Association's 330 Member Clubs and 90,000 individual members are spread across Pennsylvania, Delaware, New Jersey and Maryland. The GAP's mission is to promote, preserve and protect the game of golf.
| | |
| --- | --- |
| Senior Gross | |
| Names, clubs | Score |
| Landis, Perry + Storck, Chris/Moselem Springs Golf Club, LedgeRock Golf Club | 64 |
| Kelly, Kevin + Dougherty, G. Patrick/Philadelphia Cricket Club | 66 |
| Fieger, Sr., Chris + Kliewer, Craig/Philadelphia Publinks Golf Association, Lebanon Country Club | 66 |
| Atcavage, Rick + Frampton, John/Whitemarsh Valley Country Club | 66 |
| Bolcavage, Kenneth + Brunn, Art/Elkview Country Club, Wyoming Valley Country Club | 67 |
| Alterman, John + Nottage, John/Commonwealth National Golf Club | 67 |
| Borsello, Tom + Hall, Mike/Wyncote Golf Club, Maple Dale Country Club | 67 |
| Fedoryshyn, Doug + Gatti, T.R./Concord Country Club | 68 |
| Conway, John + Jones, Douglas/Little Mill Country Club | 68 |
| Owsik, Mike + Owsik, Joe/Hershey's Mill Golf Club | 68 |
| Buliga, Gregory + Rogowicz, Paul/Yardley Country Club | 68 |
| Detweiler, Marlin + Lutz, Chip/Lancaster Country Club, LedgeRock Golf Club | 68 |
| Soares, Tom + Beck, Bob/Lehigh Country Club | 69 |
| Aiken, Buddy + Puskar, John/St. Davids Golf Club, Kennett Square Golf & Country Club | 69 |
| Anderson, Todd + Humphrey, Tom/Wilmington Country Club | 69 |
| Mestre, Oscar + Phillips, Ken/Overbrook Golf Club, Lancaster Country Club | 69 |
| Peterson, Brent + Buckley, Bob/Lehigh Country Club | 70 |
| Roeder, Joe + Armagost, Adam/Merion Golf Club, Little Mill Country Club | 70 |
| Finn, Tom + West, David/DuPont Country Club, Philadelphia Publinks Golf Association | 70 |
| Sweeney, John + Leaman, Mark/Foxchase Golf Club, Overlook Golf Course | 70 |
| Winter, Bob + Trymbiski, Brian/Pilgrim's Oak Golf Course, Doylestown Country Club | 70 |
| Walsh, P. Chet + Tash, Michael/Philadelphia Country Club, Little Mill Country Club | 70 |
| Choi, Mark + Lykon, Andy/Saucon Valley Country Club, Wedgewood Golf Course | 71 |
| Giroso, Blaise + Aerenson, Bob/Fieldstone Golf Club, Wilmington Country Club | 71 |
| Fryer, Rich + Strohl, David/Southmoore Golf Center, Olde Homestead Golf Club | 71 |
| Looney, William + Sheets, Mark/Hartefeld National, Kennett Square Golf & Country Club | 72 |
| Shoup, Michael + Muehlbronner, Jim/Sandy Run Country Club | 72 |
| Remig, Philip + Parsons, Bob/Huntingdon Valley Country Club | 72 |
| Ochoa, Carlos + Czerniakowski, Mark/Little Mill Country Club, LuLu Country Club | 73 |
| Gavaghan, Jim + Anthony, James/Commonwealth National Golf Club, Bensalem Country Club | 74 |
| Quinn, Michael + Lucas, Steven/Philadelphia Publinks Golf Association, Wilmington Country Club | 74 |
| Galtere, Greg + Miller, Steve/Reading Country Club | 75 |
| Viscuso, Joseph + Kovalcheck, Frank/Kennett Square Golf & Country Club | 75 |
| Juhl, O.J. + Arrante, Joe/Sakima Country Club, Newark Country Club | 75 |
| Panebianco, Drew + Vinci, Christopher/Five Ponds Golf Club | 75 |
| Donofrio, Lou + Jebran, Charles/Manufacturers' Golf & Country Club, Doylestown Country Club | 75 |
| Arthur, Robert + Marvin, Bryan/Tavistock Country Club, Old York Road Country Club | 75 |
| Sohns, Tom + Ambrose, Mark/Elmhurst Country Club | 75 |
| Mitchell, Greg + Martin, Kevin/Fieldstone Golf Club | 76 |
| Cattoni, J.R. + Cook, Ben/Huntsville Golf Club, Williamsport Country Club | 76 |
| Krug, Thomas + Witt, James/Commonwealth National Golf Club | 76 |
| Gaenzle, Todd + Mescan, Chris/Regents' Glen Country Club | 77 |
| Nestor, Sr., Kenneth + Andriole, Joseph/Country Club of Scranton | 77 |
| Luca, John + Niggebrugge, Rob/Philadelphia Publinks Golf Association, Frog Hollow Golf Club | 77 |
| Schmidt, Terrance + McFadden, James/Talamore Country Club | 78 |
| Smith, Greg + Aikin, Ed/Radley Run Country Club, USGA/GAP GC | 78 |
| Repetto, Andrew + Harm, Charles/Philadelphia Publinks Golf Association, Cobbs Creek Golf Club | 81 |
| Beard, Ken + Lefkof, Mark/Ed Oliver Golf Club | 83 |
| Leonard, Jeff + Johnson, Jim/Talamore Country Club | 85 |
| Lunardi, Joseph + Pierce, Michael/Llanerch Country Club, The Springhaven Club | 86 |
| Worthington, Francis + Murphy, Christopher/Manufacturers' Golf & Country Club | 89 |
| | |
| Super-Senior Gross | |
| McCool, Robin + Scott, Craig/Saucon Valley Country Club, Great Bear Golf Club | 67 |
| Scarpetta, Jr., Vince + Scarpetta, David/Nittany Country Club, Pocono Farms Country Club | 68 |
| Hyland, Tom + Muller, Jimmy/Little Mill Country Club, Manufacturers' Golf & Country Club | 70 |
| Hacker, Joseph + Hackett, Bob/Wilmington Country Club | 71 |
| Yost, Vince + O'Hara, Jack/Cedarbrook Country Club | 71 |
| Prendergast, Jim + Dorminy, Marty/Philadelphia Publinks Golf Association | 71 |
| Short, Ed + Farlling, Mike/Carlisle Country Club | 72 |
| Froncek, Matt + Miller, Tom/Honesdale Golf Club, StoneHedge Golf Assn. | 72 |
| Farragut, Dan + Ward, Jay/Cedarbrook Country Club | 73 |
| Kruse, Carl + Sullivan, James/Sandy Run Country Club, Huntingdon Valley Country Club | 73 |
| Walker, Tom + Lewis, Bud/Reading Country Club | 74 |
| Lovitz, Dave + Maginnis, Gene/Whitemarsh Valley Country Club | 74 |
| McKeone, Guy + Reppert, Bill/Reading Country Club | 75 |
| Wiley, James + Bruno, Frank/LuLu Country Club | 75 |
| Beam, Jim + Balkovec, Joe/Manufacturers' Golf & Country Club | 75 |
| Nilon, Michael + Jones, Buck/Philadelphia Country Club, Philadelphia Publinks Golf Association | 76 |
| Mairone, Tom + Shattuck, Scott/Philadelphia Publinks Golf Association, Golf Course at Glen Mills | 77 |
| Ogorek, Rich + Ligato, Wayne/Fieldstone Golf Club | 77 |
| Erskine, William + Dutill, Mike/Philadelphia Publinks Golf Association, Walnut Lane Golf Club | 78 |
| Gudal, Bill + Corrado, Peter/Applecross Country Club | 78 |
| Linn, Brian + Im, Kwang/Talamore Country Club | 79 |
| Meyer, Chris + McKee, John/Manufacturers' Golf & Country Club | 79 |
| O'Donnell, Charles + Jackson, Brian/Applecross Country Club | 79 |
| Todd, Mike + Haddad, Tom/Coatesville Country Club | 80 |
| Leuthy, Donald + Marley, Wayne/Makefield Highlands Golf Club | 81 |
| Torno, Vincent + Czyzewicz, Steve/McCall Golf Club, Pinecrest Country Club | 83 |
| Baptiste, Karl + Johnson, Robert/Odessa National Golf Club, Maple Dale Country Club | 84 |
| Young, John + DiMarzio, John/Sandy Run Country Club | 85 |
| Krotee, Robert + DeLong, Robert/Lebanon Country Club, Radnor Valley Country Club | 86 |
| Senior Net | Net |
| Aiken, Buddy + Puskar, John/St. Davids Golf Club, Kennett Square Golf & Country Club | 63 |
| Owsik, Mike + Owsik, Joe/Hershey's Mill Golf Club | 63 |
| Atcavage, Rick + Frampton, John/Whitemarsh Valley Country Club | 63 |
| Donofrio, Lou + Jebran, Charles/Manufacturers' Golf & Country Club, Doylestown Country Club | 63 |
| Repetto, Andrew + Harm, Charles/Philadelphia Publinks Golf Association, Cobbs Creek Golf Club | 63 |
| Kelly, Kevin + Dougherty, G. Patrick/Philadelphia Cricket Club | 64 |
| Landis, Perry + Storck, Chris/Moselem Springs Golf Club, LedgeRock Golf Club | 64 |
| Buliga, Gregory + Rogowicz, Paul/Yardley Country Club | 64 |
| Alterman, John + Nottage, John/Commonwealth National Golf Club | 64 |
| Conway, John + Jones, Douglas/Little Mill Country Club | 65 |
| Choi, Mark + Lykon, Andy/Saucon Valley Country Club, Wedgewood Golf Course | 65 |
| Looney, William + Sheets, Mark/Hartefeld National, Kennett Square Golf & Country Club | 65 |
| Schmidt, Terrance + McFadden, James/Talamore Country Club | 65 |
| Winter, Bob + Trymbiski, Brian/Pilgrim's Oak Golf Course, Doylestown Country Club | 65 |
| Borsello, Tom + Hall, Mike/Wyncote Golf Club, Maple Dale Country Club | 65 |
| Smith, Greg + Aikin, Ed/Radley Run Country Club, USGA/GAP GC | 65 |
| Fieger, Sr., Chris + Kliewer, Craig/Philadelphia Publinks Golf Association, Lebanon Country Club | 66 |
| Peterson, Brent + Buckley, Bob/Lehigh Country Club | 66 |
| Shoup, Michael + Muehlbronner, Jim/Sandy Run Country Club | 66 |
| Sweeney, John + Leaman, Mark/Foxchase Golf Club, Overlook Golf Course | 66 |
| Giroso, Blaise + Aerenson, Bob/Fieldstone Golf Club, Wilmington Country Club | 66 |
| Bolcavage, Kenneth + Brunn, Art/Elkview Country Club, Wyoming Valley Country Club | 66 |
| Detweiler, Marlin + Lutz, Chip/Lancaster Country Club, LedgeRock Golf Club | 66 |
| Fryer, Rich + Strohl, David/Southmoore Golf Center, Olde Homestead Golf Club | 66 |
| Fedoryshyn, Doug + Gatti, T.R./Concord Country Club | 67 |
| Juhl, O.J. + Arrante, Joe/Sakima Country Club, Newark Country Club | 67 |
| Finn, Tom + West, David/DuPont Country Club, Philadelphia Publinks Golf Association | 67 |
| Remig, Philip + Parsons, Bob/Huntingdon Valley Country Club | 67 |
| Anderson, Todd + Humphrey, Tom/Wilmington Country Club | 67 |
| Mestre, Oscar + Phillips, Ken/Overbrook Golf Club, Lancaster Country Club | 67 |
| Soares, Tom + Beck, Bob/Lehigh Country Club | 68 |
| Roeder, Joe + Armagost, Adam/Merion Golf Club, Little Mill Country Club | 68 |
| Gavaghan, Jim + Anthony, James/Commonwealth National Golf Club, Bensalem Country Club | 68 |
| Walsh, P. Chet + Tash, Michael/Philadelphia Country Club, Little Mill Country Club | 68 |
| Quinn, Michael + Lucas, Steven/Philadelphia Publinks Golf Association, Wilmington Country Club | 69 |
| Ochoa, Carlos + Czerniakowski, Mark/Little Mill Country Club, LuLu Country Club | 69 |
| Galtere, Greg + Miller, Steve/Reading Country Club | 70 |
| Sohns, Tom + Ambrose, Mark/Elmhurst Country Club | 70 |
| Viscuso, Joseph + Kovalcheck, Frank/Kennett Square Golf & Country Club | 71 |
| Luca, John + Niggebrugge, Rob/Philadelphia Publinks Golf Association, Frog Hollow Golf Club | 71 |
| Mitchell, Greg + Martin, Kevin/Fieldstone Golf Club | 72 |
| Lunardi, Joseph + Pierce, Michael/Llanerch Country Club, The Springhaven Club | 72 |
| Nestor, Sr., Kenneth + Andriole, Joseph/Country Club of Scranton | 72 |
| Arthur, Robert + Marvin, Bryan/Tavistock Country Club, Old York Road Country Club | 72 |
| Cattoni, J.R. + Cook, Ben/Huntsville Golf Club, Williamsport Country Club | 72 |
| Krug, Thomas + Witt, James/Commonwealth National Golf Club | 72 |
| Beard, Ken + Lefkof, Mark/Ed Oliver Golf Club | 73 |
| Leonard, Jeff + Johnson, Jim/Talamore Country Club | 73 |
| Gaenzle, Todd + Mescan, Chris/Regents' Glen Country Club | 73 |
| Panebianco, Drew + Vinci, Christopher/Five Ponds Golf Club | 73 |
| Worthington, Francis + Murphy, Christopher/Manufacturers' Golf & Country Club | 78 |
| Super-Senior Net | Net |
| Wiley, James + Bruno, Frank/LuLu Country Club | 64 |
| Yost, Vince + O'Hara, Jack/Cedarbrook Country Club | 65 |
| Scarpetta, Jr., Vince + Scarpetta, David/Nittany Country Club, Pocono Farms Country Club | 66 |
| Leuthy, Donald + Marley, Wayne/Makefield Highlands Golf Club | 67 |
| Hacker, Joseph + Hackett, Bob/Wilmington Country Club | 67 |
| Beam, Jim + Balkovec, Joe/Manufacturers' Golf & Country Club | 67 |
| Gudal, Bill + Corrado, Peter/Applecross Country Club | 67 |
| McCool, Robin + Scott, Craig/Saucon Valley Country Club, Great Bear Golf Club | 67 |
| Farragut, Dan + Ward, Jay/Cedarbrook Country Club | 68 |
| Meyer, Chris + McKee, John/Manufacturers' Golf & Country Club | 68 |
| Prendergast, Jim + Dorminy, Marty/Philadelphia Publinks Golf Association | 68 |
| Lovitz, Dave + Maginnis, Gene/Whitemarsh Valley Country Club | 68 |
| Hyland, Tom + Muller, Jimmy/Little Mill Country Club, Manufacturers' Golf & Country Club | 68 |
| Erskine, William + Dutill, Mike/Philadelphia Publinks Golf Association, Walnut Lane Golf Club | 69 |
| Kruse, Carl + Sullivan, James/Sandy Run Country Club, Huntingdon Valley Country Club | 69 |
| Walker, Tom + Lewis, Bud/Reading Country Club | 70 |
| McKeone, Guy + Reppert, Bill/Reading Country Club | 70 |
| Short, Ed + Farlling, Mike/Carlisle Country Club | 70 |
| O'Donnell, Charles + Jackson, Brian/Applecross Country Club | 70 |
| Linn, Brian + Im, Kwang/Talamore Country Club | 71 |
| Mairone, Tom + Shattuck, Scott/Philadelphia Publinks Golf Association, Golf Course at Glen Mills | 71 |
| Todd, Mike + Haddad, Tom/Coatesville Country Club | 71 |
| Froncek, Matt + Miller, Tom/Honesdale Golf Club, StoneHedge Golf Assn. | 71 |
| Ogorek, Rich + Ligato, Wayne/Fieldstone Golf Club | 72 |
| Krotee, Robert + DeLong, Robert/Lebanon Country Club, Radnor Valley Country Club | 74 |
| Torno, Vincent + Czyzewicz, Steve/McCall Golf Club, Pinecrest Country Club | 74 |
| Nilon, Michael + Jones, Buck/Philadelphia Country Club, Philadelphia Publinks Golf Association | 75 |
| Young, John + DiMarzio, John/Sandy Run Country Club | 76 |
| Baptiste, Karl + Johnson, Robert/Odessa National Golf Club, Maple Dale Country Club | 78 |