Fantastic Fours: Kliewers, Mullers win at Conestoga
LANCASTER, Pa. — The commute for Alan and Craig Kliewer Monday felt foreign. The outcome not so much.
| Scoring portal | History | Photo gallery |
The Lebanon Country Club members typically travel an hour-plus to compete in GAP Father & Son tournaments, of which they hold three titles (2013-14, 2019) to their credit. With nearby (a drive less than 20 miles) Conestoga Country Club (par 70, 6,055 yards) hosting the 110th Father & Son (Older), "I'll pick you up" turned into "I'll meet you at the club."
The Ephrata, Pa. residents left Conestoga separately, but shared yet another trophy. The Kliewers carded a 4-under-par 66 to prevail by two strokes over Doylestown Country Club's Brian and Ted Trymbiski.
The event's format is greensomes (selective drive/alternate shot).
"It was finally nice not to drive an hour and 15 minutes," Alan, 34, said.
"Alan plays in the Member-Guest here every year. I grew up playing here. When I was at Millersville (University), it was our home course," Craig, 61, added. "We were comfortable all day."
A remark Alan made as he walked off No. 8 (par 4, 301 yards) green, the team's 17th hole, shows just how comfortable.
"I said, 'I think I made 13 putts today, but my footage of putts is like 12 feet.' It almost felt like [4 under] was the worst we were going to shoot today," Alan said.
A pair of sound setups from Alan started the team's subpar scoring: a 9-iron from 161 yards to 18 feet on No. 13 (par 4, 393 yards), a wedge from 100 yards to eight feet on No. 16 (par 4, 330 yards). Consider the team's experience on No. 1 (par 5, 493 yards) "Classic Kliewer."
Even a mishit can't prevent a birdie.
"I tried to hit hybrid [from 186 yards], and I hit it off the toe. It was one of my worst swings of the day," Craig said. "I hit it in the [right greenside] bunker, but you know, Alan's bunker play is awesome. He saved the hole."
"He saved the hole when he made the putt," Alan added. "[My lie in the bunker] wasn't too close to the lip, so I had a clear swing. It reacted better than I thought it would." Alan's bunker shot stopped 13 feet from the hole, and Craig poured in the right-to-left breaker.
The team's final birdie came on No. 4 (par 4, 336 yards). After Alan nearly drove the green, Craig bumped a wedge to a foot. The next hole (par 3, 188 yards), conversely, offered its only bogey scare. Both Alan and Craig missed the green. Alan's chip left dad with a knee-knocking five-footer for par. He made it.
"You know how much we love this tournament," Craig said. "We both are very competitive. we don't say a lot to each other on the golf course because we trust each other. Success breeds more success."
Trust that the Kliewers will continue chasing history. William Albertus and Charles Albertus, Sr. hold a record seven Father & Son titles (1949-50, 1952-54, 1962-63). The Kliewers, who also twice fell in Father & Son playoffs (2017-18), didn't compete a year ago because of a schedule conflict for Craig.
"I couldn't find another dad for last year. I was trying," Alan said.
A fourth Father & Son trophy? Try to find a better birthday gift.
"I'm 22 today," Alan said.
"Great. Now we're disqualified," Craig added in jest.
"No, it's my 34th birthday. My mom's cooking one of my favorite homemade meals, chicken marsala," Alan said.
Home cooking: the perfect way to cap a home game for the Kliewers.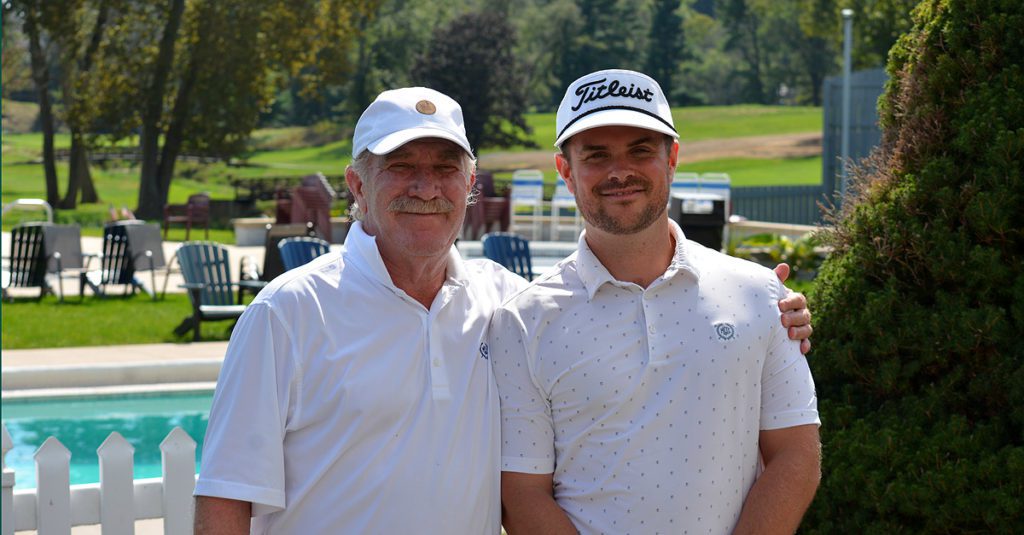 Super-Senior Division
In the aforementioned 2017 Father & Son (Older), Alan and Craig Kliewer lost to Jimmy and Max Muller in overtime at North Hills Country Club. That marked the third Father & Son (2002, 2015) triumph for the Mullers.
As fate would have it, the Manufacturers' Golf & Country Club members also notched a fourth title Monday. The Mullers carded a 5-under-par 65 to take the event's Super-Senior Division (par 70, 5,647 yards).
Furthermore, they matched a Father & Son scoring record, in relation to par, joining the Kliewers (2015) and Christian and Kenneth Matt (2021) at 5 under.
"That's pretty cool," Jimmy, 68, of Huntingdon Valley, Pa., said of their achievement. "We always play well in the GAP Father & Son tournaments."
His softspoken son offered a slightly — emphasis on slightly here — different perspective.
"It's very cool," Max, 36, of Fort Washington, Pa., said. "We'll see if [5 under] holds up."
It held up. Slightly.
Three consecutive birdies seemingly set the Mullers, who played in the morning wave, on cruise control at Conestoga. After Jimmy lifted a wedge from 50 yards onto the green's front tier, Max buried a 30-footer on No. 6 (par 4, 380 yards). Another crisp wedge on No. 7 (par 4, 333 yards) from Jimmy led to a 15-footer. The roles reversed on No. 8 (par 4, 245 yards) as Max's 30-yard pitch settled six feet above the flagstick. Jimmy jarred the downhiller. Birdies on Nos. 13 (par 4, 393 yards) and 14 (par 4, 340 yards) afforded the scoreboard cushion necessary. Jimmy's sharp wedges gave Max putts of two and six feet, respectively.
White Manor Country Club's Alan and Larry Borowsky placed second at 4-under-par 66.
GAP
Celebrating Amateur Golf since 1897, GAP, also known as the Golf Association of Philadelphia, is the oldest regional or state golf association in the United States. It serves as the principal ruling body of amateur golf in its region. The Association's 300 Member Clubs and 80,000 individual members are spread across the Eastern half of Pennsylvania and parts of Delaware, Maryland and New Jersey. The GAP's mission is to promote, preserve and protect the game of golf.
| | |
| --- | --- |
| Gross results | |
| Championship Division | |
| Name, club | Score |
| Craig Kliewer/Alan Kliewer, Lebanon Country Club | 66 |
| Brian Trymbiski/Ted Trymbiski, Doylestown Country Club | 68 |
| Gus Steiger/Gus Steiger, Glenmaura National Golf Club | 70 |
| Dwight Dudas/Matt Dudas, Indian Valley Country Club | 71 |
| Bill Holt/will Holt, Kennett Square Golf & Country Club | 72 |
| Robert Brusco/Robert Brusco, Jr., Medford Village Country Club | 72 |
| Steven Cucinotti/Sal Cucinotti, Talamore Country Club | 73 |
| Brian Trymbiski/Brian Trymbiski, Doylestown Country Club | 73 |
| Matt Milligan/Mike Milligan, Bluestone Country Club/Lederach Golf Club | 74 |
| Woodie Pickell/Brent Pickell, Conestoga Country Club | 74 |
| Michael Brown/Dan Brown, Llanerch Country Club | 74 |
| Eric Soring Eric Soring, DuPont Country Club | 75 |
| Jay Deakins/Scott Deakins, St. Davids Golf Club | 79 |
| Shuguang Wu /Daniel Wu, Blue Bell Country Club/Bluestone Country Club | 79 |
| Zachary Wetzel/Chris Wetzel, Broad Run Golfer's Club/Farmstead Golf & Country Club | 79 |
| Michael Boland/Michael Boland, Sr., The 1912 Club/Pickering Valley Golf Course | 80 |
| Vinny Salatino/Pete Salatino, Sandy Run Country Club/Jeffersonville Golf Club | 81 |
| Mike Dancer/Thomas Dancer, Skippack Golf Club/Cedarbrook Country Club | 82 |
| Brian Dancer/Quentin Dancer, Skippack Golf Club | 84 |
| Alexander Poppe/Chris Poppe, Honeybrook Golf Club/Pottsville ll TG GC | 84 |
| R.B. D'iorio/Ralph D'iorio, The Springhaven Club | 84 |
| Phillip Villari/Phil Villari, Riverton Country Club | 84 |
| Steven Mastrocola/Steve Mastrocola, Gilbertsville Golf Club/Frosty Valley | 89 |
| Jared DiFilippo/Robert DiFilippo, Atlantic City Country Club/PineCrest Country Club | 91 |
| John Radick/Erik Radick, Jericho National Golf Club/Saucon Valley Country Club | WD |
| Super-Senior Division | |
| Name, club | Score |
| Jimmy Muller /Max Muller, Manufacturers' Golf & Country Club | 65 |
| Larry Borowsky/Alan Borowsky, White Manor Country Club | 66 |
| Michael R. Brown, Jr./Michael Brown, LuLu Country Club/The Club at Hidden Creek | 69 |
| John Weber/Jim Weber, Conestoga Country Club/Waynesboro Country Club | 70 |
| Gary Yeager/Royce Yeager, Five Ponds Golf Club/Cedarbrook Country Club | 70 |
| Joe Dulka/Joe Dulka, DuPont Country Club/Bellewood Country Club | 72 |
| Mike Todd/Mike Todd, Coatesville Country Club | 73 |
| Scott Yard/Chris Yard, Applecross Country Club/Whitford Country Club | 73 |
| Ralph Lumbatis/Scott Lumbatis, Hershey Country Club | 73 |
| Jay Deakins/Warren Deakins, St. Davids Golf Club/Philadelphia Country Club | 74 |
| Dave Pender/Mike Pender, Colonial Golf & Tennis Club/Sun City Golf Club | 76 |
| James Smith/Justin Smith, French Creek Golf Club | 77 |
| Robin McCool/Gary McCool, Saucon Valley Country Club | 77 |
| James Rocks/James Rocks, III, Wedgwood Country Club | 77 |
| Francis Doyle/Francis Doyle, Sr., Makefield Highlands Golf Club/Sandy Run Country Club | 77 |
| Mike Civitello/Mike Civitello, Chester Valley Golf Club | 78 |
| Stephen Brown/Victor Brown, Philadelphia Cricket Club/Chester Valley Golf Club | 78 |
| Dave Owsik/Greg Owsik, Rolling Green Golf Club/Stonewall | 78 |
| Robert Adam Jenkins/Bob Jenkins, Reading Country Club/Spring Ford Country Club | 78 |
| Carmen Caruso/Charles Caruso, Spring Ford Country Club/Bellewood Country Club | 79 |
| Timothy Casale/Anthony Casale, Moorestown Field Club | 79 |
| Peter Kyriakodis/Steve Kyriakodis, Commonwealth National Golf Club/LuLu Country Club | 80 |
| Patrick Montgomery/Joe Montgomery, Riverton Country Club | 80 |
| Travis Lock/Cory Lock, RiverWinds Golf & Tennis Club | 81 |
| Don Hoegel/David Hoegel, Little Mill Country Club | 81 |
| Adam Grove /Jeff Grove, Country Club of York | 82 |
| Bob Huntzinger /Jeff Huntzinger, RiverCrest GC & Preserve | 82 |
| Joe Frederico/Dante Frederico, Running Deer Golf Club | 82 |
| Thomas Kanyok/Thomas Kanyok, Sr., Doylestown Country Club/Yardley Country Club | 83 |
| Jay O'Donovan/Timothy O'Donovan, Overbrook Golf Club | 83 |
| Philip Over/Phil Over, Jr., Foxchase Golf Club/Penn Oaks Golf Club | 84 |
| John VanDame, Jr./Barrett VanDame, Talamore Country Club/Linfield National Golf Club | 85 |
| Louis Newett/Steve Newett, Indian Valley Country Club | 85 |
| Tom Moore/Tom Moore, Sandy Run Country Club | 85 |
| John Bixler/Doug Bixler, Dauphin Highlands Golf Club/Lancaster Area #176 | 92 |
| Scott Bracken/Jim Bracken, Medford Village Country Club/McCall Golf Club | 95 |
| Bill Dwyer/Brian Dwyer, Applecross Country Club | 100 |
| Gary Daniels/Jesse Daniels, Applebrook Golf Club/Aronimink Golf Club | WD |
| Net results | |
| Championship Division | |
| Name, club | Score |
| Brian Trymbiski/Ted Trymbiski, Doylestown Country Club | 62 |
| Vinny Salatino/Pete Salatino, Sandy Run Country Club/Jeffersonville Golf Club | 65 |
| Craig Kliewer/Alan Kliewer, Lebanon Country Club | 66 |
| Michael Boland/Michael Boland, Sr., The 1912 Club/Pickering Valley Golf Course | 67 |
| Woodie Pickell/Brent Pickell, Conestoga Country Club | 67 |
| Steven Mastrocola/Steve Mastrocola, Gilbertsville Golf Club/Frosty Valley | 67 |
| Bill Holt/Will Holt, Kennett Square Golf & Country Club | 68 |
| Matt Milligan/Mike Milligan, Bluestone Country Club/Lederach Golf Club | 68 |
| Michael Brown/Dan Brown, Llanerch Country Club | 69 |
| Brian Trymbiski/Brian Trymbiski, Doylestown Country Club | 69 |
| Dwight Dudas/Matt Dudas, Indian Valley Country Club | 70 |
| Steven Cucinotti/Sal Cucinotti, Talamore Country Club | 70 |
| Eric Soring Eric Soring, DuPont Country Club | 70 |
| Alexander Poppe/Chris Poppe, Honeybrook Golf Club/Pottsville ll TG GC | 70 |
| Robert Brusco/Robert Brusco, Jr., Medford Village Country Club | 70 |
| R.B. D'iorio/Ralph D'iorio, The Springhaven Club | 70 |
| Mike Dancer/Thomas Dancer, Skippack Golf Club/Cedarbrook Country Club | 71 |
| Zachary Wetzel/Chris Wetzel, Broad Run Golfer's Club/Farmstead Golf & Country Club | 71 |
| Brian Dancer/Quentin Dancer, Skippack Golf Club | 72 |
| Shuguang Wu /Daniel Wu, Blue Bell Country Club/Bluestone Country Club | 73 |
| Jay Deakins/Scott Deakins, St. Davids Golf Club | 76 |
| Jared DiFilippo/Robert DiFilippo, Atlantic City Country Club/PineCrest Country Club | 76 |
| Phillip Villari/Phil Villari, Riverton Country Club | 78 |
| John Radick/Erik Radick, Jericho National Golf Club/Saucon Valley Country Club | WD |
| Super-Senior Division | |
| Name, club | Score |
| Robert Adam Jenkins/Bob Jenkins, Reading Country Club/Spring Ford Country Club | 61 |
| Larry Borowsky/Alan Borowsky, White Manor Country Club | 64 |
| Michael R. Brown, Jr./Michael Brown, LuLu Country Club/The Club at Hidden Creek | 64 |
| Gary Yeager/Royce Yeager, Five Ponds Golf Club/Cedarbrook Country Club | 65 |
| Jimmy Muller /Max Muller, Manufacturers' Golf & Country Club | 66 |
| Carmen Caruso/Charles Caruso, Spring Ford Country Club/Bellewood Country Club | 67 |
| Patrick Montgomery/Joe Montgomery, Riverton Country Club | 67 |
| Timothy Casale/Anthony Casale, Moorestown Field Club | 68 |
| John Weber/Jim Weber, Conestoga Country Club/Waynesboro Country Club | 68 |
| Joe Dulka/Joe Dulka, DuPont Country Club/Bellewood Country Club | 68 |
| James Smith/Justin Smith, French Creek Golf Club | 69 |
| Francis Doyle/Francis Doyle, Sr., Makefield Highlands Golf Club/Sandy Run Country Club | 69 |
| Jay Deakins/Warren Deakins, St. Davids Golf Club/Philadelphia Country Club | 69 |
| Tom Moore/Tom Moore, Sandy Run Country Club | 69 |
| Ralph Lumbatis/Scott Lumbatis, Hershey Country Club | 69 |
| Scott Yard/Chris Yard, Applecross Country Club/Whitford Country Club | 70 |
| Stephen Brown/Victor Brown, Philadelphia Cricket Club/Chester Valley Golf Club | 70 |
| Mike Todd/Mike Todd, Coatesville Country Club | 71 |
| James Rocks/James Rocks, III, Wedgwood Country Club | 71 |
| Travis Lock/Cory Lock, RiverWinds Golf & Tennis Club | 72 |
| Joe Frederico/Dante Frederico, Running Deer Golf Club | 72 |
| Jay O'Donovan/Timothy O'Donovan, Overbrook Golf Club | 72 |
| Peter Kyriakodis/Steve Kyriakodis, Commonwealth National Golf Club/LuLu Country Club | 73 |
| Philip Over/Phil Over, Jr., Foxchase Golf Club/Penn Oaks Golf Club | 73 |
| Dave Pender/Mike Pender, Colonial Golf & Tennis Club/Sun City Golf Club | 73 |
| Dave Owsik/Greg Owsik, Rolling Green Golf Club/Stonewall | 73 |
| Don Hoegel/David Hoegel, Little Mill Country Club | 73 |
| Mike Civitello/Mike Civitello, Chester Valley Golf Club | 74 |
| John VanDame, Jr./Barrett VanDame, Talamore Country Club/Linfield National Golf Club | 74 |
| Thomas Kanyok/Thomas Kanyok, Sr., Doylestown Country Club/Yardley Country Club | 74 |
| John Bixler/Doug Bixler, Dauphin Highlands Golf Club/Lancaster Area #176 | 75 |
| Robin McCool/Gary McCool, Saucon Valley Country Club | 76 |
| Adam Grove /Jeff Grove, Country Club of York | 77 |
| Bill Dwyer/Brian Dwyer, Applecross Country Club | 80 |
| Scott Bracken/Jim Bracken, Medford Village Country Club/McCall Golf Club | 82 |
| Gary Daniels/Jesse Daniels, Applebrook Golf Club/Aronimink Golf Club | WD |
| WD – withdrawal | |