Finn, West win Senior Four-Ball at Rock Manor
Twenty-eight teams took their try at the Delaware Senior Four-Ball Championship Thursday at Rock Manor Golf Club (par 71, 6,057 yards).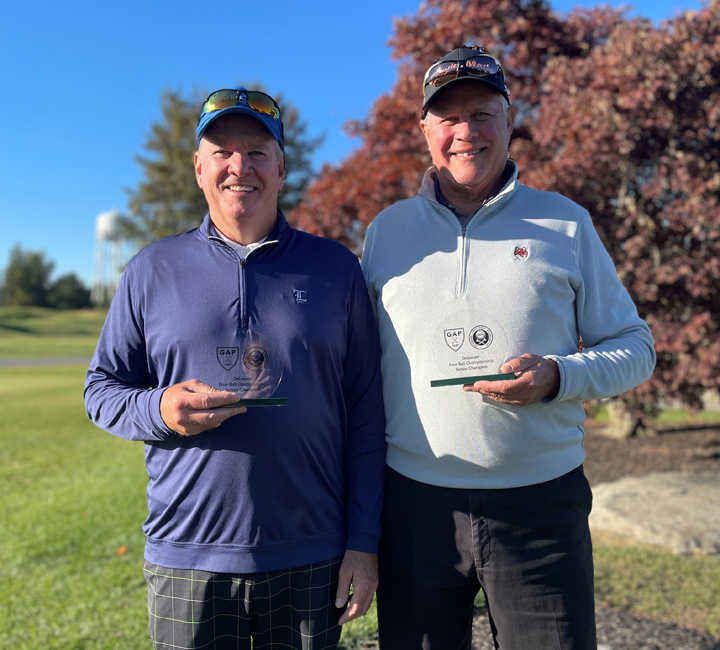 David West of Philadelphia Publinks GA joined DuPont Country Club's Tom Finn to wow the field with a 6-under 65, earning the Men's Division trophy. West tapped in four birdies on the day, while Finn found two of his own.
The Women's Division was taken by the dynamic duo of Angie Whitley Coleman (DuPont Country Club) and Nicoll Keeney (Wilmington Country Club). Coleman and Keeney paired to fire an 8-over 79 — including a birdie 4 on No. 9 (par 5, 430 yards) — for the victory.
GAP
Celebrating Amateur Golf since 1897, GAP, also known as the Golf Association of Philadelphia, is the oldest regional or state golf association in the United States. It serves as the principal ruling body of amateur golf in its region. The Association's 330 Member Clubs and 90,000 individual members are spread across Pennsylvania, Delaware, New Jersey and Maryland. The GAP's mission is to promote, preserve and protect the game of golf.