| News Portal | History |
Vince Kwon, 25, and Zach Falone, 28, could not have asked for much better preparation prior to competing in GAP's premier championship. Less than a month before this week's BMW Philadelphia Amateur Championship, Kwon and Falone took part in another highly prestigious event: the U.S. Amateur Four-Ball Championship.
Kwon, of Marlton, N.J., made a deep run into the semifinals at Bandon Dunes Golf Resort, in Bandon, Ore. The Huntington Valley Country Club member teamed with fellow Marlton resident and Little Mill Country Club member Troy Vannucci for an epic week that ended with a loss to the event's eventual champions, Todd Mitchell and Scott Harvey.
"Everyone's been talking about it," Kwon joked. "I can't say it enough, it was a great experience out there."
Kwon's recent success continued on Wednesday as he went 2-for-2 in his matches at Stonewall's Old Course. In the morning, Kwon beat Philadelphia Cricket Club's Marty McGuckin, 2&1, before defeating Kevin Scherr of Woodstone Country Club & Lodge by an identical margin in the afternoon.
"It was such a long day," Kwon said. "I just kept plugging away. I kept my momentum going, tried to play as aggressively as possible."
Having played with many of the top amateurs in the nation last month, Kwon sees some resemblance between this week's field and the competitors at Bandon.
"It's very similar," Kwon said. "There are a lot of great players here. I'm pretty proud to represent GAP. It feels like family."
For his part, Falone competed alongside Bellewood Country Club's Matt Mancini at the national championship proper. While the dynamic duo failed to make the cut, Falone's experience was invaluable. He rode that momentum this week into Stonewall.
"Oh man, it was amazing," said Falone on the U.S. Four Ball experience. "Coming back home, I hadn't played a ton of golf since Bandon. I had to do that thing called work for awhile. But this week, my goal was to just make match play, and I accomplished that and then some."
That he did. Falone went on to grab a Round-of-32 win, taking down Huntingdon Valley's Benjamin Smith, 3&2. In the Round of 16, he put up a valiant fight against Philadelphia Cricket Club's Conrad Von Borsig, who defeated Falone, 4&3.
Results aside, Falone's passion for the GAP is on display no matter which competition he's at. He's a noted fan of the new GAP logo, and has been rocking the new apparel both nationally and locally.
"I've played in many golf tournaments run by many golf associations, including nationally now, and it makes me realize how great the [Golf Association of Philadelphia] is. It's the best Association in the country," said Falone, of Mickleton, N.J. "Walking around Bandon wearing the GAP logo all week was special for me."
As the GAP's biggest stage, the #BMWPhillyAm is just another testament to not only the region's strong playing talent, but strong sense of camaraderie.
Famous mascot makes #BMWPhillyAm caddie debut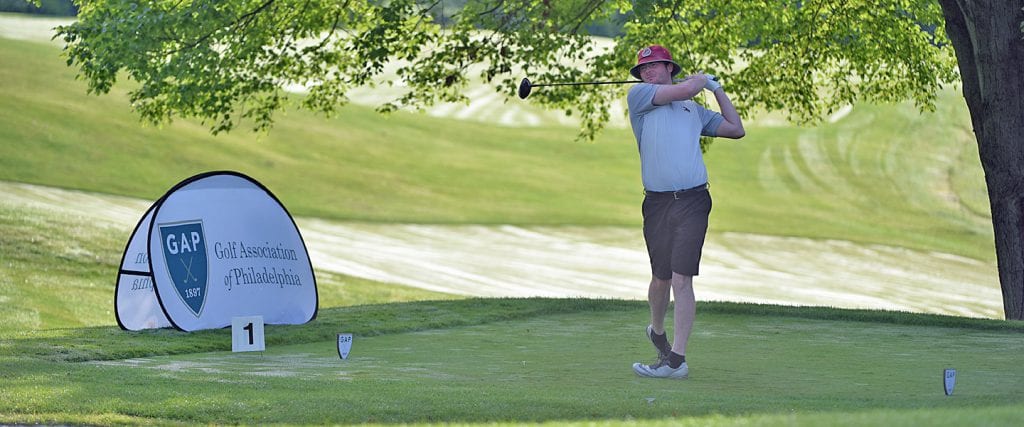 As the newly appointed mascot for St. Joseph's University, Alec Kerr will spend his senior year cheering on the school's various athletic teams. On Wednesday, however, Kerr took to Stonewall to offer support of a different variety, caddying for a fellow member of the St. Joe's men's golf team, Michael O'Brien, in the Round of 32 at the BMW Philadelphia Amateur.
For Kerr, becoming one of the most famous mascots in college sports was no easy feat. The 20-year-old navigated through an extensive application process before the honor was bestowed upon him.
As per University tradition, the Hawk must continually flap its wings whenever it is in the public eye. Now just three weeks into the job, Kerr admits that his duties can be a bit demanding on the arms. Nevertheless, the rewards are plentiful. The student who dons the costume is given a full scholarship and has their books paid for.
"I've been really enjoying it," Kerr said. "It's cool to be able to represent the University in this way."
There were no furry feathers to be found on Kerr today, however. Instead, the Broomall, Pa. native put on the bib to caddy for his roommate of two years.
Although O'Brien was beaten, 2&1, by Jack Wall, he was certainly appreciative of having his friend on the bag. Nevertheless, the Bala Golf Club member couldn't help but wonder if his match would have ended differently had Kerr brought his wings to Stonewall.
"If he was in the costume out here it probably would have helped a little bit," O'Brien said. "If he was flapping in the fairway we would probably have had more of a shot."
GAP
Celebrating Amateur Golf since 1897, GAP, also known as the Golf Association of Philadelphia, is the oldest regional or state golf association in the United States. It serves as the principal ruling body of amateur golf in its region. The Association's 274 Full Member Clubs and 75,000 individual members are spread across the Eastern half of Pennsylvania and parts of New Jersey and Delaware. The GAP's mission is to promote, preserve and protect the game of golf.