| Recap | Scorecards | History |
Having grown up in San Diego, Calif., Andrew Cornish is certainly familiar with excellent weather. On Tuesday, Cornish's opening nine holes were almost as perfect as the Southern California sun.
Starting the 2019 BMW Philadelphia Amateur on the back nine at Stonewall's Old Course, Cornish, who now resides in Pottstown, Pa., tallied four birdies in his first nine holes for an outward score of 32 (3 under).
Spurred by his torrid start, the 20-year-old out of RiverCrest Golf Club & Preserve would go on to record 10 birdies in the 36-hole stroke play qualifier, finishing the day tied for second at 1-over 141.
"I had a great tee ball today," Cornish, a rising senior at Penn State Berks, said. "[I] hit a lot of good approach shots. [Shooting] 32 on my first nine of the day definitely helps."
Having been around the game his whole life, Cornish became fully engrossed in golf after a broken wrist forced him to quit baseball the summer before he began high school.

He attended the University of Arizona for one year before transferring when his parents decided to return to their roots back East.
When he learned of the move, Cornish sent emails to coaches across the area, hoping for an opportunity to play. That chance was granted by Rick Bausher, the head coach of men's golf at Penn State Berks.
Since arriving on the Reading, Pa. campus, Cornish has racked up the accolades. In his first year with the program, the criminal justice major was named as both the Rookie and Golfer of the Year in the North Eastern Athletic Conference (NEAC). This past season, Cornish earned his second consecutive All-NEAC First Team honors while picking up three individual victories and setting the school record for low score. At the Franklin and Marshall College Fall Invitational, Cornish fired a 4-under-par 67, breaking the school's previous low mark, also belonging to him, of 69.
This year's Philly Amateur marks Cornish's first appearance in the event and his second in a GAP Major. Cornish competed in the 2018 Joseph H. Patterson Cup at Gulph Mills Golf Club. His superb play at Stonewall earned him a spot in the match-play portion of the championship set to begin Wednesday. As the No. 2 overall seed, he takes on Will Mirams of Shawnee Country Club in the Round of 32.
"That was my goal coming in, just to make match play," Cornish said. "I'm really looking forward to that."
Bina, Mirams snag last two match-play spots in 6-for-2 playoff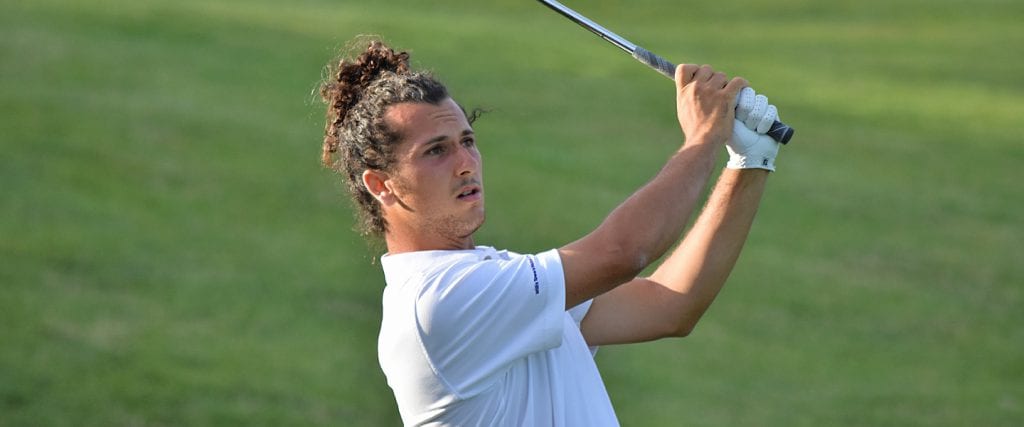 An annual tradition of the region's premier championship? The region's premier championship playoff.
All in with a 10-over total of 150, it was a 6-for-2 showdown between Carey Bina of Radnor Valley Country Club, Mike Butzgy of Hartefeld National, Andrew Keeling of Kennett Square Golf & Country Club, Gary McCabe of RiverCrest Golf Club & Preserve, William Mirams of Shawnee Country Club and Benjamin Pochet of Spring Ford Country Club.
Beginning on the par 3, 183-yard 9th, Mirams fired his approach shot to within inches of the cup before it rolled out to five feet. That converted putt grabbed him the first match-play spot available, good enough for the No. 31 seed. He will face Cornish Wednesday at 7:30 a.m.
Surviving the first playoff hole were Bina, Butzgy and Keeling, who all jarred pars. On Stonewall's 10th (par 4, 350 yards), it was Bina coming out victorious with a highlight-reel birdie compared to bogeys by the others.
"From 165 yards out, I hit a perfect 8-iron. It was one of the best shots I made all day," said Bina, 23, of Villanova, Pa. "There was a chance I could have went over the green with it, but it came out perfect."
His five-footer for birdie found nothing but the bottom of the cup.
Bina's reward? An intriguing matchup with No. 1 seed and medalist Jeff Osberg of Pine Valley Golf Club.
"I've been waiting for this moment for awhile… a chance to play against some of [GAP's] best players," he said. "I'm ready for the challenge."
Super-Senior legend Donatoni on the bag for son, A.J.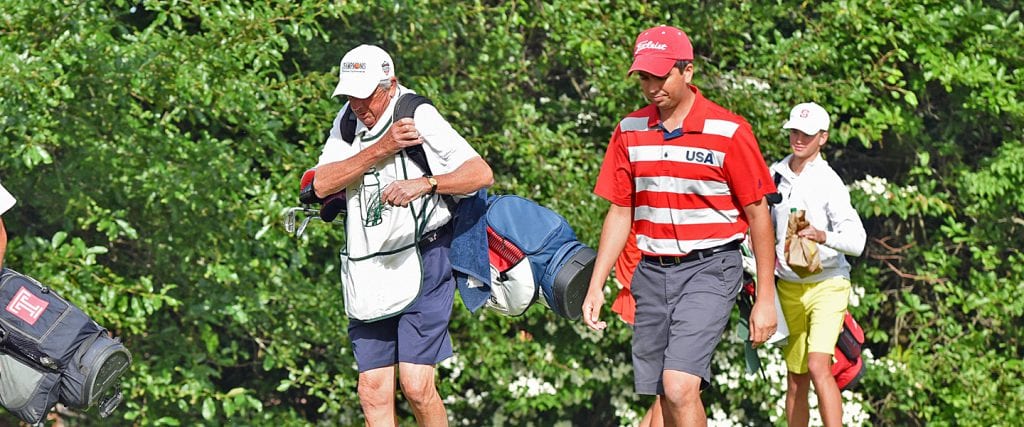 It's been less than a week since Don Donatoni won a golf tournament. It's been nearly 60 years, however, since the 71-year-old last looped as a caddie.
On Tuesday, Donatoni put the bib on for the first time since his teenage years, rekindling his youth by carrying the bag for his son, A.J. Donatoni, in the 2019 BMW Philadelphia Amateur.
"It was an awesome experience to be out here and caddy for your son," Don, of Malvern, Pa., said. "You kind of live and die on every shot. I gave him whatever advice I could. He took some, might have rejected some but all in all it was a very exciting day."
Don has been busy already this season as a player himself. The White Manor Country Club member picked up victories in the Pennsylvania Senior Amateur Match-Play Championship, the Francis B. Warner Cup and the Frank H. Chapman Memorial Cup.
A.J., playing in his first #BMWPhillyAm at the age of 31, was eager to take advantage of his credentialed caddie.
"Obviously his pedigree speaks for itself," A.J., of Wilkes-Barre, Pa., said. "There's no better person to have than him to help guide you along, especially when it comes to reading greens, figuring out yardages, all that stuff."
Despite A.J. missing the cut after carding rounds of 82 and 83, today will not be one either of the Donatonis will soon forget.
"It was just great having him," A.J., a Fox Hill Country Club member, said. "Just a great memory."
GAP
Celebrating Amateur Golf since 1897, GAP, also known as the Golf Association of Philadelphia, is the oldest regional or state golf association in the United States. It serves as the principal ruling body of amateur golf in its region. The Association's 274 Full Member Clubs and 75,000 individual members are spread across the Eastern half of Pennsylvania and parts of New Jersey and Delaware. The GAP's mission is to promote, preserve and protect the game of golf.