Crowley climbs to top of Delaware Amateur leaderboard
SELBYVILLE, Del. – Now that's how you make a move to the top, Mike Crowley.
| Scoring | History | Day One recap |
Crowley, a Loyola University junior and Briarwood Golf Clubber, fired a 2-under 70 in the second round of the 71st Delaware Amateur Championship at Bayside Resort Golf Club (par 72, 6,805 yards) Tuesday. He now will sleep on a one-shot lead with 36 holes to play.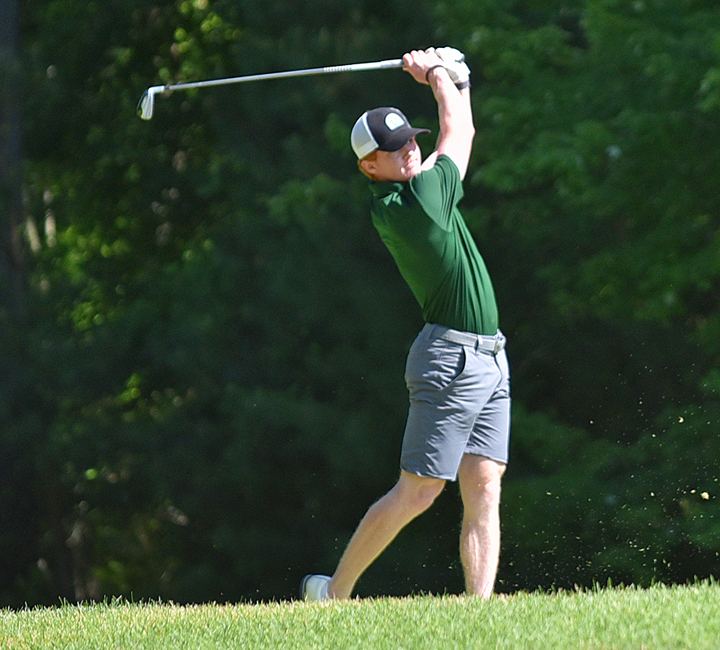 Heading into today's round, it was Reeve Felner, a Belmont University golfer, who sat alone at the top after firing a 1-under 71 Monday. A 4-over 76 in the second round moved Felner down the leaderboard, making way for two new names to emerge.
Crowley, who finished with a 3-over 75 yesterday, would come out with a statement today. His 4-under 32 first nine at Bayside sent shockwaves through the leaderboard in the form of a fiery flatstick from long range.
"I was 5 over through 8 holes yesterday. I told myself I needed to get off to a much better start today," said Crowley, 20, of Hunt Valley, Md. "Early on, I was lucky enough to roll in a couple because I didn't really give myself any easy looks. But that was an eight-shot difference through eight holes compared to yesterday."
After three pars to begin Tuesday, the first of those putts from deep fell from 15 feet for birdie on No. 4 (par 378 yards). On No. 5 (par 4, 452 yards), Crowley's 8-iron approach was left on the front of the green, but he rolled in a 25 footer up the hill to move to 2 under. Crowley walked one in from 30 feet on No. 8 (par 4, 431 yards) and 12 feet on No. 9 (par 4, 357 yards), both for birdies. Zero bogey blemishes on the front side also aided the 4-under front's cause.
"The putter was extremely hot, to that gave me confidence moving forward," said Crowley.
Only one birdie would fall on the second nine. A 40-yard bunker shot on No. 11 (par 5, 509 yards) skipped out to 15 feet, and he would drain that over the front lip for 4. However, a double bogey developed on the par-3, 145-yard 13th after some bunker issues. Nonetheless, he got in the house with his 2-under card, leaving him with a one-shot lead heading into the third and final day.
"I played in the Delaware Open last year, and it was one of my favorite tournaments of the summer. So I definitely knew that I was going to be playing this week," said Crowley. "I've really been working on my short game and putting the last couple of weeks. The last two days I've putted and chipped awesome. If I can keep doing that, I'll be in a really good spot tomorrow."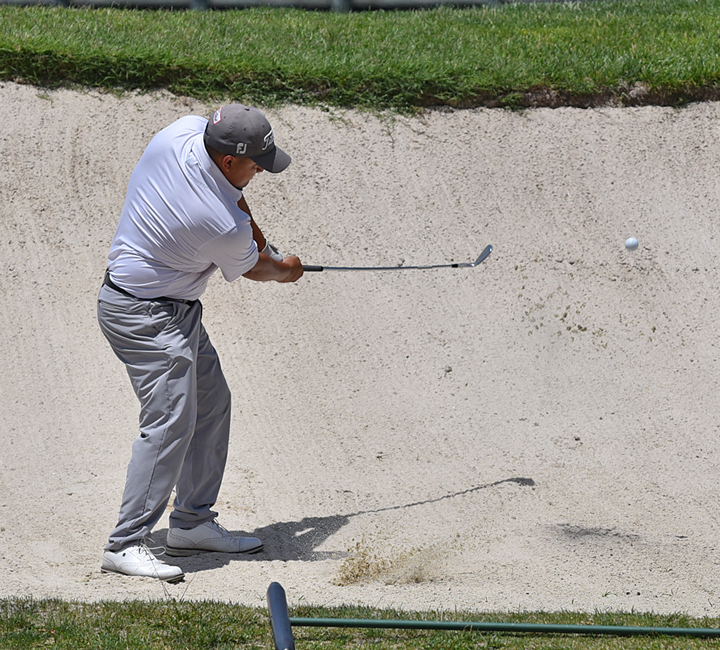 Also in a good spot tomorrow? Maple Dale Country Club's Jacoby Chappa, who is currently on active duty in the United States Air Force.
Chappa (+2) carded Tuesday's low round of the day, turning in a 3-under 69 card to move into sole second place. He sits just one back of Crowley.
"The biggest thing for was to switch my putter today. I had tried yesterday to switch to a blade, and that didn't help me, so I decided to switch to a different putter I've been using. I felt like I was in contention yesterday, but I didn't feel confidence when looking down at putts. The new putter, it's not going anywhere," said Chappa, 30, of Dover, Del.
Although he plays on the Air Force golf team, Chappa is a newcomer to Amateur golf competition. He knows he has the game to hang in there with top talents like you'll see at the top of this week's leaderboard. Now, he has a chance to prove that with a chance at the Delaware Amateur title.
"I'm stationed in Dover, and I've been in the Air Force just over 10 years now. That's how I ended up here from West Texas," said Chappa. "I made the decision to start playing competitive golf this season. I haven't played in many like this, so it's nice to feel the pressure. It's exciting."
After two rounds of the Delaware Amateur, the cut line stopped at 20-over par. Thirty eight players will move on to the third and final day, which begins Wednesday at 8 a.m. The remainder of the field will play their third round, followed by a lunch break before going back out for the fourth and final 18.
Stay tuned at gapgolf.org and the DSGA/GAP social media channels (@GAofPhilly/@DSGA_Golf) all week long for #DelawareAmateur coverage.
GAP
Celebrating Amateur Golf since 1897, GAP, also known as the Golf Association of Philadelphia, is the oldest regional or state golf association in the United States. It serves as the principal ruling body of amateur golf in its region. The Association's 330 Member Clubs and 90,000 individual members are spread across Pennsylvania, Delaware, New Jersey and Maryland. The GAP's mission is to promote, preserve and protect the game of golf.
| | | | |
| --- | --- | --- | --- |
| Scoring | | | |
| Name, club | R1 | R2 | Total |
| Crowley, Michael, Briarwood Golf Club | 75 | 70 | 145 |
| Chappa, Jacoby, Maple Dale Country Club | 77 | 69 | 146 |
| Dolinsky, Matt, Honeybrook Golf Club | 73 | 74 | 147 |
| Felner, Reeve, Pinecrest Country Club | 71 | 76 | 147 |
| Debusschere, Jackson, The Springhaven Club | 75 | 75 | 150 |
| Whitby, Jay, Wilmington Country Club | 74 | 77 | 151 |
| Powderly, Liam, Play Golf Delaware | 75 | 76 | 151 |
| Ergood, Dougie, Tavistock Country Club | 74 | 78 | 152 |
| Halleron, Jack, Five Ponds Golf Club | 76 | 77 | 153 |
| Williams, Aaron, Bayside Resort Golf Club | 79 | 74 | 153 |
| Patel, Rij, Country Club of York | 78 | 76 | 154 |
| Romanov, Nikita, Philadelphia Publinks Golf Association | 81 | 74 | 155 |
| Curran, Andrew, Philadelphia Cricket Club | 81 | 74 | 155 |
| Barron, III, Peter, Galloway National Golf Club | 76 | 81 | 157 |
| Perry, Matthew, Ocean City Golf Club | 78 | 79 | 157 |
| Micholas, Blake, Kings Creek Country Club | 76 | 82 | 158 |
| West, David, Philadelphia Publinks Golf Association | 79 | 79 | 158 |
| Betham, Corey, St. Davids Golf Club | 80 | 78 | 158 |
| Anders, Dawson, Indian Valley Country Club | 80 | 78 | 158 |
| Kinsey, Matthew, Ocean City Golf Club | 81 | 77 | 158 |
| Ernst, Carl, White Oaks Country Club | 81 | 77 | 158 |
| Ward, George, USGA/GAP GC | 82 | 76 | 158 |
| Singh, Yuvi, Lakewood Country Club | 83 | 76 | 159 |
| Waldmann, Chris, The 1912 Club | 84 | 75 | 159 |
| Lugiano, Robert, Huntsville Golf Club | 76 | 84 | 160 |
| Young, Charles, Briarwood Golf Club | 75 | 86 | 161 |
| DeCapite, Braden, Bayside Resort Golf Club | 76 | 85 | 161 |
| Golden, Tim, Rehoboth Beach Country Club | 81 | 80 | 161 |
| Wilson, Brandon, Chesapeake Bay Golf Club | 82 | 79 | 161 |
| Pyle, Franklin, Hartefeld National | 80 | 82 | 162 |
| Da, Xiong, USGA/GAP GC | 80 | 82 | 162 |
| Doughty, Mark, Fieldstone Golf Club | 81 | 81 | 162 |
| Shevland, Nick, Cripple Creek Golf & Country Club | 81 | 82 | 163 |
| Brown, Ed, Rehoboth Beach Country Club | 84 | 79 | 163 |
| Shepherd, Bryan, Bayside Resort Golf Club | 85 | 78 | 163 |
| Mulrooney, Alex, DuPont Country Club | 79 | 85 | 164 |
| Wachter, Mark, DuPont Country Club | 83 | 81 | 164 |
| Garnsey, Brian, Wild Quail Golf & Country Club | 86 | 78 | 164 |
| Sellers, Andrew, Hooper's Landing Golf Course | 82 | 83 | 164 |
| Failed to make cut | | | |
| Mendez, Rand, Fieldstone Golf Club | 83 | 82 | 165 |
| Haas, Elliot, Lakewood Country Club | 78 | 88 | 166 |
| Anderson, Roy, Kennett Square Golf & Country Club | 79 | 87 | 166 |
| Whiteside, Jeff, Newark Country Club | 80 | 86 | 166 |
| Sanz, Lorenzo, Briarwood Golf Club | 83 | 83 | 166 |
| Miller, Matthew, Wild Quail Golf & Country Club | 84 | 83 | 167 |
| Ralph, Travis, Heritage Shores | 82 | 86 | 168 |
| Delapaz, Epi, Gilbertsville Golf Club | 85 | 83 | 168 |
| McGuiness, Michael, Bidermann Golf Course | 89 | 79 | 168 |
| DeCapite, Riley, Bayside Resort Golf Club | 84 | 85 | 169 |
| Hess, Andrew, Odessa National Golf Club | 84 | 86 | 170 |
| Janocha, Bryan, Delcastle Golf Club | 84 | 86 | 170 |
| Hook, Colby, Cripple Creek Golf & Country Club | 86 | 85 | 171 |
| DeLeon, Trace, Baywood Greens | 83 | 89 | 172 |
| Spitaleri, Joseph, Ed Oliver Golf Club | 86 | 86 | 172 |
| Browhawn, Jonathan, Heritage Shores | 89 | 83 | 172 |
| Angle, Joe, Bayside Resort Golf Club | 90 | 82 | 172 |
| Haynes, Remy, USGA/GAP GC | 91 | 81 | 172 |
| Lenoir, Jack, Odessa National Golf Club | 91 | 84 | 175 |
| Morral, Ty, Tyoga Country Club | 92 | 83 | 175 |
| Johnson, Juan, Plantation Lakes Golf & Country Club | 83 | 93 | 176 |
| Luca, John, Philadelphia Publinks Golf Association | 88 | 89 | 177 |
| Walsh, John, Bear Trap Dunes Golf Club | 90 | 87 | 177 |
| Risner, Eric, Newark Country Club | 83 | 95 | 178 |
| Leonard, Brady, Cripple Creek Golf & Country Club | 94 | 84 | 178 |
| Yoder, Timothy, Hooper's Landing Golf Course | 88 | 92 | 180 |
| Samluk, Frank, Paxon Hollow Country Club | 87 | 94 | 181 |
| Redefer, John, Rehoboth Beach Country Club | 97 | 85 | 182 |
| Chanaud, John, Bear Trap Dunes Golf Club | 89 | 94 | 183 |
| Powderly, Kevin, Bayside Resort Golf Club | 98 | 86 | 184 |
| Gogarty, Patrick, Cripple Creek Golf & Country Club | 95 | 90 | 185 |
| Arrante, Joe, Newark Country Club | 89 | 97 | 186 |
| Eckenrode, Derek, USGA/GAP GC | 94 | 97 | 191 |
| Hagerty, Ryan, DuPont Country Club | 101 | 91 | 192 |
| Christopher, Brandon, DuPont Country Club | 100 | 94 | 194 |
| Boone, Keegan, Bear Trap Dunes Golf Club | WD | WD | WD |
| Markiewicz, Frankie, USGA/GAP GC | WD | WD | WD |
| Kinard, Kaden, White Clay Creek Country Club | 93 | WD | WD |
| | | | |
| WD – withdrawal | | | |