Felner finds Delaware Amateur lead after first 18
SELBYVILLE, Del. – A 2-over front side isn't exactly how Reeve Felner planned his GAP/DSGA Major debut.
But a 3-under second side was.
| Scoring | History | Round Two tee times |
Felner, a newcomer to both DSGA and GAP events, stands atop the 71st Delaware Amateur Championship at Bayside Resort Golf Club (par 72, 6,727 yards) after a 1-under 71 card in Round One.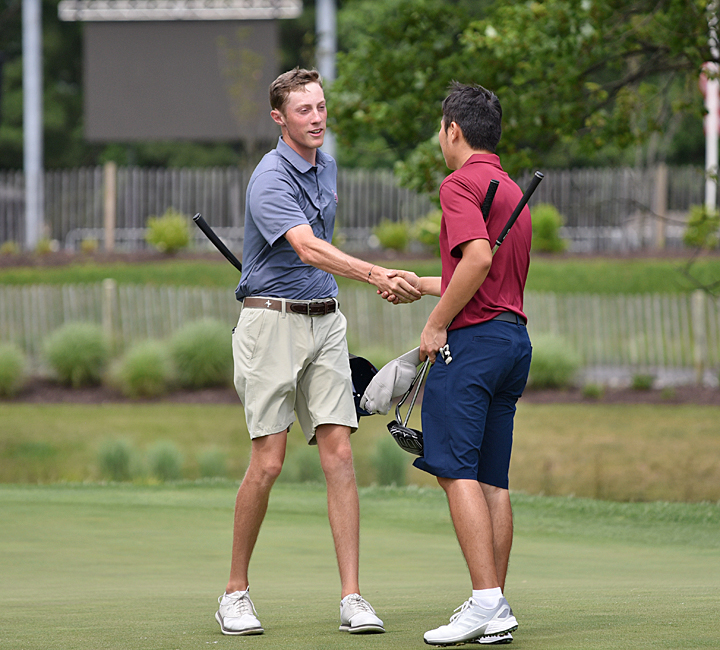 The Belmont University junior now leads a field of 78 title hopefuls heading into Tuesday's second round. After the first two rounds, a cut to 36 players and ties will be implemented with 36 holes to be played Wednesday.
It wasn't all fun and games for many today, as difficult scoring conditions tested the field. For Felner, a "cold" flatstick didn't get going until it became quite the opposite. Bogeys arrived on Nos. 2 (par 5, 535 yards) and 3 (par 3, 180 yards) to begin.
"It took a little bit to get the putter going today," said Felner, 19, of Vienna, Va. "I really didn't have anything fall until late, when I made a nice 10 footer on 6, which was the first good putt of the day."
At the turn, Felner found himself sitting 2-over par. He knew it would take more than that to position himself for a run at the title over the next two days. He did just that by jarring four birdies on Bayside's second side.
On No. 11 (par 5, 509 yards), Felner clipped the flag not once, but twice on the same hole. His approach ruffled off the flag and bounced off the green, followed by a chip that plopped down to three feet, and went on to hole that look for birdie 4. Another would drop on the par-5 14th, where a beautiful drive left him with just a 9-iron into the green. His eagle putt from 20 feet lipped out and a tap-in for 4 was made. Two in a row would arrive on Nos. 16 (par 4, 408 yards) and 17 (par 4, 368 yards). Both were 15-foot makes for red numbers.
"The mid-range putting woke up for me. I ended up hitting it well, and then putting it well, so now hopefully I can keep that going," said Felner, who was named the Ohio Valley Conference Freshman of the Year in 2020-21.
Usually competing as an amateur in the state of Virginia, Felner is playing out of Pincrest Country Club this week. He's also proudly repping his Belmont Bruins. While he says there is still "a lot of golf left to be played", the opportunity to come out of Bayside with a prestigious trophy is something he's excited for, as he should be while sleeping on an early lead.
"The game's feeling alright. I just want to keep that going, playing solid," said the calm, cool and collected Felner. "It's just nice to be playing some good amateur golf right now."
Sitting behind Felner is an enticing pack at the top of the leaderboard. Two strokes back is Honeybrook Golf Club's Matt Dolinsky at 2-over 73. After holding the clubhouse lead for most of Monday's action, Dolinsky is primed to make a run over the next two days.
"We structured a family vacation around this week, so this should be a great week. I've just been trying to play in everything I could this year, whether it's GAP or DSGA events," said Dolinsky, 48, of Sinking Spring, Pa. "I'm getting older, and I know it, so to be playing good golf versus these young kids, it's a good spot to be in. I've never played [Bayside] before so I'm glad I got a feel for it."
Sitting at 2-over par is a pair of big names, too. University of North Carolina's Dougie Ergood, a Tavistock Country Club member, and Wilmington Country Club's Jay Whitby, a four-time Delaware Amateur champion, are lurking three shots back.
The second round begins Tuesday at 7:45 a.m, as the leaders will tee off first.
Stay tuned at gapgolf.org and the DSGA/GAP social media channels (@GAofPhilly/@DSGA_Golf) all week long for #DelawareAmateur coverage.
GAP
Celebrating Amateur Golf since 1897, GAP, also known as the Golf Association of Philadelphia, is the oldest regional or state golf association in the United States. It serves as the principal ruling body of amateur golf in its region. The Association's 330 Member Clubs and 90,000 individual members are spread across Pennsylvania, Delaware, New Jersey and Maryland. The GAP's mission is to promote, preserve and protect the game of golf.