Phoenixville's Lofland sets record en route to victory
ORELAND, Pa. — Morgan Lofland is in the business of breaking records lately.
| Scoring portal | History | Junior POY standings | Photo gallery |
The Phoenixville Country Club member inked a 59 (11 under) at his home course on July 4. On Monday, he turned his attention to unfinished GAP business.
You see, Lofland fell two strokes shy of breaking the Junior Boys' Championship Qualifying record last month at The 1912 Club. He didn't leave the 36th Jock MacKenzie Memorial at Sandy Run Country Club (par 72, 6,475 yards) with more "could've been, should've been" thoughts.
Lofland carded a 6-under-par 66, an event record, to prevail by three strokes. He bested the previous mark of 68, set by Kevin Huntingdon of Penn Oaks Golf Club in 2006.
"It's an honor to hold the record now. It's pretty cool," Lofland, 17, of Paoli, Pa., said. "To break the record in the Jock MacKenzie … that's a huge step forward."
Lofland found his footing after an early stumble on No. 2 (par 3, 191 yards). He carded a bogey after missing the green with a 6-iron, quickly falling two strokes behind leader and playing partner Joshua Ryan of The 1912 Club. Lofland reclaimed the lost stroke on No. 4 (par 4, 331 yards), where he spun a bunker shot off the slope and into tap-in birdie territory.
The pairing required Lofland to keep pace. Ryan, fresh off a victory in the Pennsylvania Golf Association's R. Jay Sigel Match Play Championship, birdied Nos. 7-9. So did Lofland. He drove the No. 7 (par 4, 331 yards) green and missed a 15-footer for eagle on the low side. Lofland cleaned up the birdie putt. He drained a four-footer for birdie on No. 8 (par 5, 551 yards) after nearly reaching the green in two strokes. More power on No. 9 (par 4, 308 yards) meant more red. Lofland's towering drive cleared the right tree-line and landed in a region favorable to wedges. His approach stopped 12 feet from the flagstick.
"I started walking it in because I thought I missed it," Lofland said. He didn't.
Lofland did, however, again slip two strokes behind Ryan after a misstep on No. 11 (par 5, 570 yards). A wayward drive left precipitated a bogey. The pendulum among the pairing swung, this time in Lofland's favor, on No. 13 (par 4, 369 yards). Ryan flew the green with his approach and failed to get up-and-down. Lofland hit a knockdown pitching wedge 140 yards to 17 feet and buried the birdie putt.
The Jock MacKenzie lead changed hands for good. A nearly identical sequence of events transpired on the next hole (par 4, 425 yards). Lofland again used that pinpoint pitching wedge, this time hitting it 145 yards to a foot. Ryan again missed the green and watched his ensuing flop shot roll past the point on no par return. A Lofland two-putt from 40 feet for birdie on No. 15 (par 5, 483 yards) gave the rising Conestoga High School senior a three-stroke advantage over Ryan.
"We're good friends. He's a really great player, so he pushes me the whole way. It was nice playing with the leader," Lofland said.
Lofland cemented his status — as leader, winner and record holder — in style. He holed out for eagle on No. 17 (par 4, 368 yards). Lofland's 60-degree wedge from 64 yards landed in front of the spry surface and trickled in.
Overall, Lofland registered 14 greens in regulation at Sandy Run Monday. His unflappable ball-striking and competitive consistency shouldn't come as a surprise. Lofland fits the profile of a "range rat" this summer.
"I'm working every single day. I try not to take days off unless it's necessary," Lofland said. "My ball-striking is where it needs to be today."
His name is now where he wanted it to be: a GAP record book.
Llanerch Country Club's Joey Morganti birdied three of his final four holes to earn runner-up honors Monday.
"I knew I had to make something happen at the end," Morganti, 18, of Havertown, Pa., said. "I've been struggling to put together two nines this summer. It worked out pretty well today. I was happy with my round today. I just trusted everything."
Morganti, an incoming freshman at Temple University, reached the 15th green in two with a 5-iron from 200 yards. Two putts translated into a birdie. A pair of 60-yard wedge shots on the next two holes set up right-to-left breaking birdie putts of 15 and eight feet, respectively.
Morganti is a recent St. Joseph's Preparatory School graduate.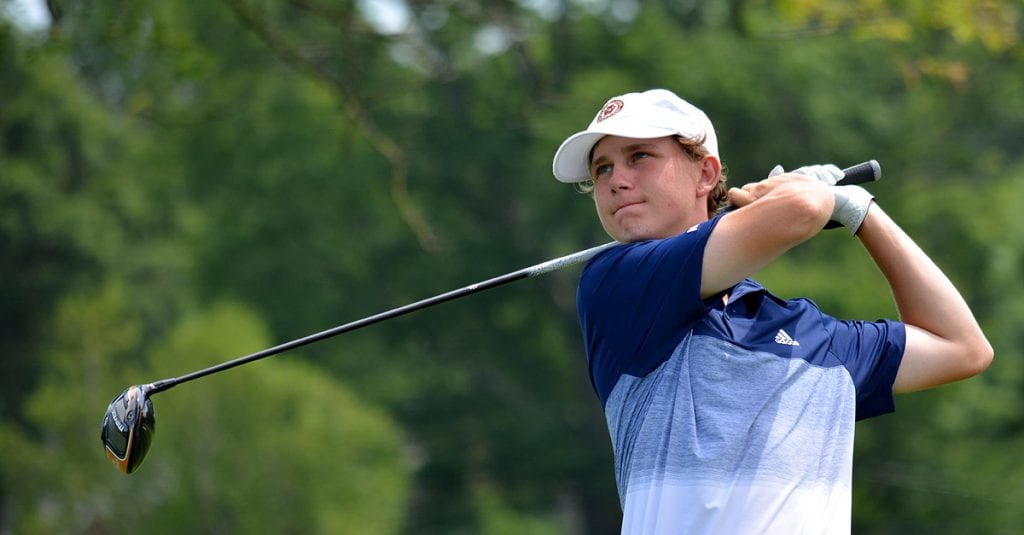 Aronimink Golf Club's Jake Maddaloni competed in the men's club championship over the weekend. Such an experience prepped the Bucknell University commit for his mission at Sandy Run: securing the Harry Hammond Award.
Maddaloni carded a 1-under-par 71 to finish the race with a score of 212, two strokes clear of Merion Golf Club's Charlie Baker. The Harry Hammond Award is comprised of the Junior Boys' Championship Qualifier, Christman Cup (shortened to 18 holes this year due to the COVID-19 pandemic) and Jock MacKenzie Memorial.
"The Harry Hammond Award was definitely the goal entering the day. I wanted to get that, for sure," Maddaloni, 17, of Haverford, Pa., said.
Maddaloni, a rising senior at The Haverford School, birdied Nos. 15 and 16 (par 4, 366 yards) to finish in red figures. On the first, he sent a 3-wood from 235 yards into the right greenside bunker and splashed out to two feet. On the latter, he knocked a wedge 60 yards to four feet.
Whitemarsh Valley Country Club's Clare Gimpel carded a 13-over-par 85 to capture the Junior Girls (par 72, 5,579 yards) title. Gimpel, 18, of Lafayette Hill, Pa., is a rising senior at Mount Saint Joseph Academy.
Jock MacKenzie served as Sandy Run Country Club's head professional for more than three decades. The Memorial tournament, which originated in 1985, is named in his honor. Sandy Run hosts the event each year.
Harry Hammond, an ardent supporter of Junior golf both locally and nationally, served as the Philadelphia PGA Section's Junior Golf Chairman for 29 years. He is the Director of Golf at Penn Oaks Golf Club and head men's golf coach of West Chester University. A 54-year member of the PGA of America, Hammond received the organization's Bill Strausbaugh Award for leadership and service to the game of golf in 2012.
GAP
Celebrating Amateur Golf since 1897, GAP, also known as the Golf Association of Philadelphia, is the oldest regional or state golf association in the United States. It serves as the principal ruling body of amateur golf in its region. The Association's 288 Member Clubs and 75,000 individual members are spread across the Eastern half of Pennsylvania and parts of New Jersey and Delaware. The GAP's mission is to promote, preserve and protect the game of golf.
| | |
| --- | --- |
| Results | |
| Junior Boys Division | |
| Name, club | Score |
| Morgan Lofland, Phoenixville Country Club | 66 |
| Joey Morganti, Llanerch Country Club | 69 |
| Joshua Ryan, The 1912 Club | 70 |
| Charlie Baker, Merion Golf Club | 71 |
| Conrad Benford, RiverCrest GC & Preserve | 71 |
| Jake Maddaloni, Aronimink Golf Club | 71 |
| Evan Barbin, Loch Nairn Golf Club | 72 |
| Thomas Larkin, Paxon Hollow Country Club | 72 |
| Andrew Wallace, Green Valley Country Club | 72 |
| Jeffrey Homer, Wilmington Country Club | 73 |
| Kevin Lydon, Commonwealth National Golf Club | 73 |
| Elijah Ruppert, Golden Oaks Golf Club | 73 |
| Evan Drummond, Applecross Country Club | 74 |
| Connor Strine, Bent Creek Country Club | 74 |
| Luke Watson, RiverCrest GC & Preserve | 74 |
| Tyler Debusschere, The Springhaven Club | 75 |
| Stephen Lorenzo, Manufacturers' G&CC | 75 |
| Ajeet Bagga, Manufacturers' G&CC | 76 |
| David Fitzgerald, Philadelphia Country Club | 76 |
| Matt Lafond, Blue Bell Country Club | 76 |
| Henry Pilliod, GAP Youth on Course | 76 |
| Jack Homer, Wilmington Country Club | 77 |
| Milo Jezzeny, The Bucks Club | 77 |
| Ryan Kennedy, Applecross Country Club | 77 |
| John Bradbeer, Merion Golf Club | 78 |
| Stephen Butler, Indian Valley Country Club | 78 |
| Liam Coll, Sandy Run Country Club | 78 |
| Luke Corcoran, Cedarbrook Country Club | 78 |
| Jackson Debusschere, The Springhaven Club | 78 |
| Dylan Gooneratne, The 1912 Club | 78 |
| Jack Hamilton, Merion Golf Club | 78 |
| Scott Hughes, Talamore Country Club | 78 |
| Charlie Hurchalla, The Springhaven Club | 78 |
| Tyler Leyden, North Hills Country Club | 78 |
| Lucas Steinmetz, Spring Ford Country Club | 78 |
| Mario Ventresca, Cedarbrook Country Club | 78 |
| Connor Cunningham, Blue Bell Country Club | 79 |
| James Gradisek, Philadelphia Country Club | 79 |
| Matthew Homer, Wilmington Country Club | 79 |
| Anthony Ciconte, Wilmington Country Club | 80 |
| Michael Fioravante, LedgeRock Golf Club | 80 |
| Kevin Lafond, Blue Bell Country Club | 80 |
| Collin McDonald, Cedarbrook Country Club | 80 |
| Quinn Bookbinder, The 1912 Club | 81 |
| Giles Elliott, Aronimink Golf Club | 81 |
| Jack Marvin, Commonwealth National Golf Club | 81 |
| Patrick Meko, North Hills Country Club | 81 |
| Benjamin Saggers, Concord Country Club | 81 |
| Kevin Deng, Radnor Valley Country Club | 82 |
| Christopher Buysse, Waynesborough Country Club | 83 |
| Dominic Della Penna, Blue Bell Country Club | 83 |
| Richie Biborosch, Aronimink Golf Club | 84 |
| Jack Dunsmore, Talamore Country Club | 84 |
| Eric Fryer, Commonwealth National Golf Club | 84 |
| Nathan Jones, The 1912 Club | 84 |
| Reilly Shaffer, Llanerch Country Club | 84 |
| Ryan Garvey, Rolling Green Golf Club | 85 |
| Matt Normand, Riverton Country Club | 85 |
| Connor Toussaint, North Hills Country Club | 85 |
| August Blatney, Philadelphia Cricket Club | 86 |
| Jack Dare, Riverton Country Club | 86 |
| Joe Kriz, Manufacturers' G&CC | 86 |
| Chad Rexon, Tavistock Country Club | 86 |
| Eric Morgan, Applebrook Golf Club | 87 |
| Will Huntley, Blue Bell Country Club | 89 |
| Christopher LaRosa, Cedarbrook Country Club | 89 |
| J.P. Hoban, McCall Golf Club | 90 |
| Liam Buckley, Rolling Green Golf Club | 93 |
| Finn Coll, Sandy Run Country Club | 96 |
| Matthew Hurchalla, The Springhaven Club | 97 |
| Alex Nemo, Merion Golf Club | 97 |
| Matthew Buckley, Rolling Green Golf Club | 99 |
| Reese Dalzell, Huntingdon Valley Country Club | 104 |
| Peter Ryan, Philadelphia Cricket Club | NS |
| Jason Rieger, Sunnybrook Golf Club | WD |
| Junior Girls Division | |
| Name, club | Score |
| Clare Gimpel, Whitemarsh Valley Country Club | 85 |
| Molly Gregor, Huntingdon Valley Country Club | 86 |
| Nora Blatney, Philadelphia Cricket Club | 91 |
| NS — no show; WD — withdrawal | |