The Sheehan sweep: Talamore titan takes two titles
| Scoring portal | History | Photo gallery |
ORELAND, Pa. — In a summer of close calls, it seems fitting — and bizarrely ironic — that a callout allowed Patrick Sheehan to call up a couple of wins Monday.
The Talamore Country Club member (pictured above with Citadel Senior Financial Advisor Joseph Herron) carded a 2-under-par 70 to capture the 35th Jock MacKenzie Memorial, part of the GAP Junior Series presented by Citadel, at a spectacular Sandy Run Country Club (par 72, 6,469 yards). He also earned the prized Harry Hammond Award with a remarkable score of 6-under-par 208. The Harry Hammond Award is emblematic of the Junior Boys' Championship Qualifier, Christman Cup and Jock MacKenzie.
Sheehan's haul almost never happened. His name didn't occupy the Jock MacKenzie Memorial tee sheets prior to the weekend. Huntsville Golf Club's Brett Ostroski withdrew from the event, opening a spot for the next individual on the waitlist.
Sheehan's call came.
"I didn't even know about the Harry Hammond Award."

Patrick Sheehan
"Another tournament that I forgot to sign up for, and another email to Chris (Roselle, GAP Tournament Director) asking if I can be put on the waitlist," Sheehan, 18, of Doylestown, Pa., said. "It was nice to get that text on Saturday that someone withdrew and I could get into the Jock MacKenzie. I had nothing to do today. It's kind of weird. I never played in this event before, so I never knew too much about it."
In the realm of the unknown, Sheehan didn't realize he stood tied for the Harry Hammond Award lead with Loch Nairn Golf Club's Austin Barbin after 36 holes. He, coincidentally, finished second to Barbin in both the GAP Junior Boys' Championship (a 5&4 loss in the Final) and The Christman Cup (one stroke back in the weather-shortened event at The 1912 Club). Barbin is competing in this week's U.S. Junior Amateur Championship at Inverness Club in Toledo, Ohio.
"I didn't even know about the Harry Hammond Award. I saw that I was leading [after 36 holes] in a tweet at The Christman Cup, and I was confused about what it was. I looked it up," Sheehan, who will attend Penn State University in the fall, said.
Looking up the Harry Hammond and Jock MacKenzie leaderboards Monday, Sheehan's name occupied the first line. Four-straight birdies separated the willful walloper from his chasers.
On No. 8 (par 5, 540 yards), Sheehan knocked a wedge 91 yards to 14 feet above the flagstick. He buried the downhill, left-to-right breaker. Sheehan's monstrous drive on the gettable par 4, 324-yard No. 9 landed long left. A heavy flop shot made a birdie appear far less likely. Sheehan defied those golf odds by executing a brilliant chip-in. On the par 3, 128-yard 10th hole, Sheehan's 52-degree wedge shot set up an eight-footer for birdie. His par-5 mastery continued on the next hole (490 yards), where Sheehan launched a 4-iron 260 yards to the green's front edge. Two putts for birdie No. 4.
After logging a bogey from 40 yards out on No. 14 (par 4, 428 yards), Sheehan, whose distance affords an advantage, responded with accustomed par-5 proficiency on the next hole (490 yards). His 8-iron from 193 yards bounced onto the green and stopped 30 feet below the hole location. Sheehan rolled his eagle attempt up the slope and into tap-in birdie territory.
Heading into Sandy Run's closer (par 4, 337 yards), Sheehan held a two-stroke edge over Kennett Square Golf & Country Club's William Bennink. A bogey there following a conservative 4-iron into the left fairway bunker merely meant a margin of one and nine stroke victories in the Jock Mackenzie and Harry Hammond, respectively.
Rolling Green Golf Club's Andreas Aivazoglou, who carded an even-par 72 Monday, placed second in the Harry Hammond Award race. Bennink, 18, of Kennett Square, Pa., finished one back of Sheehan with a 1-under-par 71. He converted a 30-footer for birdie on No. 18 to solidify sole runner-up status.
"That's one of the biggest fist pumps I've given on the golf course, for sure. I was so happy," Bennink, who will attend Wheaton College in Wheaton, Ill., said. "My goal since last summer was to win a substantial tournament. I gave it a good shot today, so I'm really proud of that."
A sense of pride is apparent in Sheehan, though he shies from showing it. He's like the guy who eats his meal at the table, gives others time to indulge and then picks at the discarded yet delectable portions waiting for a mouth to call home.
"How could you not want more?" Sheehan said. "I've had a lot of good finishes, but I'm disappointed in the second-place finishes that I've had because I knew there was something there. I knew I could've won them, but then there was something in my game that wasn't all there."
With his Junior Division curtain call cultivating two trophies, a humbled humility finally cracks the surface.
"It's nice to get a win because I haven't won anything this summer. I like where my game is heading as I get ready for college," Sheehan, identified as a "Player on the Rise" in the Spring 2019 edition of GAP Magazine, said. "That's a good thing."
NOTES
Jack Homer carded a 4-over-par 40 to capture the event's Junior-Junior (par 36, 2,790 yards) Boys' Division.
"I drove it beautifully. I only missed one fairway," Homer, 12, of Wilmington, Del., said. "Despite my shaky start on my first hole (No. 10, par 3, 114 yards), I bounced back and played the next eight in 2 over. I'm very pleased with the way I bounced back."
On the aforementioned 10th hole, Homer, an incoming seventh grader at The Tatnall School, pulled a gap wedge into the right greenside bunker. His ball plugged, and the Wilmington Country Club member walked away with an unfortunate 5. Nevertheless, he also walked off Sandy Run's grounds with a keepsake — one he attributes, in part, to the golf guidance of grandfather Tom Ciconte.
"I'd like to thank him because he taught us most of the golf. He's been a big part of our golf game," Homer, brother of twins and fellow golfers Jeffrey and Matthew, said.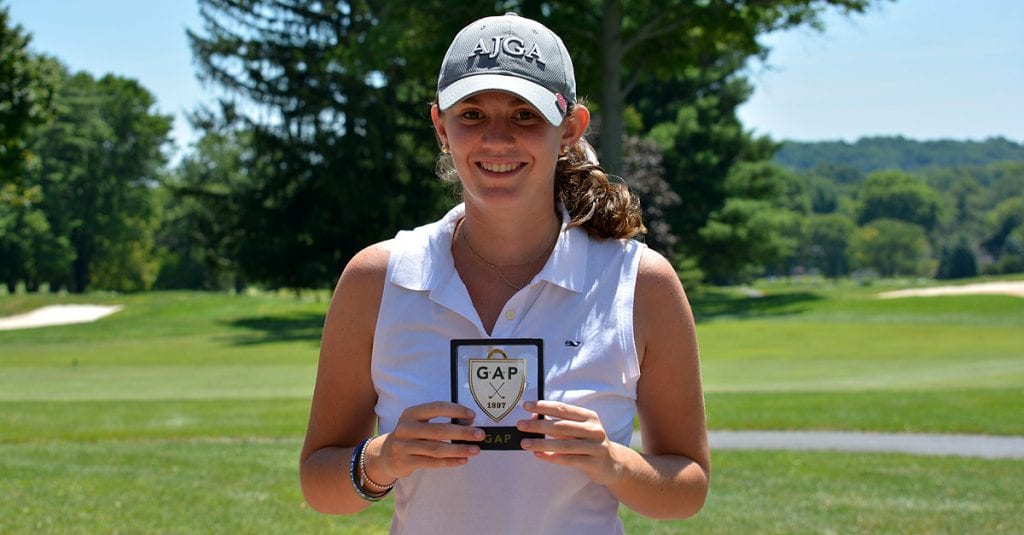 In the Junior Girls' Division (par 72, 5,572 yards), Merion Golf Club's Lauren Jones successfully defended her title, carding a 6-over-par 78.
"It's exciting. Sandy Run is an awesome golf course. I love coming out here every year, and I love supporting the GAP," Jones, 16, of Newtown Square, Pa., said.
Jones, an incoming junior at The Episcopal Academy, points to a chip-in birdie on the par 4, 377-yard 14th hole as the day's highlight. Her 8-iron from 150 yards leaked right of the flagstick. Jones then executed a 30-yard chip that tracked and dropped.
Monday's win comes on the heels of a U.S. Girls' Junior invitation. Jones carded a tournament-best 1-over-par 73 in a qualifying event two weeks ago at Steel Club.
"I'm so excited to go and compete [in the U.S. Girls' Junior at SentryWorld in Stevens Point, Wis.]. My mom (Loraine) competed in the 1993 U.S. Women's Amateur, so I think it's cool to keep building that legacy," Jones said.
North Hills Country Club's Gabrielle Courtney (par 36, 2,790 yards) won the Junior-Junior Girls' Division with a score of 66. Courtney, 13, of Lafayette Hill, Pa., is an incoming freshman at Mount Saint Joseph Academy.
GAP
Celebrating Amateur Golf since 1897, GAP, also known as the Golf Association of Philadelphia, is the oldest regional or state golf association in the United States. It serves as the principal ruling body of amateur golf in its region. The Association's 274 Full Member Clubs and 75,000 individual members are spread across the Eastern half of Pennsylvania and parts of New Jersey and Delaware. The GAP's mission is to promote, preserve and protect the game of golf.
Citadel
Citadel is a credit union that has provided banking, investments, and insurance services to the Greater Philadelphia community for more than 80 years. At over $3 billion in assets, Citadel is one of the area's largest locally owned, not-for-profit financial institutions, proudly serving residents of Bucks, Chester, Delaware, Lancaster, Montgomery, and Philadelphia counties. Citadel has been ranked number one among all credit unions in Pennsylvania for providing value to customers by Callahan & Associates, and was named one of the best performing credit unions in the nation by SNL Financial. To explore products and services, visit www.CitadelBanking.com.
Results
Junior Boys' Division
Name, club, score
Patrick Sheehan, Talamore Country Club
70
William Bennink, Kennett Square Golf & Country Club
71
Andreas Aivazoglou, Rolling Green Golf Club
72
Liam Hart, Spring Mill Country Club
72
Christopher Skean, Kennett Square Golf & Country Club
72
Stephen Lorenzo, Manufacturers' Golf & Country Club
73
Joseph Morganti, Llanerch Country Club
73
Charlie Baker, Gulph Mills Golf Club
74
Joshua Ryan, GAP Youth on Course
74
Alec Stern, Philadelphia Country Club
75
Zach Bruecks, Inniscrone Golf Club
76
Andrew Curran, Philadelphia Cricket Club
76
Patrick Isztwan, Huntingdon Valley Country Club
76
Connor Bennink, Kennett Square Golf & Country Club
77
John Bradbeer, Merion Golf Club
77
Stephen Butler, Indian Valley Country Club
77
Anthony Ciconte, Wilmington Country Club
77
Luke Corcoran, Cedarbrook Country Club
77
Matthew Homer, Wilmington Country Club
77
Lucas Steinmetz, Spring Ford Country Club
77
Thomas Butler, Indian Valley Country Club
78
Alec Ryden, Laurel Creek Country Club
78
Michael Walz, White Manor Country Club
78
Davis Flannery, Overbrook Golf Club
79
Andrew Wallace, Green Valley Country Club
79
Andrew Miller, Philadelphia Country Club
80
Simon Miller, Woodcrest Country Club
80
Keller Mulhern, Whitford Country Club
80
Darren Nolan, Talamore Country Club
80
Henry Pilliod, Reading Country Club
80
Max Strout, Westwood Golf Club
80
Corey Haydu, Spring Mill Country Club
81
Kevin Smith, The Springhaven Club
81
Patrick Sullivan, Jr., Philadelphia Publinks GA
81
Justin Dougherty, Philadelphia Cricket Club
82
Jeffrey Homer, Wilmington Country Club
82
Rory Nesbitt, Merion Golf Club
82
James O'Malley, GAP Youth on Course
82
Bryce Fazio, Huntingdon Valley Country Club
83
Henry Fish, Chester Valley Golf Club
83
Kevin Lafond, Blue Bell Country Club
83
Luke Watson, Spring Ford Country Club
83
Eric Fryer, Commonwealth National Golf Club
84
Matthew Hanzel, Running Deer Golf Club
85
Evan Drummond, Applecross Country Club
86
Christopher Buysse, Waynesborough Country Club
87
Andrew Ranaudo, Jr., Chester Valley Golf Club
87
Quinn Bookbinder, Overbrook Golf Club
92
Jeffrey Reilly, Jr., Hidden Creek Golf Club
94
Dylan Gute, Bellewood Country Club
99
Matthew Hurchalla, The Springhaven Club
99
Reid Walker, Riverton Country Club
106
Seamus Leonard, Talamore Country Club
NS
James Gradisek, Philadelphia Country Club
WD
Nathan Guertler, Tavistock Country Club
WD
Junior Girls' Division
Name, club, score
Lauren Jones, Merion Golf Club
78
Clare Gimpel, Whitemarsh Valley Country Club
83
Nimah Narinesingh-Smith, Radley Run Country Club
87
Molly Gregor, Huntingdon Valley Country Club
89
Grace Smith, The Springhaven Club
91
Junior-Junior Boys' Division
Name, club, score
Jack Homer, Wilmington Country Club
40
Jackson Fryer, Commonwealth National Golf Club
41
Kasim Narinesingh-Smith, Radley Run Country Club
41
Paul Reilly, Hidden Creek Golf Club
45
Gavin Michener, Huntingdon Valley Country Club
47
Shane Powelson, Bidermann Golf Club
47
Joe Ciconte, Wilmington Country Club
48
Devin Carpenter, GAP Youth on Course
50
Ravi Khana, Talamore Country Club
51
Zach Moua, St. Davids Golf Club
51
Ian Larsen, Honeybrook Golf Club
52
Tyler Manwarren, North Hills Country Club
52
Dominic Musso, Burlington Country Club
55
Brad McDermott, Merion Golf Club
56
Jack O'Connor, Bellewood Country Club
57
Nick Shanahan, Applebrook Golf Club
62
Jeffrey Grimes, Jr., St. Davids Golf Club
67
Junior-Junior Girls' Division
Name, club, score
Gabrielle Courtney, North Hills Country Club
66
NS — no show; WD — withdrawal