A clash of past champions headline Round of 32
HUNTINGDON VALLEY, Pa. – After a tumultuous 24 hours that included severe weather halting play on Day One, the BMW Philadelphia Amateur match play bracket was set.
| Day Two recap | Scoring portal | History |
For some the draw was favorable. For past #BMWPhillyAm champions Conor McGrath (2021) of Huntingdon Valley Country Club and Michael R. Brown, Jr. (2022), of LuLu Country Club, their first round match was a heavyweight battle mono e mono.
The defending champion got the best of McGrath, 4&3, to punch his ticket to the Round of 16.
"That was a hard first-round draw to get Conor," Brown, 50, of Maple Shade, N.J. said. "He has so many physical tools, and he knows this place fairly well."
The last time two past champions squared up in the Philadelphia Amateur was in the 2020 quarterfinals between St. Davids Golf Club's Brian Gillespie (2001) and Pine Valley Golf Club's Jeff Osberg (2014) at Lancaster Country Club. Gillespie won 1-up.
McGrath, the No. 7 seed, jumped out of the gates early with a 2-up lead through four holes after starting on No. 10. Brown, the 26th seed, made it through a 10-for-9 playoff to get into match play.
"I was not in a good headspace after the first four holes," Brown said. "On the 14th hole, I rolled in a 14-footer for par and Conor missed a short one to halve. I should have been 3-down but left the hole 1-down. That's when momentum started to turn in my favor. It is so hard to come back from a huge deficit. Momentum and positivity are huge in match play. When you have it your energy levels are different."
Brown, who recently won the NJSGA Mid-Amateur, won Nos. 15 (par 5, 577 yards) and 16 (par 4, 324 yards) to seize a 1-up lead. He would close out McGrath with victories on his last three holes, Nos. 4 (par 4, 359 yards), 5 (par 3, 168 yards) and 6 (par 4, 436 yards). He birdied Nos. 4 and 6.
"Michael is a phenomenal player, and he's been kind to me over the years with advice," McGrath, 23, of Huntingdon Valley, Pa., said. "Every time he sees me he makes a genuine effort to come ask how I am doing. I have a lot of respect for him and his game. I missed a couple of putts and he started making putts. Getting him in the Round of 32 is a tough draw. I needed to bring my 'A' game and I just didn't. This hurts but it will help me get better."
Brown will take on Xiong Da, a rising junior at the University of Delaware. Da took out Overbrook Golf Club's Oscar Mestre, 2-up.
"You will have to knock out two or three titans and step up in those moments to have a chance to win," Brown said. "It's hard to play against a buddy early and Conor has a bright future ahead of him. This was a nice one to get. You have to play well and get lucky to win. Just making match play is a chore each year."
Smith and Arison form unlikely partnership
For 36 holes, the Country Club of Harrisburg's Ben Smith and Aronimink Golf Club's Dan Arison (striped polo in photo above) were competitors playing in the same threesome.
Tuesday at Huntingdon Valley they became the unlikeliest of teammates. Smith qualified as the 15 seed after rounds of 66 and 77 at Lookaway Golf Club and Huntingdon Valley, respectively. Arison failed to qualify after rounds of 81 and 80.
Arison could have sulked, walked to his car and left the premises. But instead he made a conscious decision to lend a helping hand to an inexperienced competitor at HVCC.
"Dan actually offered to carry my bag," Smith, 22, of Blain, Pa., said. "Playing with him in the stroke-play qualifying for 36 holes was great. He was supportive of me throughout the rounds and encouraged me. I thought it would be cool to have him on the same team. It was a quick decision when he asked me."
"I got an up-close look at his 66 at Lookaway, and it was pretty effortless," Arison, 36, of King of Prussia, Pa., said. "Right now, I am probably a better caddie than I am a player. I just saw it as an opportunity to carry for him. Carrying your bag for 36 holes each day is a lot so I thought if there was any way for me to help him, I wanted to."
As the stroke-play qualifying portion came to a close,you could see Arison encouraging Smith during a challenging round for him at HVCC that included six bogeys and a double bogey taking him from being in the hunt for medalist honors to just being happy to make match play.
Smith took out No. 18 seed Cole Willcox of USGA/GAP GC, 3&2 and relied on Arison early.
"The first hole of the match on No. 10, I was stuck behind a tree and he helped me understand how my ball would react," Smith, a rising fifth year at Mount St. Mary's University, said. "It worked out perfectly and it was like that the rest of the way. He helped talk me through shots with elevation and wind. Dan was insightful, provided positive vibes and a good mentality."
"This is a course that requires a lot of course knowledge," Arison said. "I have been around here long enough to think that I can be helpful. I know enough to utilize the local knowledge that this place requires. I have played enough tournaments throughout the years to understand how to play Huntingdon Valley."
Now the question remains whether this was a one-day rental, or if they will be in it for the long haul this week.
Smith takes on Osberg in the Round of 16 at 7:30 a.m. Wednesday.
"I would like to be on the bag but my email inbox is loaded up," Arison, who works for Fiserv, a financial services company, said. "Since it will be an early tee time, I'll make sure to be here."
"I just need to keep hitting it well," Smith said. "If I can see a couple of putts go in, I'll feel pretty good."
Bennink caps crazy day with a timely ace
Golf is a game of give and take. Ask RiverCrest Golf Club & Preserve's Connor Bennink, who aced Huntingdon Valley Country Club's 5th hole (par 3, 171 yards). A few hours before, he nearly missed his tee time due to an automotive accident on his way to his second round in stroke-play qualifying. Second round qualifying was postponed to Tuesday morning due to lightning and heavy rain Monday evening.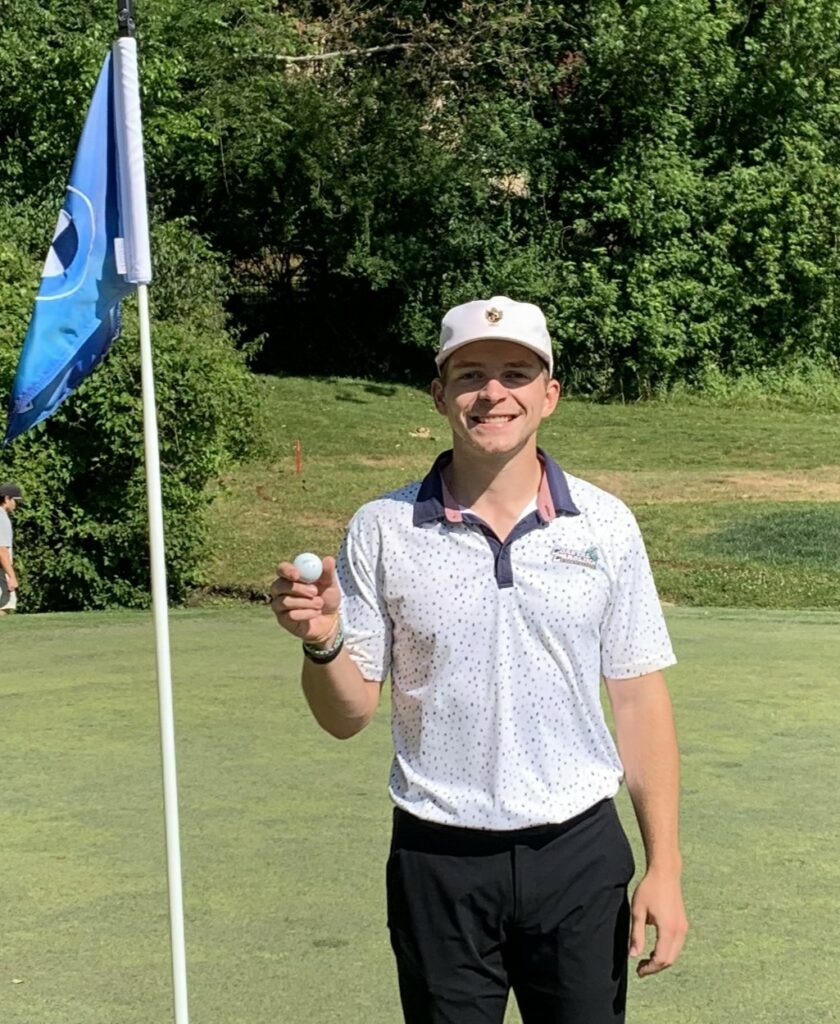 "I was heading here down the [Pennsylvania] Turnpike and a reckless driver came ripping up behind me and swerved into the side of my car." Bennink, 21, of Phoenixville, Pa., said. "[He] sent me into the shoulder and then took off."
Bennink was approximately four miles from the Phoenixville exit, near where he enters the Turnpike, when the collision occurred. He was unscathed and called the police as his car underwent significant damage. His next call was to GAP's Director of Competitions Kirby Martin to notify him of the possibility of missing his tee time.
"[Kirby] said, 'if the police are there, then we can allow you time to warm up in the case that you don't make it.'"
His next call was to his parents.
He arrived at Huntingdon Valley at 7:50 a.m., checked-in and rushed to the practice area. Bennink had time to hit 10 range balls and roll 10 putts before it was time to head to the tee. Play resumed at 8:08 a.m.
Despite Bennink making his first visit to Huntingdon Valley, he navigated the course nicely. He got off to a choppy start Monday on HVCC's back nine before the horn sounded. He steadied the waters on the club's outward nine when play resumed Tuesday. He resumed his round with a double bogey on No. 16 (par 4, 397 yards), but steadied the ship by parring the next six holes.
Then came the spectacle.
On No. 5 (par 3, 171 yards) Bennink hit a 7-iron that rolled into the bottom of the cup.
"As soon as I hit it I knew it was going to be good." Bennink, a rising fifth year accounting major at Coastal Carolina University, said. "With the greens being firm out here, you never know how it's going to bounce. I haven't played here before, so I was very focused on the ball. I watched it roll in perfectly."
Today's ace marks Bennink's second hole-in-one of his career, but his first in a competition. He holed his first ace several years ago when he was a kid at Millcroft Golf Club in Canada. His family was living there at the time because of his dad's (David) work as an insurance broker for Aon insurance. The Bennink family returned to the Philadelphia area when Connor was a sophomore in high school.
The 123rd BMW Philadelphia Amateur marks Bennink's third appearance in the event. He fired even-par 71 during BMW Philadelphia Amateur Qualifying at LuLu Country Club for admission into the Championship Proper. In the 2021 edition, he made match play and won his first match against Philadelphia Cricket Club's Michael Carr before falling to LedgeRock Golf Club's Ross Pilliod in the Round of 16.
"It's really exciting," Bennink, a 2019 graduate of Unionville High School, said. "Once you get into match play anybody can beat anybody, so I'm excited about that."
Before transferring to Coastal Carolina for his senior year, Bennink played on the men's golf team at Gannon University. During his time there, he earned extensive accolades including Pennsylvania State Athletic Conference (PSAC) Men's Golf Athlete of the Year (2021-22), PSAC Scholar-Athlete (2019-20, 2020-21, 2021-22) and PING All-Region Team (2019-20, 2020-21, 2021-22).
His first year at Coastal Carolina was a transitional one. He is looking forward to playing well in his fifth year.
"[Coastal Carolina] was a bit different because of a new team, new coach and new grass," Bennink said. "I had to play on Bermuda, which was an adjustment for sure."
While a trip to the body shop is definitely in Bennink's future, hopefully more trips to Huntingdon Valley for additional rounds of the BMW Philadelphia Amateur are as well.
GAP
Celebrating Amateur Golf since 1897, GAP, also known as the Golf Association of Philadelphia, is the oldest regional or state golf association in the United States. It serves as the principal ruling body of amateur golf in its region. The organization's 340 Member Clubs and 100,000 individual members are spread across Pennsylvania, Delaware, New Jersey and Maryland. The GAP's mission is to promote, preserve and protect the game of golf.