Merion's Elliott leads invitees to #USWomensMidAm
GLADWYNE, Pa. – South Carolina, here they come.
The Golf Association of Philadelphia will be well represented in the 34th U.S. Women's Mid-Amateur. Five players with GAP ties advanced to the championship proper Tuesday.
Merion Golf Club's Catherine Elliott fired a 1-over 73 to take medal honors in #USWomensMidAm Qualifying at Philadelphia Country Club (par 72, 6,026 yards). Joining her are Jericho National Golf Club's Erica Herr (3-over 75), Overbrook Golf Club's Alyssa Roland (5-over 77), Golf Course at Glen Mills' Grace Battista (8-over 80) and Lookaway Golf Club's Stephenie Harris (9-over 81).
Harris secured the last ticket via a 3-for-1 playoff thanks to a par on the first playoff hole, No. 10 (par 4, 382 yards). Claiming the first alternate spot was Alicia Ann Kapheim (Pennington, N.J.), followed by Barbora Maralikova (Austria) and Aronimink Golf Club's Lauren Bernard.
The 34th U.S. Women's Mid-Amateur will be conducted at Berkeley Hall Club (North Course) in Bluffton, S.C., Sept. 25-30.
For the medalist, five birdies fell overall. After making the turn at 1-over par, and as a USGA Qualifying veteran, Elliott knew she was positioned where she wanted to be heading into PCC's second nine. She ended at the same +1 number when all was said and done.
"I've played this golf course a bunch of times in the past. It's a difficult course, and with the tees back, it was tough. But it was fair," said Elliott, 33, of Wayne, Pa. "With all the young girls playing today, I knew they were good players and the field would be tough."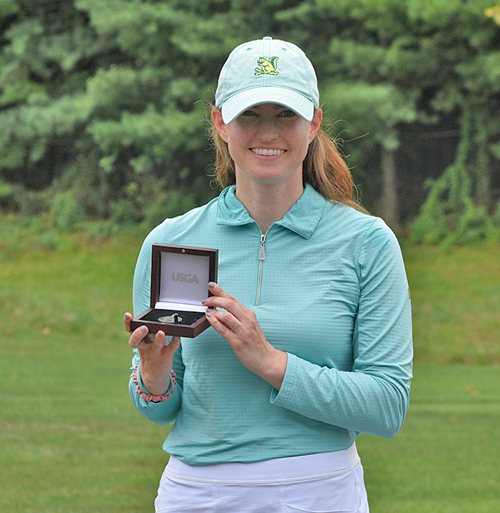 Back-to-back birdies to end the round eventually earned Elliott the medal. On the famed par-5, 426-yard 17th hole, Elliott's perfect drive left her with her with 190 yards in. A wood approach landed 30 feet from the hole, then her eagle attempt ran 10 feet past, but Elliott jarred the comebacker for birdie 4. To finish, on the par-4, 367-yard closer, Elliott's drive found the fairway and a 3-wood ran up to the green in regulation, leading to a 20-foot birdie make for the invitation and low honor.
This will be the fourth U.S. Women's Mid-Amateur appearance for the Merion member. In 2019, the last year the championship was conducted, Elliott reached the Round of 32 for the first time. She's hoping to build on that this go-around.
"This event is so fun. I absolutely love going to this tournament," said Elliott. "I haven't been playing a lot this season competitively, but I've been really practicing for this [Qualifying event], so I'm glad it worked out today."
For Herr, a former Wake University player, it will be a #USWomensMidAm debut for the 25-year-old. Herr has appeared in the U.S. Women's Open, U.S. Junior Girls' and U.S. Women's Amateur, but after taking breaks from competitive golf on-and-off since graduating in 2018, she's back to receiving national championship invites. It's a more-than-welcomed one.
"It's definitely different compared to playing in all of those championships. Today, I didn't care about my score. It was more about having fun," said Herr, of New Hope, Pa. "I was more relaxed today. It was more just about making good shots as much as worrying about my score. Getting back in competition like this, it just feels really great. I feel like I'm almost back where I used to be."
Glen Mills' Battista is in the same boat. After graduating from West Chester University in 2013, competitive golf hasn't been on her mind at all until the COVID-19 pandemic hit. With an up-tick in her game, Battista decided to give today's Qualifying a shot. With an invite in hand, she's thrilled she did.
"This is my first USGA event. I haven't played competitively at all really since West Chester. Last year, I was playing so well, so I wanted to try for this, but it was cancelled," said Battista, 30, of Wayne, Pa. "So to qualify today, it's wonderful."
GAP
Celebrating Amateur Golf since 1897, GAP, also known as the Golf Association of Philadelphia, is the oldest regional or state golf association in the United States. It serves as the principal ruling body of amateur golf in its region. The Association's 300 Member Clubs and 80,000 individual members are spread across the Eastern half of Pennsylvania and parts of Delaware, Maryland and New Jersey. The GAP's mission is to promote, preserve and protect the game of golf.
| | |
| --- | --- |
| Qualifiers | |
| Name, city, state | Score |
| Catherine Elliott, Wayne, Pa. | 73 |
| Erica Herr, New Hope, Pa. | 75 |
| Alyssa Roland, New York, N.Y. | 77 |
| Grace Battista, Wayne, Pa. | 80 |
| *Stephenie Harris, Furlong, Pa. | 81 |
| Alternates (in order) | |
| *Alicia Ann Kapheim, Pennington, N.J. | 81 |
| *Barbora Maralikova, Austria | 81 |
| Lauren Bernard, Philadelphia, Pa. | 82 |
| Failed to qualify | |
| Kelsey Solan, Lumberton, N.J. | 84 |
| Molly Gorman, Wilkes-Barre, Pa. | 87 |
| Diane Cardano-Casacio, Flourtown, Pa. | 88 |
| Melissa Maurer, Rye, N.Y. | 88 |
| Janice Pa.rk, Philadelphia, Pa. | 89 |
| Meghan Adams, Wilmington, Del. | 90 |
| Taylor Hollander, Kennett Square, Pa. | 92 |
| * – decided in playoff | |