ALLENTOWN, Pa. – Two late eagles helped punch national championship tickets for two teams Thursday at Lehigh Country Club (par 70, 6,022 yards).
Maryland products Faith Choi and Bailey Davis plus the team of Michelle Cox and Haley Quickel carded rounds of 4-under 66 to share medalist honors in a #USWomensFourBall Qualifier administered by the GAP.
The talented twosomes bettered 13 teams trying to qualify for the championship proper to be played at Quail Creek Country Club in Naples, Fla., on April 25-29. This will be the sixth edition of the U.S. Women's Amateur Four-Ball Championship, which was created in 2015.
Taking the event's first alternate position were Lauren Greenlief (Ashburn, Va.) and Katie Miller (Jeannette, Pa.) with a 2-under 68 round. The second went to Tiya Chowdary (Belle Mead, N.J.) and Katherine Lu (Plainsboro, N.J.) at 1-under 69.
Choi and Davis utilized an eye-opening, 6-under back nine to finish atop the event's crowded leaderboard. The Maryland products finished at 4-under 66 on a day that featured a mix of sunshine and raindrops.
After an up-and-down first nine of 2-over par, Choi and Davis didn't get too grim on their games. Instead, they let the above-par golf motivate them. After all, they knew they had the talent to still go low.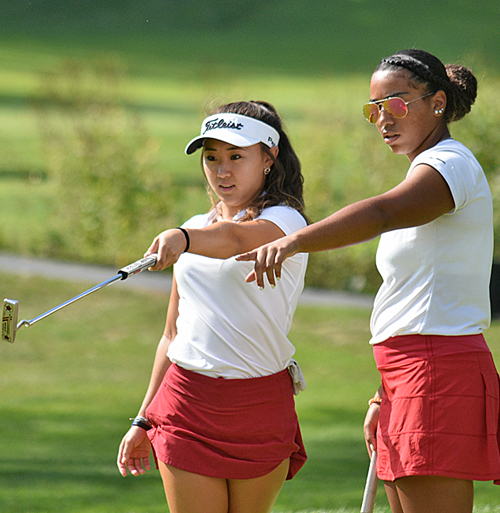 Their march began once Mother Nature started dropping rain. On No. 11 (par 5, 498 yards), Davis whacked a 5-iron just short of the green, and then got up-and-down for birdie. Choi followed up her teammate's highlight with one of her own. Her wedge from 110 yards out on No. 12 (par 4, 375 yards) landed to within eight feet and fell for a 3.
Another Choi birdie arrived on No. 14 (par 4, 314 yards) after a 25-foot slider dropped over the front lip, getting the duo in the red numbers. That's when the team knew its run was real.
"We definitely were feeling it at that point," said Choi.
Davis agreed as she made 2 on the par-3, 150-yard 16th after a 7-iron nestled up to five feet. And then the shot of the day surfaced. On No. 17 (par 4 410 yards), Choi cemented the duo's fate.
"We had played a practice round earlier and we knew the yardage was more than it looked," said Choi. "Bailey reminded me of that, so I went with a 6-iron from 155 yards out. I knew it was going to be really good when it left the face."
So good, in fact, that it rolled 10 feet and jarred for eagle. A clutch two-putt from Davis from 35 feet on Lehigh's closer got the pair into the clubhouse clear of the field.
Last year, Choi medaled in a #USWomensFourBall Qualifier held at Kennett Square Golf & Country Club, also administered by the GAP, alongside Aneka Seumanutafa — now a Ohio State University player. With her former teammate occupied, Choi turned to her childhood friend to fill the spot.
"Bailey and I have been playing golf together since we were 11 years old. I knew that I wouldn't ask anyone else – she was the perfect partner," said Choi, 16, of Frederick, Md.
Both of the medalists, who are currently juniors in high school, are committed to Division 1 programs. Their talent shined through at Lehigh. Choi will head to Ohio State University, while Davis will become a member of the Tennessee University Volunteers.
"Can't wait to get there. We still have two more years until then, though," said Davis, 17, of White Plains, Md. "It's going to be so fun."
Playing on her home course at Lehigh, Cox lent some local knowledge to her teammate Quickel. The turning point of their medal run arrived on No. 15 (par 4, 359 yards). It was there where Quickel hit her most important bunker shot to date.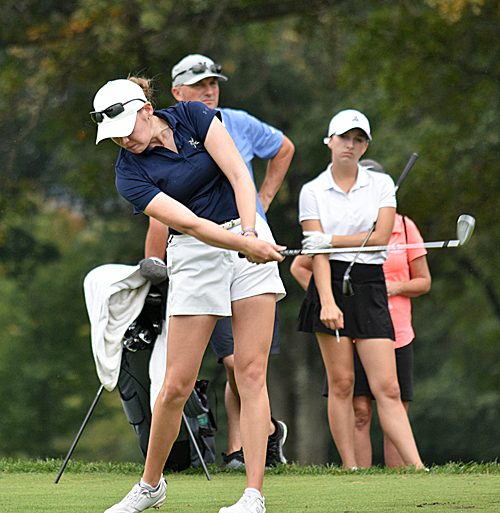 After her caddie told her not to hit driver into the bunker, she found the sand off the tee. Up against the lip, she choked down on a 9-iron from 121 yards, lifted it, and jarred it for eagle.
"I hit it a little bit right, but it came down and it fell in," said Quickel, a James Madison University commit. "I just started running across the fairway.
"I've been in that bunker more times than I'd like to admit. It was an amazing shot," said Cox, 16, of Allentown, Pa., who is undecided on her college golf plans.
With a Lehigh veteran by her side, Quickel says having a local resource was incredibly helpful the entire round, which featured three birdies in addition to the eagle.
"Coming out her for a practice round on Saturday, we started working as a team, and it worked. She was really helpful, especially on the greens which can be tough," said Quickel, 17, of Middletown, Del.
"We were a good team out there," said Cox, a junior at Emmaus High School, who won her third Eastern Pennsylvania Conference girls golf title Monday. "Getting to go down to Florida is going to be a lot of fun. We've never played in [a USGA national championship] yet."
GAP
Celebrating Amateur Golf since 1897, GAP, also known as the Golf Association of Philadelphia, is the oldest regional or state golf association in the United States. It serves as the principal ruling body of amateur golf in its region. The Association's 274 Full Member Clubs and 75,000 individual members are spread across the Eastern half of Pennsylvania and parts of New Jersey and Delaware. The GAP's mission is to promote, preserve and protect the game of golf.
Qualifiers
Name, city, state
Score
Faith Choi, Bailey Davis/Frederick, Md., White Plains, Md.
66
Michelle Cox, Haley Quickel/Allentown, Pa., Middletown, Del.
66
Alternates (in order)
Lauren Greenlief, Katie Miller/Ashburn, Va., Jeannette, Pa.
68
Tiya Chowdary, Katherine Lu/Belle Mead, N.J., Plainsboro, N.J.
69
Failed to qualify
Isabella Dilisio, Jackie Rogowicz/Hatfield, Pa., Yardley, Pa.
70
Kaia Wu, Sydney Yermish/Princeton, N.J., Wynnewood, Pa.
70
Jade Gu, Natasha Kiel/Yardley, Pa., New Hope, Pa.
72
Lauren Jones, Riley Quartermain/Newtown Sqaure, Pa., Bryn Mawr, Pa.
73
Callie Kemmer, Alyssa Roland/Washington, D.C., New York, N.Y.
74
Taylor Miano, Danielle Suh/Dobbs Ferry, N.Y., Herndon, Va.
74
Sawyer Brockstedt, Ellison Lundquist/Rehoboth, Del., Furlong, Pa.
74
Madie Smithco, Isabella Walter/Pittsburgh, Pa.
74
Frances Gacos, Kelsey Solan/Flemington, N.J., Lumberton, N.J.
75