#USSeniorWomensOpen Qualifying medal for Ricci at Riverton
| Scoring portal | Photo gallery |
CINNAMINSON, N.J. – Four more women are bound for Brooklawn. Two professionals and two amateurs with ties to the GAP region walked away with U.S. Senior Women's Open invites in hand Tuesday at Riverton Country Club (par 72, 5,782 yards).
Taking the low medal honor for a professional was Manasquan River Golf Club's Kathleen Ricci at 4-over 76. Securing the next two invites were Country Club of York amateur Amy Kennedy and Honeybrook Golf Club teaching pro Jennifer Cully, both with scores of 5-over 77. Kennedy secured the day's low amateur medal. The fourth and final spot was earned by Blue Bell Country Club amateur Megan Grosky McGowan at 6-over 78, which is where the cut line stopped.
After finishing at 8-over 80, professional Christine Reuss (Staten Island, N.Y.) earned the first alternate position in result of a one-hole playoff. She defeated Lookaway Golf Club's Stephenie Harris, who took the second alternate position available.
The 3rd U.S. Senior Women's Open will take place at Brooklawn Country Club (Fairfield, Conn.) July 29-Aug. 1. The championship was previously scheduled to take place Aug. 19-22.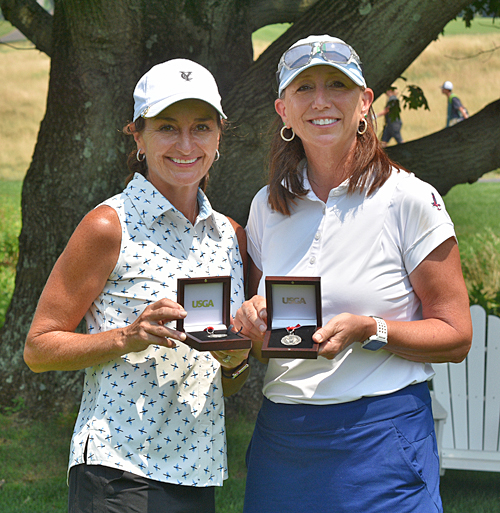 Some nerves surfaced to begin the low professional's round. A 3-over 40 for Ricci on the front side featured a trio of bogeys and six pars, leaving some work to do on Riverton's second nine. The highlight for Ricci arrived on the par-4, 352-yard 12th hole. After a pured driver, Ricci lifted a 7-iron, but left her ball 15 feet above the hole. A testy birdie putt was tapped and eventually found the bottom of the cup. A round-saving par also found its way on Ricci's card later in the round, when she chipped in for 3 on No. 16 (par 3, 126 yards). A par-bogey finish was good enough for the medal honor at 76.
"I started with a few nervous shots there on the front. Had a little trouble getting the ball in the air. But I think I was actually conservative out there today. I was making sure not to make big numbers," said Ricci. "My driver came around, and I was just going for the middle of the green.
For Ricci, who is an assistant and teaching professional at Manasquan River, this marks her first invitation earned to a USGA championship. It's one she feels is "an opportunity of a lifetime."
"It's awesome. It's thrilling," said Ricci, 59, of Howell, N.J. "I really appreciate the USGA for giving senior women the opportunity to play for a national championship."
Today's performance by Kennedy was a welcomed one for a game that is trending in the right direction. According to the low amateur, there "is always that one hole that dictates a round", and today, that hole was the par-3, 186-yard 14th.
"That's a long [yardage] for me. I kind of just put my big girl pants, hit the green and was able to two putt for par. I think if I had not parred that, that could have broke my round. So I think that's where I earned this," said Kennedy, a CC of York member since 2002.
Kennedy has already traversed championship tracks in past USGA events, including appearances in the U.S. Women's Mid-Amateurs an USGA Women's State Team Championship. Getting to compete in the Women's Senior Open? This one will trump them all.
"Do you have any idea of how amazing this is? I'm in complete shock," said Kennedy, 52, of Abbotstown, Pa. "It's a really nice surprise to qualify, and to get a medal like this."
GAP
Celebrating Amateur Golf since 1897, GAP, also known as the Golf Association of Philadelphia, is the oldest regional or state golf association in the United States. It serves as the principal ruling body of amateur golf in its region. The Association's 274 Full Member Clubs and 75,000 individual members are spread across the Eastern half of Pennsylvania and parts of New Jersey and Delaware. The GAP's mission is to promote, preserve and protect the game of golf.
| | |
| --- | --- |
| Qualifiers | |
| Name, city, state | Score |
| Kathleen Ricci, Howell, N.J. | 76 |
| Jennifer Cully, St. Petersburg, Fla. | 77 |
| (a)Amy Kennedy, Naples, Fla. | 77 |
| (a)Megan Grosky McGowan, Blue Bell, Pa. | 78 |
| Alterates (in order) | |
| Christine Reuss, Staten Island, N.Y. | 80 |
| (a)Stephenie Harris, Furlong, Pa. | 80 |
| Failed to qualify | |
| (a)Diane Cardano-Casacio, Flourtown, Pa. | 81 |
| (a)Angie Whitley Coleman, Wilmington, Del. | 81 |
| Linda Nevatt, Warminster, Pa. | 81 |
| Diane Rama, Harleysville, Pa. | 81 |
| (a)Lori Bindler, Freehold, N.J. | 82 |
| (a)Jane Fitzgerald, Kensington, Md. | 82 |
| (a)Karen Siegel, Maple Glen, Pa. | 82 |
| (a)Lee Ann Lewis, West Gilgo Beach, N.Y. | 83 |
| Lisa Day, Coatesville, Pa. | 84 |
| (a)Carol Davies, Garrett Pa.rk, Md. | 85 |
| (a)Jen Holland, Guilford, Conn. | 85 |
| Marjorie Jones, Orlando, Fla. | 85 |
| (a)Janice Pa.rk, Philadelphia, Pa. | 85 |
| Michelle Melia, Edison, N.Y. | 89 |
| (a)Cindy Thompson, Keswick, Va. | 91 |
| Debbie O'Connell, Upper Saddle River, N.J. | 93 |
| * – decided in one-hole playoff | |
| (a) – denotes amateur | |