LuLu's Brown shoots 10 under, earns medal
HARRISBURG, Pa. — Michael R. Brown, Jr. went to bed Wednesday with a personal best in tow.
| Scoring portal | Photo gallery |
But not the national championship invitation desired. That came hours after a sleepless night in a hotel room.
Nevertheless, a ragged-yet-rewarded Brown is U.S. Amateur bound. The LuLu Country Club member posted a 10-under-par 134 to earn medalist honors in U.S. Amateur Qualifying administered by GAP at Colonial Golf & Tennis Club (par 72, 6,868 yards).
Brown carded a 10-under-par 62 in Round One Wednesday. He stood a shot clear of the field with two holes remaining in Round Two when lightning in the area prompted a suspension of play. Brown returned to Colonial Thursday morning, made an eight-footer for birdie on No. 8 (par 4, 362 yards) and parred No. 9 (par 4, 385 yards) to secure his ticket.
Conestoga Country Club's Connor Sheehan also returned to Colonial Thursday to officially advance. He edged Out Door Country Club's Carson Bacha in a sudden-death playoff for the final qualifying spot.
The 121st U.S. Amateur will take place Aug. 9-15 at Oakmont Country Club in Oakmont, Pa.
"I'm super excited to go to Oakmont, which is right up there as one of my favorite courses with all of its history," Brown, 48, of Maple Shade, N.J., said. "I never thought I'd go back to another U.S. Amateur because qualifying just seems to get harder every year. I'm just really grateful."
Brown, with his 62, made it difficult for any of his Colonial compatriots Wednesday. In relation to par, Brown tied Colonial's competitive course record. During U.S. Amateur Qualifying in 2011, Will Collins, a University of Virginia alum and PGA TOUR Latinoamérica member, shot 60 (10 under); two of the course's par 5s changed to par 4s that day, making Colonial a par 70.
"That's pretty cool. I didn't realize I [tied the competitive course record]," Brown, who will make his third U.S. Amateur appearance (2010, 2015), said. "I had one of those days where the routine shots felt routine, and the hole looked big for those four hours. My head was pretty clear. You know the scores are going to be pretty low [in U.S. Amateur Qualifying], so I just tried to stay aggressive throughout the day. I gave myself a lot of good birdie looks and made most of them."
The proof is in the scorecard.
Brown foreshadowed his historic day with a birdie on No. 1 (par 4, 420 yards), where he knocked a wedge 60 yards to four feet. A gap wedge 120 yards to 20 feet on No. 3 (par 4, 437 yards) for 3 preceded a pair of two-putt birdies: one on the gettable par 4, 285-yard No. 4, the other on the par 5, 520-yard No. 6.
Brown didn't stop there. Two sequences of three straight birdies launched the two-time William Hyndman, III Player of the Year (2010, 2018) into the Colonial-record conversation. Here's the breakdown: a sand wedge from 89 yards to 10 feet on No. 9 (par 4, 382 yards); a lob wedge from 79 yards to 10 feet on No. 10 (par 4, 382 yards); a two-putt following a formidable 4-iron on No. 11 (par 5, 529 yards); a lob wedge from 106 yards to eight feet on No. 13 (par 4, 408 yards); a flip wedge from greenside right to 10 feet on No. 14 (par 5, 528 yards); a gap wedge from 124 yards to eight feet on No. 15 (par 4, 438 yards). An unexpected bogey on the par 3, 165-yard 17th hole applied unspoken pressure on Colonial's finisher. Brown delivered. He lifted a gap wedge 125 yards to 12 feet and drained the ensuing birdie putt.
On the wings of a 62, Brown flapped a four-stroke lead over Dan Walters of Winston-Salem, N.C. entering Round Two.
"I had a feeling the [qualifying] number was going to be in the area of 8 under, just from the scores in the morning. You certainly don't want to go into protect mode, but you can't take too many chances at the same time," Brown said. "I tried to find a middle ground of aggression. [The final round] was one of the hardest rounds I've probably played in a long time. It's a unique situation where you're trying to avoid a big problem and maybe make a couple of birdies along the way."
Brown, and the rest of the field for that matter, couldn't avoid Mother Nature's temperance Wednesday. Oppressive heat filled most of the day. Then a sudden storm front descended upon Colonial. On Brown's 35th hole (No. 8, par 4, 362 yards), he hit a gap wedge 111 yards to eight feet. The horn sounded at 6:24 p.m. as he studied the birdie ahead.
"That type of interruption so close to the finish is unusual. It's hard to deal with, but it's part of the game. It was stressful for me," Brown said.
GAP officials suspended play for the day. Instead of driving two hours home, Brown checked into a hotel, knowing he needed to return to Colonial at 7:30 a.m. Thursday to finish what he started.
"It was a rough night, but I got through it. I was dead tired, but I woke up in the middle of the night. My mind started racing. I was up for a couple of hours. Miraculously, I fell back asleep. I was all revved up at that point," Brown said.
Brown's golf engine is clearly revved up right now. He advanced to the quarterfinals in the 121st BMW Philadelphia Amateur Championship two weeks ago at Cedarbrook Country Club. In the final round of the Delaware State Golf Association Amateur Championship last week, Brown prevailed by setting a course record in the event's final round. He carded a 6-under-par 65 at Newark Country Club.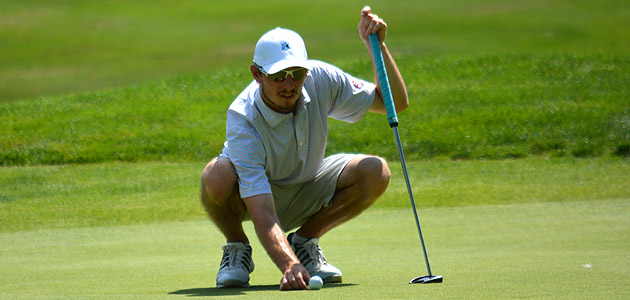 In the rearview of Brown's torrid pace sat Sheehan Wednesday. A tiny fraction of the rearview, that is. Sheehan idled nine strokes behind Brown before carding a 7-under-par 65 in Round Two.
"I knew that I was hitting the ball well. I told myself that the putts were out there. You just had to give yourself chances," Sheehan, 25, of Quarryville, Pa., said. "Starting the second round, I had this different mentality of, 'It's all or nothing.' I wasn't thinking ahead of myself. The putts started to fall."
Sheehan, who played alongside Bacha, needed a five-footer to fall on No. 9, his 36th hole. After Bacha buried a 25-footer for birdie to finish at 8 under, Sheehan faced a testy par save to avoid the angst of a potential playoff.
"I've been fighting a left pull with my driver. Instead of fighting it, I was playing it all day long. I finally through my driver on No. 9, and I'm behind a tree. It didn't draw," Sheehan, a three-time Lancaster County Amateur Champion (2018-20), said. "I should've bumped an 8-iron [onto the green]. Instead, I bumped a 9-iron, and it just rolled up five feet short of the green. I hit an uphill chip shot, but it didn't grab. I had a five-foot tickler down the hill for par. It snapped across the hole. [That bogey] ate me alive on the ride home. It would've made things a little simpler."
On the fourth trip around No. 18 (par 4, 426 yards) Thursday, Sheehan bested Bacha in the aforementioned playoff. He hit a 9-iron 140 yards to four feet for birdie.
This will mark Sheehan's first U.S. Amateur appearance. He previously attempted to qualify in 2017 at Stonewall.
"Work wanted me to come in the week of the Pennsylvania (Golf Association) Amateur. So, I said, 'OK, I'll try the U.S. Amateur instead.' It worked out," Sheehan, a ninth-grade science teacher at Manheim Central High School, said. "My caddie, Jason Lyon, did an awesome job of keeping my head straight. He made it fun out there for me. He'll be on the bag at Oakmont. This is a big deal for me."
GAP
Celebrating Amateur Golf since 1897, GAP, also known as the Golf Association of Philadelphia, is the oldest regional or state golf association in the United States. It serves as the principal ruling body of amateur golf in its region. The Association's 300 Member Clubs and 80,000 individual members are spread across the Eastern half of Pennsylvania and parts of Delaware, Maryland and New Jersey. The GAP's mission is to promote, preserve and protect the game of golf.
| | |
| --- | --- |
| Qualifiers | |
| Name, city, state | RD1-RD2–Total |
| Michael R. Brown, Jr., Maple Shade, N.J. | 62-72–134 |
| *Connor Sheehan, Quarryville, Pa. | 71-65–136 |
| Alternates (in order) | |
| *Carson Bacha, York, Pa. | 70-66–136 |
| Zach Juhasz, Bethlehem, Pa. | 67-70–137 |
| Failed to qualify | |
| Dan Walters, Winston-Salem, N.C. | 66-72–138 |
| Brandon Dalinka, New York, N.Y. | 70-69–139 |
| John Peters, Carlisle, Pa. | 69-70–139 |
| Eric Williams, Honesdale, Pa. | 69-70–139 |
| Jarred Texter, Lancaster, Pa. | 68-72–140 |
| J.T. Barker, Bethlehem, Pa. | 69-72–141 |
| Christopher Dalglish, Fort Washington, Pa. | 71-70–141 |
| Dougie Ergood, Mount Laurel, N.J. | 70-71–141 |
| Kevin Grady, Catonsville, Md. | 74-67–141 |
| Timothy Cooper, Harrisburg, Pa. | 69-73–142 |
| Jimmy Ellis, Venetia, Pa. | 73-69–142 |
| Aidan McDermott, Pleasantville, N.Y. | 69-74–143 |
| Theodore Sluser, Oakmont, Pa. | 74-69–143 |
| Zach Dixon, York, Pa. | 71-73–144 |
| Grant Gronka, Bloomsburg, Pa. | 71-73–144 |
| William Mirams, Stroudsburg, Pa. | 72-72–144 |
| Christopher Baloga, Baltimore, Md. | 72-73–145 |
| Jud Langille, Ossining, N.Y. | 71-74–145 |
| Karsen Rush, Chambersburg, Pa. | 72-73–145 |
| Tyler Edholm, Tonawanda, N.Y. | 77-71–148 |
| Brock Kovach, Wyomissing, Pa. | 72-76–148 |
| Austin Lauver, Lancaster, Pa. | 76-72–148 |
| John Meyers, Basking Ridge, N.J. | 74-74–148 |
| Ian Patterson, Chambersburg, Pa. | 75-73–148 |
| Derek McGlaughlin, Elizabethtown, Pa. | 73-76–149 |
| Logan Snyder, York, Pa. | 77-72–149 |
| Matthew Dolinsky, Sinking Spring, Pa. | 79-72–151 |
| Oliver White, Ambler, Pa. | 76-75–151 |
| Andrew Forjan, York, Pa. | 77-76–153 |
| Mike Hall, Timonium, Md. | 77-76–153 |
| Albert Montalbo, Wahiawa, Hawaii | 79-74–153 |
| Jason Salameno, Pompton Lakes, N.J. | 79-74–153 |
| Matthew Vital, Bethlehem, Pa. | 79-74–153 |
| Josh Anderson, Morgantown, Pa. | 80-75–155 |
| Corey Betham, Norristown, Pa. | 77-78–155 |
| Jaxon Eck, Harrisburg, Pa. | 79-79–158 |
| Derek Byzinski, Charleston, S.C. | 79-81–160 |
| Sean Sigall, Sicklerville, N.J. | 78-82–160 |
| Andrew Morris, Sinking Spring, Pa. | 80-84–164 |
| Daniel Whiteley, York, Pa. | 82-83–165 |
| Greg Ragni, Bethlehem, Pa. | 87-91–178 |
| Finbar Bonner, Belmar, N.J. | NS |
| Tyler Duke, Lookout Mountain, Tenn. | NS |
| Charles Edmonds, Leesburg, Va. | WD |
| Ryan Felpel, Lancaster, Pa. | WD |
| Andrew Fink, Lancaster, Pa. | WD |
| Ralph Litrenta, New Castle, Pa. | WD |
| Eric Mathias, Martinsburg, W. Va. | WD |
| Ryan McCarty, West Palm Beach, Fla. | WD |
| Andrew Spaid, Cresson, Pa. | WD |
| James Ulsh, Carlisle, Pa. | WD |
| Alistair Demko, Hershey, Pa. | 81-WD |
| David Long, Lancaster, Pa. | 81-WD |
| Todd Shagin, Ridgewood, N.J. | 81-WD |
| Bradley Nyambane, Kenya | 83-WD |
| Jason Mowry, Scranton, Pa. | 91-WD |
| Ryan Schneiter, Wayne, Pa. | 76-WD |
| Matt Shevlin, Philadelphia, Pa. | 78-WD |
| Weston Warden, Pittsburgh, Pa. | 78-WD |
| Daniel Hernandez, Mechanicsburg, Pa. | 79-WD |
| Noah Bridgeman, Clarkston, Mich. | 80-WD |
| Josh Notes, Columbia, Md. | 74-WD |
| Jack Larkin, Atlanta, Ga. | 72-WD |
| Mitch Mercer, Pittsburgh, Pa. | 73-WD |
| Matthew Larkin, Atlanta, Ga. | 71-WD |
| Caleb Bryant, Railroad, Pa. | 72-WD |
| Nicholas Fioravante, Mohnton, Pa. | 72-WD |
| Shaun Fedor, Lancaster, Pa. | 74-WD |
| Keller Mulhern, Exton, Pa. | 74-WD |
| Ross Pilliod, Sinking Spring, Pa. | 74-WD |
| Benjamin Smith, Blain, Pa. | 74-WD |
| Lee Nonnemacher, Richlandtown, Pa. | 75-WD |
| Jonathan Glick, Lancaster, Pa. | 80-WD |
| * – determined in playoff | |
| NS – no show; WD – withdrawal | |