Philadelphia Cricket tops Team Qualifying
HUNTINGDON VALLEY, Pa. — A Marty-Marty interaction illustrates a captain's passion for his team.
| Scoring portal | Photo gallery |
During Round One of the 119th Joseph H. Patterson Cup presented by Provident Bank, Marty McGuckin approached Marty Emeno, Jr., GAP Director of Operations, with a burning question. The Philadelphia Cricket Club member wanted to know the fate of Team Championship Qualifying, which was postponed June 8 due to severe weather.
Emeno assured McGuckin that the event would indeed see the light of day. So McGuckin marked his calendar for Aug. 27 at Philmont Country Club (par 70, 6,658 yards) and delivered on his desire to play. He carded a 1-under-par 69 to lead Philadelphia Cricket Club in Team Championship Qualifying Friday.
Old York Road Country Club's Ryan Beck and LedgeRock Golf Club's Michael Weinert shared individual medalist honors at 4-under-par 66. On the wings of Weinert's heroics, LedgeRock advanced to the Championship proper, which will take place Sept. 30 within its confines.
LedgeRock joins Philadelphia Cricket, Huntingdon Valley Country Club and LuLu Country Clubat the title table. The low four of six scores count toward the team total.
"Obviously, we didn't win the BMW GAP Team Matches this year, and to me and a lot of the guys at the club, that's something that we value. The Team Championship is an extension or a second version of the Team Matches," McGuckin, 23, of Valley Forge, Pa., said. "There are a lot of guys at our club who really value team golf. This is the one tournament of the year, aside from the Team Matches, that we're able to do that. I've never played [in the Championship proper], but everyone says it's the best day in golf. I'm looking forward to it."
After missing a 10-footer for par on No. 11 (par 3, 228 yard), McGuckin surged forward on behalf of the Cricketeers. He hammered a 6-iron 204 yards to 15 feet above the hole location on No. 12 (par 5, 495 yards). Two putts translated into a birdie. He nearly holed out for eagle on No. 15 (par 4, 420 yards) with wedge from 95 yards. A kick-in birdie thereafter moved McGuckin to even. On the downhill par 3, 181-yard 17th hole, he buried a 25-footer for birdie after targeting an 8-iron flag-high left.
"This is course is one where you have to really kept it in play off the tee. If you don't, then you're either in trees, bunkers or long grass," McGuckin, who saw Philmont for the first time Friday, said. "My goal was to give myself as many birdie opportunities as I could. On the back nine, I happened to roll a couple of them in."
McGuckin also happened to call the right clubmate last night. Needing a last-minute replacement for Cricket's team, he reached out to U.S. Amateur Four-Ball partner Scott Storck — "a fill-in for a fill-in."
Storck and his wife Kristen welcomed their second child, Will, 16 days ago.
"I wasn't really in a great state of mind. I had a terrible range session. I didn't get great sleep," Storck, 51, of Blue Bell, Pa., said. "But for these team competitions, for whatever reason, I've played OK in the past. It's just about not making a big mistake to hurt your team. I didn't beat Marty, though, so I'm bummed about that."
Certainly not bummed about aiding Cricket's championship prospects. Storck, as well as Robby Walizer, carded respective even-par 70s. Poetic that Storck fields a phone call from McGuckin moments after his score became final.
"Enjoy the rest of your day, and good job," Storck told his compatriot.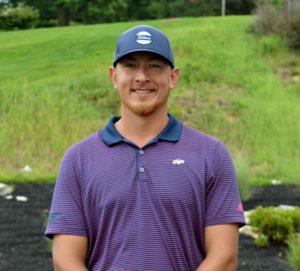 A Storck phone call is perfect here. His brother Chris, who served as LedgeRock's team captain, needed a fourth to round out his team. So, he made a (sort of) long distance phone call last night.
"I guess Chris was watching me on the leaderboard [in U.S. Mid-Amateur Qualifying on Monday at Carlisle Country Club]. He called me and said, 'By chance, can you come down and play tomorrow?' I said, 'I guess,'" Weinert, 26, of Syosset, N.Y., said. Weinert missed the cut by three strokes at Carlisle.
An indifferent Weinert departed at 5:15 a.m. Two-plus hours later, he arrived at Philmont for the first time. Weinert played like a cagey club veteran, not a wide-eyed newcomer.
"My putting was pretty solid today," Weinert, who works as a caddie at Meadow Brook Club in Jericho, N.Y., said. "If my irons are off, basically my whole game is off. But luckily, my irons were pretty solid. They were my go-to."
Weinert opened with a birdie on No. 1 (par 4, 392 yards), where a punch 8-iron from 149 yards out of the left rough stopped 15 feet above the flagstick. He knocked a 9-iron to two feet for another birdie on No. 3 (par 3, 161 yards). Weinert continued to command Philmont's par 3s. On No. 8 (par 3, 131 yards), he hit a 50-degree wedge to 22 feet for birdie. He sent a 5-iron to 11 feet above the hole location on the 11th hole (228 yards) for another 2. Weinert inked his final birdie on No. 14 (par 4, 445 yards), where he drilled a 9-iron 162 yards to 14 feet.
Weinert is relatively new to the competitive circuit. He recently started participating in Metropolitan Golf Association events. Weinert also played collegiately for Lehigh-Carbon Community College. He travels to LedgeRock, where his family holds membership as well, twice a year.
"There are a lot of great people there. It's a great atmosphere with a lot of great players," Weinert said.
Weinert proved Friday that he's one of LedgeRock's great players. But such a notion induces an unexpected laugh.
"It's been a work in progress," Weinert said. "It's a long road. My game's starting to finally click."
Beck's game kept clicking at Philmont. Two weeks removed from capturing his third men's championship at Old York Road, he inked 31 (4 under) on his inward tour Friday to tie the medalist mark.
"I was really steady off the tee. My ball-striking was really good. I caught fire on the back nine and made some birdies," Beck, 34, of Ambler, Pa., said. "My game's been pretty good. Things started clicking in the club championship. Obviously, it's continuing."
Team Championship Qualifying determines which four GAP Member Clubs will compete in the Team Championship. Participants must field at least six players to be eligible. The low four scores of each team make up the qualifying total. In the event of a tie, the fifth player's score is used.
The Championship proper features eight-man teams playing an alternate shot format in the morning, with singles matches in the afternoon.
Philadelphia Cricket holds four titles (2013, 2015, 2018-19). The Team Championship was canceled in 2020 due to the COVID-19 pandemic.
GAP
Celebrating Amateur Golf since 1897, GAP, also known as the Golf Association of Philadelphia, is the oldest regional or state golf association in the United States. It serves as the principal ruling body of amateur golf in its region. The Association's 300 Member Clubs and 80,000 individual members are spread across the Eastern half of Pennsylvania and parts of Delaware, Maryland and New Jersey. The GAP's mission is to promote, preserve and protect the game of golf.
| | |
| --- | --- |
| Qualifiers | |
| Philadelphia Cricket Club | 281 |
| Mark Benevento | 73 |
| *Taylor Kellog | 72 |
| Marc Mandel | 75 |
| *Marty McGuckin | 69 |
| *Scott Storck | 70 |
| *Robby Walizer | 70 |
| LedgeRock Golf Club | 283 |
| *Josh Anderson | 72 |
| *Michael Weinert | 66 |
| Luke Fagley | NS |
| *Ross Pilliod | 73 |
| Grant Skyllas | NS |
| *Chris Storck | 72 |
| LuLu Country Club | 287 |
| *Michael R. Brown, Jr. | 73 |
| *Christopher Clauson | 74 |
| Scott McLaughlin | 82 |
| *Ron Robinson | 68 |
| John Simone | 76 |
| *Jon Rusk | 72 |
| Huntingdon Valley Country Club | 287 |
| *Stephen Cerbara | 70 |
| Jake Fazio | 77 |
| *Cory Meyer | 75 |
| Joe Perese | 76 |
| *Sean Ryan | 70 |
| *Sean Seese | 72 |
| Failed to qualify | |
| Little Mill Country Club | 289 |
| *Zachary Falone | 70 |
| *Jack Irons | 70 |
| *Dan Keenan | 75 |
| Vince Kwon | NS |
| Sean Sigall | 84 |
| *Jack Sterbenz | 74 |
| Riverton Country Club | 290 |
| *Zach Arsenault | 76 |
| *Andrew Bowers | 71 |
| Robert Cummings | 79 |
| *Beau Guarino | 73 |
| *Chris Lawler | 70 |
| Ben Litt | 77 |
| Old York Road Country Club | 296 |
| *Ryan Beck | 66 |
| *Andrew Blasek | 77 |
| *Erik Bowren | 76 |
| Jim Rosenbaum | 81 |
| *Jack Walsh | 77 |
| Brian Wojtko | 80 |
| Commonwealth National Golf Club | 297 |
| *Brett Diakon | 72 |
| *Kevin Lydon | 73 |
| *Cesar Martinez | 73 |
| Luke Marvin | 85 |
| *Ken Sim | 78 |
| Vince Varvolis | 78 |
| DuPont Country Club | 299 |
| *Brad Abel | 76 |
| *Michael Boyle | 75 |
| *Joe Dulka | 74 |
| Ken Merritt | 90 |
| *Steve Oh | 74 |
| Mark Wachter | 77 |
| Moorestown Field Club | 301 |
| *Timothy Casale | 76 |
| Brandon Davis | 90 |
| *Jimmy Kramarski | 74 |
| *Kevin Kramarski | 74 |
| Garrett McVaugh | 86 |
| *Eric Piro | 77 |
| Running Deer Golf Club | 302 |
| Tom Alestock | 85 |
| *Stephen Barry | 74 |
| Josh Bennett | 84 |
| *Andy Kerestesy | 81 |
| *Joseph Russo | 71 |
| *Adam Usher | 76 |
| The Springhaven Club | 306 |
| Alex Barone | 93 |
| *Paul Berg | 78 |
| *Jared Brown | 73 |
| *Nick Calabrese | 75 |
| Matthew Hurchalla | 86 |
| *Kevin Smith | 80 |
| Mercer Oaks Golf Course | 307 |
| *Brandon Capone | 77 |
| *Ken Clayton | 79 |
| *Mark Cubberley | 75 |
| Ryan Luke | 84 |
| Brian Tripp | NS |
| *Andrew Ward | 76 |
| Wedgwood Country Club | 309 |
| *Paul Bickford | 77 |
| *Luis Diaz | 79 |
| *James Gillespie | 74 |
| *Jim Sellers | 79 |
| Dan Smith | 89 |
| Jeff Wood | 81 |
| Whitford Country Club | 318 |
| *Bruce Cowgill | 78 |
| Chris Ellinger | 86 |
| Jamie Harrell | NS |
| *Andrew LaRosa | 83 |
| *Charles Meadows | 77 |
| *Steve Pallini | 80 |
| Bala Golf Club | 319 |
| *Lars Beck | 80 |
| *Andrew Kelly | 86 |
| *Thomas Kelly | 77 |
| Brian Kreamer | 86 |
| John Pagana | 86 |
| *Nate Pillion | 76 |
| Sakima Country Club | 319 |
| John Burke | 85 |
| *Rodney Dare | 84 |
| *Chris Meares | 78 |
| *Gilbert Moniz | 82 |
| Matt Rieger | 86 |
| *Lodie van Tonder | 75 |
| | |
| * – counted toward team total; NS – no show | |