Ryan takes down Homer in Harry Hammond Award playoff
ORELAND, Pa. – Zero bogeys, eight combined birdies and a fist-pumped clincher to close it out. Can't ask for much more out of a playoff.
The 1912 Club's Josh Ryan squared off with Wilmington Country Club's Matt Homer Thursday at Sandy Run Country Club (par 72, 6,531 yards) to decide the fate of the season-long Harry Hammond Award in an 18-hole playoff. It didn't disappoint.
Ryan sizzled with a 5-under 67 to better Homer's 3-under 69 for the win.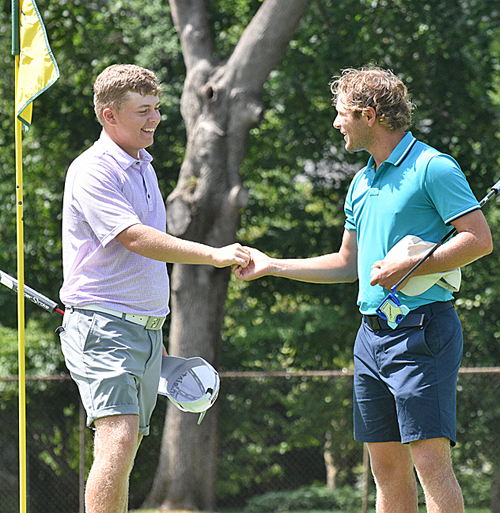 The Harry Hammond Award is a calculation of the aggregate scores from Junior Boys' Championship Qualifier, 36 holes of the Christman Cup and Jock MacKenzie Memorial. After both players finished the season-long race tied at 7-under-par 277, which broke Cole Berman's scoring record of 279 (3 under) set in 2012, today's playoff was set.
To begin the day, Ryan was the aggressor. He birdied both of Sandy Run's first two holes to gain an early advantage. An 18-footer fell on the opener (par 4, 357 yards), followed by a walked-in 12-foot look on the par-3, 184-yard 2nd.
"My warm up kind of got cut short — we were a little late getting out of the house — so out of the gate I wasn't sure what to expect. I knew I had to get ahead early on in this match because Matt can birdie anything inside 20 feet," said Ryan, 18, of Norristown, Pa.
The Junior standouts swapped pars on each of the next five holes, missing some makeable birdie putts along the way. No. 8 (par 5, 537 yards) proved to be a monumental one in the showdown. Ryan blasted his drive down the center while Homer barely kept his drive in bounds on the right side — and then the advantages flipped. Ryan's ball was half-covered in mud and his second shot nestled on a right mound, while Homer found safety in the center of the fairway. Homer then tossed a wedge close and drained his birdie look, while Ryan's mud ball came to rest 25 feet out on the right fringe. Still unable to clean his golf ball, Ryan rolled it from there and it came to rest at the bottom of the cup, matching Homer's 4.
On the par-4, 310-yard 9th, Ryan hit his best drive of the day. He lifted driver over the right trees and stuck it within six feet. He would lip out on the eagle putt, but tapped in for birdie 3. Ryan made the turn with a three-stroke lead.
"Nos. 8 and 9 were huge for me. I had just came off a few misses, and it was nice to [finish the first nine] like that," said Ryan, who heads to Liberty University for his freshman year next week. "My mindset was that I had to get to No. 18 with a lead, because I knew Matt was going to make birdies."
Ryan's prediction was spot on. Homer put his foot on the gas coming out on the second nine, drilling a 15-foot birdie on No. 10 (par 3, 135 yards) to put some pressure on the leader. But then six holes of pars followed suit, meaning Homer was running out of time to make a final move.
That move came on No 17 (par 4, 386 yards) after a 10-foot birdie fell for Homer.
"That's when I felt like I actually had a chance. Knowing neither of us had made a bogey all day, I knew I had to make a birdie, and I did, just to give myself an opportunity," said Homer, 17, of Wilmington, Del.
On Sandy Run's swan song, Ryan, now with a one-stroke advantage, chose 5-iron off the tee and placed it gently in the right-center of the fairway. Homer's drive was blasted, but ripped into the upper lip of a left fairway bunker. Ryan would then play over a massive oak tree, lifting a pitching wedge up and over from 135 yards out, which landed 12 feet below the hole. Homer, with an incredibly challenging stance, dug his ball out of the rough and placed his second shot to 10 feet above the hole.
And then, the moment of the match. Ryan faced a double-breaker, but knew exactly what he needed to do.
"I had a caddie tell me that whenever you have a putt like that, just to play it firm and in the center of the cup," said Ryan. "And that's exactly what I did."
Ryan's birdie putt caught the right edge of the cup and dropped. A signature Ryan fist pump (see header) came next, capping a GAP Junior career that will be remembered by the history books.
| | | |
| --- | --- | --- |
| STATS | Ryan | Homer |
| Fairways | 7/15 | 8/15 |
| Greens in Reg. | 14/18 | 15/18 |
| Putts | 29 | 30 |
"It's been such a good year for both Matt and me. I edged him at the Junior Boys', he got me in the Christman, and then he beat me in the playoff [at Sandy Run] for the Jock MacKenzie. I knew it was going to be a good one today, and it was," said Ryan.
"I can't be too frustrated. We made no bogeys today, and Josh just outplayed me," said Homer, the 2022 Delaware State Golf Association Junior Boys' Champion. "It was my best year yet, and I can't be anything but proud of how I played."
After today's win, the three-time GAP Junior Boys' Champion earned his first Harry Hammond Award. He essentially clinched the Junior Player of the Year Award as well — his second, with the first coming in 2020. Ryan also claimed the 2017 Junior-Junior Boys' title. It's a resume that will be reflected upon for decades.
Before he heads off to Liberty to begin his collegiate career, Ryan soaked in his last event as a GAP Junior champion.
"I love the GAP. It's been an incredible run and a great Junior career," said Ryan. "It's always nice to be around friendly faces and playing in the best-run tournaments around. It's just an honor to be able to win anything [in GAP]."
Harry Hammond, an ardent supporter of Junior golf both locally and nationally, served as the Philadelphia PGA Section's Junior Golf Chairman for 29 years. He is the Director of Golf at Penn Oaks Golf Club and head men's golf coach of West Chester University. A 55-year member of the PGA of America, Hammond received the organization's Bill Strausbaugh Award for leadership and service to the game of golf in 2012.
GAP
Celebrating Amateur Golf since 1897, GAP, also known as the Golf Association of Philadelphia, is the oldest regional or state golf association in the United States. It serves as the principal ruling body of amateur golf in its region. The Association's 330 Member Clubs and 90,000 individual members are spread across Pennsylvania, Delaware, New Jersey and Maryland. The GAP's mission is to promote, preserve and protect the game of golf.