Rivertown's own Dare dons #GAPOpen Qualifying medal
Jack Dare dared someone to better his round on home turf at Riverton Country Club (par 71, 6,538 yards).
They didn't.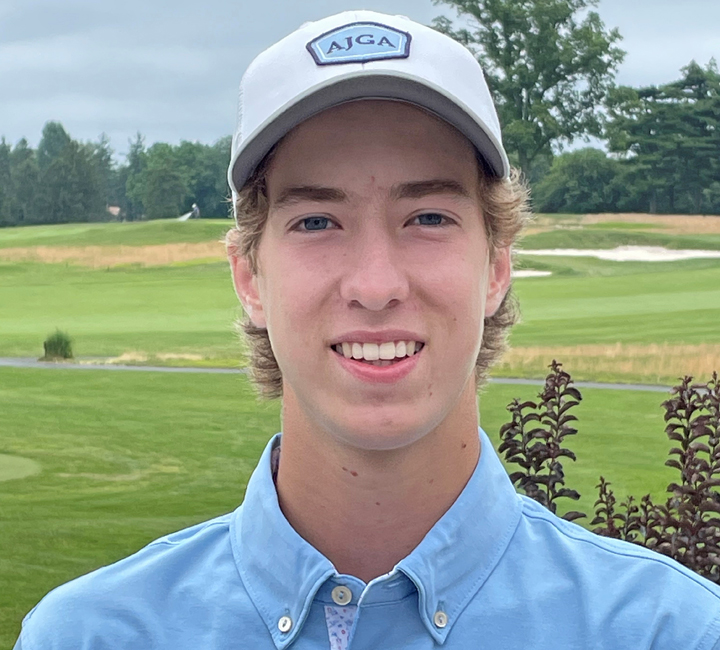 Led by a five-under front side, Dare dazzled at Riverton, ending with a 5-under 66 to take medalist honors in a GAP Open Championship Qualifying event.
Ultimately, the cut line stopped at 3-over 74. Overall, 40 players earn invitations to the championship proper. There were 32 amateur players and eight pros who earned their invitations today.
The 118th GAP Open will be played July 19-20 at Philadelphia Cricket Club's Wissahickon Course. The #GAPOpen, the Association's third oldest championship, is a two-day, 36-hole stroke play event. There is a cut to the low 60 players and ties after Round One.
Dare, 16, of Moorestown, N.J., is no stranger to Riverton's fairways. The St. Joseph's Prepper had one of the best front sides in recent memory. Birdies on Nos. 1, 4, 5, 7 and 8, paired with zero bogey blemishes on the first nine, equaled the day's medal round. He'd ultimately get to 7-under par through 12 holes, but bogeyed holes 15 and 18 coming in.
NOTE: Philadelphia Eagles kicker Jake Elliott, a Super Bowl Champion and amateur out of Bala Golf Club, qualified for the championship with a 2-over 73.
GAP
Celebrating Amateur Golf since 1897, GAP, also known as the Golf Association of Philadelphia, is the oldest regional or state golf association in the United States. It serves as the principal ruling body of amateur golf in its region. The Association's 300 Member Clubs and 80,000 individual members are spread across the Eastern half of Pennsylvania and parts of Delaware, Maryland and New Jersey. The GAP's mission is to promote, preserve and protect the game of golf.
| | |
| --- | --- |
| Qualifiers | |
| Name, club | Score |
| (a)Jack Dare, Riverton Country Club | 66 |
| Matt Episcopo, Pine Valley Golf Club | 69 |
| (a)Kevin Kramarski, Moorestown Field Club | 69 |
| (a)Charles Young, Briarwood Golf Club | 69 |
| John Cooper, Green Valley Country Club | 70 |
| (a)Michael Gallagher, Galloway National Golf Club | 70 |
| Thomas Michaels, Berkshire Country Club | 70 |
| (a)Rij Patel, Country Club of York | 70 |
| (a)John Brennan, Philadelphia Cricket Club | 71 |
| (a)Sean Sigall, Little Mill Country Club | 71 |
| Andrew Barbin, Jr., Chesapeake Bay Golf Club | 72 |
| (a)Cameron Deiuliis, Makefield Highlands Golf Club | 72 |
| (a)Dougie Ergood, Tavistock Country Club | 72 |
| Eric Kennedy, Overbrook Golf Club | 72 |
| (a)Jimmy Kramarski, Moorestown Field Club | 72 |
| (a)Chris Lawler, Riverton Country Club | 72 |
| (a)Christian Matt, Cedarbrook Country Club | 72 |
| (a)Lorenzo Sanz, Briarwood Golf Club | 72 |
| Doug Delaney, Union League National Golf Club | 73 |
| (a)Matt Dolinsky, Honeybrook Golf Club | 73 |
| (a)Jake Elliott, Bala Golf Club | 73 |
| (a)Gerald Haftmann, Rolling Green Golf Club | 73 |
| (a)Ben Keyser, Legacy Club at Woodcrest | 73 |
| Joseph Kogelman, GOLFTEC-Moorestown | 73 |
| (a)Stewart Rickenbach, Huntingdon Valley Country Club | 73 |
| (a)Gary Schoeman, Gulph Mills Golf Club | 73 |
| (a)Jamie Slonis, Tavistock Country Club | 73 |
| (a)Lou Tonon, Greate Bay Country Club | 73 |
| (a)Dan Bernard, Aronimink Golf Club | 74 |
| (a)Corey Betham, St. Davids Golf Club | 74 |
| (a)Jackson Debusschere, The Springhaven Club | 74 |
| (a)Tim Hager, Philadelphia Cricket Club | 74 |
| (a)Brian Isztwan, Huntingdon Valley Country Club | 74 |
| Curtis Kirkpatrick, Indian Spring Country Club | 74 |
| (a)Matthew Krass, Radley Run Country Club | 74 |
| (a)Marty McGuckin, Philadelphia Cricket Club | 74 |
| (a)John Meyers, Golden Pheasant Golf Course | 74 |
| (a)Tucker Sandercock, Steel Club | 74 |
| (a)Thomas Weir, Honeybrook Golf Club | 74 |
| (a)Tyler Zimmer, Philadelphia Country Club | 74 |
| Failed to qualify | |
| (a)Dan Ayars, Sakima Country Club | 75 |
| (a)Robert Cummings, Riverton Country Club | 75 |
| (a)Benjamin Feld, Green Valley Country Club | 75 |
| (a)Hayden Greer, Laurel Creek Country Club | 75 |
| (a)Jeff Long, Riverton Country Club | 75 |
| (a)Ryan McCarty, Huntingdon Valley Country Club | 75 |
| (a)Matthew Normand, Laurel Creek Country Club | 75 |
| (a)Marc Oliveri, Lancaster Country Club | 75 |
| (a)Dan Pinciotti, Huntingdon Valley Country Club | 75 |
| (a)Jack Wallace, Riverton Country Club | 75 |
| (a)Peter Barron, III, Galloway National Golf Club | 76 |
| (a)David Gall, Riverton Country Club | 76 |
| (a)Angelo Giantsopoulos, USGA/GAP GC | 76 |
| (a)Doug Gordon, Rolling Green Golf Club | 76 |
| (a)Ryan Kelly, Philadelphia Cricket Club | 76 |
| Kyle Quagliero, Medford Lakes Country Club | 76 |
| (a)Jack Ross, Medford Lakes Country Club | 76 |
| (a)Jack Sterbenz, Little Mill Country Club | 76 |
| (a)Roy Anderson, Kennett Square Golf & Country Club | 77 |
| Patrick Butkus, Tavistock Country Club | 77 |
| Francis Diodato, GOLFTEC-Moorestown | 77 |
| (a)Salvatore Galati, Legacy Club at Woodcrest | 77 |
| (a)Kyle Ginty, Talamore Country Club | 77 |
| (a)Michael Sydnes, Talamore Country Club | 77 |
| Alex Willey, Burlington Country Club | 77 |
| (a)Garrett Conway, Medford Village Country Club | 78 |
| (a)Jordan Cooper, Legacy Club at Woodcrest | 78 |
| (a)Andrew Curran, Philadelphia Cricket Club | 78 |
| (a)Greg Fischer, Llanerch Country Club | 78 |
| (a)Beau Guarino, Riverton Country Club | 78 |
| Bob Hennefer, Laurel Creek Country Club | 78 |
| (a)Scott Kalamar, Green Pond Country Club | 78 |
| (a)Stephen Lorenzo, Manufacturers' Golf & Country Club | 78 |
| (a)Kevin Maguire, Laurel Creek Country Club | 78 |
| (a)Noah Petracci, Golden Pheasant Golf Course | 78 |
| (a)Justin Spaeth, Cedarbrook Country Club | 78 |
| (a)Jared Tendler, Makefield Highlands Golf Club | 78 |
| Val Vadino, GOLFTEC Moorestown | 78 |
| (a)Brian Walker, Burlington Country Club | 78 |
| (a)Brett Brenner, Ramblewood Country Club | 79 |
| (a)Jack Cooley, Bidermann Golf Course | 79 |
| Chris Dymek, Manasquan River Golf Club | 79 |
| (a)Robert Filipe, Jr., Medford Village Country Club | 79 |
| (a)Joshua Friedland, Manufacturers' Golf & Country Club | 79 |
| (a)Logan Hay, Burlington Country Club | 79 |
| (a)James Kaiser, Tavistock Country Club | 79 |
| (a)Dan Keenan, Little Mill Country Club | 79 |
| (a)Matt Keim, Brookside Country Club | 79 |
| (a)Marc Mandel, Philadelphia Cricket Club | 79 |
| (a)Ryan McDonald, Merion Golf Club | 79 |
| (a)Jay McGill, Little Mill Country Club | 79 |
| (a)Brett McGrath, Huntingdon Valley Country Club | 79 |
| (a)Nikita Romanov, Philadelphia Publinks Golf Association | 79 |
| (a)Jackson Terman, Philadelphia TG GC | 79 |
| (a)Dan Close, Hidden Creek Golf Club | 80 |
| (a)Jake Doyle, Little Mill Country Club | 80 |
| (a)Matt Ebbecke, Philmont Country Club | 80 |
| (a)Chris Greer, Laurel Creek Country Club | 80 |
| (a)Patrick Isztwan, Huntingdon Valley Country Club | 80 |
| (a)Ben Litt, Riverton Country Club | 80 |
| (a)Michael Butler, Legacy Club at Woodcrest | 81 |
| (a)Jason Dunham, Bon Air Country Club | 81 |
| (a)Ted Hospodar, Overbrook Golf Club | 81 |
| (a)Matt Milligan, Bluestone Country Club | 81 |
| (a)Joseph Rueter, Sandy Run Country Club | 81 |
| (a)Matt Vanliew, Little Mill Country Club | 81 |
| (a)Matt Worrall, DuPont Country Club | 81 |
| (a)Jared Christmann, Jeffersonville Golf Club | 82 |
| (a)Peter D'Angelo, Burlington Country Club | 82 |
| (a)Matt Grossman, Green Valley Country Club | 82 |
| (a)Kevin Hilton, Northampton Valley Country Club | 82 |
| (a)Sean Hughes, Little Mill Country Club | 82 |
| (a)Andrew Jaskel, Union League Golf Club at Torresdale | 82 |
| (a)Cory Meyer, Huntingdon Valley Country Club | 82 |
| (a)Mark Wachter, DuPont Country Club | 82 |
| (a)Carl Ernst, White Oaks Country Club | 83 |
| (a)Steve Levchenco, Philmont Country Club | 83 |
| (a)Joseph Noyes, Little Mill Country Club | 83 |
| (a)D.J. Pinciotti, Huntingdon Valley Country Club | 83 |
| (a)Justin Schorr, Talamore Country Club | 83 |
| (a)Matthew Massott, Legacy Club at Woodcrest | 84 |
| (a)Robert Richardson, Deerwood Country Club | 84 |
| (a)Josh Brauer, Spring Ford Country Club | 85 |
| (a)Sal Cucinotti, Talamore Country Club | 85 |
| (a)John Samaha, Old York Road Country Club | 85 |
| (a)Mike Schwartz, Philmont Country Club | 85 |
| (a)Brandon Christopher, DuPont Country Club | 86 |
| (a)Matteo Patitucci, Philmont Country Club | 87 |
| (a)Andrew Carrigan, Legacy Club at Woodcrest | 88 |
| (a)Henry Brock, Jeffersonville Golf Club | 89 |
| (a)Steve Schuler, Pitman Golf Course | 92 |
| (a)Kyle Meier, Westwood Golf Club | 93 |
| (a)Michael Tallarida, Stone Harbor Golf Club | 93 |
| (a)David Guertler, Merion Golf Club | WD |
| (a)Nathan Guertler, Merion Golf Club | WD |
| (a)Alexander Kim, Philadelphia Cricket Club | WD |
| (a)Aaron Thieme, Green Pond Country Club | NS |
| (a)Christopher Warner, Makefield Highlands Golf Club | WD |
| WD -withdrawal; NS – no show | |
| (a) – denotes amateur | |