Homers emerge after #DelawareJunior Round One
RISING SUN, Md. — Wednesday marked the beginning of both the 71st Delaware Junior Boys Championship and 39th Junior Girls Championship at Chesapeake Bay Golf Club Rising Sun (par 71, 6,355 yards). The overcast opening round set up a stacked leaderboard in both Divisions, crafting the opportunity for an epic closing round Thursday.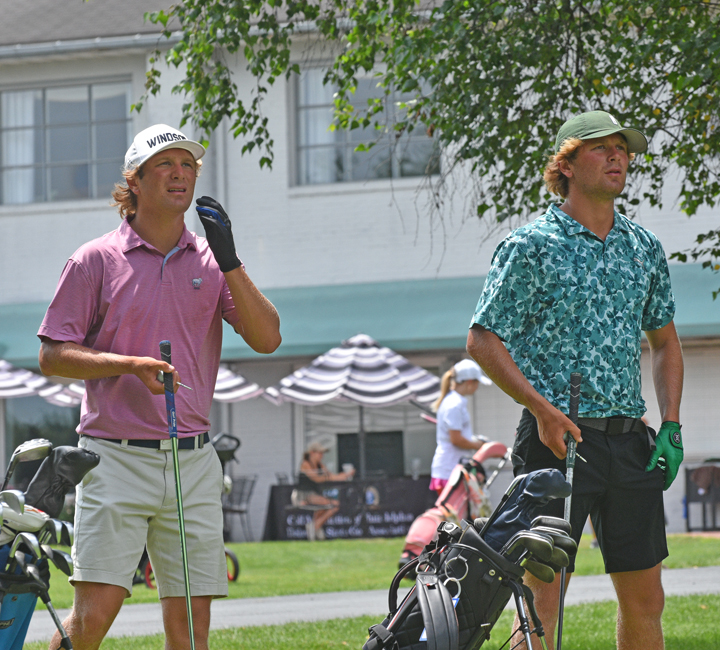 In the Boys Championship, three Homer brothers sit in the Top Four. Jeff Homer, the reigning Christman Cup Champion and Harry Hammond Award winner, fired the day's low round of 4-under 67 to earn the lead after Round One. Sitting one shot back of him is twin brother Matt Homer, the reigning Jock MacKenzie Memorial champion, thanks to today's 3-under 68. Chesapeake's own Evan Barbin utilized his local knowledge to collect a 2-under 69 Wednesday, leaving him just two back. The youngest Homer in the field, Jack, sits three back after today's 1-under 70.
Three of those players — the older two Homers and Barbin — teed off together. It appeared the high-level golf being displayed throughout helped propel all three players into red figures.
"Playing alongside the best players, that's what I love to do. It really helps your game get to the top," said Jeff, 17, of Wilmington, Del. "Obviously, those are two guys that I've known my whole life. We've played a lot of competitive golf with each other. Players like that, that helps motivate me to play better. And that helped today."
Jeff didn't need to see many motivating golf shots early, as he started on Chesapeake's opening hole (par 4, 405 yards) by placing a 96-yard wedge approach to six feet and knocked it in for birdie 3. He'd get another to go on the par-4, 348-yard 4th hole after a 2-iron off the tee rolled into the right rough, but a 60-yard wedge landed within six feet and he drained the putt. His third birdie of the first side came on No. 6 (par 5, 498 yards) after he splashed a sand shot out of a greenside bunker to four feet.
"The four, five-footers were dropping all day. I was really happy with [the 3-under front side], especially because I believe the back nine is a little more scoreable," said Jeff.
He wasn't wrong. To start that side. On No. 10 (par 4, 391 yards), Jeff blasted driver into the left rough but found the front of the green and tip-toed a 15-foot birdie attempt in. The 507-yard, par-5 14th hosted Jeff's next red number. He hooked driver into the 18th fairway, but his approach rolled up to the greenside fringe, chipped up and tapped in for birdie 4. To end his first round, Jeff lipped out on an eagle attempt on No. 18 (par 5, 529 yards) but settled for the 4. Both Matt and Barbin eagled Chesapeake's closer to make up a shot each, setting up a stacked leaderboard to begin tomorrow.
"That was a big one to make from about 40 feet. Jeff played really well. We all did, but now there's a lot of good players that can win tomorrow. I'm excited for it," said Matt, 17, of Wilmington, Del.
"Even [younger Homer brother] Jack is right there. So today is in the past, and now I just want to focus on the first tee shot tomorrow," said Jeff. "Don't want to think about anything else."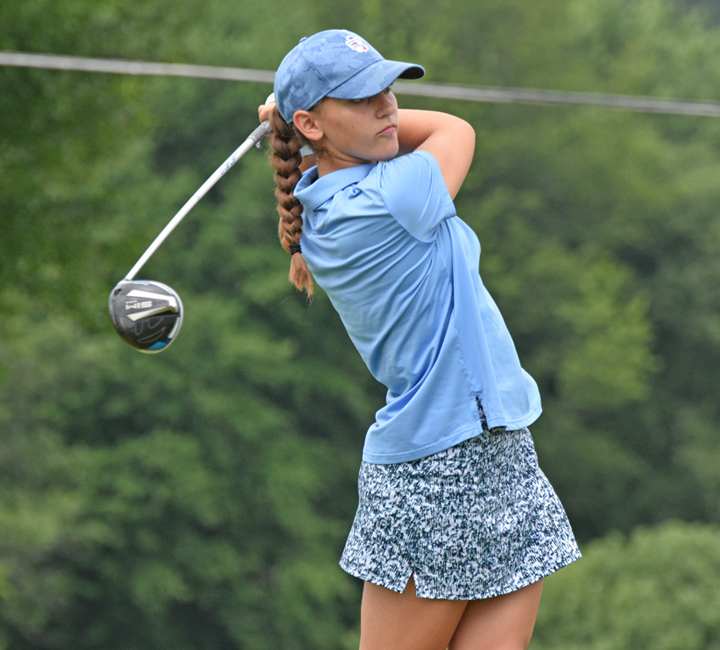 In the Girls' Championship, one player in particular positioned herself for a title run on Thursday. 14-year-old Meredith Finger, a DuPont Country Clubber, birdied three of Chesapeake's final four holes to gain the overnight lead. Her 4-over 76 brought her to the top.
"It was eventful out there today — a bit rocky," said Finger. "But I finished strong, and that's all that mattered."
Finger leads the reigning champion Reagan Garnsey, a Wild Quail Golf & Country Club member and the event's reigning champion, by two shots. Finger was the runner-up in last year's Girls' Championship, and now she'll get a crack at the trophy.
"I'll try and stay focused. I want to dial in on some of the irons tomorrow, and hopefully I can get six birdies on the card," said Finger, of Wilmington, Del.
Tomorrow's final round will feature the Girls' Championship groups beginning at 10:30 a.m and leaders at 10:50 a.m. The Boys Championship tee sheet will immediately follow at 11 a.m. with the leaders going off at 1 p.m.
The championships are open to both junior girls and boys who have a GHIN Number hosted through a GAP/DSGA member club and are 13-19 years of age, as long as they have not started their college career.
GAP
Celebrating Amateur Golf since 1897, GAP, also known as the Golf Association of Philadelphia, is the oldest regional or state golf association in the United States. It serves as the principal ruling body of amateur golf in its region. The Association's 300 Member Clubs and 80,000 individual members are spread across the Eastern half of Pennsylvania and parts of Delaware, Maryland and New Jersey. The GAP's mission is to promote, preserve and protect the game of golf.