Plisko, Williams top Carlyle Robinson Four-Ball
It was a tale of two nines — and Erics — for the champions Monday in the AGA/GAP Carlyle Robinson Fall Four-Ball at Irem Country Club (par 72, 6,366 yards).
Wyoming Valley Country Club's Eric Plisko and Honesdale Golf Club's Eric Williams utilized a 6-under 30 back-nine card to win the day's Amateur Division trophy. Their 7-under 65 topped a field of 12 duos for the crown.
The two, teaming up for the first time this season, made the turn at 1-under par and knew they needed to pick things up if they wanted to make a run at the top spot.
So they did.
"The front nine, it's a tricky little side. It's tough because it's not that long, but most of your shots into the greens are blind. It's tough to judge if you haven't played here many times. Making the turn, Eric and I both thought we could just keep doing what we were doing and see what happened on the back side," said Plisko, 35, of Hanover Township, Pa.
On No. 10 (par 4, 362 yards), Plisko's wedge from 115 yards landed 15 feet above the hole and he got the birdie look to drop. Both players got 3s to fall on No. 11 (par 4, 362 yards) after great drives. On No. 14 (par 4, 378 yards), a severe downhiller, Plisko placed his drive in the right rough, chipped up to 10 feet and converted the putt. On No. 15 (par 4, 340 yards), Williams ripped his drive around the corner, had 80 yards in and hit wedge to eight feet and made it. On the par-4, 387-yard 16th, both players found similar spots on the green with their approaches. Williams gave it a go but missed on the edge but gave Plisko the read he needed. He'd go on to drain his putt. Finally, on the par-3, 162-yard 17th, Plisko placed his 9-iron tee shot to four feet and got the birdie to find the bottom of the cup.
"Once we made birdie on 15, we knew we were tied for the lead. With a few holes left to play, we just tried to get one to fall. Luckily we made a few coming in," said Plisko.
The talented partners have been trying to play together competitively for a few seasons now. Busy schedules didn't allow for it — until their win Monday.
"Eric is a great player. It was a great day out there with him," said Plisko. "This is probably my last competitive round of the year besides maybe some Turkey scrambles and stuff like that."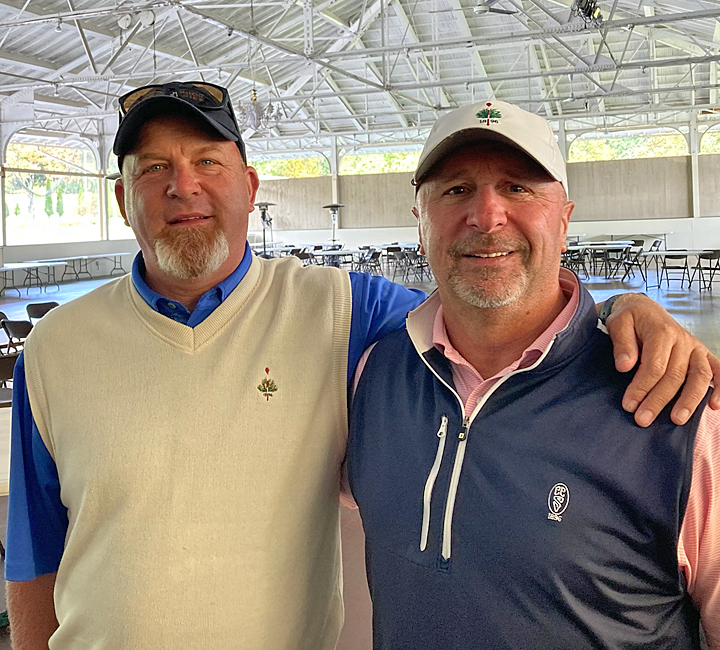 In the Senior Division, it was Elkview Country Club's Ken Bolcavage and Wyoming Valley Country Club's Art Brunn taking the win with a card of 9-under 63.
After Bolcavage got things started with a 12-foot birdie on No. 1 (par 4, 399 yards), both players ripped their drives and found the green off the tee on the par-4, 256-yard 2nd. Brunn stepped up and knocked in the eagle putt to get the group 3 under through the first two.
"I'd say that was a pretty good start. The greens at Irem are tricky, they aren't really big," said Bolcavage, 58, of Crystal Lake, Pa. "We just kept it going."
The Senior champs finished the front side at 5-under par before securing a 4-under back nine. Besides the highlight eaglie, 10 birdies fell on the day.
"I always enjoy playing with Art. This is the first time this year we got to play with each other, so it was a treat," said Bolcavage. "The comradery in this event is great. Playing with a friend is very important because we pick each other up. I play in a lot of individual events and that makes you a better player. But winning a team event, it's special."
StoneHedge Golf Association's Robin Bonda and Elkview Country Club's John Zavada teamed up to win the Super-Senior Division (par 72, 5,965 yards) in result of their 6-under 66.
GAP
Celebrating Amateur Golf since 1897, GAP, also known as the Golf Association of Philadelphia, is the oldest regional or state golf association in the United States. It serves as the principal ruling body of amateur golf in its region. The Association's 300 Member Clubs and 80,000 individual members are spread across the Eastern half of Pennsylvania and parts of Delaware, Maryland and New Jersey. The GAP's mission is to promote, preserve and protect the game of golf.