Even par sets pace in #BMWPhillyAm Qual. at Inniscrone
The road to the BMW Philadelphia Amateur Championship was traveled by many Saturday at Inniscrone Golf Club (par 70, 6511 yards), and even par was the number to beat.
The season's lone #BMWPhillyAm Qualifying event scheduled on a weekend teed off 11 a.m. Saturday. The day's cut line stopped at 5-over 75, meaning 16 players on the dot made the championship proper.
The 122nd BMW Philadelphia Amateur Championship will take place June 13-15 and 18 at Philadelphia Country Club and Union League National Golf Club – Liberty Hill (Stroke-Play Qualifying only).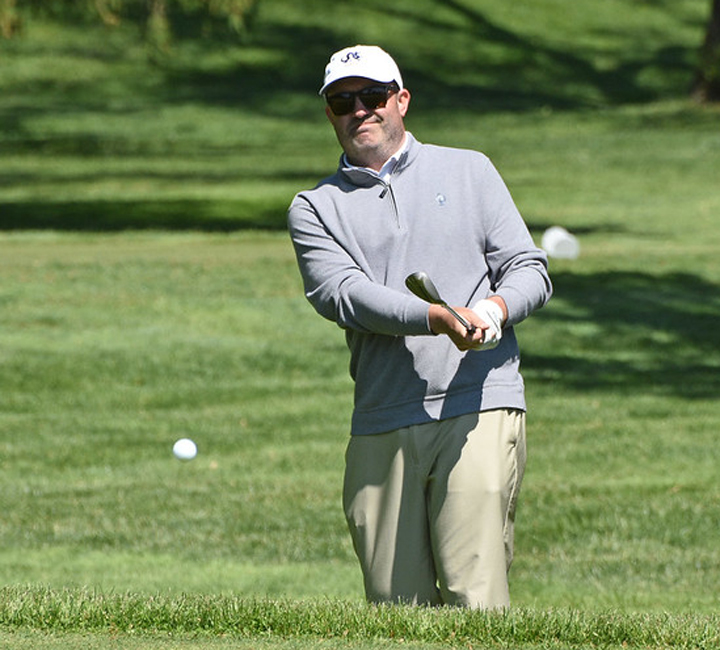 Alex Seelig, a Reading Country Club member and Robert University junior, grabbed a share of medalist honors with that even-par 70 number. Earlier in the week, Seelig took home the Berks County Golf Association Match Play Championship at the Berkshire Country Club. The 21-year-old Reading, Pa. resident's lone birdie on the day arrived on No. 2 (par 4, 354 yards), which was paired with 16 pars and just one bogey.
Also securing a #BMWPhillyAm invite and share of Qualifying medalist honors was Riverton Country Club's Jack Wallace. Wallace, no stranger to GAP Major championships, arrived at that even scorecard in a slightly different way than Seelig. His six birdies combined with six bogeys equaled 70. The 38-year-old Cinnaminson, N.J. resident will
The BMW Philadelphia Amateur Championship is GAP's premier individual championship. Participants must first advance through a one day, 36-hole stroke-play qualifier to gain one of 32 available match play positions. Those who qualify for match play must advance through four matches in two days to reach the BMW Philadelphia Amateur Final, which is typically held on the Saturday of Father's Day weekend. The winner receives the J. Wood Platt Trophy; its namesake holds a record-seven BMW Philadelphia Amateur Championship titles.
GAP
Celebrating Amateur Golf since 1897, GAP, also known as the Golf Association of Philadelphia, is the oldest regional or state golf association in the United States. It serves as the principal ruling body of amateur golf in its region. The Association's 330 Member Clubs and 90,000 individual members are spread across Pennsylvania, Delaware, New Jersey and Maryland. The GAP's mission is to promote, preserve and protect the game of golf.
| | |
| --- | --- |
| Qualifiers | |
| Name, club | Score |
| Alex Seelig, Reading Country Club | 70 |
| Jack Wallace, Riverton Country Club | 70 |
| John Dimler, Northampton Country Club | 71 |
| Carter Field, LuLu Country Club | 73 |
| Blake Reifsnyder, Galen Hall Country Club | 73 |
| R.J. Wren, Honeybrook Golf Club | 73 |
| Jake Fazio, Huntingdon Valley Country Club | 74 |
| Nathan Guertler, Merion Golf Club | 74 |
| Kevin Kramarski, Moorestown Field Club | 74 |
| D.J. Pinciotti, Huntingdon Valley Country Club | 74 |
| Daniel Rudershausen, Bidermann Golf Course | 74 |
| Evan Eichenlaub, Saucon Valley Country Club | 75 |
| Michael Fioravante, LedgeRock Golf Club | 75 |
| Logan Hess, Crossgates Golf Club | 75 |
| Darren Nolan, Cedarbrook Country Club | 75 |
| Sean Semenetz, Philadelphia Cricket Club | 75 |
| Failed to qualify | |
| Matthew Bastian, Rolling Green Golf Club | 76 |
| Brandon Capone, Mercer Oaks Golf Course | 76 |
| Robert Cummings, Riverton Country Club | 76 |
| Jack Homer, Wilmington Country Club | 76 |
| Taylor Kellogg, Philadelphia Cricket Club | 76 |
| James McHugh, Metedeconk National Golf Club | 76 |
| Bill Murray, Burlington Country Club | 76 |
| Steve Oh, DuPont Country Club | 76 |
| John Stevenson, Whitemarsh Valley Country Club | 76 |
| Sam Varano, French Creek Golf Club | 76 |
| Drew Clark, Bidermann Golf Course | 77 |
| Pete Feicht, DuPont Country Club | 77 |
| Blaine Lafferty, Little Mill Country Club | 77 |
| Ryan McCarty, Huntingdon Valley Country Club | 77 |
| Matthew Homer, Wilmington Country Club | 78 |
| Lance Oberparleiter, Trump National Golf Club – Philadelphia | 78 |
| Robert Robertson, Avalon Golf Club | 78 |
| Kyle Buchman, Northampton Country Club | 79 |
| Mark Coassolo, Brookside CC of Allentown | 79 |
| Jordan Cooper, Legacy Club at Woodcrest | 79 |
| Andrew Jaskel, Union League Golf Club at Torresdale | 79 |
| Marshall Kain, Overbrook Golf Club | 79 |
| Connor McNicholas, The 1912 Club | 79 |
| Matthew Vital, Northampton Country Club | 79 |
| Jack Walsh, Old York Road Country Club | 79 |
| Evan Drummond, Applecross Country Club | 80 |
| Rob Good, Merion Golf Club | 80 |
| Kevin Karabin, Glen Oak Country Club | 80 |
| Ted Brennan, Philadelphia Country Club | 81 |
| Joe Dulka, Bellewood Country Club | 81 |
| Benjamin Foster, Scotland Run Golf Club | 81 |
| Lee Nonnemacher, Steel Club | 81 |
| Greg O'Connor, Bellewood Country Club | 81 |
| James Ulsh, Carlisle Country Club | 81 |
| Kevin Lafond, Blue Bell Country Club | 82 |
| Jack Orr, Little Mill Country Club | 82 |
| Jonathan Radick, Spring Mill Country Club | 82 |
| Patrick Pasquariello, Philadelphia Country Club | 83 |
| Robert Richardson, Deerwood Country Club | 83 |
| Winston Blank, Saucon Valley Country Club | 84 |
| Chris Chizauskie, The Springhaven Club | 84 |
| Michael Crowley, Briarwood Golf Club | 84 |
| Luke Serbun, Waynesborough Country Club | 84 |
| Andrew Simpson, Pilgrim's Oak Golf Course | 84 |
| Ryan Winchester, Philadelphia Publinks Golf Association | 84 |
| Benjamin Pochet, Spring Ford Country Club | 86 |
| Joe Del Franco, White Manor Country Club | 87 |
| John Hansel, Sandy Run Country Club | 88 |
| Gary Schoeman, Gulph Mills Golf Club | 88 |
| Matt Crilley, Steel Club | 89 |
| Ryan Kelly, Philadelphia Cricket Club | 89 |
| Josh Schneider, Chesapeake Bay Golf Club | 90 |
| Damon Watkins, Chambersburg Country Club | 91 |
| Drew Zieg, Kennett Square Golf & Country Club | 94 |
| Bryant Jones, Bala Golf Club | 96 |
| Pat Kain, Overbrook Golf Club | 97 |
| Zane Pysher, Green Pond Country Club | 134 |
| Phil Anzaldo, Tavistock Country Club | DQ |
| David Colleran, Overbrook Golf Club | NC |
| Christopher Detoro, Rolling Green Golf Club | NC |
| Justin Howe, Applecross Country Club | WD |
| Jack Ross, Medford Lakes Country Club | WD |
| DQ – disqualification; NC – no card; WD – withdrawal | |