Bad ankle can't stop Barbin from title defense, #BMWPhillyAm Quarters
| Scoring portal | History | Medalist History | Day 1 Notebook |
During wedding last weekend in North Dakota, the defending BMW Philadelphia Amateur Champion Zach Barbin twisted his ankle while dancing. He immediately knew something was wrong upon waking up the next day.
"Honestly, that night, I couldn't feel it much because I was having fun. I really just wanted to get back out [on the dancefloor]. Then I had to walk through the airport and it was brutal," said Barbin, a Loch Nairn Golf Club member. "I didn't even really get to play much golf this whole week because of it."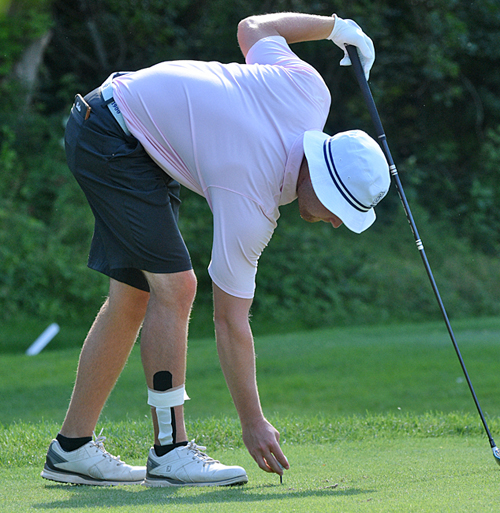 Racing through his mind was the thought of being unable to compete at Cedarbrook Country Club this week. After his victory in last year's edition at Lancaster Country Club, Barbin was dedicated to at least giving it a go. Despite the lack of practice leading up to the championship, it appears he didn't need it. Barbin punched his ticket to the Quarterfinals on Tuesday, first with a 3&2 win versus Merion Golf Club's Patrick Knott in the Round of 32, plus a 1-up victory versus Carlisle Country Club's John Peters in the Round of 16.
"Obviously, this isn't the ideal way I'd like to play this week with a hurt ankle," said Barbin, 22, of Elkton, Md. "I'm putting pretty good so far this week, and if I keep being able to scrape it around, I'll be happy with that."
Asked if he would have given it a go if he wasn't defending his title, his answer was quick and honest: "Probably not."
"I didn't want to injure myself more than I already had. I really didn't want to make it worse," said Barbin, a senior for the Liberty University Flames. "But I'm the defending champion. I wasn't going to not come out here and try and defend the title. I was never going to withdraw. Especially because it's the [Philadelphia Amateur]. I just told myself I needed to battle it out."
Awaiting Barbin on Wednesday is a Quarters showdown with LuLu Country Club's Michael R. Brown, Jr. The defending champ says his ankle is "feeling pretty good" at the moment and hopes it continues that way, win or lose.
"I taped my ankle and stabilized it, so when I swing, it really only hurts when I hit driver." said Barbin. "The last thing I want to happen is to lose a match because [the ankle] gives out. I'm just hoping it holds up."
He's hoping the winning keeps holding up, too.
LuLu's Robinson takes away confidence despite #BMWPhillyAm defeat
The future is bright for Ron Robinson.
Despite losing in 20 holes to Phoenixville Country Club's Morgan Lofland in the 121st BMW Amateur Championship Round-of-32 Tuesday at Cedarbrook Country Club (par 72, 7,070 yards), Robinson has a lot to look forward to as he expects to turn professional next year.
"I think I'm going to give it a shot next year after I graduate," Robinson, entering his fifth year at Monmouth University, said. "I feel that my game has gotten better, and hopefully, down the road, I will be better than I was today."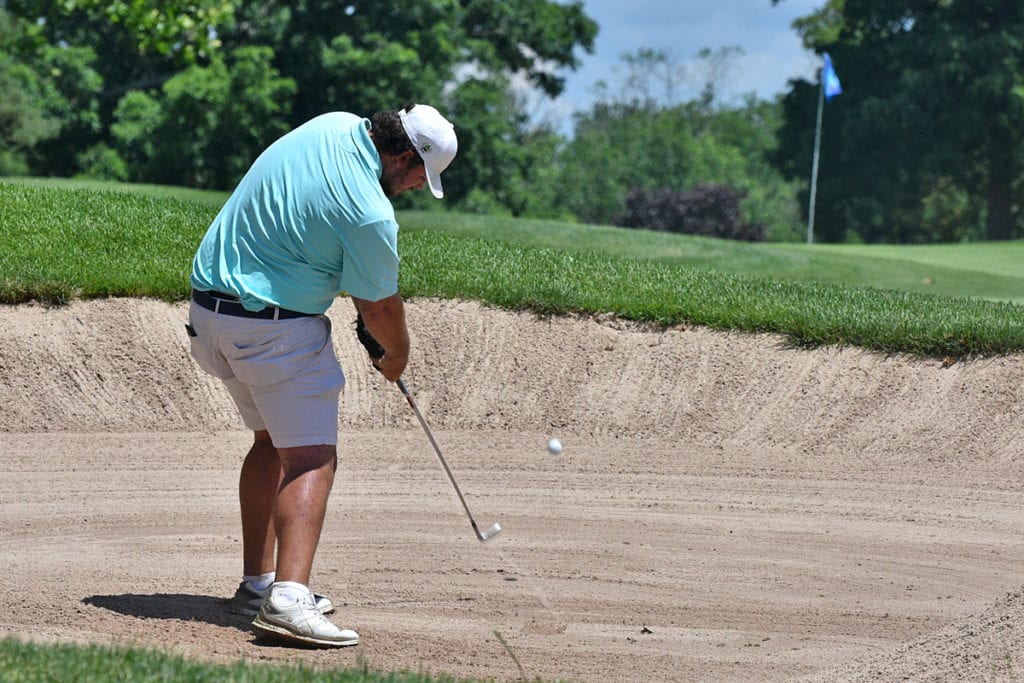 With aspirations of taking his game to the next level, Robinson has started playing in qualifiers for the Korn Ferry Tour.
"I believe getting that experience in those types of tournaments is huge," Robinson, a member of LuLu Country Club, said. "I felt like I held my own against some of the guys on the Tour, which was cool."
Robinson has played in GAP events since he was a student at North Penn High School. He is a two-time recipient (2016-17) of the Harry Hammond Award, which is presented to the player with the lowest aggregate score in the Junior Boys' Championship qualifying round, the Christman Cup and the Jock MacKenzie Memorial.
"It's honestly been my greatest achievement with GAP so far," Robinson, 22, of Hatfield, Pa., said. "It helped me get my name out there and eventually play at Monmouth."
Aside from playing golf, Robinson is also a caddie at Commonwealth National Golf Club and Eagle Oaks Golf & Country Club.
"I've been a caddie at Commonwealth for seven or eight years, and I love those members so much," Robinson added. "At Eagle Oaks, it's nice helping out there and having access to play at a course which is nice."
Even though Robinson was defeated on the 20th hole by Lofland's birdie, he knows that this experience will help him in the long run.
"If you told me I was going to shoot an even-par, I would've probably taken it honestly," Robinson said. "Morgan is such a good player, and in those types of situations, there's nothing you can really do." 
GAP
Celebrating Amateur Golf since 1897, GAP, also known as the Golf Association of Philadelphia, is the oldest regional or state golf association in the United States. It serves as the principal ruling body of amateur golf in its region. The Association's 300 Member Clubs and 80,000 individual members are spread across the Eastern half of Pennsylvania and parts of Delaware, Maryland and New Jersey. The GAP's mission is to promote, preserve and protect the game of golf.