HANOVER, Pa. – Home-club stalwarts Tom Biscotti and Michael Blazik carded a 4-under 67 to win the Amateur Division at Wyoming Valley Country Club (par 71, 6,178 yards).
Wyoming Valley's Joseph Weiscarger and Eric Plisko and visitors Eric Williams of Honesdale Golf Club and Matt Dougherty of Glenmaura National Golf Club also finished the day at 4 under. However, Biscotti and Blazik won a match of cards.
Battling spurts of rainfall and consistent winds, the trio of winners bested the rest of the 20-team field by five shots. The birdie-party count went as follows: Dougherty/Williams (6), Plisko/Weiscarger (5), Biscotti/Blazik (4).
Not many players know the course better than Biscotti and Blazik. Their round Thursday was boosted by big-time birdies on both Wyoming Valley's opener (par 5, 493 yards) and closer (par 4, 351 yards).
"I'd say we know this course pretty well, and I thought any score today in the 60s would have a chance to win it all. We started and ended really nicely with those birdies, which ended up mattering," said Biscotti. "The variables were the tough conditions. Of course, the rain hit us mid-round, but everybody was playing in the same conditions. Plus, the course itself was playing challenging, especially with a fair amount of back pin locations. It was a good test out there."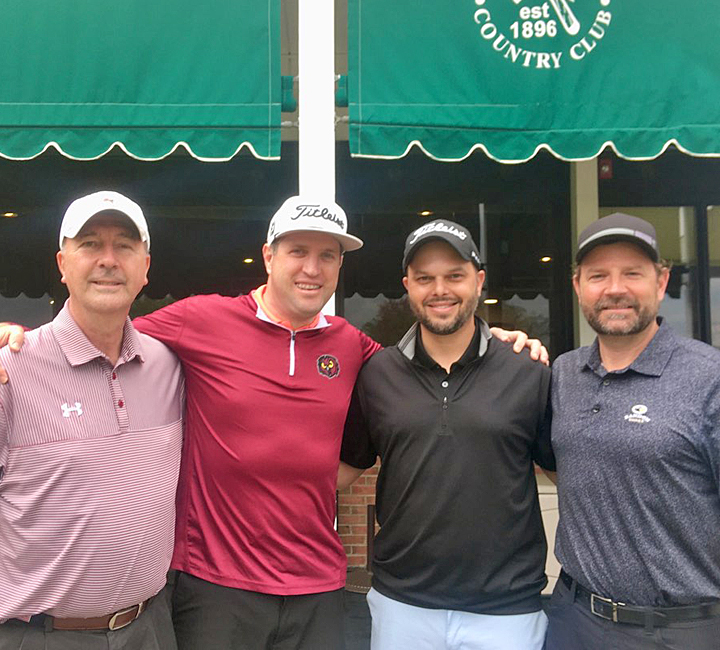 With two Wyoming Valley duos at the top, it appeared that the home-field advantage was too much to overcome for most, besides the prevailing Dougherty and Williams.
"There were definitely high expectations for today, yeah. We're very proud to represent the course," said Biscotti, 43, of Mountain Top, Pa. "Plus, Mike is one of my best friends in the world, and that's special in itself to get a win alongside him."
Plisko, an accomplished player in his own right, echoed sentiments of home-club pride after joining the winner's circle.
"Honestly, it's great just to see that quality of play we have here at Wyoming Valley. I play alot of golf with those guys, and I love those guys to death, so it was cool to see those names up there," said Plisko, 34, of Hanover Township, Pa. "We knew going into today that it would be difficult. The conditions were tough, and there were a lot of good players in the field. And obviously, [Eric and Matt], they're really good players."
Senior glory went to the team of Ken Bolcavage of Elkview Country Club and Matt Froncek of Honesdale Golf Club, who finished at 2-under 69. It was a memorable day for the champions, as their respectable round bested a talented Senior-Division field of 16. Thanks to five birdies on the scorecard, Bolcavage and Froncek came in as the lone Senior squad under par.
"You know, I wasn't making anything on the greens. I was hitting the ball well, but just wasn't making many birdie looks," said Bolcavage, the reigning AGA Senior Player of the Year. "It was great to have my partner [Matt] playing well out there. He really did."
Coming down the stretch, a frightening bogey on No. 17 (par 4, 400 yards) scared the duo. In the end, it wouldn't matter.
"Oh, we were pissed after that bogey on 17. We weren't really sure where we were [on the leaderboard] at that point," said Bolcavage, 57, of Carbondale, Pa. "But in the end, we got the win and we were definitely happy with that. I'm usually critical on myself, but you can't complain too much when you win."
In the Super-Senior Division, taking home the top spot at 1-under par 70 was the duo of The Bucks Club's John Gonsior and Saucon Valley Country Club's Gene Maginnis. A pair of balanced 35s on the card added up to the round the Supers needed for the title. They beat the field by three shots.
"We went out and really had a great time. We kind of hurt each other on the scorecard a few times, because we didn't know exactly where to hit the ball having never played here before, but we managed and battled," said Gonsior, 69, of Horsham, Pa. "Overall, we both played pretty good, and had a lot more birdie opportunities than expected."
Making the nearly two-hour drive ended up being well worth it for Gonsior and Maginnis. Their car was a bit heavier on the drive back thanks to the new piece of winning hardware in the trunk.
"We heard good things about Wyoming Valley and had never seen it before, so we decided, "Hey, why not?' and drove up to play," said Gonsior, a GAP player of nearly 40 years. "I'm really glad we did, because it was a great experience overall. Playing in the [GAP region], we're so lucky as amateur golfers with all the playing opportunities out there. It's the best in the country."
GAP
Celebrating Amateur Golf since 1897, GAP, also known as the Golf Association of Philadelphia, is the oldest regional or state golf association in the United States. It serves as the principal ruling body of amateur golf in its region. The Association's 300 Member Clubs and 80,000 individual members are spread across the Eastern half of Pennsylvania and parts of Delaware, Maryland and New Jersey. The GAP's mission is to promote, preserve and protect the game of golf.