Nardella, Peregrim capture John Moore
Elmhurst Country Club's Doug Nardella and StoneHedge Golf Course's Michael Peregrim, Jr. carded a 6-under-par 137 to capture the 39th John Moore Memorial Tournament at Pocono Farms Country Club (par 72, 6,127 yards) and Valley Country Club (par 71, 6,114 yards) May 20-21.
| Scoring portal |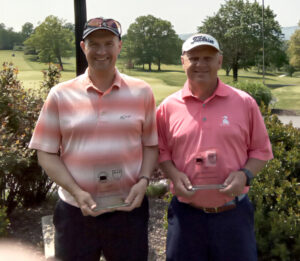 The duo cruised to an eight-stroke victory over a field of nine teams. Nardella and Peregrim did their damage at Pocono Farms, firing a 6-under-par 65 amid rainy conditions. An even-par 71 at Valley kept all chasers at a distance.
"It was a great round (Saturday) on a very difficult golf course and quite difficult conditions. It was foggy the whole day. We couldn't use our rangefinders almost all day because we couldn't pick up the locations," Nardella, 49, of Moscow, Pa., said. "But on that golf course, you just need to have the ball kept in front of you. Mike and I managed to keep the ball in front of us, and we played bogey-free on a golf course where lost balls happened everywhere. It was awesome."
It marked the duo's first John Moore victory in years of attempts. Nardella and Peregrim met during a Keystone Games Qualifier some 30 years ago at Irem Country Club. A golf friendship formed that day.
StoneHedge's Joe Diskin and Bill Pasqualichio, Jr. won the event's First Flight. The duo carded a 4-under-par 139.
GAP
Celebrating Amateur Golf since 1897, GAP, also known as the Golf Association of Philadelphia, is the oldest regional or state golf association in the United States. It serves as the principal ruling body of amateur golf in its region. The organization's 340 Member Clubs and 100,000 individual members are spread across Pennsylvania, Delaware, New Jersey and Maryland. The GAP's mission is to promote, preserve and protect the game of golf.
| | | | |
| --- | --- | --- | --- |
| Results | | | |
| Championship Division | | | |
| Name, club | R1 | R2 | Total |
| Doug Nardella/Michael Peregrim, Jr., Elmhurst Country Club/StoneHedge Golf Assn. | 66 | 71 | 137 |
| Patrick Mitchell/David Price, Pocono Farms Country Club/Elmhurst Country Club | 75 | 70 | 145 |
| Brandon Jackson/Eamon Evans, Wemberly Hills Golf Club/Glenmaura National Golf Club | 76 | 70 | 146 |
| Mark Bartkowski/Mike Bartkowski, Pocono Farms Country Club/Wemberly Hills Golf Club | 75 | 72 | 147 |
| John Olszewski/A.J. Olszewski, Wyoming Valley Country Club | 72 | 76 | 148 |
| Jeff Lewis/Bob Shoemaker, Wyoming Valley Country Club | 74 | 74 | 148 |
| Christopher Lucarelli/Joe Archer, Country Club of Scranton/Pocono Farms Country Club | 73 | 80 | 153 |
| Damien LaRue/Marty Wilbur, StoneHedge Golf Assn./Huntsville Golf Club | 83 | 72 | 155 |
| Ryan Manley/Sam Toman, Elmhurst Country Club/StoneHedge Golf Assn. | 81 | 76 | 157 |
| First Flight | | | |
| Name, club | R1 | R2 | Total |
| Bill Pasqualichio, Jr./Joe Diskin, StoneHedge Golf Assn. | 70 | 69 | 139 |
| Chris Kearney/Gerard Byron, Honesdale Golf Club | 71 | 69 | 140 |
| Walter Savitts/Anthony Andrejko, Wemberly Hills Golf Club/StoneHedge Golf Assn. | 70 | 70 | 140 |
| Bob Andrejko/Steve Mazur, StoneHedge Golf Assn. | 75 | 68 | 143 |
| Michael Coleman/Jerome Potis, Country Club of Scranton/Elmhurst Country Club | 70 | 73 | 143 |
| Jeffrey Dorunda/Justin Pasqualichio, StoneHedge Golf Assn. | 74 | 71 | 145 |
| Jim Sherma/Paul Gruzeski, Hershey Country Club/The Golf Course at Paupack Hills | 76 | 72 | 148 |
| Ed Clark/Christopher Clancy, Elmhurst Country Club | 77 | 71 | 148 |
| Mark Ambrose/Jack Sohns, Elmhurst Country Club | 79 | 72 | 151 |