Four teams grab a piece of hardware at Radley Run
WEST CHESTER, Pa. – Steve Walczak and Jeff Homer often trade pleasantries when they see each other at Wilmington Country Club practice facilities.
A partnership made in the dirt.
| Scorecards | History | Photos |
"We've become good friends over the years and have gotten to know one another well," Homer, 18, of Wilmington, Del., said. "I figured I would ask Steve and see if he would want to give it a go."
A wise decision from the University of Delaware rising freshman that reaped rewards.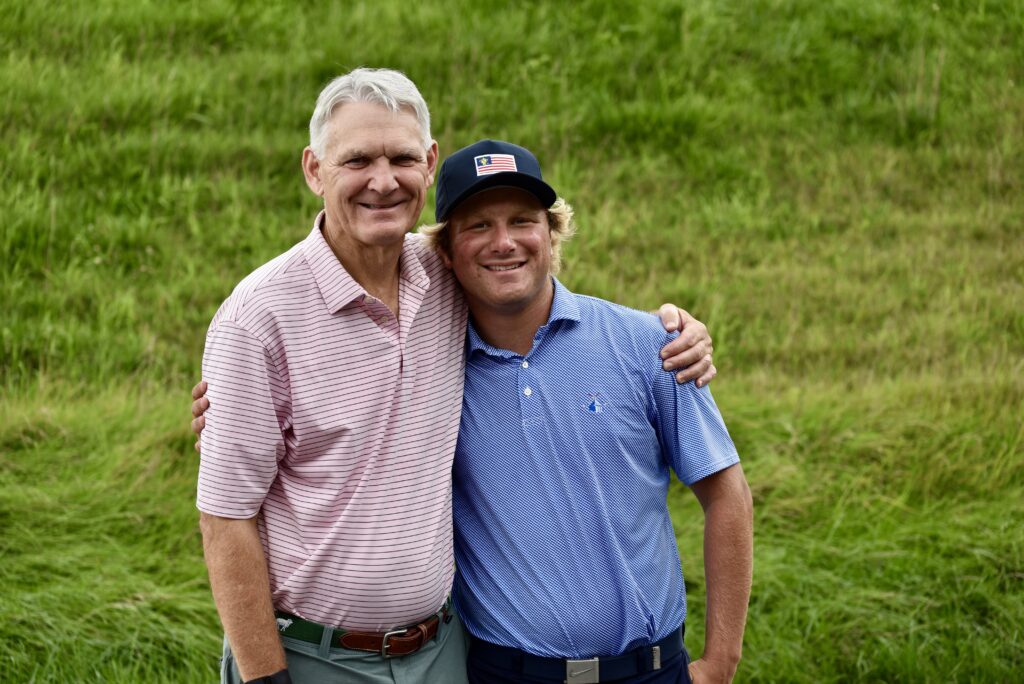 Homer and Walczak, aided by their contrasting golf styles, meshed well to claim the Junior Division of the 21st Deeg Sezna Monday with a 67 at Radley Run Country Club (par 72, 6,244 yards).
The Deeg Sezna is a selective drive, alternate shot format.
"I could trust that Steve was going to get the ball in play and allow me to be aggressive," Homer said. "We were able to capitalize on the strengths of our games. He goes about everything with a lot of intention and focus. He's always giving me a pep talk."
"I enjoy playing with Jeff," Walczak, 64, of Wilmington, Del., said. "He's a great player and a great person. He's fun to play with and I enjoy his company."
For 16 holes, the Wilmington tandem was unstoppable. Coming off a birdie on No. 16 (par 5, 522 yards), it looked to be an all-assured title. But a miscue from 100 yards on No. 17 (par 4, 331 yards) from Walczak resulted in a double bogey after he rinsed the second shot.
But they built enough cushion to take the title by two shots.
This will add another trophy to their individual trophy cases this season. Homer won the Delaware Junior Championship and Walczak won the Frank H. Chapman Super Senior.
"We don't play together near as much as we should but we play a lot of tournaments so it is hard to match up the time," Walczak said. "Jeff caddies at Wilmington and he's caddied for me on occasion as well."
With a 46-year age difference, Homer said he was glad to play in this event to learn from Walczak, who has won numerous GAP/DSGA titles throughout his career.
"I probably get more out of a day like today than Jeff did," Walczak said. "It is fun to have the opportunity to take some of your experience and knowledge to help out. When you are young, you live and die by each shot a little more. It's nice to try and help set an example on how to handle good and bad shots."
Junior-Junior Division
John Lalley and the Quartermains are close. Lalley is good friends with the matriarch of the family (Mike) and has had his daughter Riley caddie for him in a couple of GAP events this year.
Monday Lalley teamed up with William Quartermain to take the Junior-Junior Division of The Deeg Sezna with a round of 73 (par 72, 5,650 yards).
"We had a great time out there," Lalley, 37, of Havertown, Pa., said. "We made a number of birdies. I let William down a couple of times in making some double bogeys but we never let it get to us. We wanted to keep it positive."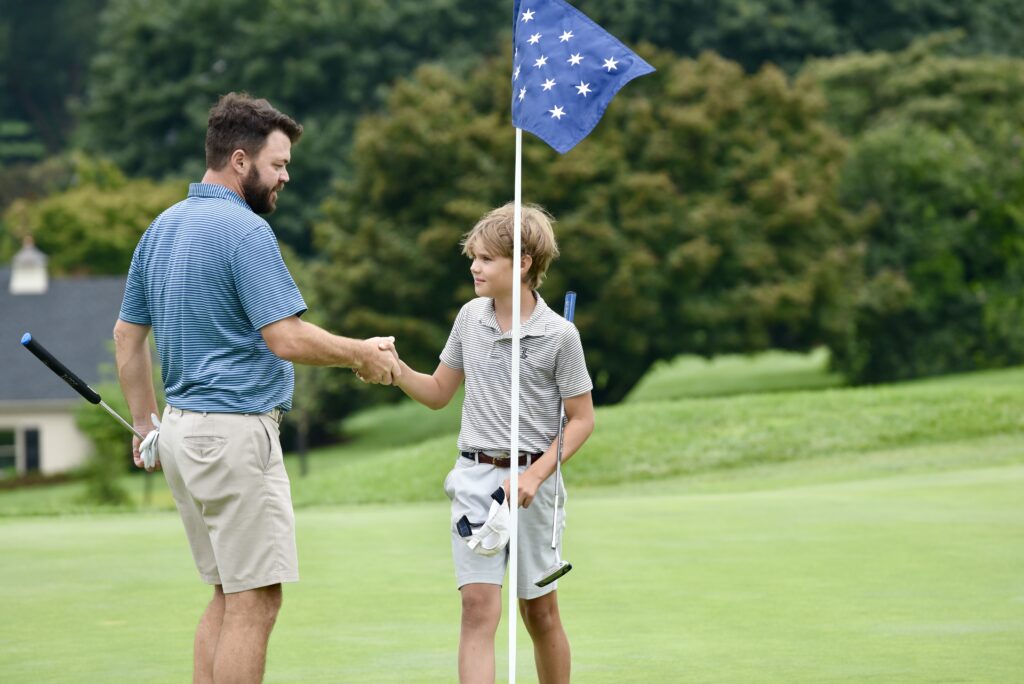 There wasn't a dull moment out there for the Llanerch Country Club squad. Four birdies mixed with two double bogeys and one bogey. But the star of the show was William. It was his stellar iron play that helped them card a couple of low figures. A crisp gap wedge from 105 yards to eight feet on the opener (par 4, 385 yards) and a near-ace on No. 13 (par 3, 128 yards) with a 9-iron.
"I grew up playing a good course in Baltimore, Md. where the older players always wanted to help out Juniors," Lalley said. "Llanerch has a great Junior program and is a place where members will play with anyone. It was fun to watch William play. He hits the ball so well and so smoothly."
It was a clutch 3-footer to save par on the last (par 4, 397 yards) from William that got them the title. It's safe to say the youngster put the team on his back in the clutch today.
"He has taught me how to hit so many shots including a flop shot," Quartermain, 12, of Bryn Mawr, Pa. and a rising seventh grader at Haverford Middle School, said. "I learned how to talk through a shot to make the right decision. I had a lot of fun today. You meet a lot of new people."
Mixed Division
In the Mixed Division, Wilmington's Meghan Adams and Matt Homer shared the title with Meredith Finger and Joe Dulka of DuPont Country Club with rounds of 69 (par 72, 5,650 yards).
A back-nine birdie barrage revived a stalling Adams and Homer campaign. The closed in 32 (4 under). This was the first time this team played together. Safe to say it won't be the last.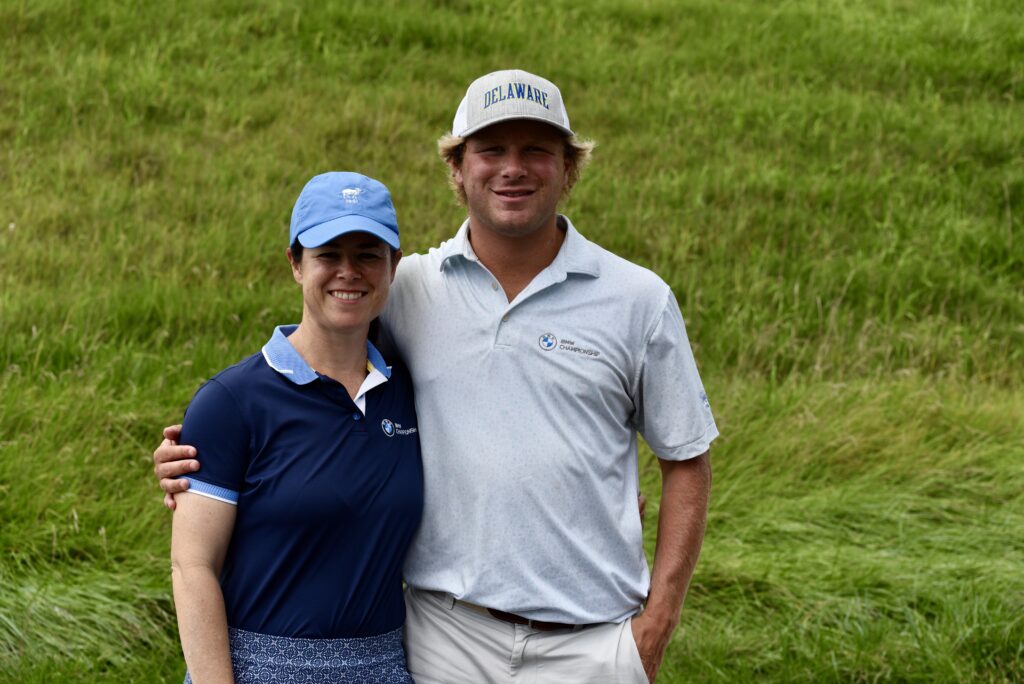 "Matt did a senior week experience with me," Adams, who is a superior district judge in New Castle County, Delaware, said. "He shadowed me for a week and learned about what I do on a day-to-day basis. I reached out to him and asked if he wanted to play. I thought it would be nice for us to play together. After today, it will be hard for us not to play in this each year."
"It would be a tradition I would like to carry on for sure," Matt, 18, of Wilmington, Del., said. "I had a great time out there today. We worked well as a team."
The highlight of the day for them wasn't a birdie, it was a gritty par on the last capped off by a 12-footer from Adams. Including a ferocious fist pump.
"This tournament was different from anything I have played in quite a long time," Matt, a rising freshman at the University of Delaware, said. "I played a much shorter course and was able to swing freely. It was less stressful and a lot of fun. I was able to explore different types of shots and different options."
"Golf has given me so much and I want to give back in any way that I can," Adams, 42, of Wilmington, Del. and a GAP Executive Committee Member, said. "This is a significant event in our community so it is important to us."
This event sparked a grinders' preparation mentality for Dulka and Finger. It was Dulka's length that helped their success. He drove the green on Nos. 3 (par 4, 287 yards) and 15 (par 4, 271 yards) resulting in a pair of easy two-putt birdies.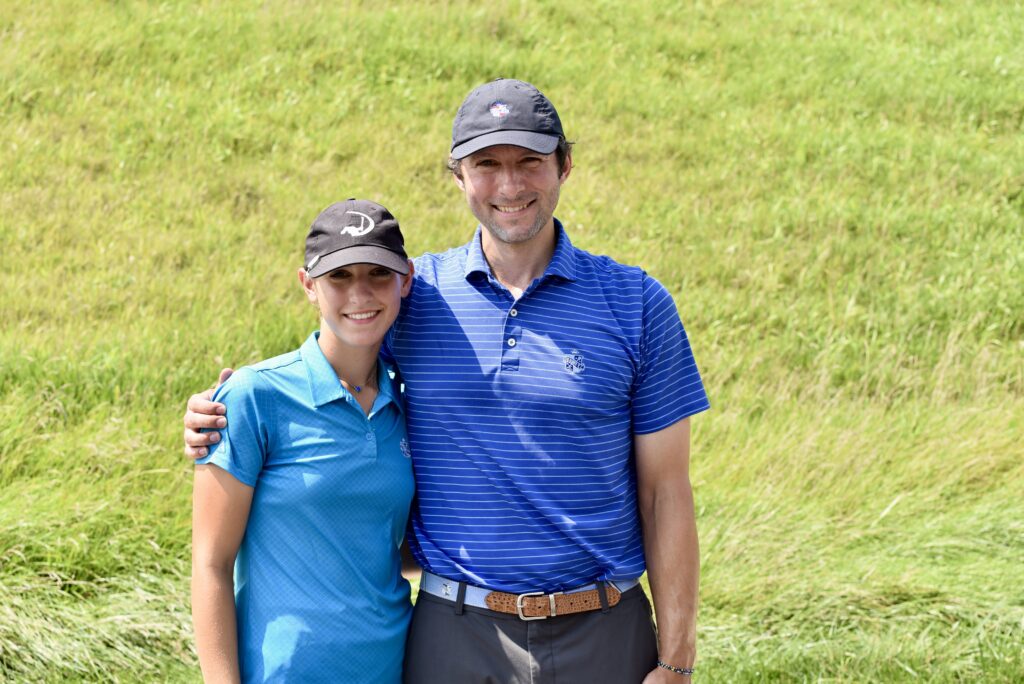 "We played and practiced quite a bit leading up to this tournament," Dulka, 38, of West Chester, Pa., said. "That meant a lot to me. I like playing with Juniors especially passing along information and helping them do their best."
Even though they bogeyed the last two holes to finish tied at the top, they still were happy about the day's work.
"I always love when GAP does different types of events," Finger, 15, of Wilmington, Del., and a rising sophomore at Archmere Academy, said. "It gets boring sometimes just playing your own shot so it was fun to pick and choose what shot we were going to play and talk through what would be best for us.
The Deeg Sezna celebrates the mentorship of the older generation for its younger counterparts. It is named in honor of Davis "Deeg" Sezna, Jr. of Hartefeld National, who lost his life on Sept. 11, 2001 in the attack on the World Trade Center in New York City.
Deeg, an avid golfer long a mentor to his younger brothers Teddy and Willy, and a recent graduate of Vanderbilt University with a degree in economics, was in his sixth day of work on the 104th floor of the South Tower when the terrorists struck.
To memorialize his name, the Golf Association of Philadelphia and his father, Davis Sezna, Sr., established the Deeg Sezna, pairing a junior player and an older amateur in a better ball competition, with a minimum age difference of 10 years and the stipulation that the younger player be 21 or younger. The goal is to give experienced golfers quality time with the next generation, and vice versa.
| | |
| --- | --- |
| Junior Division | |
| Name, club | Score |
| Steve Walczak/Jeffrey Homer, Wilmington Country Club | 67 |
| Jeff Ciconte/Anthony Ciconte, Wilmington Country Club | 69 |
| Jack Homer/Jay Whitby, Wilmington Country Club | 69 |
| Drew Garis/Connor Toussaint, North Hills Country Club | 69 |
| Oscar Mestre/Lannon Boyd, Overbrook Golf Club | 69 |
| Ryan McDonald/John Diamond, Merion Golf Club/John F. Byrne Golf Club | 69 |
| Alex Penza/Nick Ciocca, Aronimink Golf Club | 71 |
| Steven Marlow/Nicky Riscica, Jericho National Golf Club/Trenton Country Club | 74 |
| John VanDame, Jr./Joshua Ryan, Talamore Country Club/The 1912 Club | 74 |
| Marshall Kain/Pat Kain, Overbrook Golf Club | 75 |
| Christian Dawley/Sean Glynn, Philadelphia Country Club/USGA/GAP GC | 76 |
| David Nissen/Dan Arison, Philadelphia Cricket Club/Aronimink Golf Club | 76 |
| Cole Berry/Marty Berry, Overbrook Golf Club | 76 |
| Brendan Fitzpatrick/Jack Logan, Merion Golf Club/Whitemarsh Valley Country Club | 76 |
| Michael McDermott/Jack Yearley, Merion Golf Club | 77 |
| Nick Villari/Phil Villari, Riverton Country Club | 79 |
| Joe Ciconte/Jason Homer, Wilmington Country Club | 80 |
| Anthony Villari/Danny Cantwell, Riverton Country Club/Moorestown Field Club | 80 |
| Thomas DiGiulio/Nick Digiulio, Wedgwood Country Club/Hershey's Mill Golf Club | 80 |
| Buddy Aiken/Jackson Puskar, St. Davids Golf Club/Kennett Square Golf & Country Club | 80 |
| Gary Daniels/Luke Daniels, Applebrook Golf Club/Aronimink Golf Club | 80 |
| John Puskar/Grant Burkhart, Kennett Square Golf & Country Club | 80 |
| Robert Bechtold/Charlie Guzzio, Fieldstone Golf Club/Kennett Square Golf & Country Club | 81 |
| James Juarez/Santiago Juarez, Cedarbrook Country Club | 81 |
| Jeremy Mansueto/Pete Mansueto, Radley Run Country Club | 81 |
| Colin Hanna/Nick Hano, Radley Run Country Club/LuLu Country Club | 82 |
| Trippe Wayman/Jake Bryson, Wilmington Country Club/DuPont Country Club | 83 |
| Joseph Boyle/James Boyle, Sandy Run Country Club | 91 |
| Aaron Nye/Logan Nye, Whitemarsh Valley Country Club | 93 |
| Junior-Junior Division | |
| Name, club | Score |
| William Quartermain/John Lalley, Llanerch Country Club | 73 |
| Kurt Meyers/Colby Komancheck, RiverCrest GC & Preserve | 74 |
| Andrew Achenbach/Sebastian Leone, Phoenixville Country Club/Radnor Valley Country Club | 74 |
| Jack Sokol/Benjamin Feld, Green Valley Country Club | 76 |
| Frankie McVeigh/Thomas Luu, Llanerch Country Club/GAP Youth on Course | 77 |
| Henry Sokol/Brad Sokol, Green Valley Country Club | 78 |
| Grant Cooper/Geoffrey Cooper, North Hills Country Club | 82 |
| Scott Lumbatis/Jordan Lumbatis, Hershey Country Club | 85 |
| Jim Delfidio/Justin Delfidio, Manufacturers' Golf & Country Club | 88 |
| Rob Lewis/Keagan Lewis, Huntingdon Valley Country Club | 92 |
| Mixed Division | |
| Name, club | Score |
| Matthew Homer/Meghan Adams, Wilmington Country Club | 69 |
| Meredith Finger/Joe Dulka, DuPont Country Club | 69 |
| Mark Peterson/Marin Dremock, Waynesborough Country Club/GAP Oaks Club | 73 |
| Monica Anne Pedano/Michael Block, Spring Ford Country Club/Merion Golf Club | 73 |
| Mia Pace/Bruce Cowgill, Whitford Country Club | 76 |
| Mina Benedetto/Larry Benedetto, Concord Country Club | 77 |
| Alec Stern/Marlo Hall, Philadelphia Country Club | 96 |
GAP
Celebrating Amateur Golf since 1897, GAP, also known as the Golf Association of Philadelphia, is the oldest regional or state golf association in the United States. It serves as the principal ruling body of amateur golf in its region. The Association's 330 Member Clubs and 90,000 individual members are spread across Pennsylvania, Delaware, New Jersey and Maryland. The GAP's mission is to promote, preserve and protect the game of golf.